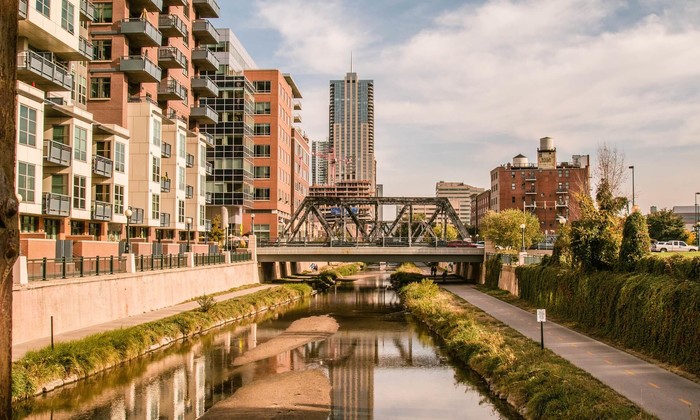 Denver is one of the US impressive and colorful cities. The art and cultural scene alone is mesmerizing with the second-largest Arts Complex in the country. The picturesque mountain and its location lend credence to Denver having one of the most beautiful views of the superb mountain range in the US.
US News & World report even dubbed Denver the Top Two Best Destinations to live in the US in 2019. However, crime bleeds into every neighborhood in the world making there also a presence of pockets of good and bad neighborhoods across Denver. By identifying these neighborhoods, we stand a better chance of keeping away from the worst troubles.
Top 10 Dangerous Places in Denver
The most dangerous neighborhoods in Denver are:
1. Five points
This neighborhood has a population of 16,264 and a crime rate 173% greater than the Denver average. The 60s deemed this neighborhood unsafe to visit until the crime report dropped considerably in the 90s. According to Spotcrime, the last six months from June 2020 have seen theft incidences of 276 occurrences and assault 178. The total crime estimates as 12,000 per 100,000 people but the police seem to respond slowly. Petty crimes and property crimes are the highlights of this neighborhood, as such, bus transport becomes unsafe for fear of cash mugging. Though safe during the day, walking alone at night time becomes dangerous especially for females and traveling visitors. You have a 1 in 9 chance of being a crime victim In Five Points.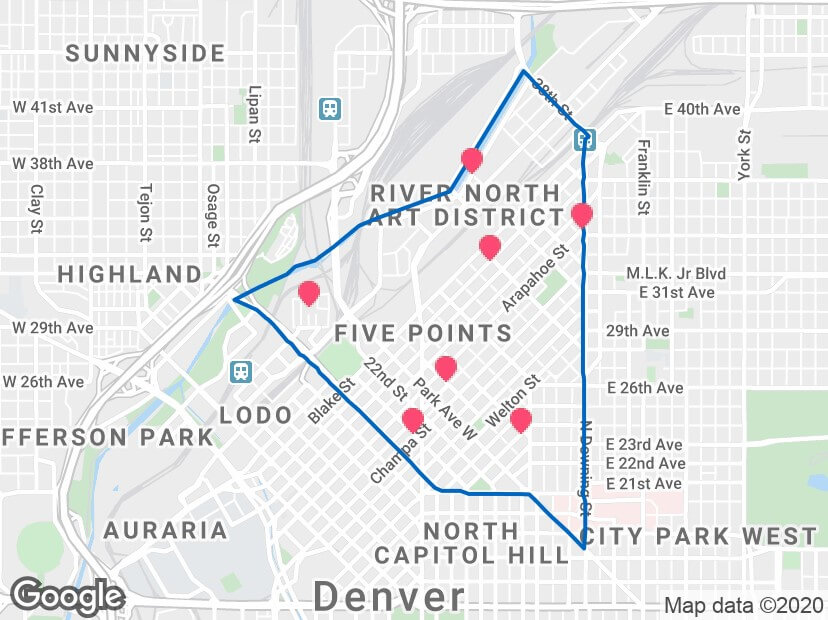 2. Capitol Hill
This has a population of 21,726 people and one of the bad neighborhoods in Denver. The violent crimes are 284% greater than the national average because year over year crime increases by 4%.
Police can be seen in patrol vehicles at street corners. Preferably, residents choose biking to walking. Both options are safe in this neighborhood, even females walking alone at night. Petty thefts happen but hardly at bus stations, so are your wallet and cash likely to be safe. Capitol Hill is safer than 2% of Colorado's cities. Only very few hotels come recommended but at farther neighborhoods to this.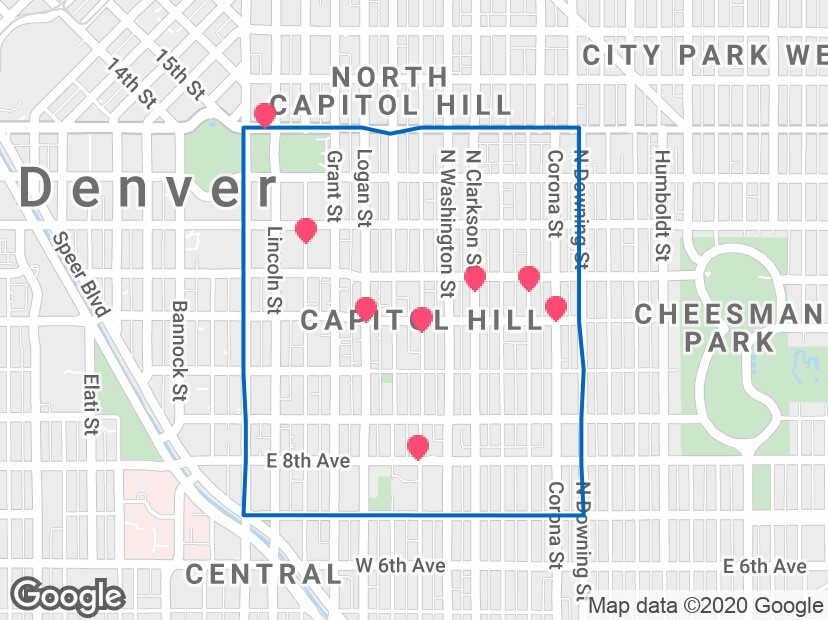 3. City Park
A diverse neighborhood of 8,202 inhabitants and home to the Denver Museum of Nature & Science. The total crime in this neighborhood increases year by year. In 2016, 889 crimes were registered but by 2019 recorded 9,171 per 100,000 residents. This neighborhood sees visible police patrol, however, for visitors or females traveling alone, exploring whether on bike or foot, it is only relatively safe during the day. You have a 1 in 11 chance of being a crime victim in this neighborhood. Residents' advice to keep wallets and devices close to self to avoid getting mugged off cash or phones. Although the hotels around the neighborhood are seen to be safe, not a lot is being visited for reviews.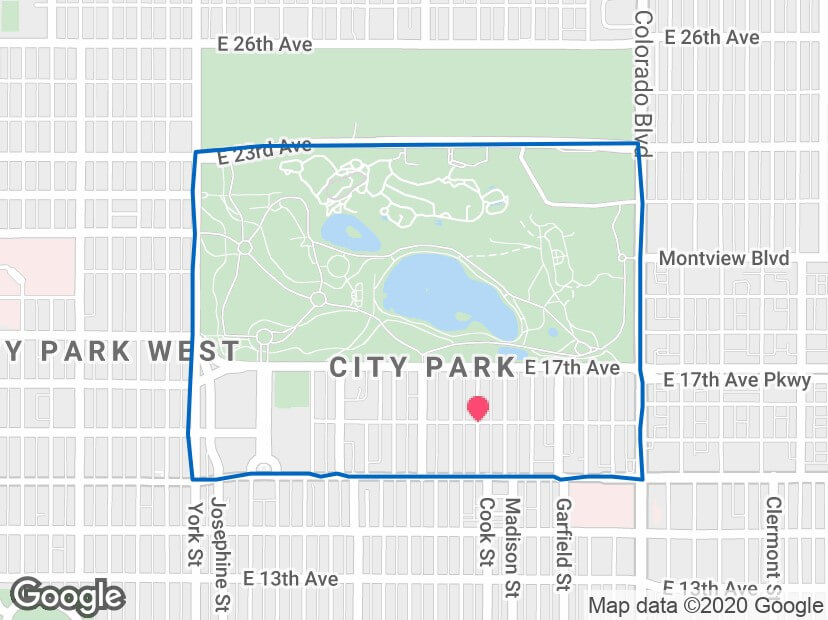 4. Central West Denver
This is one of the largest, and also one of the best and worst neighborhoods in Denver with a population of 50,475 people. It has a crime rate of 138% greater than the national average. According to Spot crime, the last six months from June 2020 registered theft as the highest crime with 25 incidences, followed by vandalism with 18 incidences. During bus transits, this neighborhood is found to be safe. No reports from residents on pickpockets or muggers so assumedly, cash and other valuable possessions are quite safe. Typically, walking or biking around this neighborhood has no safety issues, even at night. Females traveling alone can even consider the hotels around as they come recommended. One's chance of being a crime victim is 1 in 17.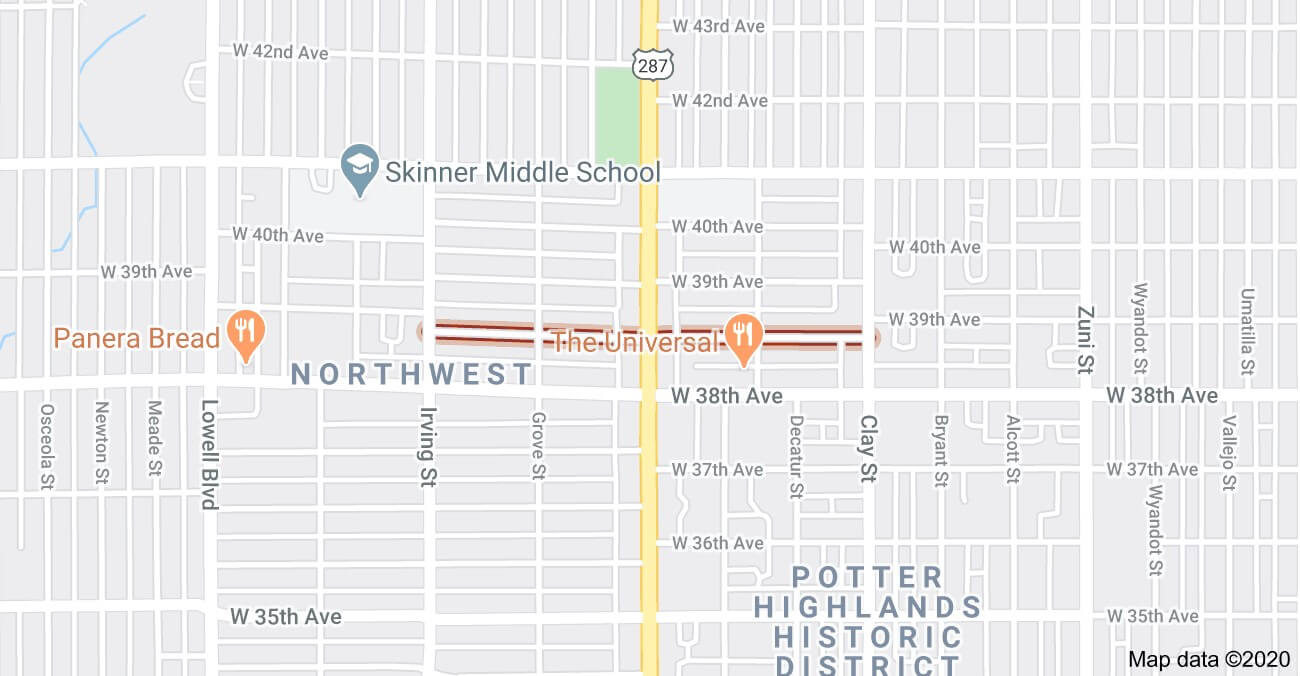 5. Auraria
One of the small neighborhoods in Denver with a population of 799. The crime rate here is 3% greater than the Denver average but 76% greater than the national average, which makes Auraria one of the few worst places to live in Colorado. This neighborhood is sketchy just for nights alone, but daytime has a minimum report of a crime. Panhandlers and pickpockets stay far away so your cash still remains where they are, making public transportation safe also. Police in the neighborhood make occasional foot patrols, and generally, the hotels in this neighborhood are recommended for their safety consciousness.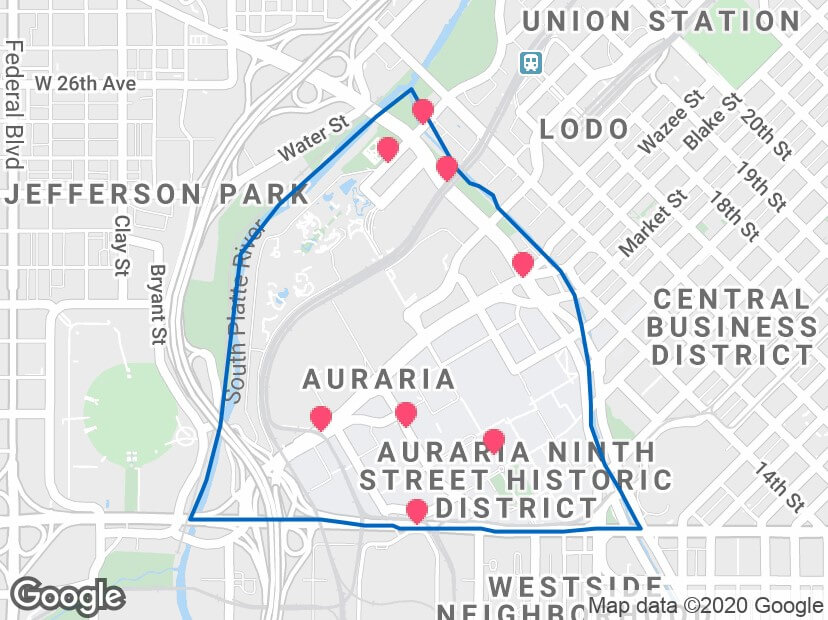 6. Stapleton
This neighborhood of 19,385 residents has been a crime-ridden one for a long time. In only a month in 2015, there were 19 gunfire reports and about 1,400 crimes reported from January to August of the year. Due to the majority of the crime incidences being property crimes, petty crimes are few in between so traveling with cash is found to be safe. Public transportation is yet to give any historical red flags. Residents report on feeling safe walking or biking across the neighborhood at late hours, even for the females and tourists'. This is the same for the hotels around this neighborhood, they have good recommendations.
But still, is Stapleton Denver safe? Stapleton's crime makes up only 3% of all crime in Denver, and thus far, crime rates are 150% greater than the national average.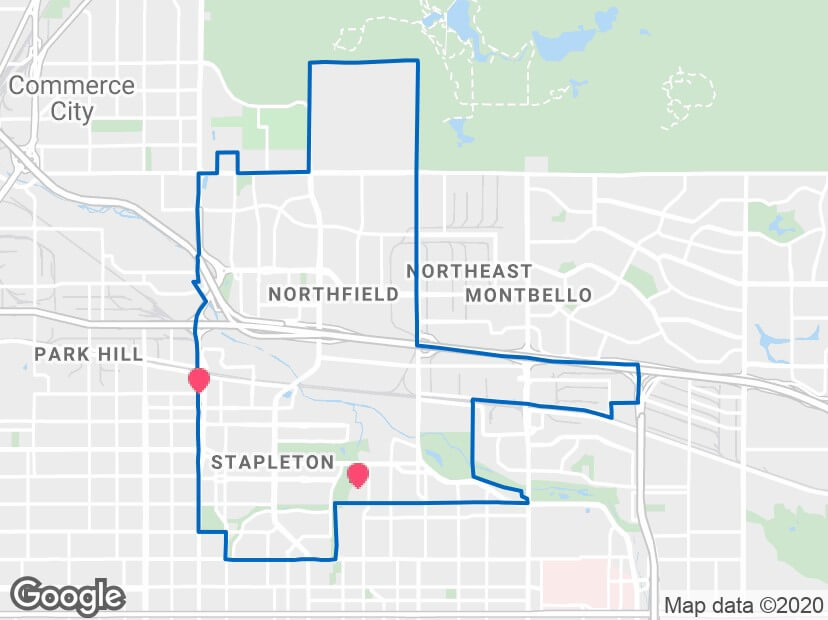 7. Baker
The population of 5,795 in this neighborhood of Denver experience terrible property crime. For a total of 11,103 crimes per resident, only 910 crimes are ascribed to violent crime. Almost making this a bit close to one of the worst neighborhoods in Denver. The major deed residents find interesting is the easy transportation medium. Multiple safe transit options and bike lanes which make exploration appealing and cash handling protected. Night safety is affirmed for visitors or females. Hotel options are even guaranteed secured hospitality. Although crime rates are 330% greater than the national average, the police visibility in the neighborhood is felt.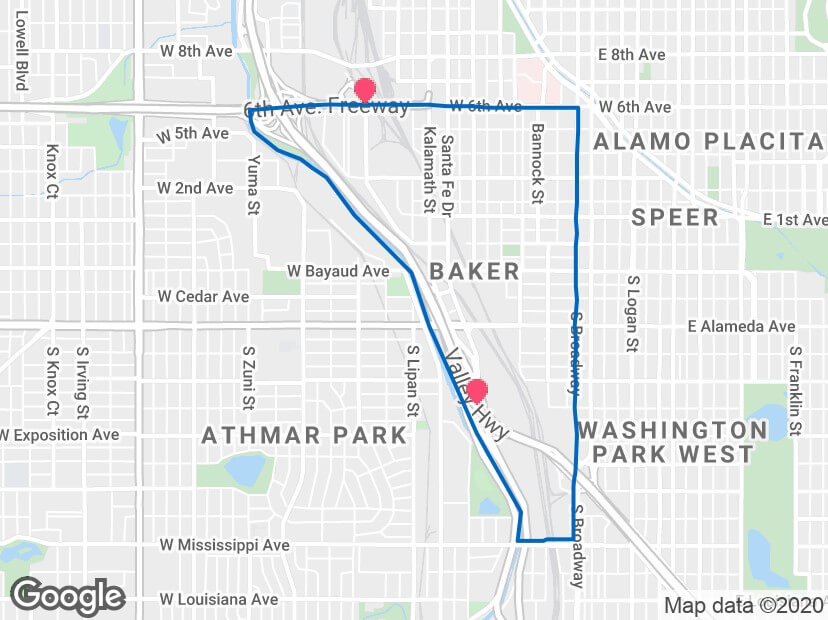 8. Alamo Placita
This neighborhood's population is simply 11,380. Though Alamo Placita has exceptional livability of 78%, the crime rate is still 13% greater than the Denver average adding to the reasons for being one of Denver worst neighborhoods. According to Spotcrime, the last six months have witnessed 181 reported incidences of theft, 26 on vandalism, and 21 on burglary. The patrolling officers don't seem to take full charge of the crimes. It's encouraging to note that these offenders are specific and do not hover in corners at night time. Wandering and exploring past day time on foot/bike is safe, even for females traveling alone. Incidences are not reported during public transit so it's safe to assume their safety. Petty crimes are rare so moving around with loads of cash is safe, though not advised. Each resident, in Alamo Placita, has a 1 in 21 chance of being a crime victim.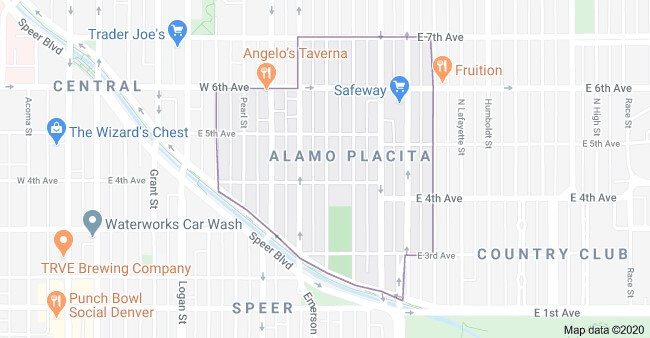 9. Montbello
This neighborhood has a population of over 30,000 residents but troubled with both violent and incident crimes. June 2020 alone had 21 reported violent crime incidences and 56 property crime incidences according to Denver Crime Post. Incidentally, a police patrol in this neighborhood is concrete. Montbello has reported crimes on petty theft, making pickpocketing and mugging a frequent activity in crowded regions. Public transportation safety is also affected. Visitors and travelers are advised to keep their items and cash close to themselves. The hotel recommendations are very far apart, making an average of 50% recommendable for Denver safety.
Read: https://crime.denverpost.com/neighborhood/montbello/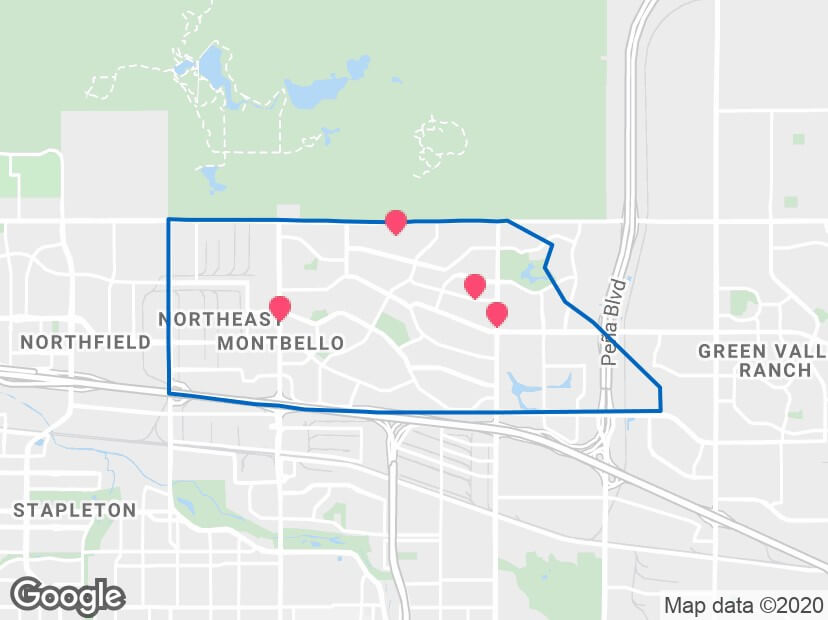 10. Central Business District
The highest crime registered around 500 16th Street to 610 16th Street is larceny, 10 times in the month of June 2020. The number of people occupying this neighborhood is around 10,000 in the midst of the total crime figures. A lot of activities are coming from the police to make this one of the best neighborhoods to stay in Denver. Residents advised exploring the neighborhood only during the day for fear of illicit activities at night. From information, petty crime exists, so moving with wads of cash will be unsafe. Public transit means may be deemed unsafe too. Not so recommended are hotels nearby.
Read: https://www.westword.com/news/denver-places-with-the-highest-concentration-of-crime-april-2018-10241355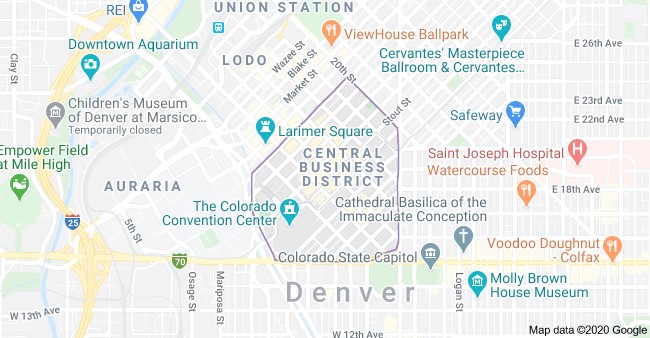 Crime Situation in Denver
Is Denver a dangerous city? Denver's per-capita violent crime rate rose 9% between 2017 and 2018. Overall crime rates have increased yearly since 2014, totaling 4,260 crimes per 100,000 residents in 2018. Almost a 7% increase in four years. In 2019 however, violent crimes decreased by 6%, driven in part by dips in the number of homicides and rapes. Property crimes stayed level.
Top Bad Areas of Denver
What are the bad areas of Denver?
1. Highland
This is the bad part of Denver. This neighborhood in the 90s suffered crime reports especially with its numerous dodgy areas. With only 15,265 people, it is set to reduce the number of its reports. The police response is very active. In this area, walking or biking for exploring is only pursued at daytime only. Night times are less secured for tourists or women traveling alone. Public transportation comes with fewer reports on crime, invariably leading to less petty theft as cash mugging. This is still not one of the best neighborhoods in Denver for families.

2. Park Hill
This neighborhood has a population of 28,587 people and average livability of 68%. The total crime in Park Hill is 3,282 per 100,000 residents with the bulk of crime incidence reports being property crimes. In the early 2000s, this neighborhood experienced bits of gang activity and drive-by shootings. Apparently, not one of the best areas to stay in Denver. Recently still substantial gang activity but barely overwhelming. Police patrol keeps the neighborhood offenders/ gangsters on pins and needles, however. Day and night exploration is quite safe for females or visitors. Although, day time comes with a share of pickpocketing and unsafe cash handling. In Park Hill, the hotels nearby come recommended with good security measures.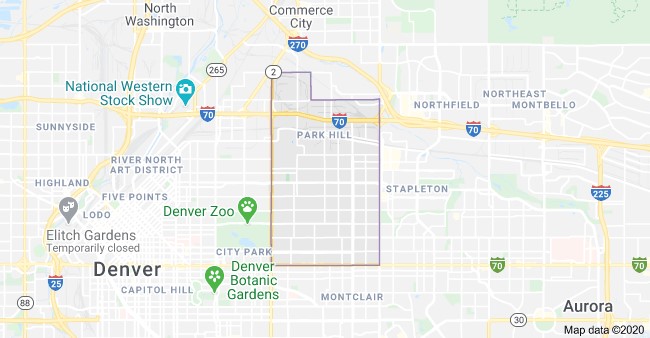 3. Lodo
8,519 people have settlements all around this lower downtown of Denver. In this neighborhood, there is a very rust belt feel to it. Crimes are rising due to the increase in bars, driving drunk, fights, and stabbing. This is one of the exact neighborhoods to avoid in Denver. It should answer enquiries on, "Is downtown Denver safe?" There's barely any active police presence in this neighborhood. Larimer Street, 20th & Lawrence, the Solera, and 2020 Lawrence are fair areas to explore, especially for females traveling alone and visitors. Residents don't skip to mention the excessive bike thefts in this neighborhood too. Safe to say, public transportation is not entirely safe and cash in pockets/ wallets are not either. In Lodo, one's chance of being a victim of crime is 1 in 57. None of the safety risks exist in close-ranged hotels, as recommended by residents.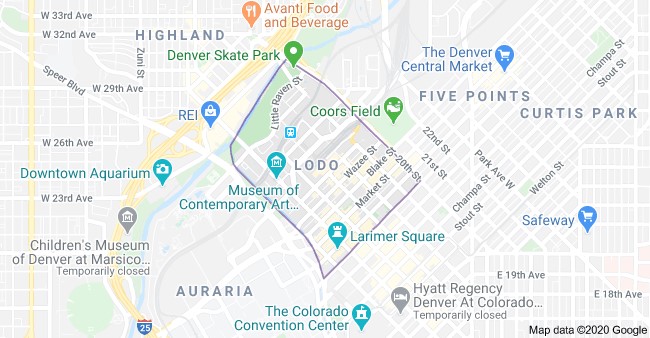 4. Southwestern Denver
This largely populated neighborhood of 123,093 residents, is one of the neighborhoods with frequent theft incidences and the high crime areas in Denver. Police presence is felt, though not as strong. The neighborhood is not very walkable, so exploring on foot at night time will be a challenge for females traveling alone. Except they attach to a group. Most scenarios frown against bus transits, as cash and personal belongings are usually not safe. The security with nearby hotels is also worrisome. Southwestern Denver crime rates are 20% greater than the national average.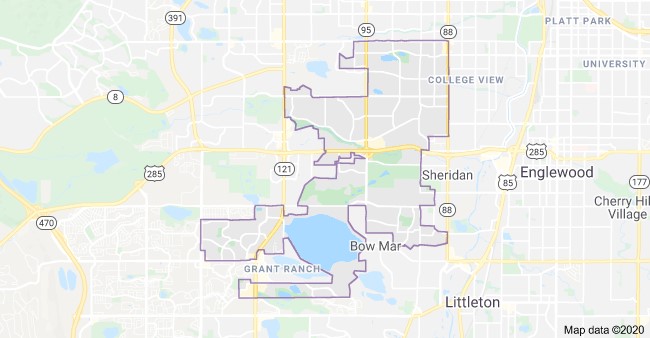 5. Jefferson Park
With a population of 5,554, this neighborhood witness a crime rate of 45% greater than the Denver average. So far, it registers 76 incidences per 1,000. 2007, the neighborhood saw a decrease in crime to 29.3% and subsequently more decrease. Still, one of the areas to avoid in Denver. Currently, property crime overwhelms the residents even with the visibility of the police through the neighborhood. Public transportation is free of crime according to reports, so cash handling is a safe matter. Residents commend exploring either day time or night time, single female or traveling visitors, as the neighborhood is free of sketchy domains. You have a 1 in 16 chance of being a crime victim in Jefferson Park.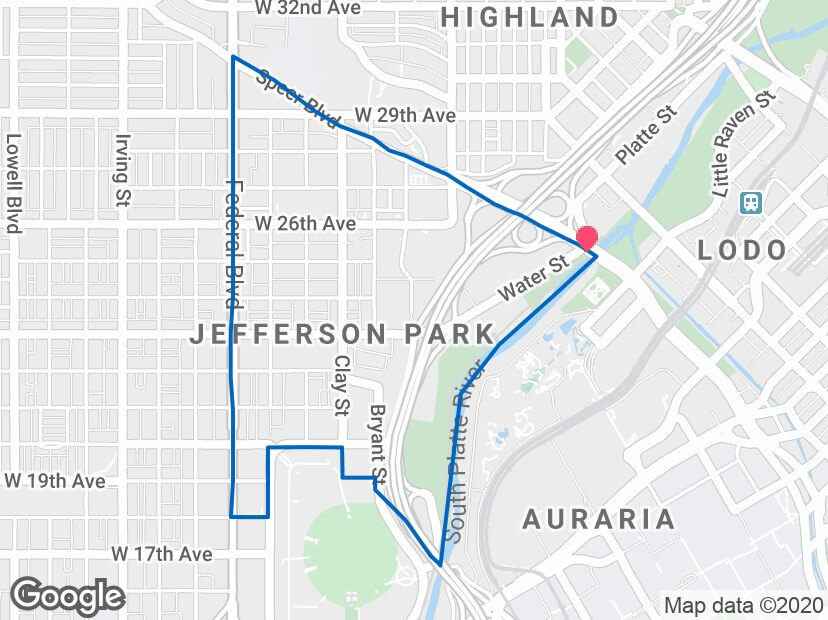 6. Northwestern Denver
One of Denver worst neighborhoods with 30,609 people having a total crime of 4,802 per 100,000 residents. The property crime extends beyond the violent crime by over 25%. It represents 4,202 of the sum. The police, however, are seen around the neighborhood but scarcely. Ladies and travelers are safe to explore at night time only preferably. Day time comes with petty crimes especially at the bus station so wallets filled with cash may be emptied by pickpockets. This neighborhood has few of the bad parts of Denver so hotels around are considered part safe and part sketchy.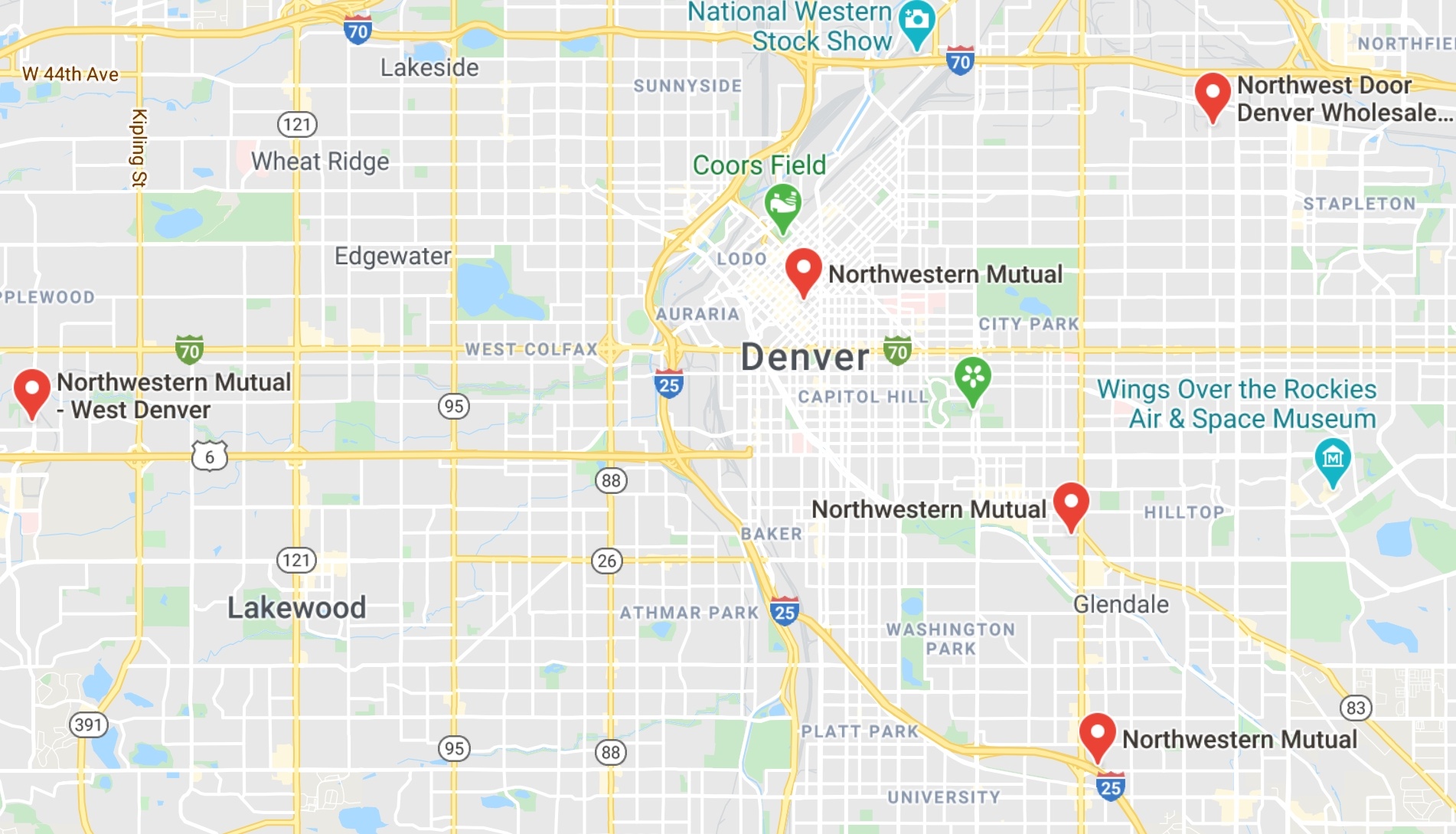 So, what are the safest neighborhoods in Denver and also the best area to stay in Denver?
Conclusion
Denver has a sunny and dry climate with more annual sun hours than even Miami Beach. But is Denver a safe city? As with most big cities, it is not the least or most dangerous city. There is definitely a crime, and some places are worse or better than others. But being one of the tourists' favorite destinations in the US, you can expect that Denver is concerned about the safety of the inhabitants and visitors.