The urban lifestyle comes with its share of crime. With Boston being one of the big cities in the US, crime is bound to occur. As a consequence, there will be some neighborhoods hit negatively more than others.
To remain on the safe and sane side of Boston, here are the neighborhoods that are worth avoiding.
Top 10 Bad Neighborhoods in Boston?
The areas of Boston to avoid are:
1. Roxbury
Four or five decades ago, this used to be one of the toughest neighborhoods in Boston. Roxbury is located in Suffolk County and has a population of 63,672 inhabitants. Even though this neighborhood is a lot safer than it was, you can still feel some negative vibes, especially around Dudley and Rox crossing.
If you are not aware of the surroundings and you choose to take a walk past sunset, a certain nervousness will trigger you. This is a result of gang activities in the majority of corners. Although over the years there has been an 8% drop in crime, violent crimes though are still off the roof at 232% greater than the national average.
Good news for this neighborhood is the additional police station which will improve police officers' response time. Thereby elevating safety in this neighborhood.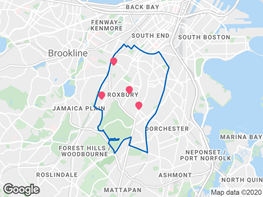 2. Jamaica Plain
The population number for this neighborhood wound up at 45,158. Jamaica Plain experiences less violent crimes when compared to others, but property crime stubbornly keeps up being consistent. Occasional muggings and car break-ins are common denominators of this neighborhood. Very rarely, though possible, would you have drive-by shootings and gang violence.
In 2016, Boston Police released some data which displayed that crime rose by 15% from the previous year. Major contributors being an increase in property crime, specifically larceny. Residents complain of house break-ins and car-break-ins ever so frequently. This is quite surprising as this neighborhood enjoys one of the largest police presence in Boston.
To get rid of the general unsettling feeling around Jamaica Plain, Jackson Square and Forest Hills are the areas spoken to be the most unsafe so could be avoided. The neighborhood steadily becomes safer further away from Jackson Square and Egleston.
Finally, the total crime rate in Jamaica Plain is 25% lower than the national average.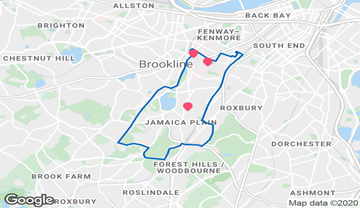 3. Mattapan
A former section of Dorchester surrounded by crime and poverty, this neighborhood has a population of 39,010. Even in this era there still exist occasional gang shootings, murders, gang-on-gang violence, and muggings. In a month, there could be a record of about five shootings.
The majority of Bostonians believe that about 27% of the crimes reported in Boston crop up from Mattapan, even though the contribution to the population is less than 6%.
However, not all Mattapan is crime-ridden. There are areas more notorious for crime than others. They are Morton St, Blue Hill Ave, and the area north going towards Talbot & Blue Hill. Residents' outcry over the possibility of theft or burglary by walking down the street. This increases the unsafe tag that comes with nighttime in these areas.
Luckily areas like Southwest Mattapan, virtually in Hyde Park, and also southeast corner around Dorchester Lower Mills have safe vibes. Also along the Dorchester line, there are Gallivan Blvd & Morton St Joins.
Though this neighborhood is gradually turning around, violent crimes are still 137% greater than the national average. The chances of being a crime victim, 1 in 30.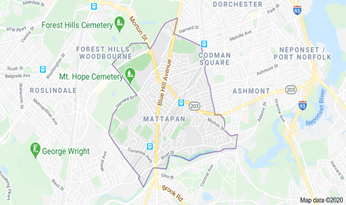 4. South Dorchester
This is one of the largest populated neighborhoods in Boston with 66,765 inhabitants. The crime in this neighborhood hasn't faded off as it should. Lately, there are more thefts, vandalism, and assaults reported than any other crimes.
According to Spotcrime, in May 2020, there were 58 theft incidences (reported), 15 vandalism, and 26 assaults. The total in six months before then was 238, 63, and 167 respectively. At the end of 2019, in South Dorchester there were 3,441 total crimes per 100,000 residents.
In the past decade, one of the relatively safe areas was Ashmont Hill. It is believed also that, the further east you go, the safer it gets. Basically into areas like Gallivan, Neoponset, Adams Village, Savin Hill, the Lower Mills, and Adams Street. Hpwever, walking on certain streets late in the evenings, there are high chances of being assaulted or mugged. As such, Rockwell Street is a marked area to avoid.
On a lighter note, if ever in hunt for a safe hotel, you could be rest assured with one like Comfort Inn. Having a lot of positive reviews.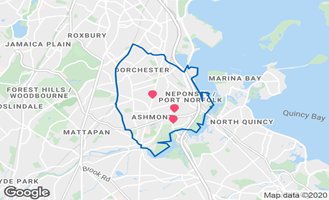 5. North Dorchester
The neighborhood that was once home to Martin Luther King Jr and actor Mark Wahlberg, it is the safer portion of the Dorchester's. With a population of 27,791, it especially houses the ethnically diverse inhabitants. Even though safer than the South, this neighborhood registers high crime reports including gun violence tied to gangs and heroin dealing.
Like the South, the topmost crimes reported are theft, vandalism, burglary, robbery, and assault. Theft takes a higher percentage. According to Spotcrime, in six months, there were 73, 36, 22, 12, and 67 cases respectively. The contribution to these crime rates are sketchy areas of the likes of Grove Hall, Upham's Corner, Meeting House Hill, Franklin Field, Four Corners, Codman Square, and Fields Corner. There are also Norfolk Avenue, Blue Hill Avenue, Columbia Road, and Washington Street.
The areas acclaimed to be safe according to the Boston Police are Savin Hill (a former reputed stabbing corner area) and Clam Point (number one safe neighborhood), even all east of Dot Ave.
Walking around these areas anytime would be better in groups, and not in solos. What is important also is that residents are disgruntled over the poor response rate and minimal efforts of the police officers within the neighborhood.
By record, property crime leads - 2,937 crimes per 100,000 people against violent crime of 738 in total against 100,000 people. In general, the chances of being a crime victim is 1 in 28.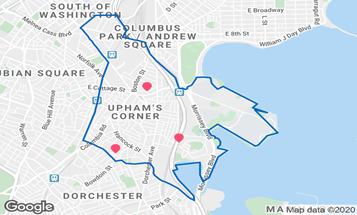 6. South End
Also in Suffolk County, the south end is a neighborhood bordered by Chinatown and Roxbury. It has one of the average population amongst Boston's neighborhoods - 34,304. Not so much as dangerous, it sure does have a lot of reported crimes that taint this otherwise peaceful neighborhood. Not only the notorious type of crimes in Boston, but there are also shootings, arson, arrests, and other crimes that make up a quarter of the lot.
In the past six months from May 2020, according to Spotcrime, there were over 1,100 crimes reported. Theft and Assault being the two chiefs. FBI statistics show that crime rates in South End happen to be 49% greater than the national average, with violent crimes, 147% greater in the mix.
Also, a very common sight in this neighborhood is the many homeless causing disturbances sometimes. Again, even with extensive police activity in this area, there's still large drug dealing and late-night activities.
From advice, it is best to stay clear of the South End by Boston medical center. It is reportedly not the safest or nicest area of South End.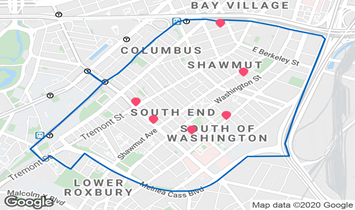 7. South Boston
Fondly referred to as Southie by residents, South Boston has a population of 38,206 inhabitants. It used to be one of the dangerous neighborhoods in Boston back in the 90s, and strikingly known for crime and mayhem. But now we find that it's one of the relatively safe ones in this era. Still, one of the open issues remains drug usage and petty crimes (still associated with drugs).
With South Boston having a lot of urban population, it becomes a prime target for petty crimes and thefts. Exceptionally shady areas are around Andrew Square and the blocks circling the Old Colony housing project. Hence, if you are wondering, "Is South Boston safe?" South Boston after dark tends to be a scary one. Therefore nighttime walks through Andrew Square, also the D St projects, are highly kicked against. T down Broadway is a safer area.
Statistically, property crimes fall in 1,522 of every 100,000 residents when the total crime is 2,011. Chances of being a crime victim in South Boston is 1 in 50.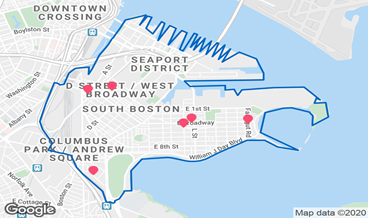 8. Hyde Park
One of the few less dangerous neighborhoods in Boston. The population approximately 35,000, this neighborhood evidently has a low crime rate. Though in 2016, data showed a 6% rise in crime, it is still 28% lower than the national average.
In this neighborhood, there are fewer sketchy areas and gang activities. The few seen gangs usually dominated by hyped, unruly teenagers, and nothing so extreme like shootings. There are the Readville area and section bordering Milton, which are known to be pretty safe. A rail station was built recently that promotes easy commute and access. So far, there are little or no tales about muggings and pickpocketing.
Residents attest to the neighborhood's police officers' actions and protection, which make them feel safe.
Generally, nighttime walks can be made to happen in this neighborhood. There is only a 1 in 55 chance of being a crime victim in Hyde Park.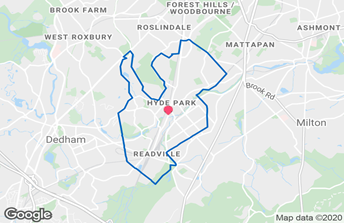 9. East Boston
With a population of 43,436, East Boston is one of the less upscale neighborhoods. The crime rate is fairly minimal but gang activity and drug presence are the main problems of this neighborhood. Popularly dubbed "Eastie" by the locals, East Boston has witnessed several violent crimes such as stabbings and shootings lately, although report for violent crime showed it is only 9% greater than the national average.
The neighborhood Police are a lot visible but there is still crime activity by nighttime around the sketchy areas. These areas are Eagle Hill, Central Square, and also Maverick. So when asked, "Is East Boston safe?", Jeffries Point and Orient Heights are reportedly safer away from East Boston crime.
Females especially are advised to move in packs at nighttime. Generally, you only have 1 in 62 chances of being a crime victim in Eastie.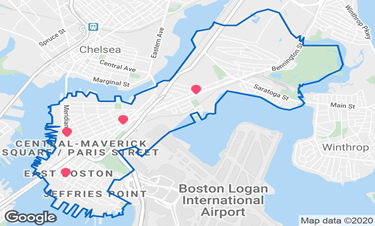 10. Roslindale
This neighborhood has a population of 36,129 inhabitants. Though almost close to 85% of it is very safe, this is unless you are hardly aware of the area.
Places like Archdale housing project or around mount hope/calvary cemetery has the most crime in Roslindale. Its low crime rate will give you no trouble when walking or riding a bike down the streets, even at nighttime.
Total crime here is 1,407 per 100,000 residents. And Roslindale is apparently safer than 78% of cities in Massachusetts.
Current Crime Situation in Boston
The number of violent crimes recorded for Boston year-in-and-out is not great. This high crime incidence undeniably stems from gang-on-gang activities.
According to FBI crime data, 2019 had 19,734 total number of crimes with a crime rate of 28.41 per 1,000 residents. In this figure, property crime, the prominent crime incident in Boston, second to gang violence, is 22 per 1,000 residents.
Overall, the chances of being a crime victim (violent or property) in Boston is 1 in 35.
Read: https://www.neighborhoodscout.com/ma/boston/crime#description
Top 5 Safest Neighborhoods in Boston
With noticeable crime in some Boston neighborhoods, there is also noticeable safety in others. Here are the safest neighborhoods in Boston:
Fenway-Kenmore

Allston Brighton

West Roxbury

Charlestown

Somerville
Conclusion
Is Boston a safe city? As far as Boston neighborhoods go, there are decent amount of crimes. But with regards to general safety, there are neighborhoods that are better off than the rest.
However, by activating street smartness and awareness, these unsafe pocket areas in Boston can be more avoided. Thereafter, giving way to appreciate this New England's sports powerhouse for its liveliness and history.