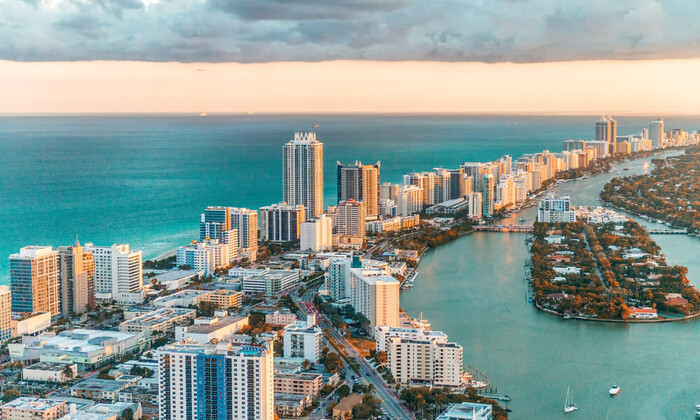 The culture in Miami, Florida is so colorful and vibrant, no wonder it makes for one of the most popular vacation cities in the US. There are the vibrant night life, the outstanding beaches, and warm winters. The Latin and Cuban culture additionally build up its unique and fun meter.
However, it is not all laid out as it should be as it has one of the highest crime rates and gun violence in the US. There are gang activities, drugs, and high crime. It is still a safe city to explore but now with paying extra attention to avoid unsafe areas.
Top 10 Dangerous Places in Miami, FL
Now what are the bad areas of Miami?
1. Model City
Popularly known as Liberty city, this neighborhood of 25,023 people, asides from being crime-ridden, is one of the bad neighborhoods in Miami. It is densely populated and located in the Northwest quadrant of the city which houses the poor parts of the population, regarded as the ghetto.
The entire neighborhood is known for violent crimes and drug-related felonies. There are steady reports on violent shooting rampage, burglaries, robberies, and drive-bys. Homicide rates increased by 40% from 2011 to 2013 and have maintained steady growth since then.
Although crime action has dropped in recent years due to police participation and activities, it is still a hot spot neighborhood. Walking and biking are encouraged to be undertaken only during daytime and not evening hours especially for females traveling alone. Public rides are quite free of pickpockets so your bulk cash stays intact.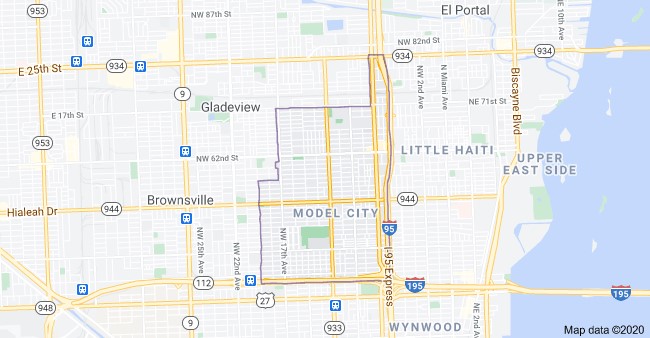 Read: https://www.areavibes.com/miami-fl/model+city/crime/
2. Overtown
This is Miami's keenest neighborhood as it is one of the city's oldest black historical neighborhoods. This makes this neighborhood Miami's most important historic neighborhood. Located northwest of downtown Miami, the population is 9,640.
Crime, especially gun crime, is found to be rampant in this neighborhood even with active police presence. There are excessive drug activities, mass murders, and shootings. Violent crimes are 124% greater than the national average, while the overall crime rates are 145% greater. No doubt this registers as one of the worst neighborhoods in Miami.
Walking or biking around in Overtown may not be the smartest move at nighttime because of lurking gangs in corners. Daytime will suit better, even for solo traveling females. You are likely to be a victim of crime just by walking by yourself. Petty crimes are no-show so this makes public transportation safe from cash robbing.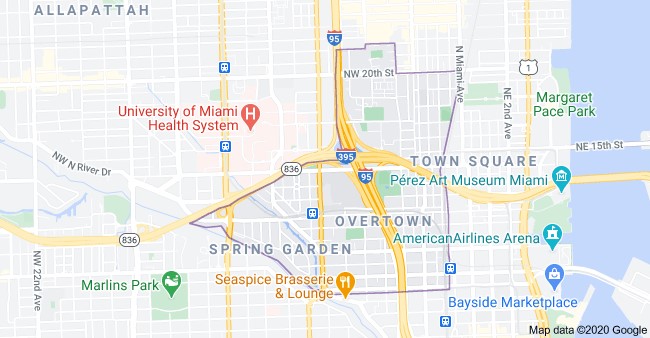 Read: https://www.areavibes.com/miami-fl/overtown/crime/
3. Downtown
Is downtown Miami safe? The population in this neighborhood is 30,065 and there is a high violent crime rate. For every 100,000 residents, the total crime is 10,146 where violent crime is 1,195, and property crime is 8,951. The recent crime reports for this neighborhood look better than it did a decade ago. The police in this district most likely are very active.
In Downtown, the best time for exploring the neighborhood on foot or bike is during the day. Hoodlums and street gangs gather in corners and may cause trouble at nighttime. Women traveling alone are encouraged to be around company once it gets dark, or take advantage of the recommended hotels around.
Panhandlers may be encountered as this side of Miami harbors lots of homeless people requesting money. Public transits are quite safe from pickpockets and your cash will be left untouched.
Read: https://www.areavibes.com/miami-fl/downtown/crime/
4. Little Haiti
Also known as Lemon City, this neighborhood was carved out for Haiti immigrants and other Caribbean residents. While there is a lot to love about this neighborhood especially Haitian food and culture, the presence of high crime will turn you off. This neighborhood is seen by some visitors as a ghetto, where shootings and gun violence take first place. So literally, it is one of the places to avoid in Miami!
Although property crime takes up 80% of the total crimes, violent crimes in Little Haiti are 200% greater than the national average. The police activities regarding this are not very transparent as reported by the residents.
Visiting through the neighborhood on bike or foot should only be done during the day if you're not a local. Nighttime gets sketchy and dangerous, especially for solo traveling women. There has been very little concern about cash robbery on streets and public rides. So you can feel safe on that.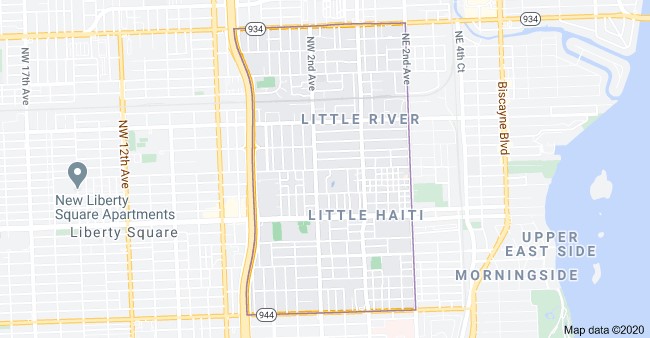 Read: https://www.areavibes.com/miami-fl/little+haiti/crime/
5. Allapattah
This used to be an all Dominican residential village, but now there's a mix with other cultures. About 48,221 people are living here and it is located north of downtown. In this neighborhood, there are pockets of crime witnessed here, although not excessive. The troubling bit is there are shootings now and again which makes Allapattah one of the bad areas in Miami. The crime rates in this neighborhood are 125% greater than the national average even with the police presence.
Daytime and nighttime are safe for a walkthrough or bikethrough but avoid east of 9th Ave and North of 20th St. as those areas invite danger. Just very few hotels come recommended. Public rides are safe and traveling or walking with cash is also safe.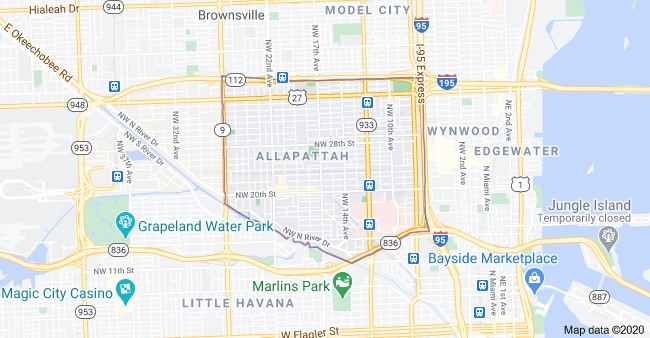 Read: https://www.areavibes.com/miami-fl/allapattah/crime/
6. Little Havana
This neighborhood, located west of downtown, originated with Cuban refugees. It is densely populated and has 56,682 residents settled. There is crime in this neighborhood but not very terrible. However, the gang presence is a lot and car break-ins are very rampant. Few thugs wander about and take advantage of crimes of opportunity which make here slightly one of Miami dangerous areas.
For safety reasons, residents talk about how unsafe it is walking on the streets during the day, let alone at night where the danger doubles. The better exploitable areas of Little Havana during the day are west of 22 Ave and south of 8 St, the central part which is the ideal tourist destination.
Public rides are hardly unsafe so your cash remains as it was.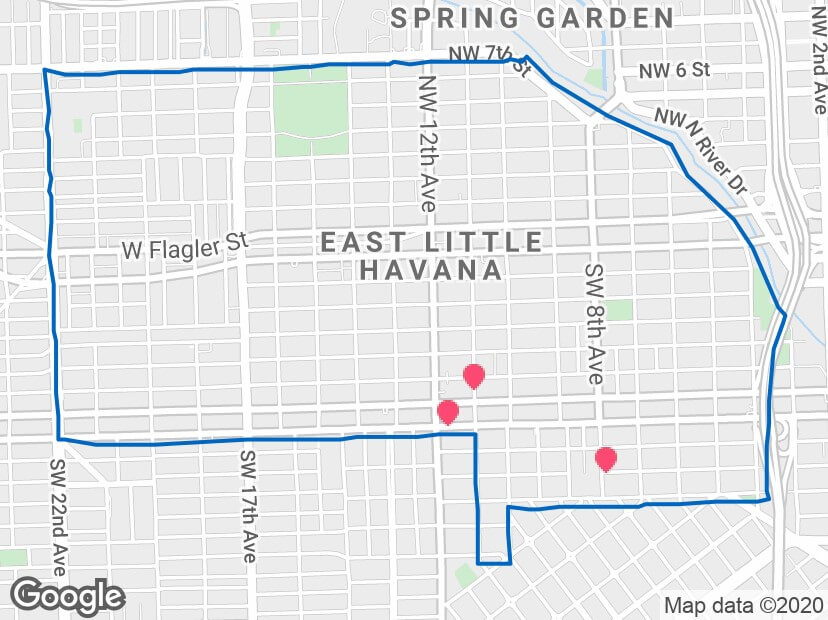 Read: https://www.areavibes.com/miami-fl/little+havana/crime/
7. Wynwood
17,923 people are living in this part of Miami. This is one of Miami neighborhoods to avoid. Among 8,588 total incidents in 2018, violent crime was found to be 782 and property crime 8,807. Although there are more thefts and car break-ins as seen in the report, violent cases seem to go unreported. They are 106% greater than the national average, and the police patrols have seemed to go cold.
For exploring better, day time is the preferred time. It is best to be on the lookout for any danger if moving around at night, especially the ladies. Good enough, there are hardly any reports on theft or pickpocketing in public transportation. So your cash and wallets are secured.
In Wynwood, you have a 1 in 11 chance of becoming a victim of crime!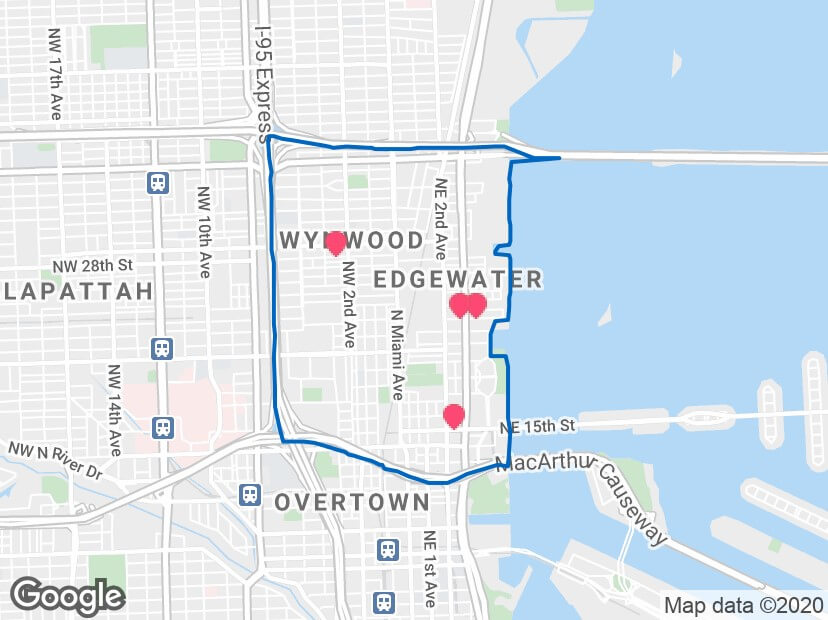 Read: https://www.areavibes.com/miami-fl/wynwood/crime/
8. West Flagler
More people occupy this neighborhood than would have been imagined. They make up 49,734 of Miami's population. This neighborhood comes with petty crimes and associated danger. There are a total of 2,427 crimes per 100,000 residents of which 2,158 crimes are spread among theft, vehicle theft, and burglary. The police's urgency does not fit with the criminals' intentions.
Walkers and bikers are usually spotted at both daytime and nighttime. Nighttime comes with a lot of precaution and measures, but the females are encouraged to walk accompanied after 9 pm. Public transit seems not to be bothered very often by pickpockets but valuables need to be guarded to self at all times.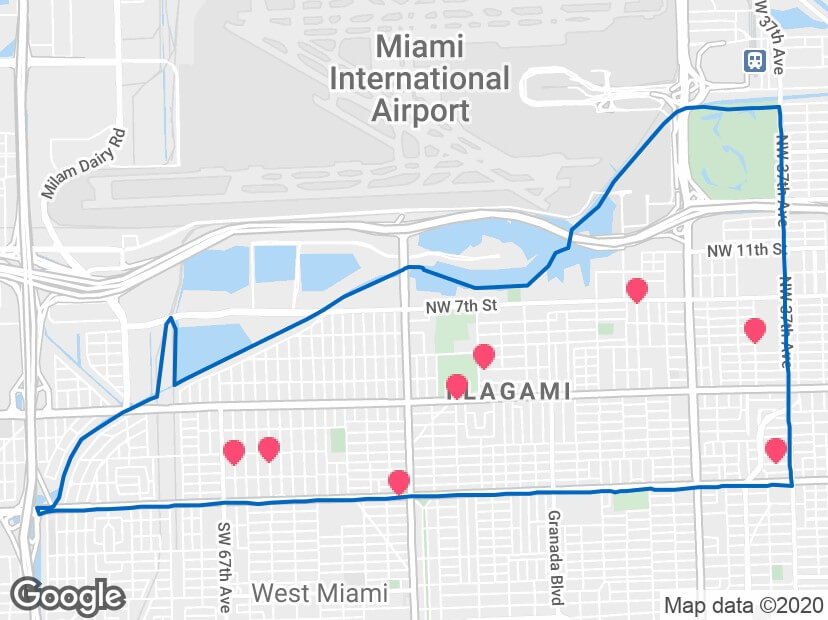 Read: https://www.areavibes.com/miami-fl/west+flagler/crime/
9. Upper Eastside
There are 7,725 occupying this neighborhood which is located East of Little Haiti. This neighborhood has violent crimes 98% greater than the national average, and year over year crime is said to increase by 2%.
The police seem to be on deck, so safety is a little assured. And this comes in handy for visitors choosing to walk or bike around. The security is well enough for both day and nighttime with good cautions, for the ladies especially. Panhandling and pickpocketing have also been curtailed so cash mugging has been on the low.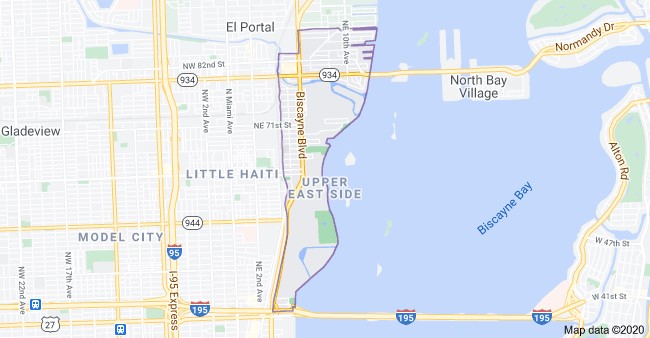 Read: https://www.areavibes.com/miami-fl/upper+eastside/crime/
10. South Coconut Grove
Mostly called The Grove, the population here is 7,956. The crime rate in this neighborhood is lower than the majority of the other neighborhoods. Violent crimes are 3% lower than the national average. However, there still exists bad vibes in terms of property crimes. There are high rates of theft and vehicle theft incidents but the police seem on patrol regularly.
Walking or biking has no specific hour of the day to undertake as all hours, day and night, are relatively safe even for solo traveling females. It's the same with moving cash about even in public transportation systems.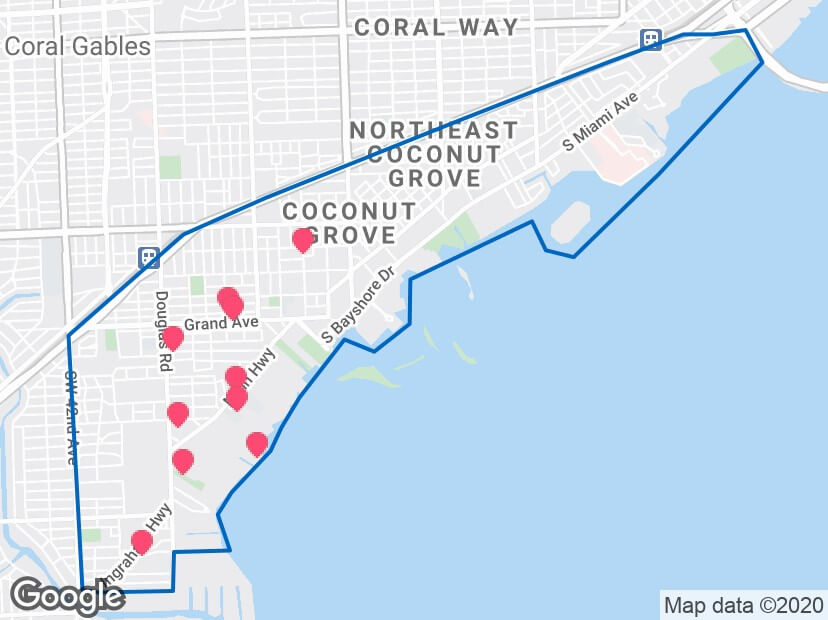 Read: https://www.areavibes.com/miami-fl/south+coconut+grove/crime/
Crime Situation in Miami FL
Is Miami safe? In 2016, the city of Miami was ranked as one of the worst cities in the US to reside in. FBI crime data analysis also revealed that, while there is more property than violent crimes, Miami crime rate is 42 for every 1,000 residents. One's chance of being a victim of either violent or property crime here is one in 24.
Top Safe Places in Miami, FL
If you ever wondered, 'Is it safe in Miami?' here are the safest neighborhoods in Miami!
1. Miami Beach
Really, is Miami Beach safe? Formerly a dangerous place, in recent years the transformation got completed and it became one of the safest places in Miami. The population rose to 91,784 and the influx of tourists increased daily.
It is safe to walk at any time of the day or night here due to the high number of people always present. Preferably if you stay on the main roads. Although Miami Beach is safer than 1% of the US' cities, the impact of Miami Beach crime incidents is in the order - assault, robbery, and rape for violent crimes. The order for property crime is theft, burglary, and vehicle theft.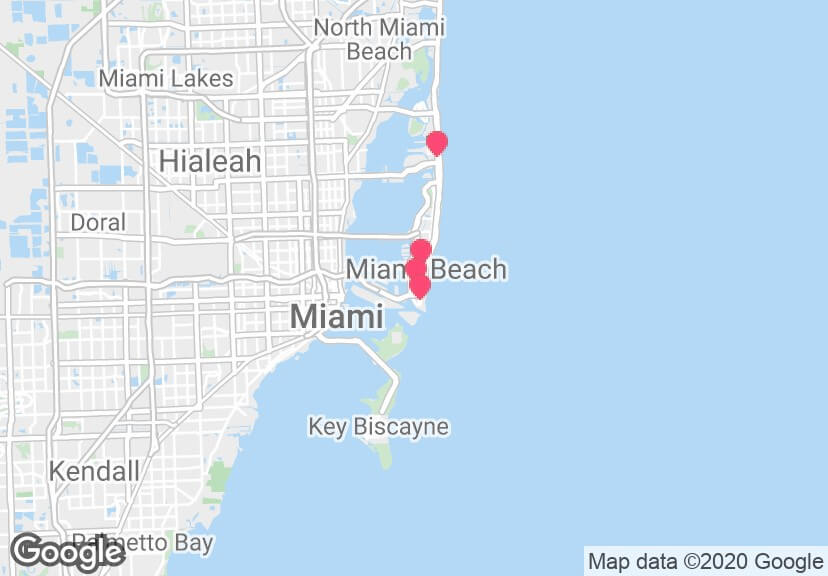 Read: https://www.areavibes.com/miami+beach-fl/crime/
2. Coral Gables
A Miami Times article once declared this neighborhood as Miami's best neighborhood in 2013. It embraces a reputation for fitting all demographics. It is a safe and diverse neighborhood located southwest of downtown Miami. It has the most minimal crime incidents in the country. The population here is 50,533.
Walking and biking activities are activities that can happen at any time. Petty crimes are minimal also as the chief concern is property crime. Coral Gables is safer than 47% of the US' cities and you have a 1 in 37 chance of becoming a victim of crime.
Read: https://www.areavibes.com/coral+gables-fl/crime/
3. Pinecrest
This is one of the best places to live in Miami. It has a livability score which is considered exceptional and the crime rates are 13% lower than the Florida average. The population in the neighborhood is 19,272.
The total reported incidents in 2018 are 432 which is an estimated 2,186 for every 100,000 residents. Violent crimes are 76% lower than the national average and the chances of being a crime victim are 1 in 46 chance.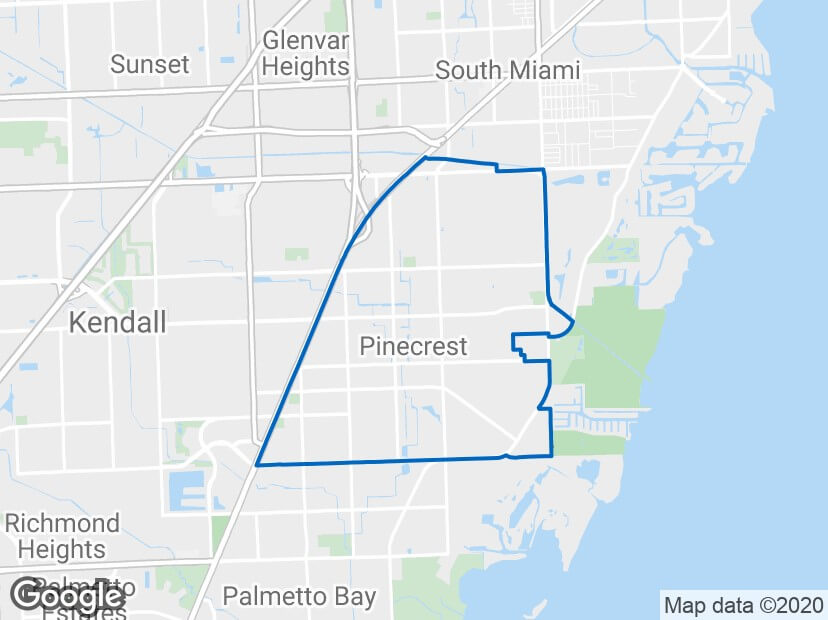 Read: https://www.areavibes.com/pinecrest-fl/crime/
4. Kendall
This neighborhood has a crime rate of 54% lower than the Florida average, which ultimately gives it the 64% safer tag than the other cities in the US. It is one of the safe areas in Miami. The famous sights in this neighborhood are The Falls and The Sabal Chase subdivision.
Regarding safety, the livability score is considered exceptional. Police patrols are constant around the neighborhood which is mostly suburban and more like an upbeat concentration of Miami. Petty crimes occur but pickpocketing or panhandling are scarcely reported. Walks stroll and biking can be handled at any time with hardly any security concern.
In Kendall, you have a 1 in 87 chance of becoming a crime victim.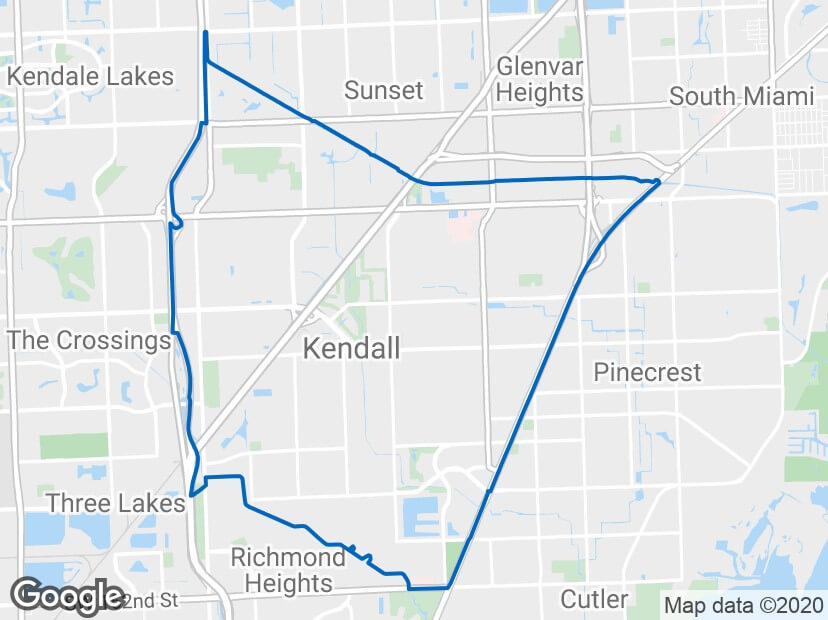 Read: https://www.areavibes.com/kendall-fl/crime/
5. Aventura
The location of this neighborhood is North Miami close to Sunny Isles Beach and Golden beach. There are 37,515 occupying this neighborhood where the malls are numerous with the addition of the famous Aventura Mall.
The livability score here is also excellent and it is safer than 22% of the US' cities. This neighborhood has a show of police patrolling around, and safety concerns become minimal. Walks and bike rides can occur both at day time and night time also.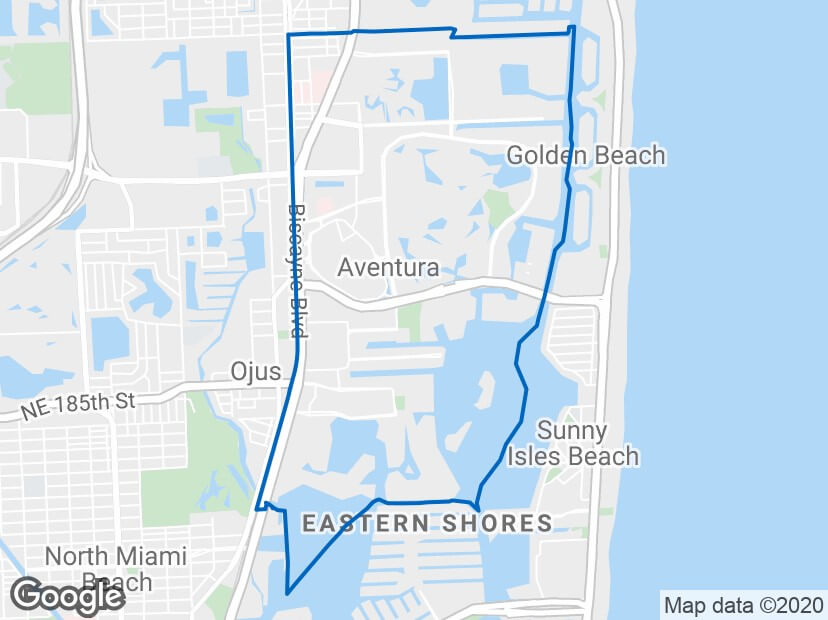 Read: https://www.areavibes.com/aventura-fl/crime/
Conclusion
Is Miami dangerous? In the city of Miami, as different as the neighborhoods are, so are the different levels they have with safety. The city's appeal to visitors and travelers will be lost if the crime rate is unbearable, but this is hardly going to happen. As intense as the crime continues, the city matches up with an overwhelming dose of exciting energy. That is why the experience in Miami is one of a kind.