Inglewood Los Angeles is more significant than just "a hood" that it is popularly known as. It has exotic indoor and outdoor arenas for exciting participation. There is the exposition park with the rose garden as the main attraction. There are tons of parks, a science center, soccer academy, skate park for the kids, and the Supper club for the jazzed up adults.
The Forum for those spectacular live concerts by your favorite artists and the fantastic aquatic haven known as Hawthorne Aquatic Center. But being a Los Angeles community, you can as well know about the other, not so favorite parts of the city. The crime is Inglewood, which has significantly declined, already has this city on the radar. Here are the most bad neighborhoods to avoid.
Top 5 Most Dangerous Places in Inglewood
Here are the top areas to avoid in Inglewood:
1. Lock Haven
This neighborhood has an estimated population of 4,000 people. Located towards the south of the LA international airport, this neighborhood has been deemed unlivable, especially the north. Back in the 60s, it was understood that the community nested the most drug addicts, drug manufacturers, and other criminal elements in all of Inglewood.
Now, it is registered to have the highest crime rate in Inglewood. Lockhaven is known to occupy less than 4% of the city's population, yet it records 12.5% of all fire services, along with the fact that the most significant number of paramedic called are locked in the neighborhood. The prevalence of crime in this neighborhood caused the police patrols to be tripled.
The crime level has recently dropped, but walking or biking around the neighborhood after sunset is not very encouraged. This is mainly for solo female tourists and travelers. Bus stations are likely to be consumed by panhandlers and pickpockets, so it is best to keep cash out of sight.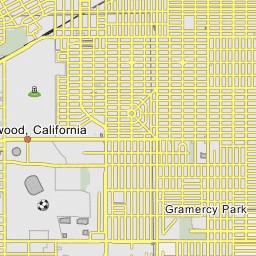 Read: https://www.city-data.com/crime/crime-Inglewood-California.html
2. Morningside Park
A culturally diverse urban neighborhood of 42,778 residents, of which almost 70% are African Americans. This is why it is known as the most concentrated black district in Inglewood. This neighborhood used to be a relatively safe one until the 90s when the crime took over. Violent crime takes the lead, but property crime follows closely second.
Is Inglewood dangerous? While the national index for crime is 1.0, murder, robbery, and assault go for 4.18, 4. 8, and 3.16. Property crimes go as high as 6.13 for motor vehicle theft. The police in this neighborhood are not very visible, although crime has recently been less reported, more so for violent crimes. Drugs are still an issue of concern in this neighborhood, as even the high schoolers write selling drugs to.
Neighborhood walks and bikes are safe both in the daytime and nighttime. However, a precautionary measure needs to be taken when moving around for fear of valuable items being stolen. Women traveling alone are also warned. Public transportation is not entirely free of pickpockets.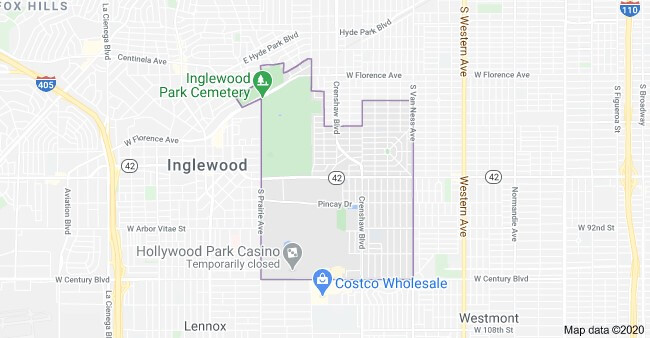 Read: https://www.city-data.com/crime/crime-Inglewood-California.html
3. Holly Park Knolls
Back in the late 80s and early 90s, this neighborhood was notorious for gang-related crime and shootings. There were different Inglewood gangs & gang hot spots with individual rules and politics on band activities. The park is located in Hawthorne, at the border of Gardena and South LA. Drug dealing is not forgotten in this neighborhood, as it is even dealt in the open at night times.
A resident talked about how this neighborhood had a severe car theft case in the early 2000s and has been a victim twice. It only subsided in recent times. Public transportation may not be completely free of criminal activities, and you are likely to be mugged of cash.
Normandie casino is one place to avoid and a couple of others. Walking and biking may feel appropriate during the day, but residents recommend against it at night time. This is whether or not females traveling solo find themselves partners. Holly Park is seen as the worst nighttime area as it gets very sketchy at past daylight hours. This seems illogical as this neighborhood has adequate police patrol security.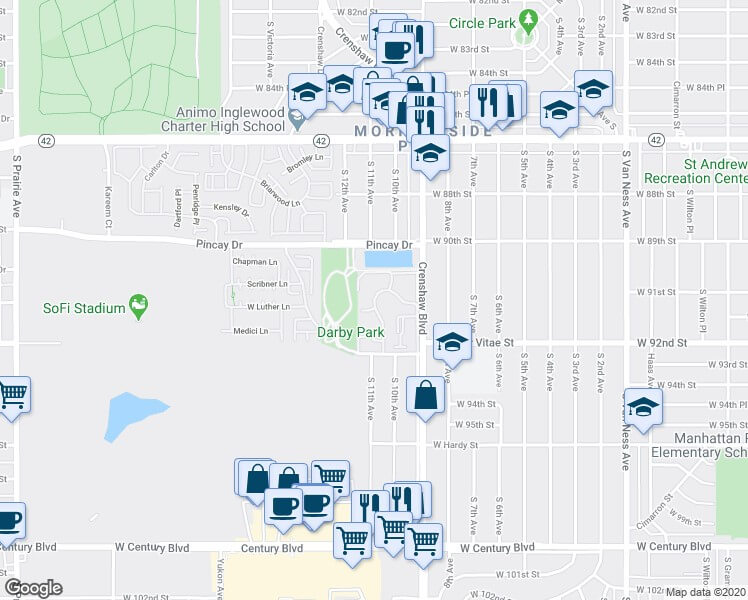 Read: https://www.city-data.com/forum/los-angeles/949393-hollywood-park-area-good-neighborhood-2.html
4. Hyde Park
The predominant crime in this neighborhood is auto burglaries and, therefore, a wrong area. However, the reputation of this community of 36,635 people is still based on the gang activities and criminal records of the 90s. Back when there used to be targeted shootings and murders. Some recent residents even mentioned having been burglarized.
When moving about, it is best to keep watch over your vehicles to avoid being robbed. Property crimes cover about 70% of the total offense in this neighborhood. Car security alarms, just similar to how you would secure your homes, should take priority. The police response system is weak in this neighborhood, particularly regarding auto crimes.
Between Dec 2019 and June 2020, there had been 185 violent crimes and 352 property crimes reported. These make a total of 138.2 crimes per 10,000 residents. The 2nd quarter of the year 2020 already marked 7.8 violent crimes and 12.5 property crimes per week.
Already tagged a high crime area, strolling, biking, walking are all activities better performed during the day time than nighttime. Alleyways and corners tend to get suspiciously darker at night times, and it is uncertain the type of actions that occur. Women travelers, mostly alone, are encouraged to always move around accompanied, even during the day. The hotels nearby come hardly with any reviews or recommendations, so it is not advised.
Preferably, it is ideal to move around with credit/ debit cards if not in a personal vehicle. Petty crimes still abound during public transportation.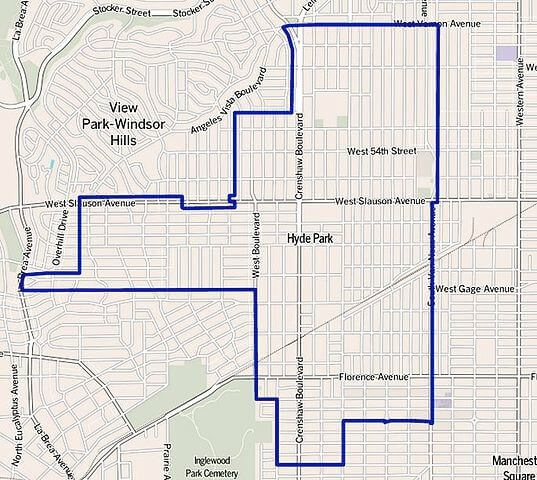 Read: http://maps.latimes.com/neighborhoods/neighborhood/hyde-park/crime/
5. Westchester
This neighborhood has a population of 43,005 people exposed to high rates of property crime incidents. The first six months of 2020 had a record of 780 property crimes only, with 77 violent crimes. Hence, the total crime per 10,000 people in the neighborhood summed to 199.3.
The majority of property crimes reported had theft on the top front, with 40.5%. The aggravated assault happened to be the leading violent crime with a 51.9% frequency of reported incidents. The robbery comes in next at 41.6%. It is registered that two police jurisdictions wrap the Westchester neighborhood, so patrols and security are quite efficient in this neighborhood.
The specific advice from residents for new towners and visitors into the community is exposing valuable vehicles. It is said that this attracts theft, which is the primary concern for the locals. Walking and biking in this neighborhood at day time is just as safe at night time. Females traveling alone have little to fear for safety, but there are barely any hotels that come recommended in this district.
There are little or no incidents regarding pickpockets or panhandlers, so this community is rid of petty crimes like cash mugging.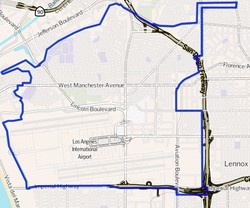 Read: http://maps.latimes.com/neighborhoods/neighborhood/westchester/crime/
Crime Situation in Inglewood
Crime statistics from the Inglewood Police Department reveal a steady annual decline of total crime since the 90s (both violent and property crimes) when placed against the Inglewood California population. Total offense dipped from 8,740 in 1990 to 4,664 in 2000, and 3,529 in 2010.
Similarly, violent crime and property crime fell from 2,563 and 6,117 in 1990 to 1,377 and 3,298 in 2000. By 2010, they had dropped further to 843 and 2,686.
In 2018, the total crime recorded was 3,427, of which violent crime made up only 17.8% of the figure. The bulk of incidents reported on property crime was larceny (theft), which covered 60% of property crimes said.
The index for the crime rate, according to city data, is 339. This makes the Inglewood crime rate 1.2 times greater than the U.S. average. And it was also recorded as more significant than in 87% U.S. cities.
Now on a scale of 1 to 100 (low crime to high crime), Inglewood's violent crime is said to be 36.5. (22.7 is the US average). Property crime is marked as 35.6. (35.4 is the US average).
Top 5 Safe Places in Inglewood
Is Inglewood safe?
1. Manchester Square
With a population estimate of 12,116 people, this neighborhood experiences very minimal crime compared to other communities in Inglewood. Manchester Square has a household income considered average, and a livability score also average.
Crime reported in this neighborhood spans for short periods. For the early parts of this year, total property and violent incidents registered were less than 260. Every week during the 3rd quarter of 2020, an average of 1 property crime and six violent crimes were reported. And they were only mostly due to aggravated assault and vehicle theft.
Public transportation in this neighborhood is safe. Moving around with bikes or just walking is considered safe also. Female solo travelers have little or nothing to care about as regards safety issues or cash handling.
Read: http://maps.latimes.com/neighborhoods/neighborhood/manchester-square/crime/
2. Fairview Heights
This is a neighborhood that has a great crime log. Besides the common burglaries like pickpockets and break-ins, Fairview Heights goes unscathed as far as personal crime goes. Residents have very little to complain about this neighborhood, and constructions are ongoing on improving the road network.
Property crime remains the top concern, but in comparison to other neighborhoods, it's at acceptable limits. There are very few hotels that come recommended, but night and day walking and biking are considered safe enough for all visitors, including solo female travelers.
Read: https://en.m.wikipedia.org/wiki/Fairview_Heights_station_(Los_Angeles_Metro)
3. Vermont Knolls
The estimated population in this neighborhood is 21,568. More or less of this number witness crime at a very nominal rate. In the first half-year of 2020, fewer than 250 crimes were reported on violent crimes. Between June and August 2020, this neighborhood had 10.5 violent crimes and 9.8 property crimes per week. The crime rate is 8.3 per 10,000 people.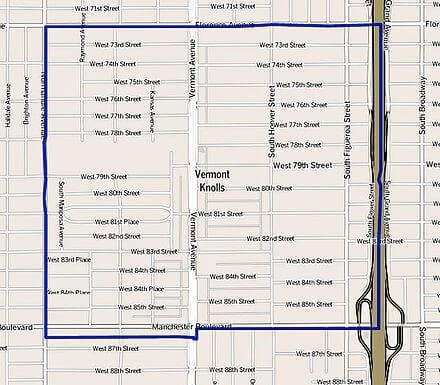 Read: http://maps.latimes.com/neighborhoods/neighborhood/vermont-knolls/crime/
4. Westmont
Of the neighborhoods in Inglewood, Westmont has the highest reviews on cultural appreciation and community togetherness. The peace in this neighborhood form a relaxation stride for the 31,466 people occupying here. The months between March and August 2020, the crime rate was 92.4 crimes per 10,000 people.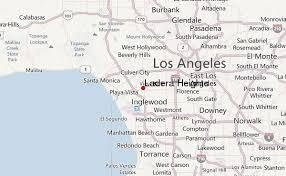 Read: http://maps.latimes.com/neighborhoods/neighborhood/westmont/crime/
5. Downtown Inglewood
When compared to the rest of the neighborhoods in Inglewood, this neighborhood has the highest record for walkability and Inglewood safety. The district is getting rid of crime quicker than others. The community is primarily residential, although there are a few friendly Inglewood parks.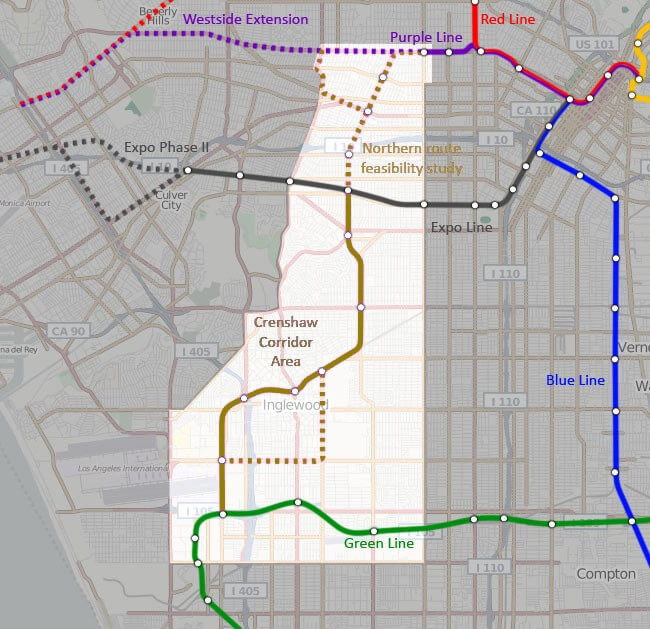 Read: http://maps.latimes.com/neighborhoods/neighborhood/downtowninglewood/crime/
Conclusion
The trend for the decline in crime rate in Inglewood, from the FBI's report, is as follows. In 2018, the crime rate was 616.84 per 100,000 residents, a 12.93% decline from 2017. In 2017, for 708.41 per 100,000 residents, it was a 4.36% decline from 2016. In 2016, for 740.68 per 100,000 residents, it was a 7.47% increase from 2015.
The crime rate has gradually improved over the past decade. If it was a crime-ridden neighborhood in the past, with the pace at which the crime rate is trending, before the next decade, Inglewood would register as one of the safest communities in LA.