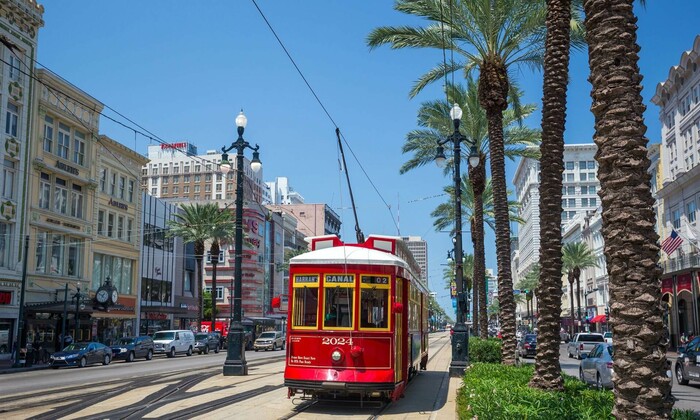 New Orleans is a fantastic city in North America, well-known for its jazz music, world-famous Cajun cuisine, and outstanding cultural centers, with Mardi Gras as the highlight. There are numerous reasons to get to know this city that is filled with history and unique stories.
Unfortunately, it also has many areas to avoid due to their notorious crime level, particularly in all four categories of violent crime – murder, rape, robbery, and assault. Other dangerous crimes, such as burglary and general theft, are far less common. Is New Orleans dangerous? This article will go over the ten most dangerous neighborhoods in a moment to help you stay as safe as possible.
Current Crime Situation in New Orleans
For New Orleans, the year 2022 was a violent year. While it documented its lowest homicides back in 2019 at 119 homicides, in Dec. 2022, the city ended the year at 277, and a rate of 70 per 100,000 residents, displacing St. Louis as U.S. "Murder Capital." The Metropolitan Crime Commission estimated that the data marks a 131% increase in violent crime compared to 2019.
Homicide was not the only crime to shoot up in 2022 compared to pre-pandemic levels. Compared to data from 2019, shootings increased by 88%, carjacking increased by 156%, and armed robberies increased by 20%. At least 887 people have been injured or killed by gunfire, and the NOPD responded to 4,379 incidents citywide classified as auto thefts. This is an increase of 35% of what was reported for 2021.
Top 10 Most Dangerous Neighborhoods in New Orleans
1. Central City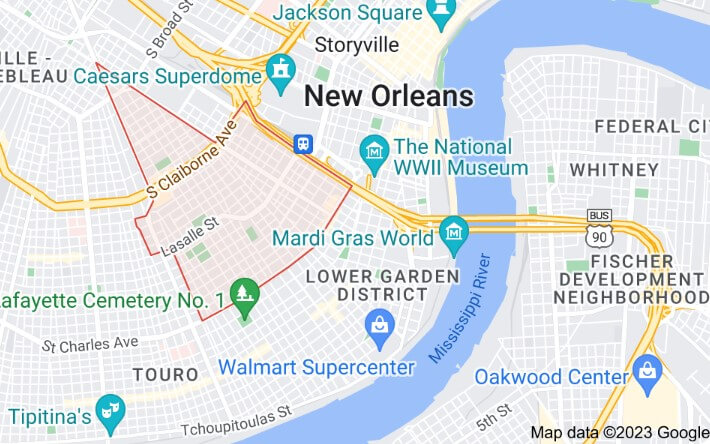 Central City is one of New Orleans' poorest neighborhoods, a few blocks north of the stately mansions that line St. Charles Avenue. Despite efforts to rejuvenate the area, it still features a striking crime rate, with violent offenses being prevalent with drug trade and gang activity being contributing factors.
This neighborhood has a population of 13,536 residents and a crime rate 102% higher than the national average, with violent crimes 653% higher. Local inhabitants advise you to be wary of your walking path at night and recommend Ubers everywhere.
For ladies traveling alone, to be safe, they advise it is best not to clutch your purse or act like everyone walking by you in the neighborhood will rob you. But stay aware and have a plan because you can end up in a bad place if you don't pay attention. In Central City, you have a 1 in 9 chance of becoming a crime victim.
2. Lower 9th Ward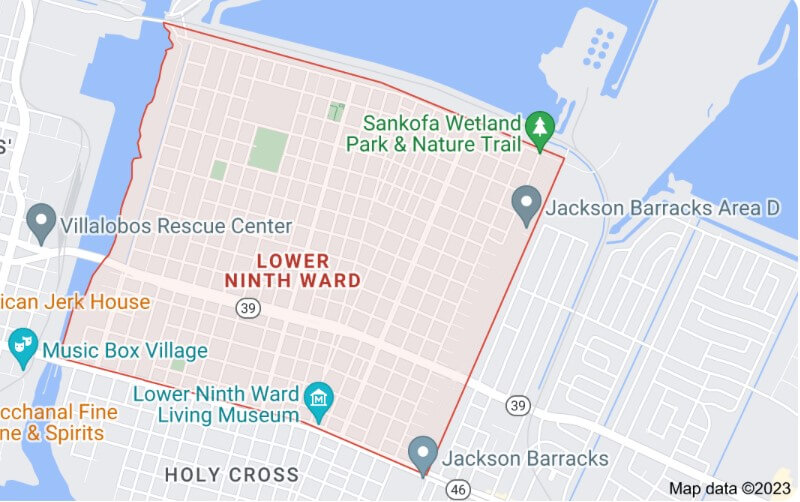 Most of Lower 9th Ward are not the best parts of New Orleans. This neighborhood makes up one of the largest areas of the 17 wards of the city, but according to the New Orleans Police Department, it also brags among the most outstanding crime rates. The population of 3,636 witnesses a crime rate 42% higher than the national average.
From mid-2021 to mid-2022, the total crime per 100,000 residents was 8,348, with 2,170 and 6,178 as violent and property crime total incidents. Incidents happen less frequently when the police patrols, but the locals cry that the only time they see police officers is when an incident occurs. No one deserves to feel unsafe with violent crimes in this neighborhood, 460% higher than the national average.
The neighborhood also has 60% more crime than the entire city. So, visits are best managed in the daytime unless you prefer to explore one of the safely recommended hotels at night. This goes mainly to solo traveling females. Cash thefts are far-fetched, as few incidents have been recorded during public rides. In Lower 9th Ward, you have a 1 in 12 chance of being a crime victim.
3. Desire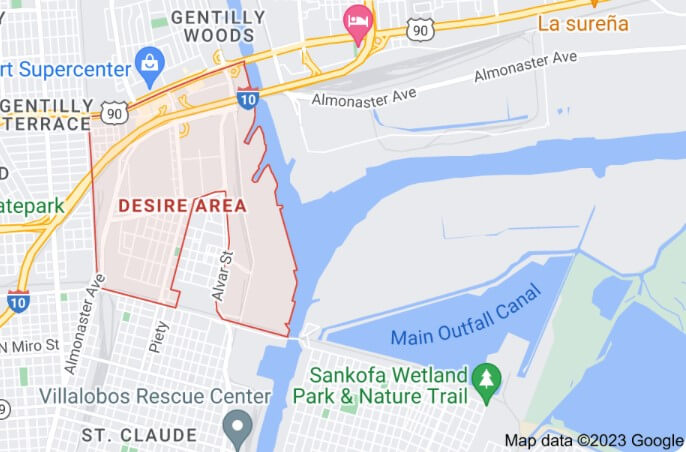 Desire has always had a bad reputation and is viewed as one of the bad neighborhoods in New Orleans to avoid. It is home to 2,629 people, with a crime rate that's 60% over the New Orleans average. The high crime reports were primarily due to its prevalent drug consumption rate - heroin, marijuana, and crack cocaine.
With a violent crime rating of 446% over the national average, the common saying by the locals is, if you are in a busy area or are likely to get drunk, desist from putting your wallet or phone in your back pocket. Out of 7,263 reported crimes, theft comes first place with over 70%. Residents disclosed that the police presence also contributes to defusing violent situations.
Exploring this neighborhood by bike or foot is relatively safe during the day. Nights should be avoided, mainly by women traveling alone. Public transportation has less worry about safety; however, in Desire, you have a 1 in 11 chance of becoming a crime victim.
4. Seventh Ward
After the Ninth Ward, the Seventh Ward is the second largest area in New Orleans. At one time, the country's most booming African-American business district extended along Claiborne Avenue from the Tremé into the 7th Ward. This neighborhood has a population of 10,552 and is known for its incredibly startling crime stats, with a violent crime rate over 622% of the national average.
In a total crime report of 10,995 per 100,000 residents in mid 2021 to mid 2022, while violent crime was 2,799, property crime fell to 8,196 with high theft, vehicle theft, and burglary cases. Although crime levels plunged with the police presence, for safety reasons, exploring during daytime trumps night times, whether on foot or bikes.
In Seventh Ward, you have a 1 in 10 chance of becoming a crime victim. Bus rides are safe from pickpockets and muggers, so your cash is safe, too. Only some hotels come suggested with great reports.
5. Pines Village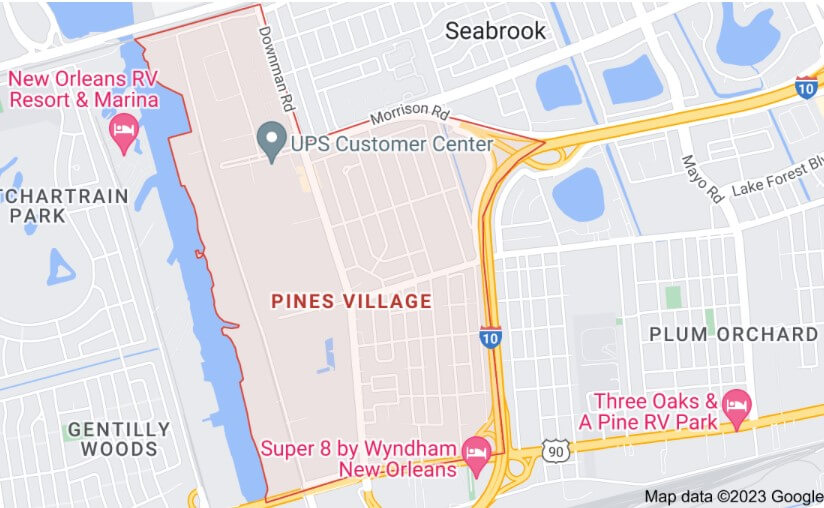 There are over 3,187 residents in Pines Village, with a crime rate of 112% over the New Orleans average. This neighborhood used to be seen as bloody due to its high gun violence rank, magnifying New Orleans's crime rate. Its total crime is 333% over the national average; violent crime is 543%, with property crime 291%. Hence, it is one of the areas to avoid in new orleans
The locals urge that visitors should not just sit in the car staring right at their phones if they do not wish to be a carjacking target in this neighborhood. And perhaps purses/ valuables/luggage/bags are better off not being visible in the car. With 10,160 crime incidents from 2021 to 2022, 75% ascribed to property crime, with theft carrying the majority - about 50%.
Walking or biking are better undertaken during the day, as night hours get unpredictable for safety. Women who travel alone should be chaperoned once past sunrise. In Pines Village, you have a 1 in 10 chance of being a crime victim.
6. Saint Claude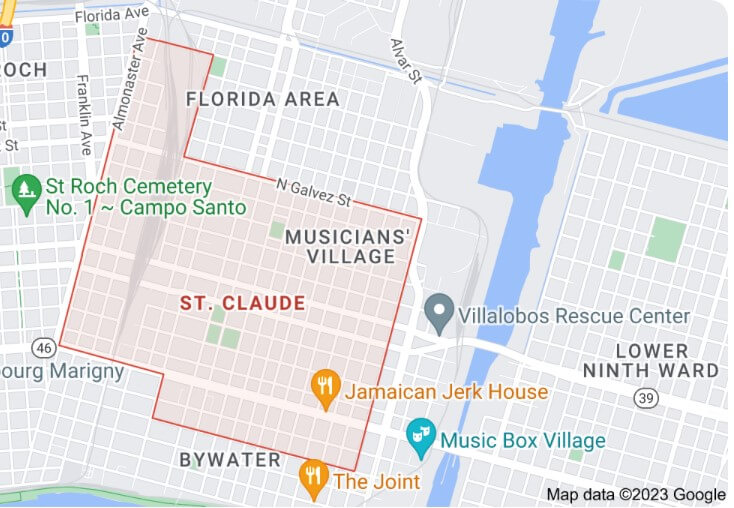 With a population of 6,562, this neighborhood is one of the larger areas in New Orleans, and it still experiences outrageous crime rates that tower over the national average by 373%. Shootings are common and are often related to gang violence and drug activity.
For every 100,000 residents, the total crime in Saint Claude from mid-2021 to mid-2022 was 11,087, with violent crime at 2,638. Other incidents like petty crimes and thefts are rarely reported. For this reason, your money is safe for you while on public transportation, but any local will tell you never to disclose where you got your shoes while on the streets.
For safety, daytime is favored while exploring as nighttime gets a little chancy. Females traveling alone are expected to walk accompanied if passing by at night. Even with the police presence in the daytime, residents have a 1 in 10 chance of becoming victims of any type of crime.
7. Saint Roch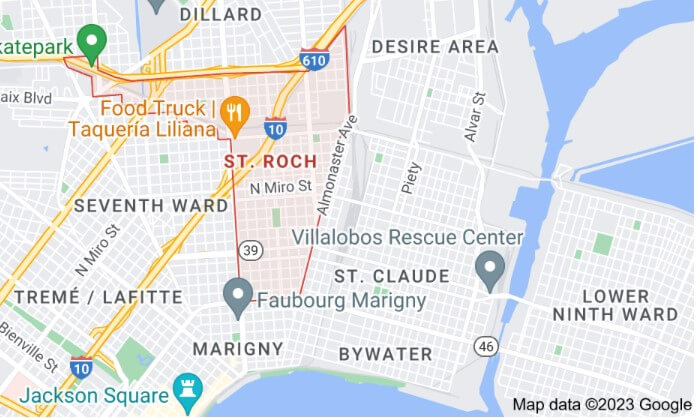 This neighborhood, located in the 8th Ward, is regarded as a hellhole of crime and drugs, with a lot of polarizing history. The population of 6,398 suffers a crime rate of 112% over the city's average. Saint Roch was severely hit by Hurricane Katrina, contributing to its severe poverty and extreme crime rates.
The locals say that the neighborhood is close to everything and cheap, but you must maneuver a lot of crime. It records 2,807 violent crimes per 100,000 people, where assaults have significant records. The violent crime rating is 624% over the national average.
Safety is guaranteed during the daytime, not so much by night, but more so for women traveling solo. Petty crime rate reports are far apart, so your cash and valuables are in safe zones when using public transportation. In Saint Roch, you have a 1 in 10 chance of becoming a crime victim.
8. Florida Area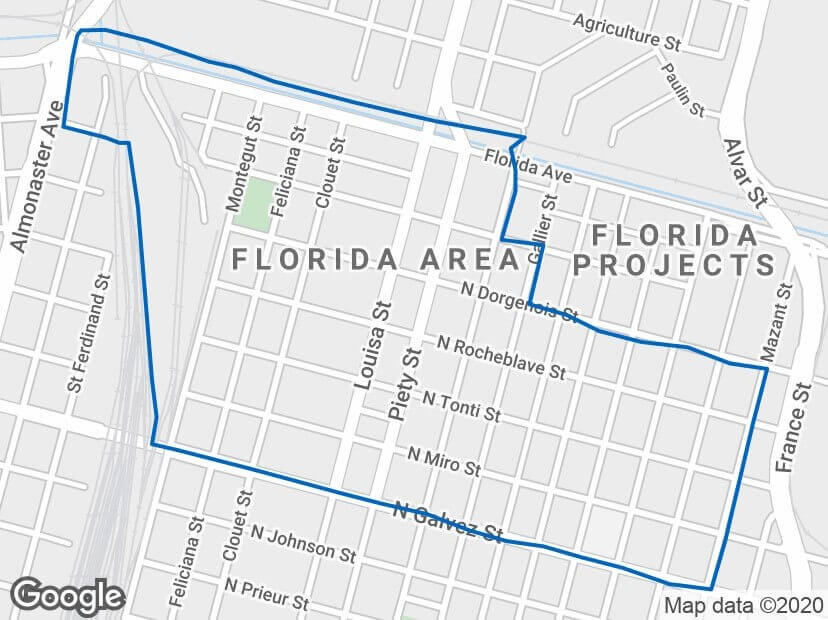 As few as the population is in this community of 1,427 people, pockets of corners still exist with crime reports regularly. While violence has declined for years, it is worth mentioning that crime rates are 56% greater than the national average, where violent crimes are 599% greater. Crime is said to have increased by 9% year over year crime in New Orleans.
From 2021 data statistics, the total crime per 100,000 residents is 9,149, of which violent crime is recorded as 2,711 and property crime 6,438. Property crimes are 229% greater than the national average, with theft having the most reported cases.
Sticking to daytime expeditions is a good safety tip for this neighborhood, as the locals say it's best to stay away after dark. It's also a great way to enjoy the more relaxed feeling of popular areas when fewer people exist. As relatively safe as the neighborhood is with patrolling officers, a step further must be taken to guard personal vehicles and items.
https://www.areavibes.com/new+orleans-la/florida/crime/
9. West Lake Forest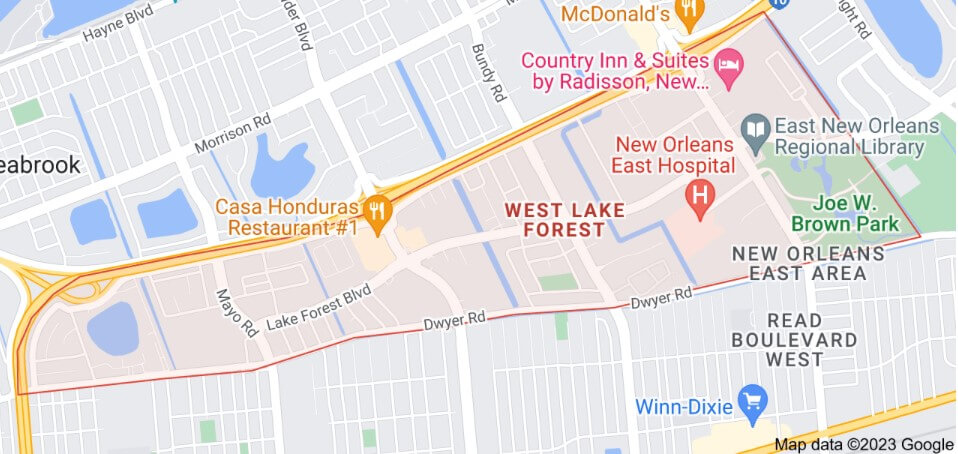 4,260 people live in West Lake Forest, although it is not the best place to stay in New Orleans as it reportedly has a bad reputation for fluctuating crime rates. From shootings to armed robberies, the statistics in this neighborhood see periods of spikes now and again.
The total number of violent-to-property crimes in this neighborhood is 1:3. For both, the police presence takes care of the unmentioned incidents. In this neighborhood, daytime walks or bikes and equally nighttime strolls are permitted with no safety concerns. Males and females can travel solo or with an amiable company.
Few petty crime incidents occur in West Lake Forest, so your money and wallets are quite secure, even in public rides. But in this neighborhood, the police presence is visible, and the effect is felt. You have a 1 in 12 chance of being a crime victim here.
10. Venetian Isles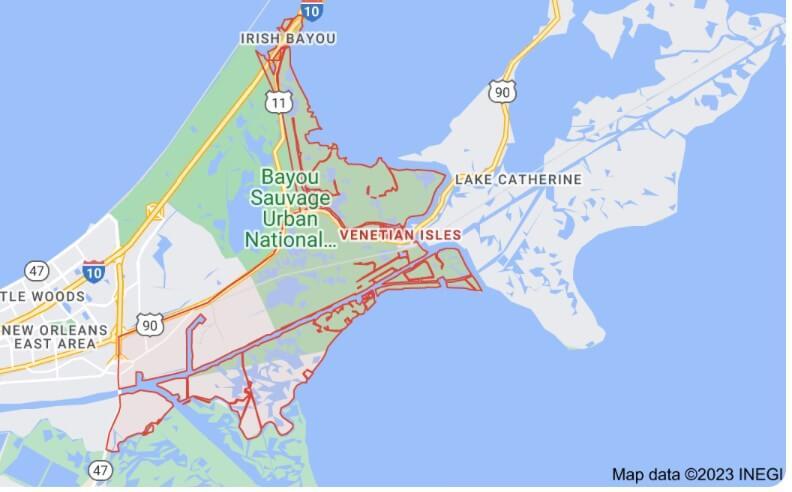 Unlike the other neighborhoods in the city, this one has fewer reports of significant incidents or shootings. The reveal from Spotcrime's current data of this tiny neighborhood of 983 people shows theft as the highest-impacted crime.
From mid-2021 to mid-2022, the FBI crime reports revealed the crime of focus as theft and less connected to drug handling. Total crime-reported incidents were 9,382, out of which property crime was 7,263. However, violent crimes in the Viavant-Venetian Isles are 446% higher than the national average.
This neighborhood gets sketchy at nighttime, and moving about may require extra safety measures, especially for the women traveling alone. So random walks or bike trips are only recommended during the day. When visiting and the need for a bus ride arises, constantly endeavor to keep your valuables close to yourself. Even though cash theft is rarely reported, it's best not to fall victim.
The Safest Places in New Orleans
Is New Orleans safe to visit? Staying out of bad neighborhoods is a must but does not guarantee your safety, as some areas are more dangerous than others. Certain There is a lot of street violence in New Orleans, but much of it is drug and gang-related. However, the main tourist areas are generally populated and safe at night. We have the French Quarter, Warehouse District, Uptown (Audubon Park, the Upper Garden District, and Magazine Street), and other common destinations.
Conclusion
New Orleans attracts tourists worldwide as it is cherished as one of America's most beautiful and historic cities. It is still among the U.S. cities with a hot spot for gang activity and violent crime. Although it's essential to be aware of the areas to avoid in the city, make sure to experience all it offers. So, is New Orleans safe for tourists? Yes, New Orleans is a reasonably safe destination for travelers.