There is no describing the cuisine, the colorful nature, and the delight that sums up the entirety of New Orleans. A typical first-time experience is breathtaking, mesmerizing, and thrilling because the city has an atmosphere of culture and music.
Unfortunately, this atmosphere harbors crime also. New Orleans has crime rates so high, in 2019, it was ranked fourth among the US' deadliest large cities by the City Council consultant's analysis of FBI data. New Orleans's crime rate is off the charts, even the city's state, Louisiana, has been considered the nation's most murderous state 31 years in a row.
Fair enough, here are the places to avoid in New Orleans, and also their safe neighborhoods.
Top 10 Dangerous Places in New Orleans
How dangerous is New Orleans?
1. Desire
As few as the population is in this community of 2,629 people, there still exist pockets of corners with crime reports regularly. Desire was so crime-ridden, it was one of the worst neighborhoods in New Orleans.
One of the popular reasons for this community's dangerous reputation is the Black Panther shootout that occurred around 1970. It was also known for its high drug consumption rate- marijuana, heroin, and crack cocaine which also increased the crime rate.
It was only the mass demolition in 2003 that slowed the crime rate. Residents in this community disclosed that the police presence also contributed to defusing violent situations. From 2018 FBI crime statistics, the total crime per 100,000 residents is 10,300, out of which violent crime of recorded as 1,832 and property crime 8,468. However, violent crimes are 383% greater than the national average.
Exploring this neighborhood with bikes or foot is quite safe during the day mostly. Nights should be avoided, especially by women traveling alone. Public transportation has less worry about safety, so your cash and wallets are likely to be intact without you caring so much.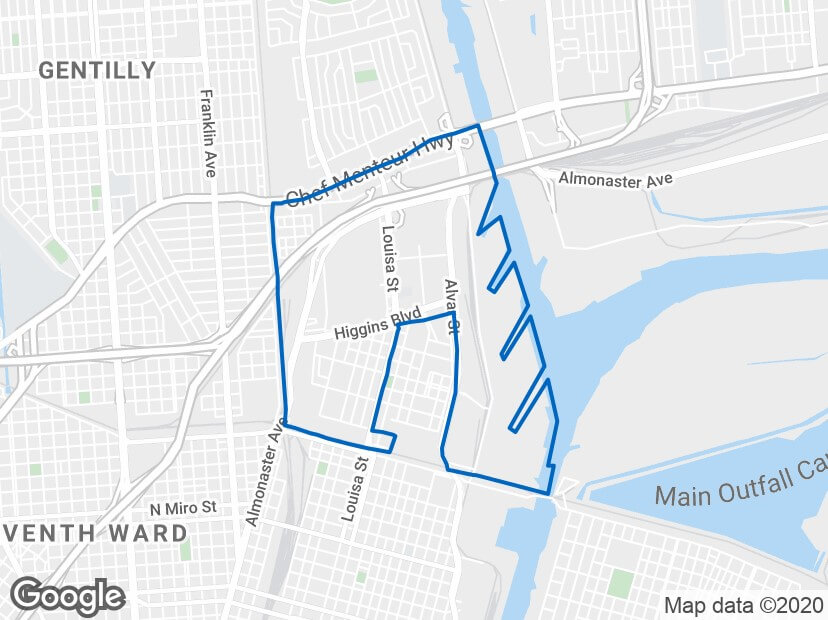 Read: https://www.areavibes.com/new+orleans-la/desire/crime/
2. Central City
Sometimes known as the 3rd Ward, this district was once the African-American commerce and culture center around the early 90s.
The population in this neighborhood is 13,536 and the crime rate is shockingly high. Gangs, drug dealers and New Orleans ghettos mostly engaged in shootouts on the streets.
This neighborhood has one of the highest rates of gun violence in New Orleans. On average, each year between 2011 & 2015 a person was shot 42 times. Satisfyingly, reports show that crime has declined from mid-2009 to early-2012 due to the sweeping action by the police and their patrols. But with a total crime of 12,935 per 100,000 residents, it is best to be on the alert while traveling through on bikes and foot.
Safety is guaranteed during daytime and not so much by night, more so for women traveling solo. At daytime also, petty crime rate reports are far apart so your cash and valuables are in safe zones when using public transportation means.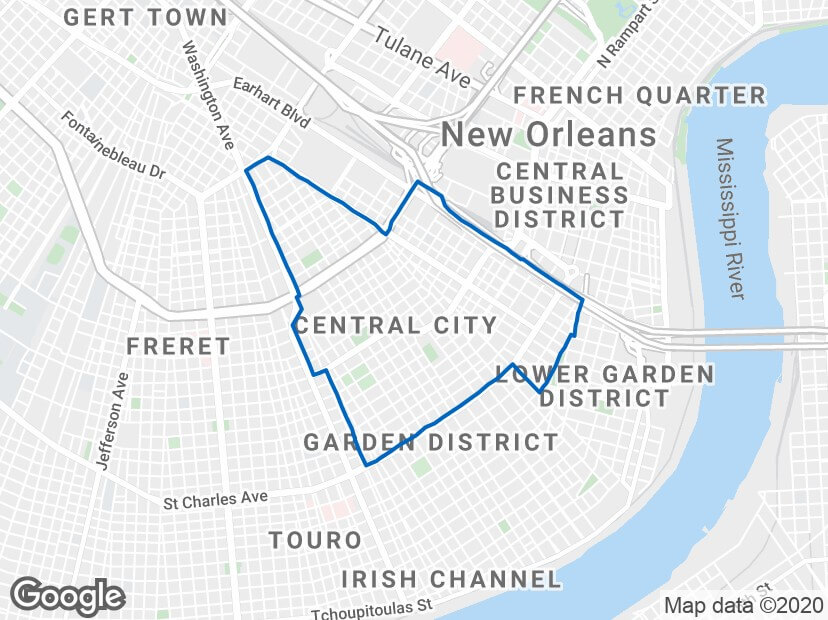 Read: https://www.areavibes.com/new+orleans-la/central+city/crime/
3. Seventh Ward
The number of people in this neighborhood which have a poor livability score is estimated as 10,552. Just like most neighborhoods in the city, there are more cases of property crimes than violent. In a total crime report of 11,997 per 100,000 residents, while violent crime is 2,424, property crime falls as 9,573 with high cases in the order of theft, vehicle theft, and burglary.
The Seventh ward used to be regarded as a bloody notorious neighborhood because of its high rank in gun violence, which magnifies New Orleans crime rate. According to the New Orleans-based Data Center, this neighborhood along with Central City accounts for less than 7 percent of the city's population, however, in terms of shooting, they garner 19 percent of its shootings. On average, each year between 2011 & 2015 a person was shot 39 times. This made this neighborhood one of the areas to avoid in New Orleans
Even though crime levels have dropped with the police presence, it is better for safety reasons to explore during daytime and not nights. This is whether on foot or bikes. Few hotels come recommended with great reports. Bus rides are safe from pickpockets and muggers so your cash is safe too.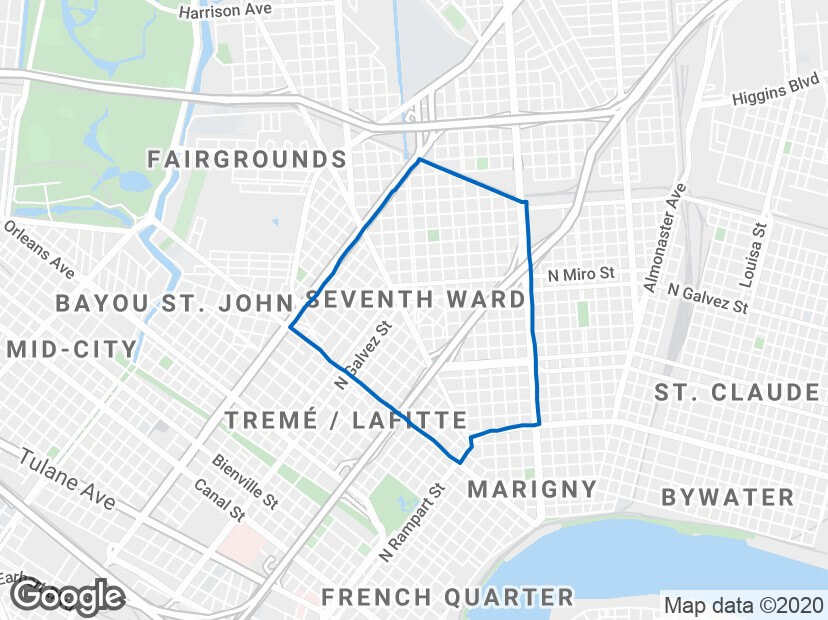 Read: https://www.areavibes.com/new+orleans-la/seventh+ward/crime/
4. Florida
1,427 people reside in this neighborhood. Florida is where not to stay in New Orleans as it reportedly has a bad reputation for fluctuating crime rates. The statistics in this neighborhood see periods of spikes now and again.
In the 1990s, it was notably dangerous and violent. There were a lot of people killed in the project in 1994. While the violence has been on the decline in years, it is worth mentioning that crime rates are 296% greater than the national average where violent crimes are 519% greater. Crime is said to have increased by 13% year over year crime in New Orleans.
For safety, while exploring, daytime goes preferred as nighttime gets a little chancy. Females traveling alone are expected to walk accompanied if passing by at night. With the police presence in the daytime, few petty crime incidences occur so your money and wallets are quite secured even in public rides.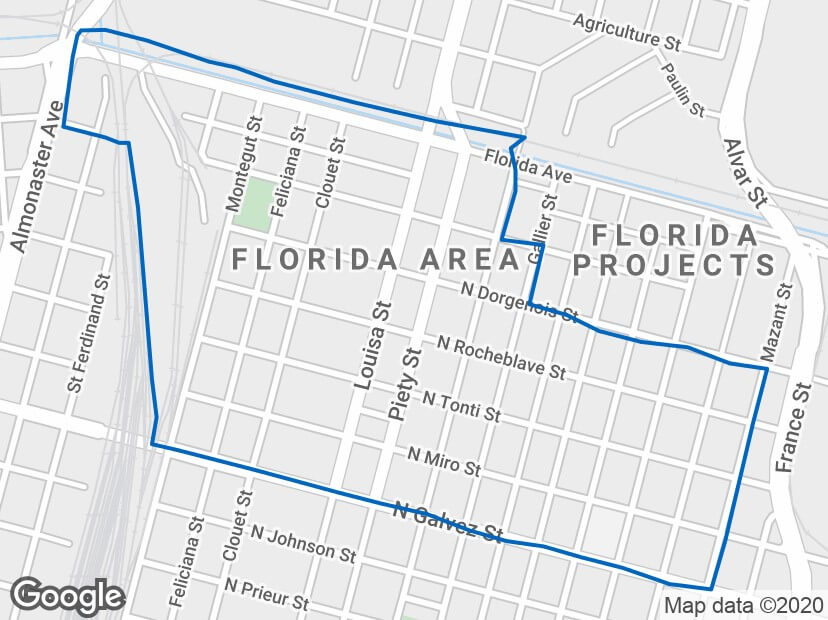 Read: https://www.areavibes.com/new+orleans-la/florida/crime/
5. Saint Roch
Crime is evident in this neighborhood, and in the past 5 years there has been an upwelling of violence. In 2015, this neighborhood was ranked with the fourth-highest rate of gun violence in an analysis of the police data. And with a population of 6,398, (above 3,000) the rank shoots higher to second.
Of the crimes in this neighborhood, robbery seems to be the most impacted in the past 3 years. Property crime takes 80% of the total crime reported in 2018 confirming the high incidents of thefts.
As relatively safe as the neighborhood is with patrolling officers, a step further is necessary to be taken to guard personal vehicles and items. Purses and wallets should be held tightly while in public transports. Residents advise to travel and explore during day time only, while Ubers should be employed for night movements especially for the females.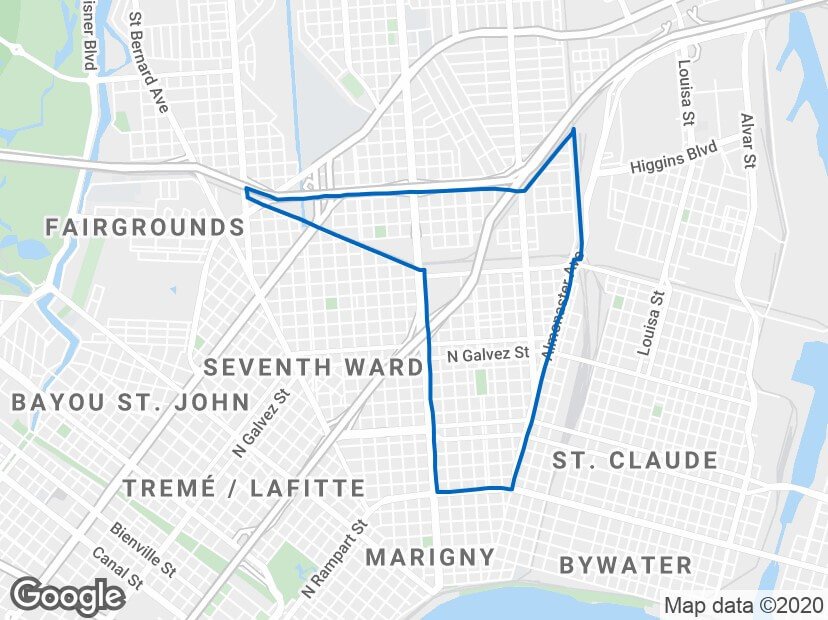 Read: https://www.areavibes.com/new+orleans-la/saint+roch/crime/
6. Lower 9th Ward
This neighborhood, also referred to as Lower Nine, has a population of 3,636 and considered one of New Orleans dangerous areas. The high crime reports were mostly due to high drug dealings and usage in this neighborhood. It was concentrated back in the late 90s - the 1980s and 1990s until 2005 when it slowed down due to the hit.
In 2018, the FBI crime reports revealed the crime of focus as theft and less connected to drug handling. The total crime per 100,000 residents was 9,095 with 1,879 and 7,216 as violent and property crime total incidents.
Incidents are lesser with the frequency of police patrols, still, visits are best managed in the daytime unless you choose to explore one of the safely recommended hotels at night. This goes mainly to solo traveling females. Cash thefts are improbable as little to no incidents have been recorded during public rides.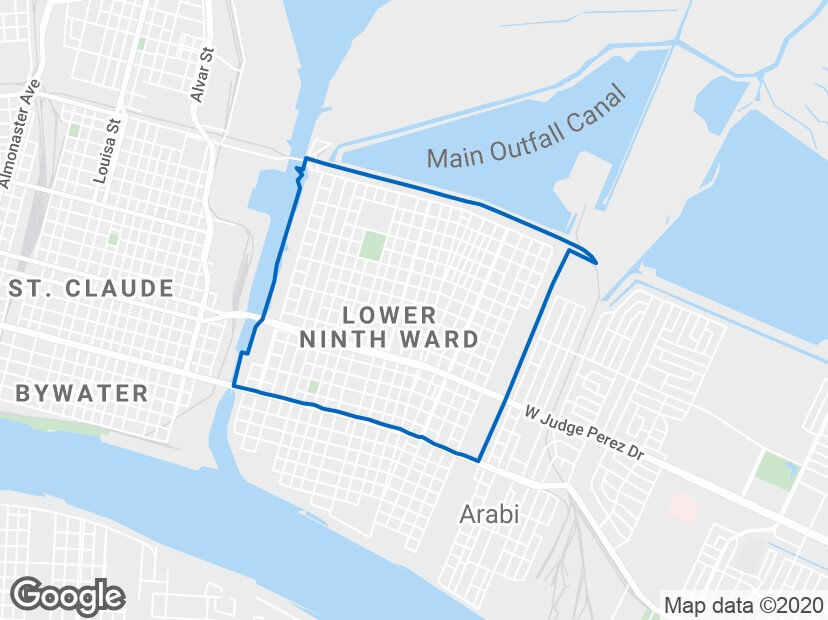 Read: https://www.areavibes.com/new+orleans-la/lower+9th+ward/crime/
7. West Lake Forest
Unlike the other neighborhoods in the city, this one has fewer reports of major incidents or shootings. The reveal from Spotcrime current data shows burglary as the highest impacted crime. Following closely are Theft and assault.
The total number of violent to property crimes in this neighborhood 2:7. For both, the police presence takes care of the unmentioned incidents. For this neighborhood, day time walks or bikes and equally night time strolls are permitted with no safety concerns. Males and females can travel solo or with an amiable company.
Petty thefts for cash and valuables are not often reported on public rides but caution should be taken nonetheless. In West Lake Forest you have a 1 in 12 chance of being a crime victim.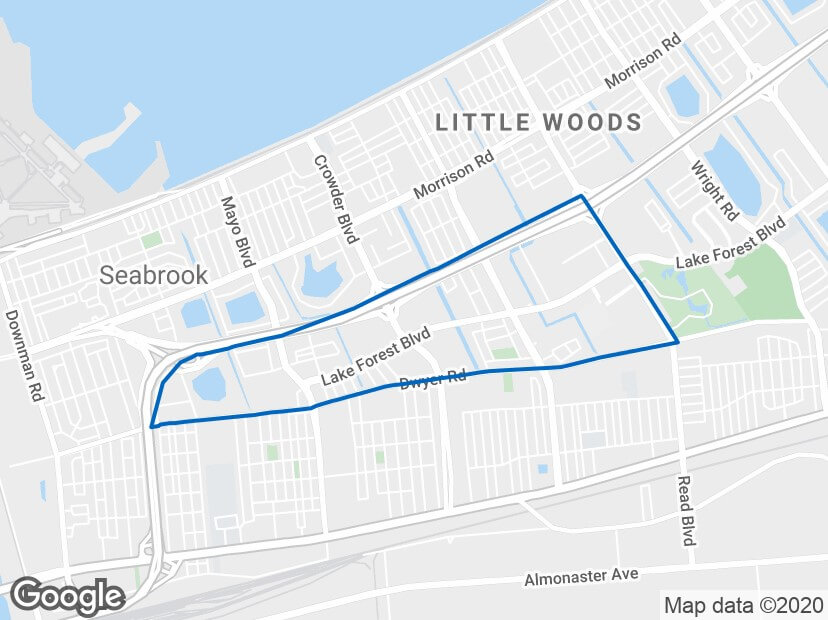 Read: https://www.areavibes.com/new+orleans-la/west+lake+forest/crime/
8. Tremé/ Lafitte
This neighborhood of 4,490 population comes off as the US' African American oldest neighborhood. It is one of the inner-city downtown neighborhoods with its fair share of crimes. The crime rates are 266% greater than the national average, where violent crimes are even 327% greater despite the police presence. No surprise that Treme' Lafitte is safer than 0% of any Louisiana city.
Random walks or bike trips are only recommended during the day. The neighborhood gets sketchy at nighttime and moving about may require extra safety measures especially for the s traveling wine. When visiting and the need for a bus ride arises, always endeavor to keep your valuables close to self. Even though cash theft is rarely reported, it's best not to fall victim.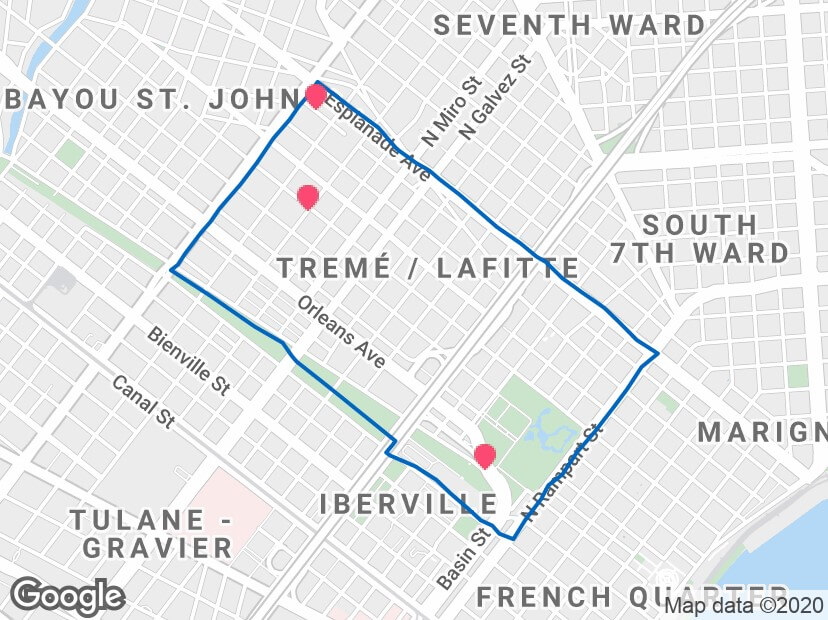 Read: https://www.areavibes.com/new+orleans-la/treme'+lafitte/crime/
9. Tulane- Gravier
This neighborhood has a mere population of 3,437 but yet a grave crime record. The total crime registered in 2018 was 9,896 for every 100,000 residents. Although property crime surpasses violent crime by 6,376 incidents, violent crimes are the focus as they are 364% greater than the national average.
In Tulane- Gravier, the police presence is visible, and the effect is felt. While safety is not questionable in this neighborhood, visitors are advised to avoid night exploration, especially females that are alone. There are lots of good hotels that come recommended in this neighborhood that is ever stuck. During the day, public rides are free of mugging, so your purses and wallets filled with cash are safe.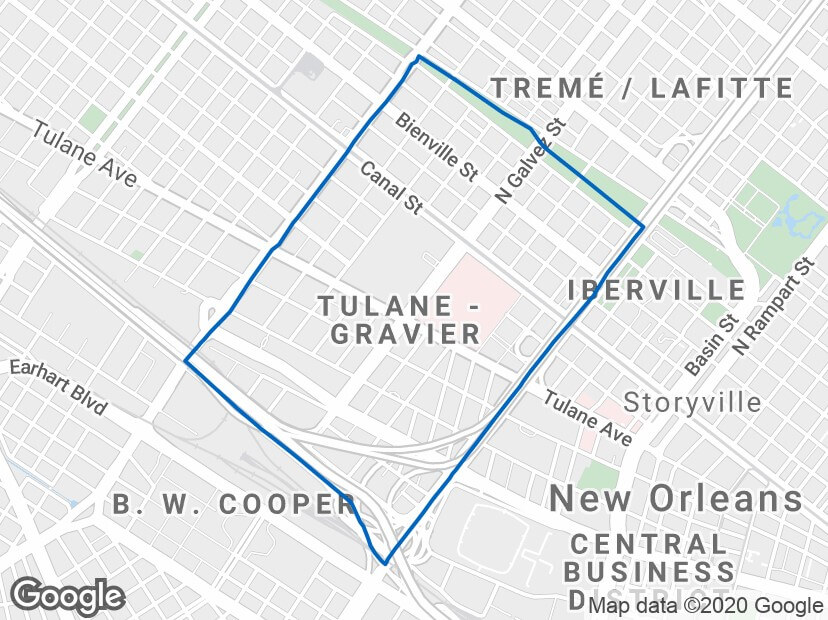 Read: https://www.areavibes.com/new+orleans-la/tulane-gravier/crime/
10. Pines Village
With a population of 3,187, this small neighborhood still experiences a tremendous crime rate. The total crime for every 100,000 residents fell to 11,113 in 2018, with even violent crime as 2,160 incidents. Other incidents are rarely reported like petty crimes and thefts. For this reason, your money is safe in you while in public transportation.
Walking or biking are activities that are better undertaken during the day, as night hours get unpredictable for safety. Women who travel alone should be accompanied once past sunrise. In Pines Village, you have a 1 in 9 chance of being a crime victim.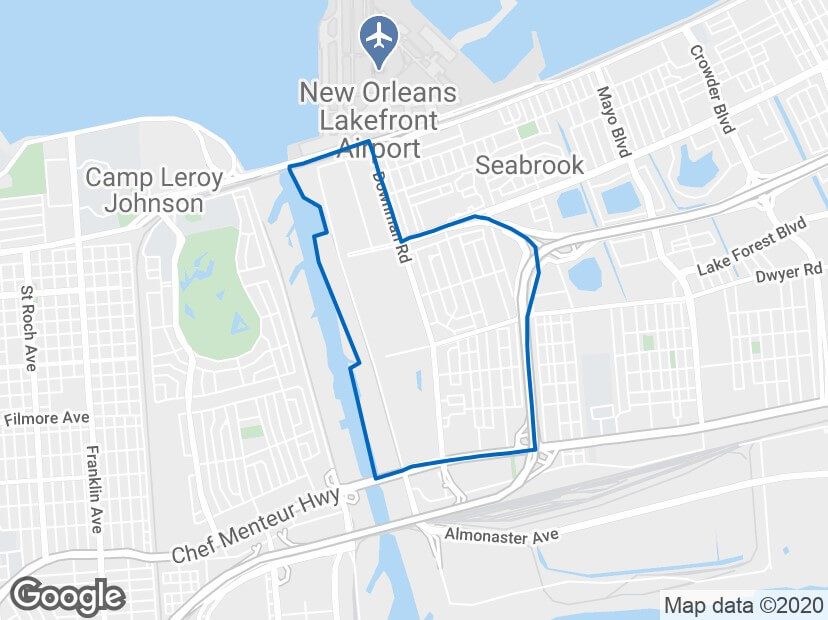 Read: https://www.areavibes.com/new+orleans-la/pines+village/crime/
Crime Situation in New Orleans
Is New Orleans dangerous? From New Orleans Police Department statistics, there was a significant drop in violent crimes as witnessed by the drop in robberies. In 2018, the city recorded 146 murder incidents against 157 recorded in 2017. This is the lowest in almost 50years.
Although 2019 continued in the same trend with a record in the first half of the year more than a third lesser than during the same period in 2018. However, after the 3rd quarter, murder tolls are 121, exceeding even the homicide record of 2019.
Top Safe Places in New Orleans
Is New Orleans safe? Here are few safe neighborhoods in New Orleans
1. Central Business District
This neighborhood comes with a livability score considered exceptional. Not only that, the 2,584 residents in CBD experience crime rates 60% lower than the New Orleans average. Usually, this neighborhood is reserved as the go-to district for visitors and travelers concerned with business in the city.
The total crime reported in 2018 was 2,575 with a violent crime estimate of 458. For exploration, the Central Business District is recommended as an excellent choice for walkability. There are a lot of hotels that come recommended in this neighborhood.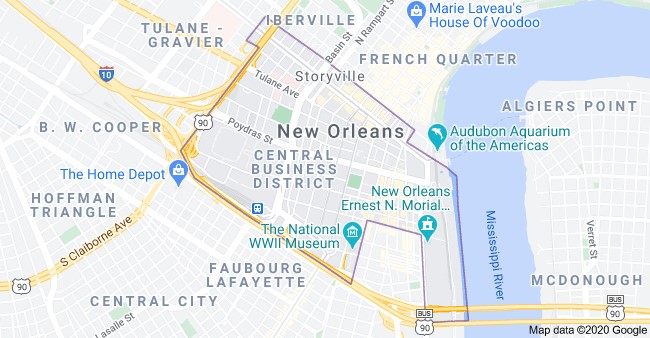 Read: https://www.areavibes.com/new+orleans-la/central+business+district/crime/
2. The Garden District
Just like most neighborhoods in New Orleans, it also has a small population. And for this neighborhood, it is 1,926. Garden District is located in Orleans Parish, outside of the French Quarter, and vibes off an urban-suburban mix feel. Because of the proximity to the art galleries, it is also known as the Arts District.
There are reports on the low level of street crime in this neighborhood sometimes. Violent crime in 2018 had the majority of robbery incidents, 477.7, for every 100,000 residents. Property crime had more theft incidents, 2,335. In terms of safety, residents speak highly of this neighborhood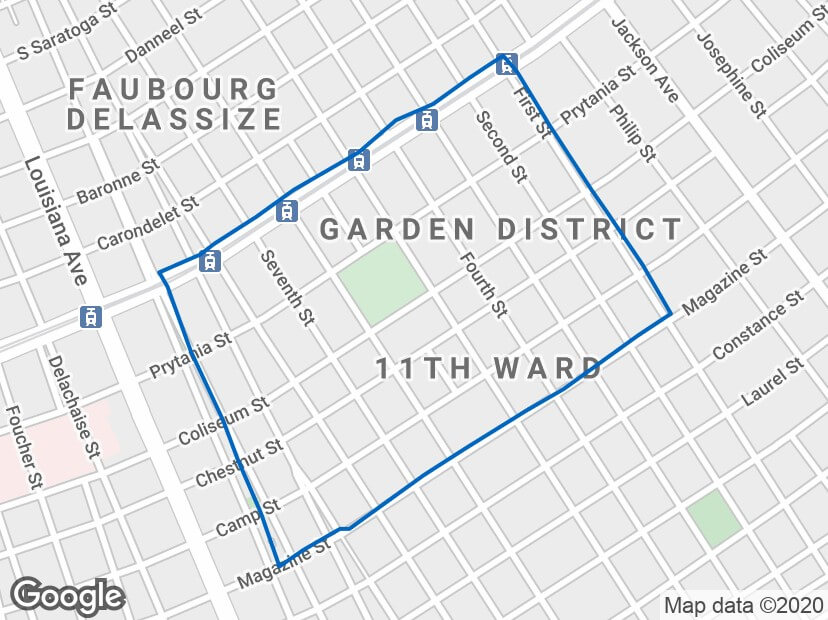 Read: https://www.niche.com/places-to-live/n/garden-district-new-orleans-la/
3. French Quarter
3,813 people fancies themselves in this neighborhood as it is considered the most renowned. The first things most noticed by visitors are the tons of historic houses. While the crime rate in this neighborhood is not so minimal, it is heavily patrolled by officers.
In the past, French Quarter used to be raided badly by criminals so much that back in 2014, walking solo would be referred to as a dangerous act. But in recent times, as far as safety goes, the French Quarter is considered relatively safe.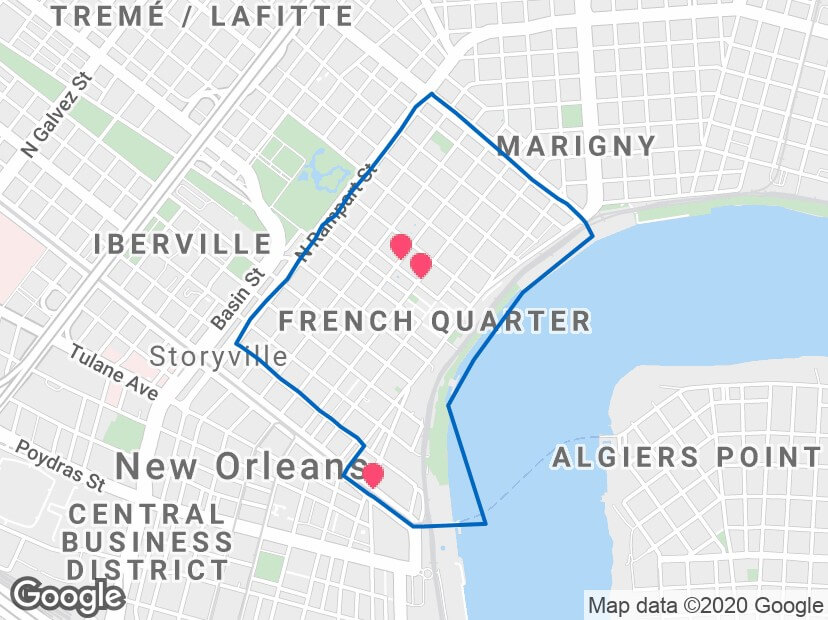 Read: https://www.niche.com/places-to-live/n/french-quarter-new-orleans-la/
4. Marigny
Here, the population totals at 3,097, and the livability is considered average. Although the crime incidents reported in 2018 is 9,914 for every 100,000 residents, Marigny is safer than 12% of Louisiana's cities.
Security, though not a major adverse concern, residents advice not to stay late into the night while visiting, especially for young solo travelling females. What is good to note is how you can move about with wads of cash and have no fear of being mugged.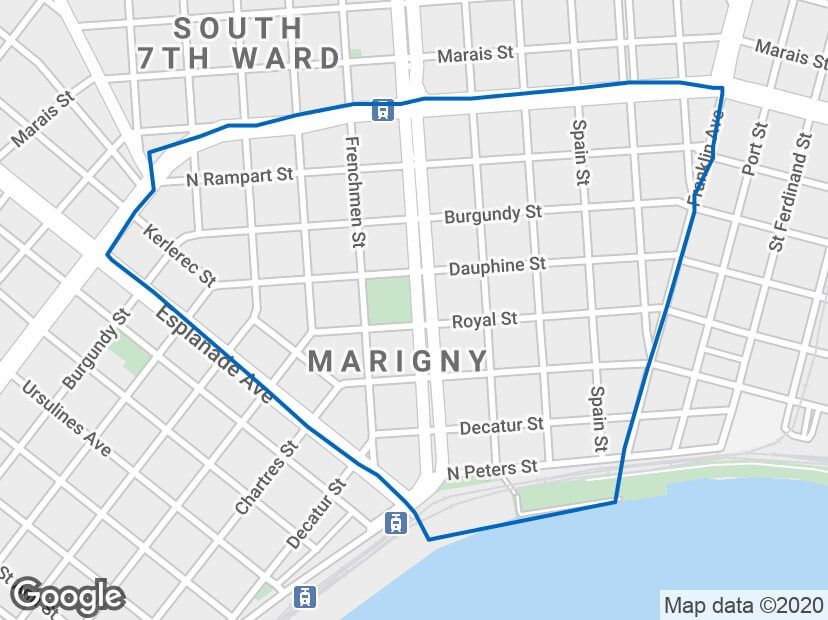 Read: https://www.areavibes.com/new+orleans-la/marigny/crime/
5. Mid-City
This is one of the few large communities with a population of 14,238. Even with the relatively large number, this neighborhood has livability considered excellent with the cost of living only 1% lower than the New Orleans average.
In Mid-City, there are specific areas where there are more reports of crime such as section 8. But Canal st, N Jeff. Davis - City park ave. are considered quite safe. Mid-City is safer than 26% of Louisiana's cities and you have a 1 in 14 chance of being a crime victim.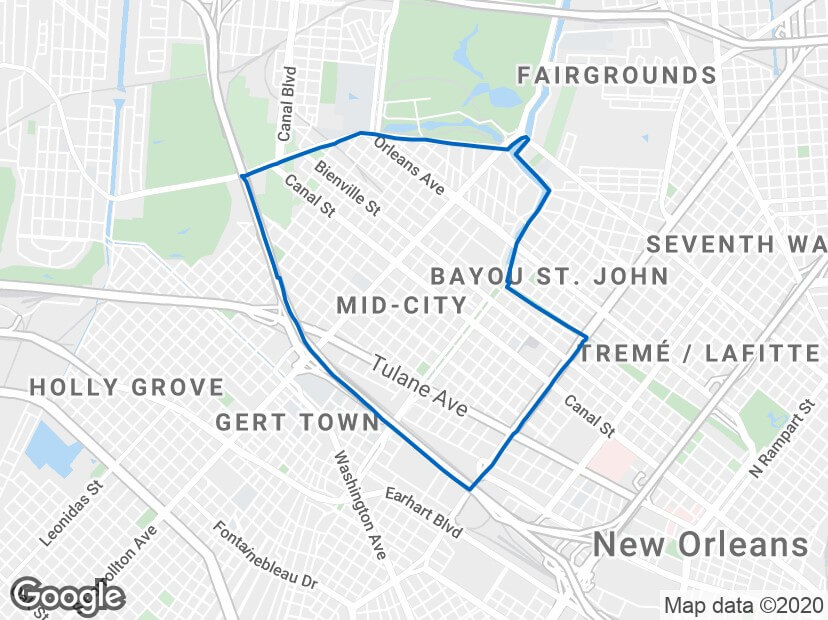 Read more: https://www.areavibes.com/new+orleans-la/mid-city/crime/
Conclusion
While the crime rate in New Orleans seems to fluctuate, 2018 registered a violent crime record that proves that crime can be lowered to the barest minimum. But is New Orleans safe? As the city's chief concern in luring visitors is New Orleans safety, efforts are being channeled to that regard.