Is San Diego a dangerous city? Not only is San Diego the textbook image of perfect weather all year round, it also brings awesome conditions for jet skiing, kayaking, and other ocean fun activities. San Diego may not be the most essential city in the world, but there is no doubt it is one of the safest large cities in the US.
However, considering no city is void of crime, find a list of the neighborhoods that make this city less safe.
Top 10 Dangerous Places in San Diego
So what parts of San Diego are dangerous?
1. Kearny Mesa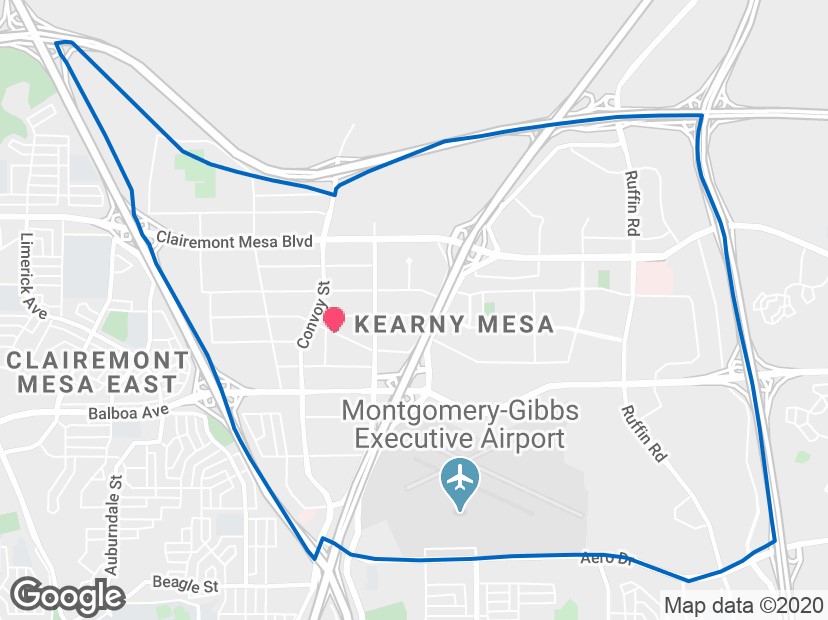 Kearny Mesa suffers a total crime of 14,291 per 100,000 residents. Named after a California military governor, this neighborhood of 3,664 people has a vast majority of its crime in petty thefts. Bus transits and other public means of transport are thus not safe. Tourists occasionally have to confirm their purses or wallets as they could easily get mugged of cash. However, this neighborhood is safe for walking, even past midnight for women traveling solo.
The Embassy Suites and Hampton Inn are a few of the nearby hotels that conduct safe and reliable services. One's chance of being a crime victim in Kearny Mesa is 1 in 7.
2. East Village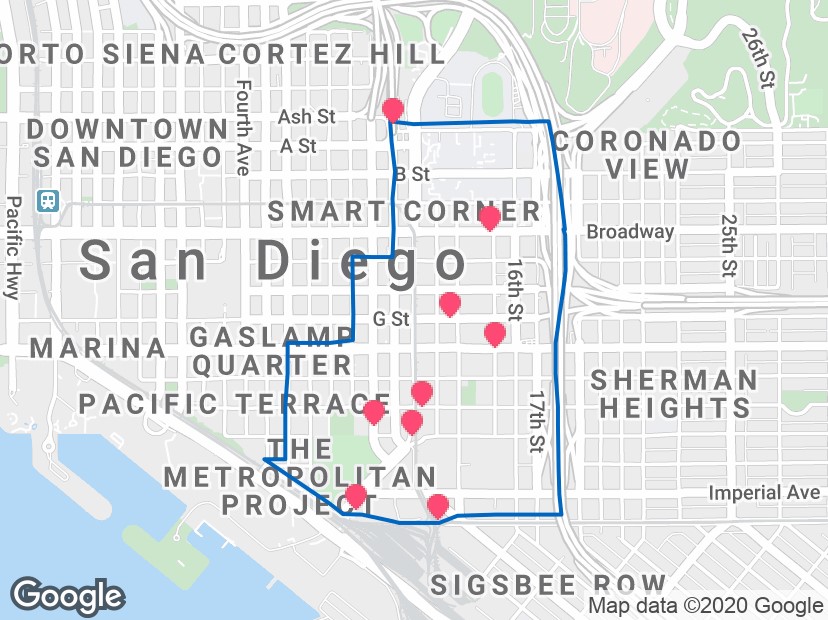 This neighborhood, with a population of 13,053, has a crime rate of 489% greater than the San Diego average. Even though property crime seems to be the crime of focus, the evident criminal incidences surround heavy drug usage. Heroin addicts and drug-addled homeless fill up this neighborhood. Data revealed a spike in drug-related arrests in 2018 to be one-third greater than the record in 2017. Strangely enough, there are tons of police patrolling this neighborhood regularly.
This neighborhood is not a safe one for walks or bike journeys, especially at night times. Petty crimes are rampant too. Females and visitors are encouraged to travel lighter, in terms of cash handling. This is to avoid being mugged. Residents are doubtful about the safety of public commutes or hotels.
3. Midtown District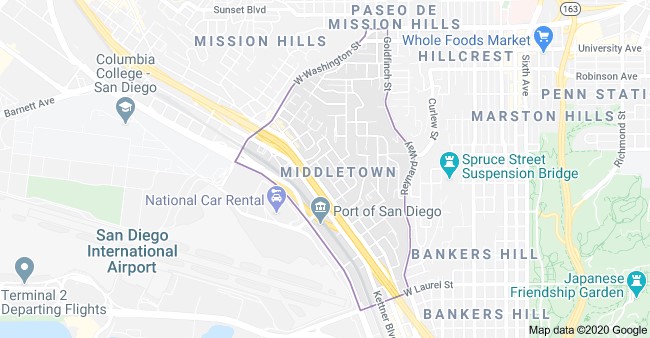 With a population of 10,962, this neighborhood has livability of 55, which is considered poor. Even with the visible police presence in this neighborhood, the insecurity about this neighborhood is the perpetual theft incidences. According to Spotcrime, theft had 70 incidences in the past six months with 60 arrests. The crime following that, assault, registered only but 18 incidences.
Commutes are fairly safe in this neighborhood, so a hand full of cash will stay untouched. Night strolls can be taken without incidences for women especially, although the crime rates are 82% greater than the national average. Hotels like La Jolla Cove near this neighborhood are considered secure.
4. Marina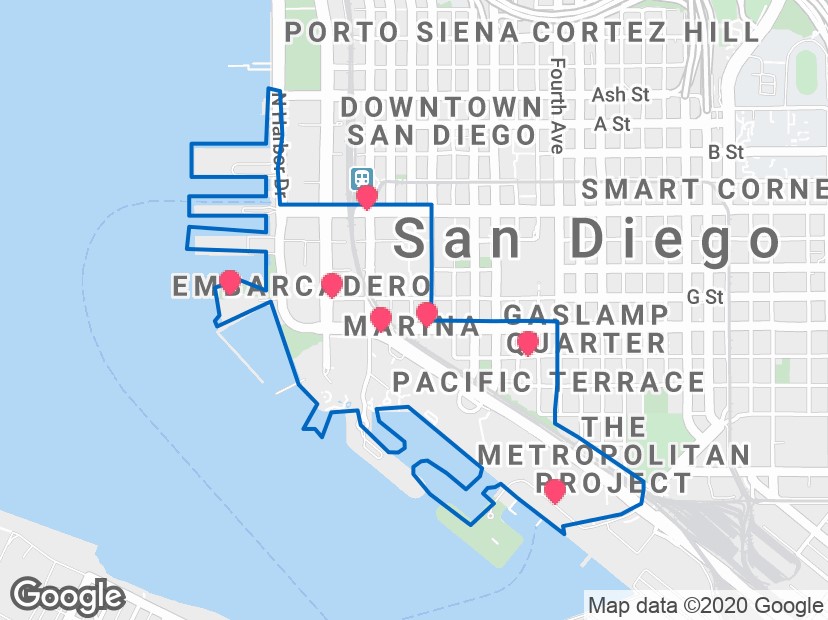 With a livability score of 71 and a population of 4,435, this neighborhood appears to have the ideal living conditions. The crime rate, however, has Marina 390% greater than the San Diego average while the violent crimes also 523% greater than the national average. This makes one of San Diego neighborhoods to avoid. Sadly, the police in this neighborhood respond slowly to crimes. For this reason, exploring the neighborhood is deemed unsafe, particularly at night. The female travelers are hence cautioned against making trips alone. Bus transits are safer by day time, but cash handling isn't.
Any resident in Marina has a 1 in 9 chance of becoming a crime victim. Only very few hotels are recommended as safe, and they are barely within this neighborhood.
5. Mission Valley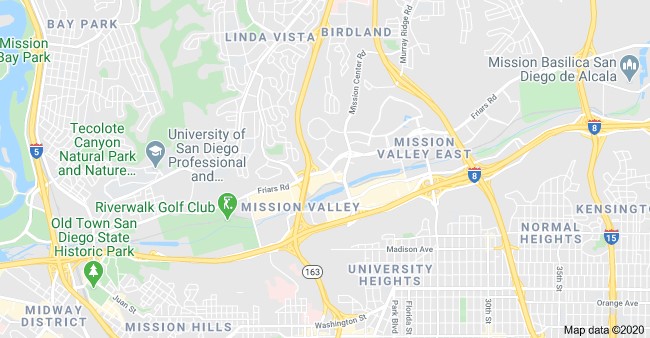 Having one of the highest total crimes per 100,000 residents as 10,817, this neighborhood of 7,490 has property safety issues resulting in crime. Though violent crimes are 176% greater than the national average, Mission Valley is safer than 8% of the other cities. The police seem less active here. A plus to this neighborhood is how it seems to be at the center of everything in terms of shopping or transportation. For public transit, it is generally perceived as safe. So moving about with cash is not a risk factor.
With its numerous walkable places, Mission Valley can be explored on foot or bike and at night times. The hotel, Hotel Circle, had back-to-back accolades on security.
6. Mountain View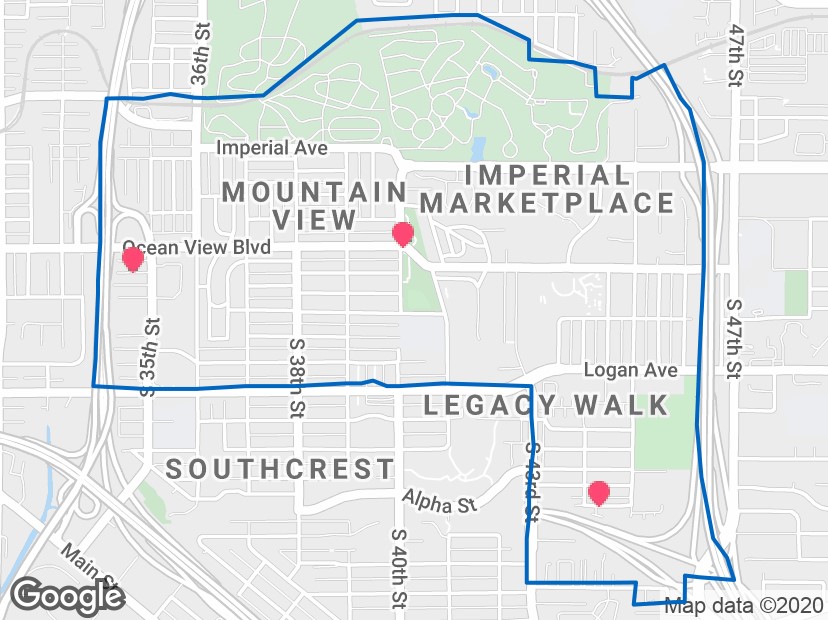 With its 12,582 people, this neighborhood is less of a threat to the city in terms of violent crime. But it is one of the worst neighborhoods in San Diego in terms of property crime. In 2018, property crime weighed 93% in the overall total crime. A breakdown would have theft in the lead, next to burglary and then motor vehicle theft. Allegedly, the police in this neighborhood do too infrequent patrols. Any resident has a 1 in 10 chance of becoming a crime victim.
Little awareness while walking down the neighborhood could get tourists or ladies traveling solo accosted or mugged, especially of cash. The bus transits reportedly are also not the safest.
7. Oak Park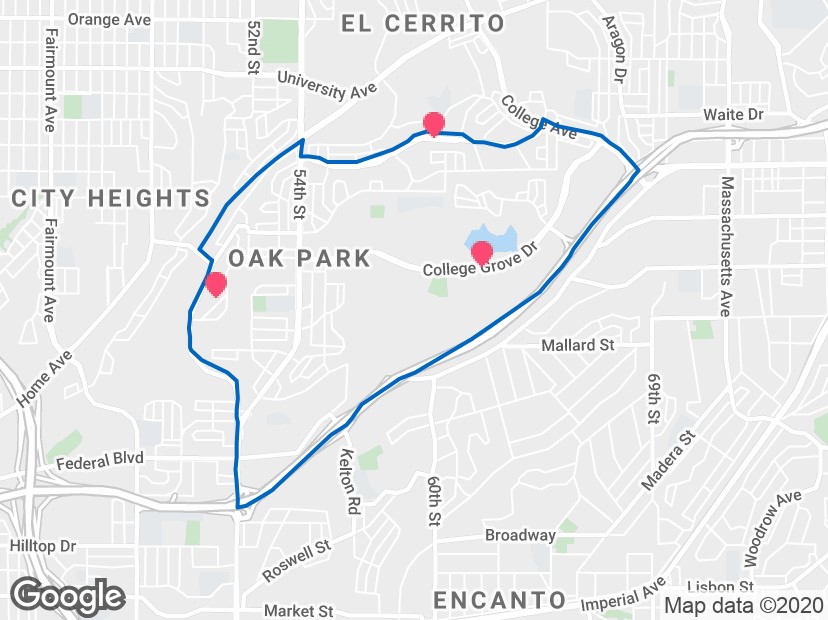 Reputed as one of the least problematic ghetto neighborhoods, Oak Park has a slight gang situation and car stealing fetish. Its 9,873 residents are exposed to violent crimes of 73% greater than the national average. The police in this area are not sufficient even though visible.
Going around Oak Park gets sketchy, so walking or strolling should quit at daylight hours. Preferably, female solo travelers would need to be escorted at nights through these seedy areas. This answers, "Is San Diego safe at night?" The use of public transit is fairly safe, depending on the route. Hence handling a lot of cash may not be advised.
8. Little Italy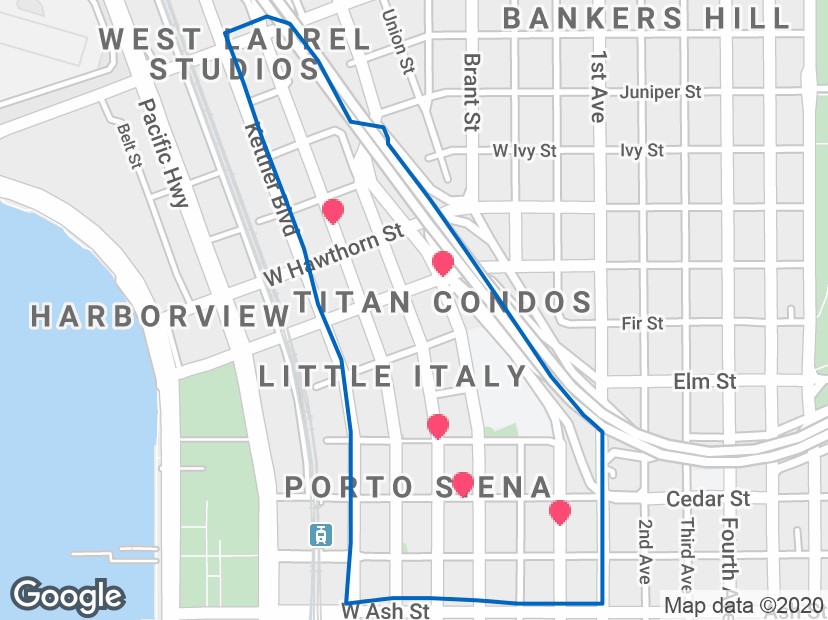 This neighborhood, comprising majorly the Italians, has 3,171 people enjoying the most dynamic food and drink. Asides the persistent crime in this neighborhood being property crime, Little Italy has little problems. Police patrols, though infrequent, are seen. This neighborhood is very walkable, and exploration is magical because of the lively occupants. Solo female travelers have safety as their least concern at daytime and nighttime.
Because Little Italy is drenched in thefts, cash mugging may occur around public transit areas, making even hotels unsafe. Generally, year-over-year crime has seen a decrease of 5%.
9. Webster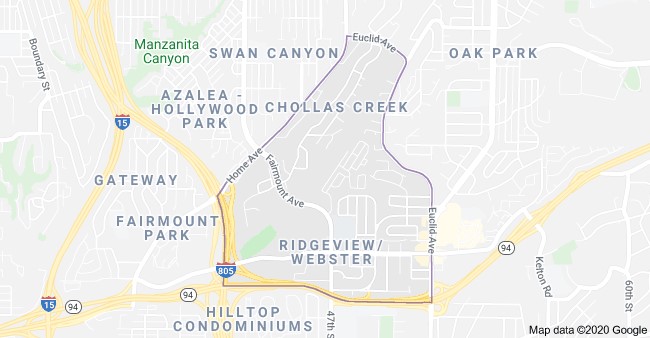 This neighborhood of population of 10,383 has poor livability - 33. Though the crime rates are 18% lower than the San Diego average, property crime is not negligible. This neighborhood has patrol officers and acute security measures enough to starve these crimes. Gladly, walkability is fair, thus exploring at day time or nighttime is a common sight that is safe. The bus commutes can get very busy, hence inviting panhandlers and pickpockets' activities. For this, it is advisable to move about with less cash. In this neighborhood, you have a 1 in 54 chance of becoming a victim of crime. However, few hotels around the neighborhood come with good security, like the Pacific Terrace hotel.
10. Cortez Hill
With a small population of 2,825, this neighborhood even sees as much crime as the rest. The total crime is estimated at 7,394 per 100,000 residents; with violent crime of 1,451 and property crime of 5,943. Police presence in this neighborhood is guaranteed. Exploring on foot at night, or as a solo female traveler may not be encouraged, except if accompanied. While in bus commutes, incidences have been distant, even regarding hotels' unsafety around this neighborhood.
Crime Situation in Seattle
Is San Diego safe? The 2019 FBI data report revealed San Diego with a crime rate of 3.7 crimes per 1,000 residents. This rate is the lowest when compared with larger cities in the US like Chicago or New York. In like manner, property crime has been sustained by most of these big cities also. Recent data discloses property crime rate as 18.4 per 1,000 residents. This actually places the city as the second-lowest for property crime.
Top Bad Neighborhoods in San Diego
Now what are the bad neighborhoods in San Diego?
1. Columbia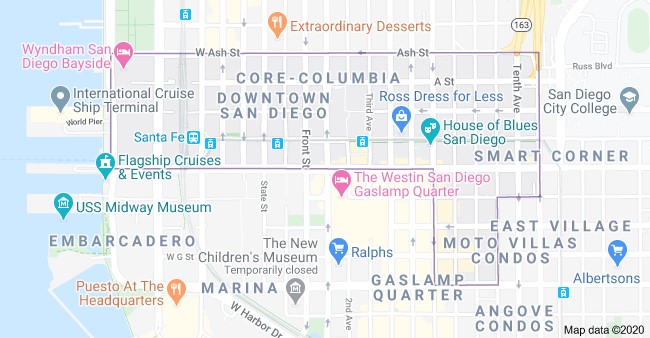 Having one of the fewest populations in San Diego, 1,941, this neighborhood is still riddled by its crime rate. Violent crimes are 234% greater than the national average, and the overall crime rate is 229% greater. In this neighborhood, the foot patrol officers are very scarce. While one may have a 1 in 12 chance of becoming a crime victim, it is still safe for females to travel solo, and at night time.
There have been no incidences reported around the bus station yet, which keep one safe from being mugged of cash. Meanwhile, nearby hotels are not considered safe.
2. Bird Land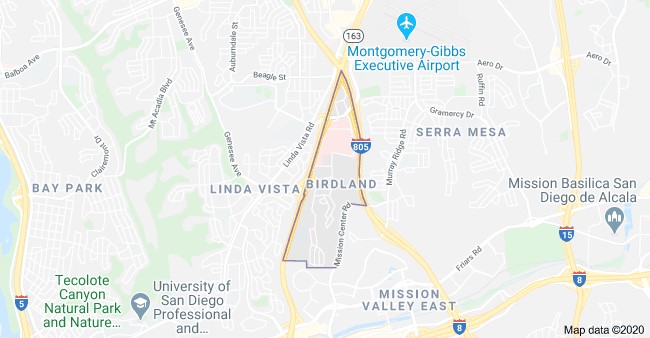 For a population of 5,136, the crime rate seems to be leveled. A total crime of 3,888 takes 73% contribution from property crime. Hence one of the bad neighborhoods in San Diego. While the violent crimes in Bird Land are 171% greater than the national average, the police presence is very minimal.
Bus routes spot sketchy characters who may instigate a mugging. So do not carry cash about. Visitors and females who wish to explore could walk or bike across the neighborhood safely. At night time, the females should be discouraged from walking. Any of the safe hotels nearby, like Pacifica, could be selected for a rest.
3. Lincoln Park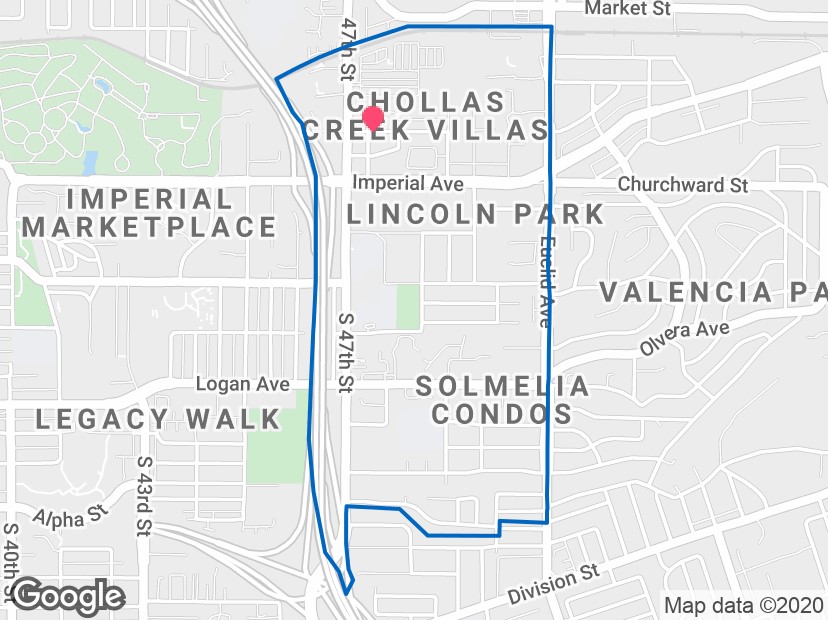 Populated by 5,716 people and raided by criminal activities, this neighborhood is the least safe neighborhoods around. Common crimes involve drug dealings and gang operations. According to Spotcrime, in the last six months from May 2020, vandalism and assault were the topmost crime incidences. The police are fairly available in this neighborhood as arrests are known to happen frequently. This makes Lincoln Park a safe area for exploring on foot. Only night times should be exercised with caution for solo traveling females.
For the best of experiences, it is advisable to move with less cash to avoid being mugged. Also, monitor public transit commute for safety. In Lincoln Park, residents have a 1 in 33 chance of becoming a crime victim.
4. Emerald Hills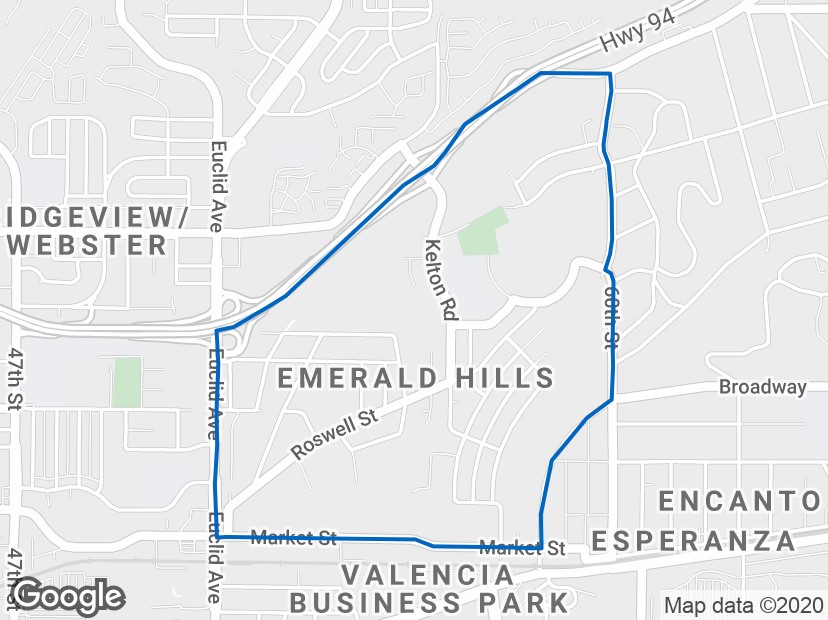 This neighborhood has a population of 7,735 and a crime rate of 15% greater than the San Diego average. In the actual picture, this is fairly average. This neighborhood reports more incidences on theft, burglary, and vandalism. However, the penultimate incidences are arrests, giving positive light to police activities. This assures walkability around the neighborhood at day time. Visitors and solo female travelers are only cautioned at night time.
Public transportation in this neighborhood has had no incidences reported in a long time, like cash robberies. Just as well, the nearby hotels like Kings Inn and Tower23 are relatively safe. Emerald Hills is statistically safer than 34% of California's cities.
5. Ocean Beach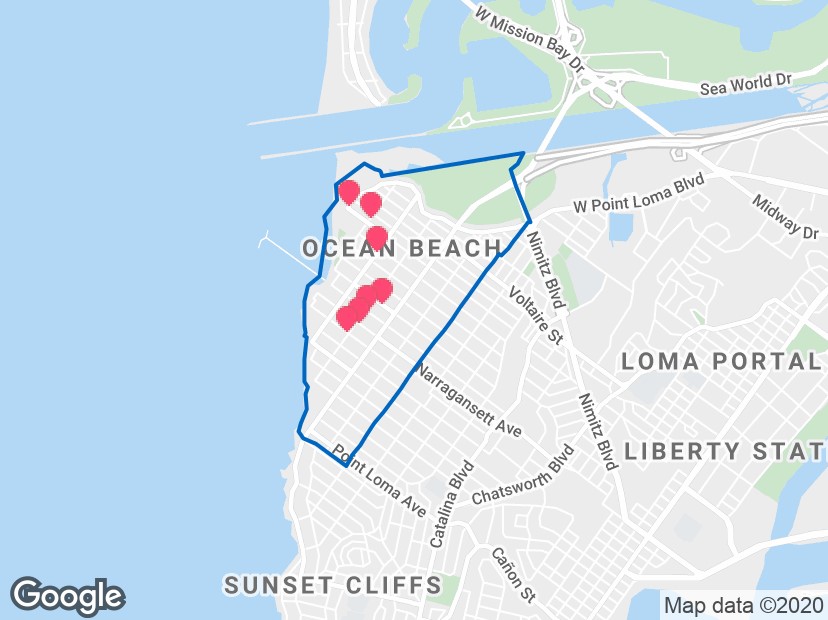 With a population of 11,549, this neighborhood has a total crime of 4,097 per 100,000 residents. Property crime sharing in the same high trail as the other neighborhoods. Residents offer that the police make foot patrols now and again. Visitors, including female solo travelers, enjoy foot walking around. It's good to note that in San Diego, the homeless presence is obvious on the beach in Ocean Beach.
Bus transits are relatively safe, and you can move wads of cash. If you wish otherwise for a hotel placement, Ocean Beach is surrounded by safe hotels.
6. Old Town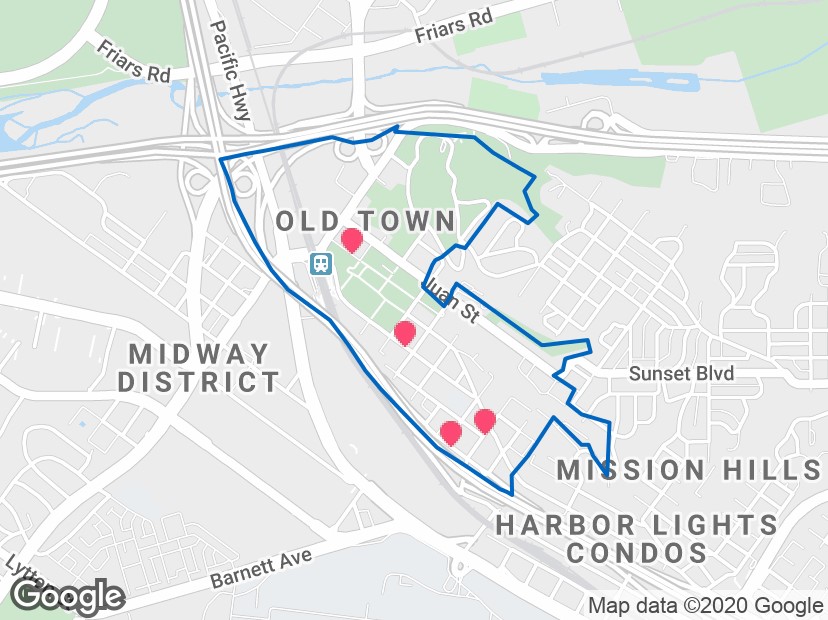 11,380 people occupying this neighborhood worry about the volume of property crimes that happen. A total crime estimate of 4,959 per 100,000 residents leaves off only 741 for violent crime. This makes the worst area in San Diego. Although the police patrols are marked in this neighborhood, they do not respond timely. Hence, exploring the city is restricted to day times. Night times for solo female travelers will be done in groups only.
Public transiting have revealed little or no criminal incidences, and typical petty crimes like cash robberies are also less frequent. Hotels like Old Town Inn, Bahia Resort, Hyatt Regency have safe reputations. Old Town residents have a 1 in 21 chance of becoming a crime victim.
Conclusion
Large cities are usually synonymous with high crime rate. But that's not the case with San Diego. The second-largest city in California and the US eight-largest, San Diego marks the lowest murder rate among the other 10 largest cities. But being largely populated, the city is bound to have some crime. Therefore practicing caution will keep you safe when visiting new areas.