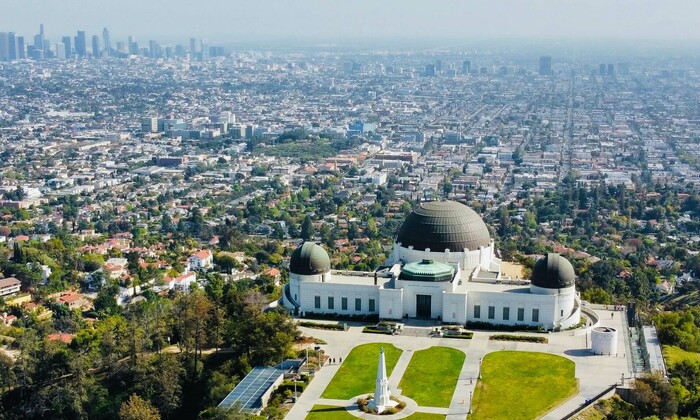 Los Angeles is an incredibly diverse city where everyone has a place! There is magic in the city, and it boasts multiple theatres, a 4,000-plus-acre park with zillion trails for recreational activities, hike lovers, and many more highlights.
However, not all Los Angeles neighborhoods regarding crime, gang activities, and safety are equal. But like most big cities, there are still a couple of places to be watchful over. Read on to know what areas of LA are dangerous.
Current Crime Situation in Los Angeles
Los Angeles, perceived as the US's most prominent crime hub, saw an 11% increase in its overall crime rate in 2022, with 60 reported crimes per 1,000 residents, compared to 54 per 1,000 residents in 2019. However, property crime drives most of the crime numbers, specifically burglary from motor vehicles.
According to Los Angeles Police Department, the 2023 first half-year report reveals that homicides, rape, and aggravated assaults have declined by 23%, 19%, and 2% when compared to 2021 reports over the same period. Meanwhile, there was an increase in reported property crimes and robberies.
The 10 Most Dangerous Neighborhoods in Los Angeles, CA 2023
1. Skid row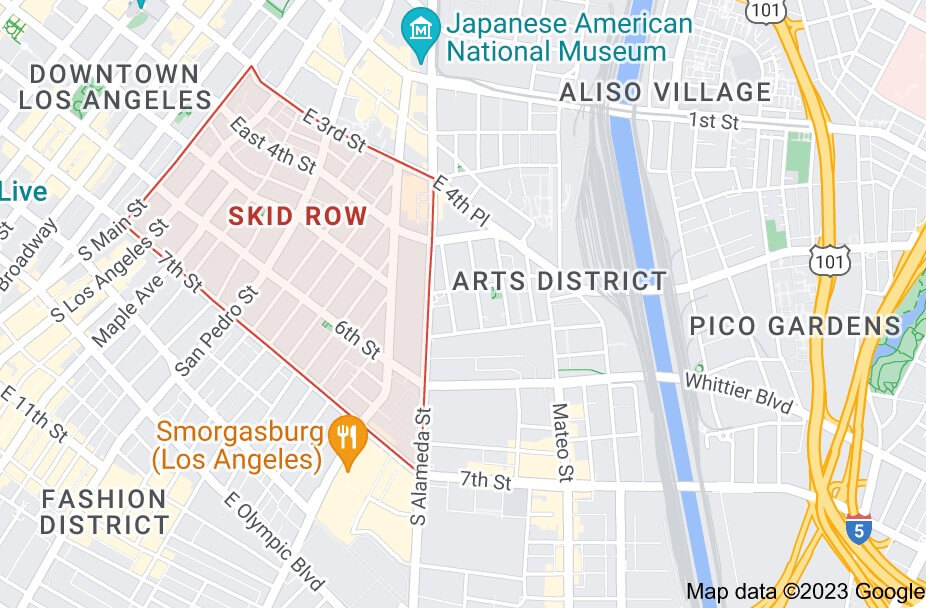 Skid Row is a part of Los Angeles' territory referred to as the City of Angels. Its estimated population of 10,850 is the epicenter of LA's addiction crisis and one of the US' largest homeless encampments. This neighborhood is littered with drugs, divided into sections by street gangs from South Los Angeles, who control the markets for heroin, meth, prostitution, and stolen goods.
Crime rates are 33% higher than the Los Angeles average. From a total reported crime of 3,828 in mid-2022, violent crime falls to 963, with property crime to 2,865. A large bit of the crime among the homeless population is rooted in the obnoxious drug trade, with crimes like pickpocketing and theft very common.
As persistent as drug trafficking happens in this neighborhood, so are the police officers. Areas such as San Pedro Street are known for being especially bad. Since cycling or walking is only permitted until 6 PM, this neighborhood becomes void of pedestrians and resumes as a hotspot of street gang and drug activity. Women travelers should move with company at all times.
2. Compton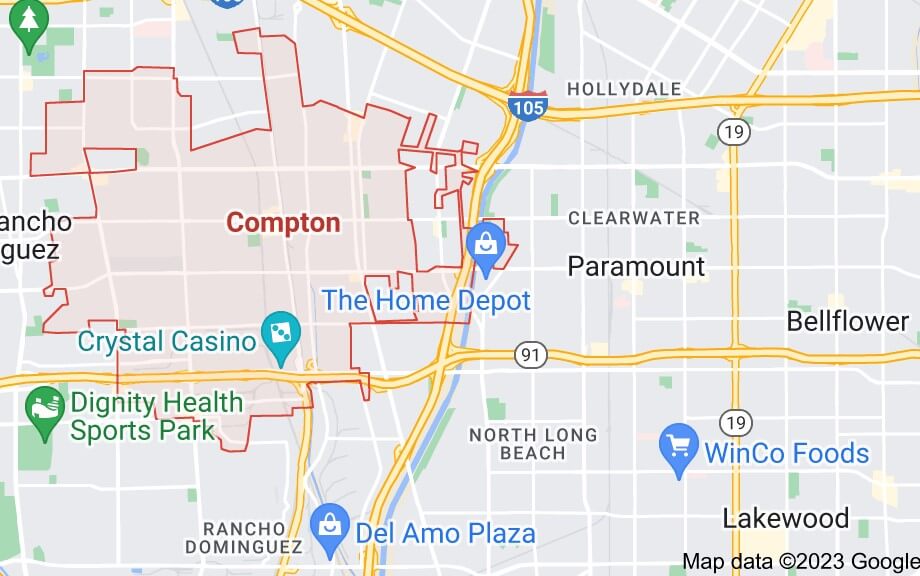 There are several fantastic reasons to visit Compton and some apparent reasons why you shouldn't go there. Compton has a long-standing history of gang wars, gun violence, drug activity, and crimes such as burglary, homicide, auto theft, and robbery, although it used to be way worse in the 80's and 90's. Its 2023 population of 89,695 is ethnically diverse and requires increased police protection.
According to the crime statistics 2022, Compton is an unsafe place to stay. In 2019, Compton had a violent crime rate of 1,125 incidents per 100,000 residents and a property crime rate of 2,249 per 100,000 residents. This makes a 1 in 29 chance of becoming a victim of crime in that neighborhood.
Visitors in this city are reminded to be alert and not wander in gang neighborhoods at night because they are very active. A standard advice is to only visit during the day and not wear valuables or expensive designer clothes. Females would fare better accompanied, but caution should be taken when solo. Public transit systems are relatively safe, but valuable items and cash should be out of view for peace of mind.
3. Downtown LA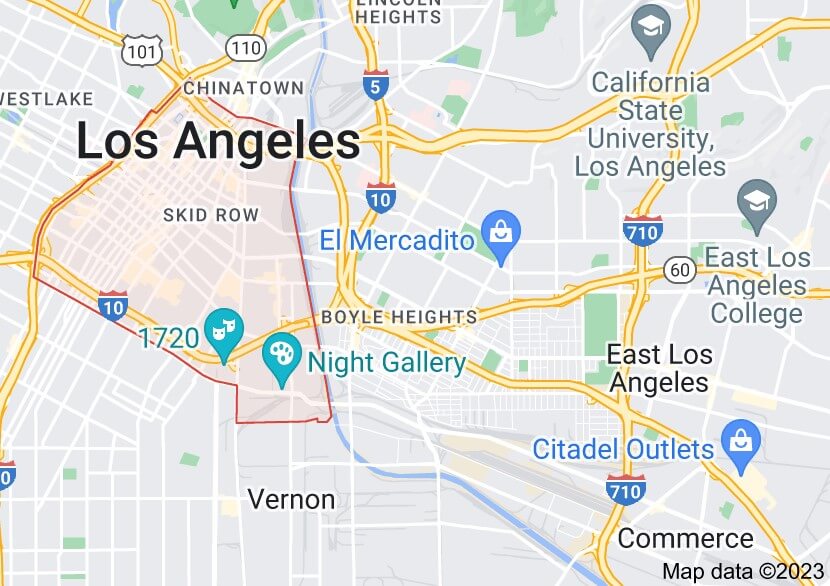 Downtown Los Angeles is where crime regularly happens. It is a neighborhood in Central LA region of Los Angeles County with a population of over 27,000. But with its hub of commercial and cultural activity, dining, and business, its daytime population gets to around 207,440. This contributes to its sky-high crime rate, equivalent to a little more than one crime for every four residents.
There are dozens of dramatic smash-and-grab heists in this neighborhood, and gang violence is increasing. Gun shops report record sales, with lines stretching around the block. The crime rate was more than six times citywide and triple other LA neighborhoods in 2022.
From the record, more than 370 reported crimes per 1,000 people downtown. By comparison, downtown experienced a 25% rise in violent crime – from more than 1,800 incidents in 2019 to more than 2,200 in 2022 – and a rate of 45 reported violent crimes per 1,000 residents.
In property crime, specifically grand theft person, downtown recorded a nearly 57% increase between 2019 and 2022, and roughly 167 property crimes reported per 1,000 residents. There is even an increase in shoplifting from businesses along the Fifth and Seventh streets. And worse areas are located north of 7th Streetstreet, south of 3rd Streetstreet, east of Main Street, and west of Alameda Street. As known across this neighborhood, the police presence is insufficient for the crime that is going on.
Nighttime strolls, whether in groups or solo, are strongly discouraged, more so for females. As pickpocketing and robberies are common, carrying large amounts of cash during the daytime is also highly discouraged, especially when you explore by foot, bike, or public transport.
4. Fashion District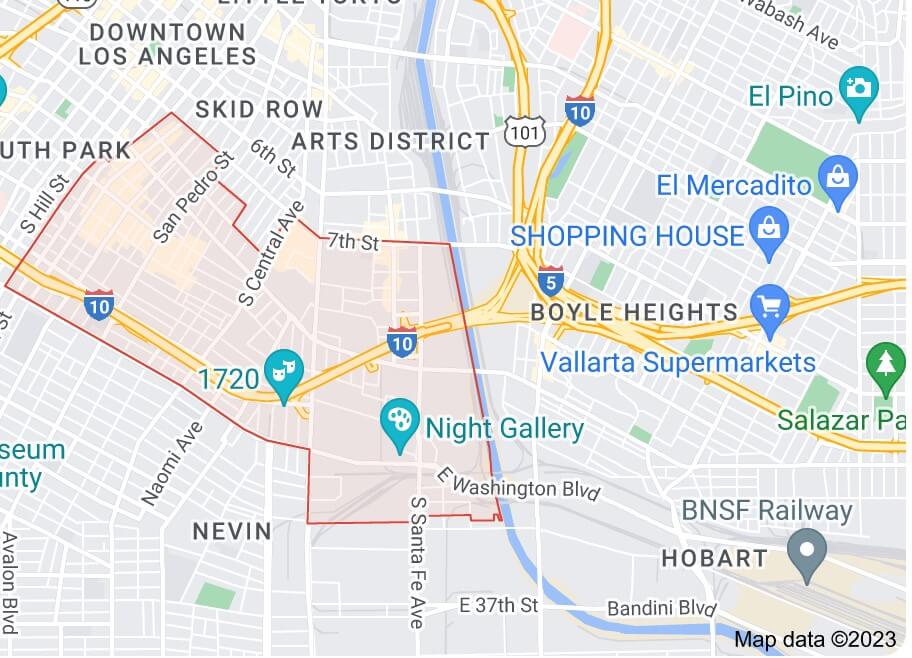 This is an area across Downtown LA. The population is relatively small at 2,466 but borders some of the city's meanest streets. The 90-square-block district, the Main Streets, Santa Monica Freeway, Spring and San Pedro Street, have evolved from a crime-ridden eyesore to a haven today primarily due to the hard work of so many people.
The police department resources are stretched thin in the district, making residents keep requesting to step up patrols in the area in response to occasional broad-daylight stabbings and other criminal activities. Fashion District crime rates are 65% higher than the national average, with violent crimes 151% higher. Not surprisingly, property crime accounts for over 150% of the crimes reported.
Public transit isn't dangerous during the daytime if you adopt some Fashion District street smarts, especially for female travelers. Some like Uber exclusivity, walking in the middle of the Streetstreet where possible, and not wandering off onto random side streets or down streets lined with tents. Parking in safe areas, staying with a friend or preferably a group, and not wearing pricey jewelry or handbags.
5. Hollywood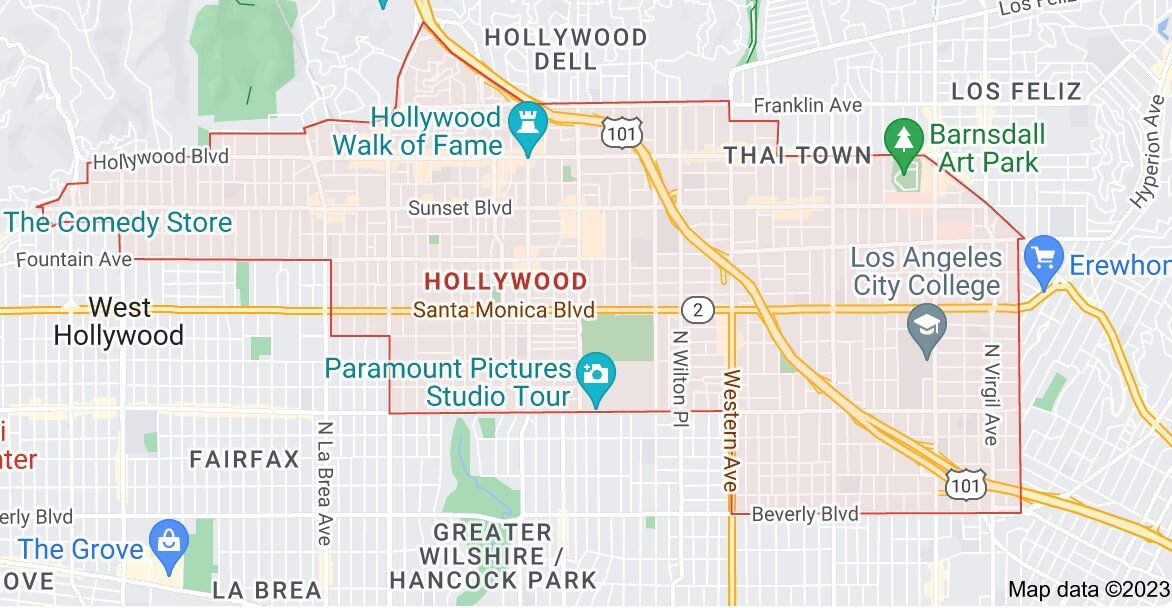 This neighborhood of 90,322 residents, which may be widely known as the entertainment capital, has residents viewing it as a place where violent crime supersedes reputation. Constant outrage stems from high-profile burglaries, robberies, and attacks, especially in West Hollywood.
While West Hollywood is located near Hollywood, North Hollywood is located in the San Fernando Valley, 9.2 miles away. In 2021, North Hollywood's yearly crime rate was 51.66 per 1,000 residents, and West Hollywood's is 61.8 per 1,000. In comparison, Hollywood has more crime at 70.82 per 1,000 residents.
In mid-2022, there were 1,282 violent crimes per 100,000 people, and information has it that 450 active gangs exist, with 45,000 members fighting for territory in LA. Of which, 10 of the most dangerous, including the infamous MS-13, are active in Hollywood. Hollywood's violent and property crime is nearly double that of most Los Angeles neighborhoods.
Crime statistics from the sheriff's department, however, show that, as a whole, violent crime from the 1st quarter of 2023 dropped by about 18% in the West Hollywood area compared to the same period in 2022. Some dangerous streets to be wary of are the intersection of Hawthorne Avenue and North Orange Drive, Selma Avenue, and several blocks south of Hollywood Boulevard.
Hollywood is pretty safe for women to walk around in the daytime, although it's recommended that women be accompanied by a friend at night.
6. South Los Angeles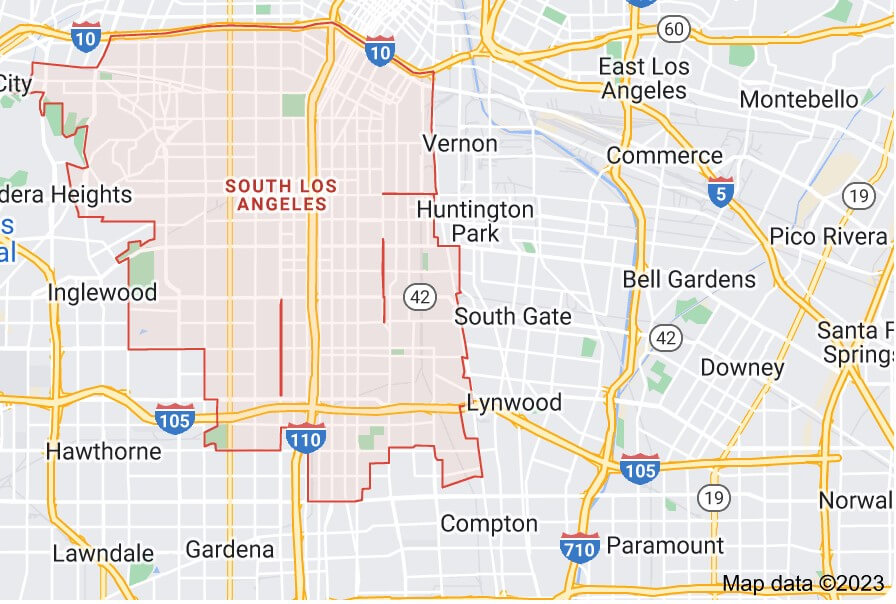 South Los Angeles is a hotbed for gun and gang violence, drug trafficking, and property crimes. Historically known for its high crime rates, this neighborhood with 248,666 population faced challenges with violent crime rates as high as 331% higher than the national average and crime rates 50% higher than the LA average. Also, property crime is higher in South LA than in many cities and towns nationwide.
Despite the heavy police presence, which has led to a gradual decrease in crime since the 1990s, South LA remains one of the city's most dangerous areas. Gang operations are split in territories, so females traveling independently, especially at night, are not encouraged in this neighborhood for fear of entering a hostile operating hood. Strolling, biking, and using public transport at the time is safe, with minimal fear of being robbed of cash. The chance of being a crime victim in South Los Angeles is 1 in 24.
7. Chinatown
With 47,844 residents, Chinatown is perceived as several blocks of Los Angeles near the Hill Street exit of CA - 110, smaller than NY's and San Francisco's Chinatown. At 5,508 reported crimes per 100,000 people, the amount of crimes per population is high. In Chinatown, assaults and robberies are much more common than elsewhere.
According to statistics, Chinatown has 2,598 property crimes, 2,910 violent crimes, and an estimated 5,508 crimes per 100,000 population. Its proximity to Union Station and Olvera Street makes this neighborhood less unsafe to walk around during the day, hence, less wandering at night is recommended. However, it is also closer to some gang areas than many tourist areas of Los Angeles; and being a top-rated tourist destination, there is a strong police presence.
Male and female travelers are expected to exercise caution and be aware of the surroundings, as your cash is never safe. It is safe during the day if you are in the main areas. However, Chinatown is surrounded by gang areas in several directions. So, if you venture more than a couple of blocks in the wrong direction during the night, you might find yourself in an unsafe situation.
8. West Adams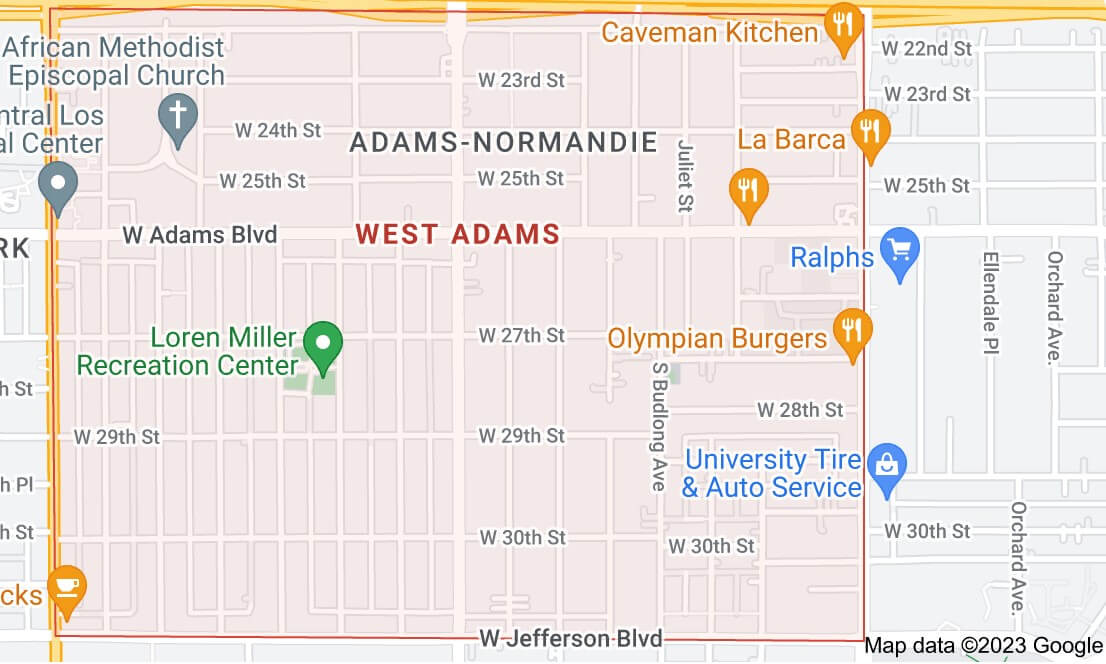 its prime, West Adams was one of the wealthiest neighborhoods and most infamous for gang violence. There was so much gang violence in the 60s that residents were forbidden to utter words. It has an estimated 22,000 living in it.
According to data, because West Adams had 4,025 property crimes, 2,143 violent crimes, and a total estimated crime rate of 6,168 per 100,000 population, that authorities advise people not to walk in this area late at night, especially women. West Adams' crime rate is 163% above the national average, and you just don't see the presence of the police as you would think you would in a place that is so desperate.
Meanwhile, homicides and shootings were at an all-time high throughout the city, and violent crimes were 453% higher than the national average. While exploring the city, care should be taken for valuables and personal properties so as not to expose them to be vandalized. Public rides and Uber rides are as safe as they can be. Cash theft is less commonly reported.
9. Koreatown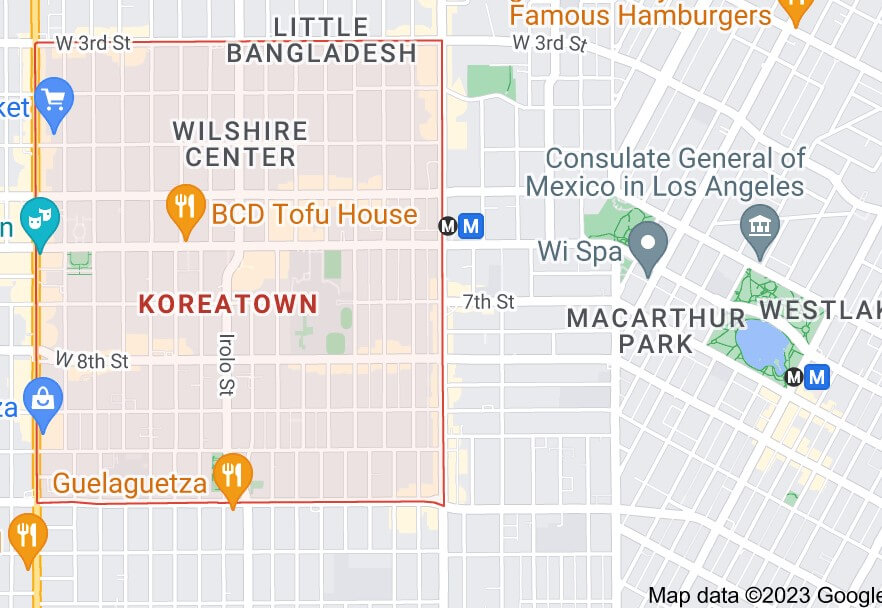 With a population of about 186,000, this neighborhood in LA, located South of Hollywood and West of downtown, has the current connotation of prostitution, drug dealing, and defined Hispanic gang presence.
Koreatown's crime rate is 2,978 per 100,000 people, which makes this neighborhood 32% more dangerous than the national average. Gang and drug activity are typical here, and the Southern and Eastern parts of Koreatown are considered the most difficult.
As the police presence in this neighborhood is not very visible, it is best to restrict movements to daytime. Only if not exploring safe areas like the northern and northwest areas such as Hancock Park, Wilshire Center, etc., specifically if traveling independently as a woman.
There are murmurs of robberies and pickpockets, so public transportation should be avoided if possible. Better to switch to credit/ debit cards rather than carrying cash in purses and wallets.
10. Watts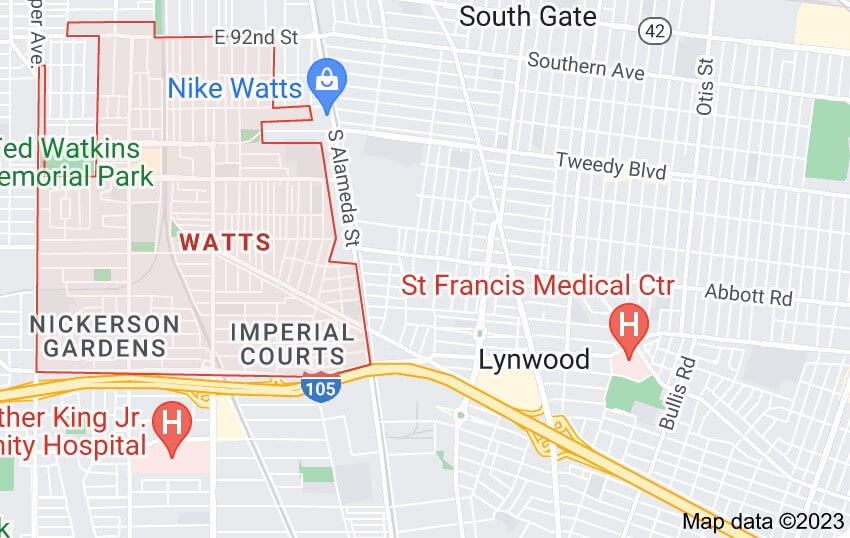 Like Compton, Watts' violent crime rate has been since the 1990s, and the 40,795 populated neighborhood is generally considered a dangerous part of LA. Police often patrol the area, as the neighborhood's crime rate is 50% higher than the national average, with violent crime 305% more.
Overall, the crime rate is 3,514 per 100,000 people, and the chance of becoming the victim of a crime in Watts is 1 in 29. Exploring the streets at night is not advisable, especially if you are a solo female traveler, as it becomes deserted and appears sketchy.
Tourists are advised, and they need to understand how to keep wallets and valuables guarded when walking or biking in the daytime. Residents complain of hoodlums around train stations and fear being pickpocketed and robbed of cash. For this reason, public transportation is frowned upon.
The Safest Places in LA
Insecurity in Los Angeles is concentrated only in certain parts of the city and not everywhere. Beyond the specific dangerous neighborhoods, LA's crime problem is no more significant than many other major American metropolises.
Over the years, the authorities have taken important steps to improve public safety and see crime rates drop. Hence, the safest areas to live in are L. A are Highland Park, Glendale, West LA, Marina Del Rey, Playa Vista, Westwood, Venice Beach, Sherman Oaks, and Westchester.
Conclusion
Despite the dramatic increase in violent offenses, LA's overall crime rate remains far lower than decades ago when gang warfare and the crack epidemic wreaked havoc on our streets. For instance, in 1992, LA had 2,589 homicides, six times greater than the record in 2021. It is just necessary to always be aware of your surroundings and never to let your guard down.