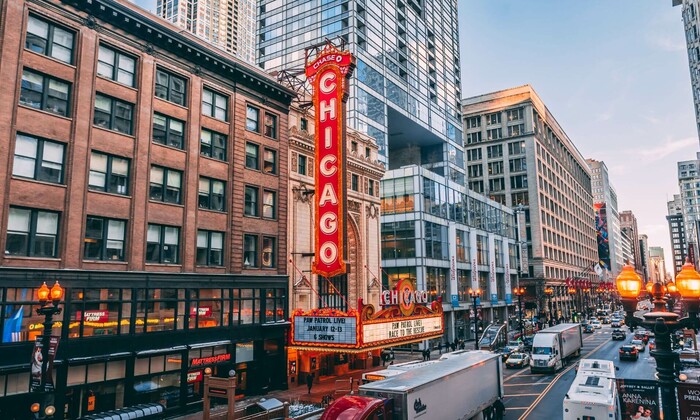 One of the largest urban areas in the world, Chicago is best known for its rich cultural history and endless opportunities for exciting entertainment. It has benefits like its bustling urban lifestyle, vibrant arts and culture scene, and world-class cuisine.
However, when thinking about Chicago, crime also comes to mind. As the third most populous city in the U.S., it is also one of the most dangerous, infamous for its high violent crime rates. With over 200 neighborhoods, learning which area experiences more crime than others is necessary. This article will deep dive into Chicago's top ten most dangerous neighborhoods.
Current Crime Situation in Chicago
Crime, especially gun violence, is an issue in Chicago, with about 30.6 crimes per 1,000 residents from mid-2021 to mid-2022. By comparison, the nationwide crime rate was approximately 2,360 crimes per 100,000 residents in 2020, and according to the Chicago Sun-Times, overall crime increased in 2022 over 2021. Chicago is about 67% more dangerous than the U.S. average.
Top 10 Worst Neighborhoods and Districts in Chicago, IL
According to data by city violence data, AreaVibes, and FBI Statistics, here are the Chicago neighborhoods with the most crime:
1. Washington Park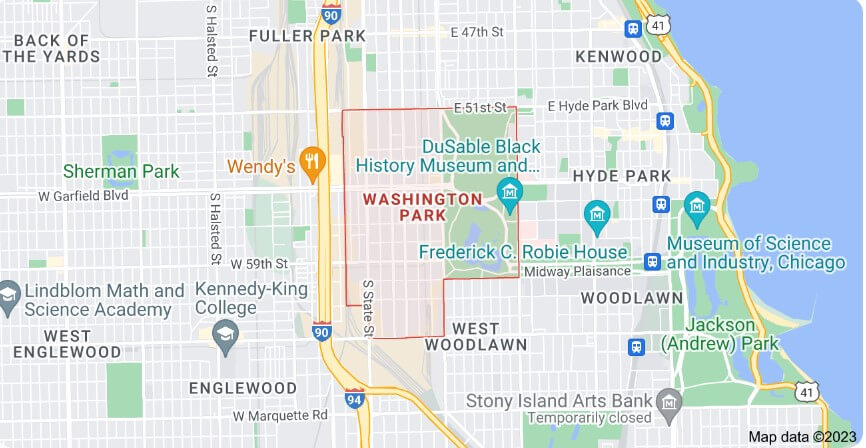 This is one of the most dangerous neighborhoods in Chicago. 11,871 people live in Washington Park, and a startling amount of this number encounter a high crime rate. These crimes range from rape and murder to vehicle theft and property damage, where property crimes are double the figure for violent crimes, and violent crimes are 695% higher than the national average.
Although the east of Washington Park, Hyde Park, is relatively safe, City violence data shows that the crime rates are evenly distributed across the entire Washington Park neighborhood. Every day, you risk a 1 out of 11 chance of being assaulted, robbed, having your home burglarized, or having property stolen in Washington Park.
This high rate of criminal activity put a damper on night strolls. Preferably, biking or foot walks are encouraged for daytime alone and for solo female travelers. Public transportation and hotels are not exempt from criminal acts like thefts, so having less cash while moving about is safer.
2. North Lawndale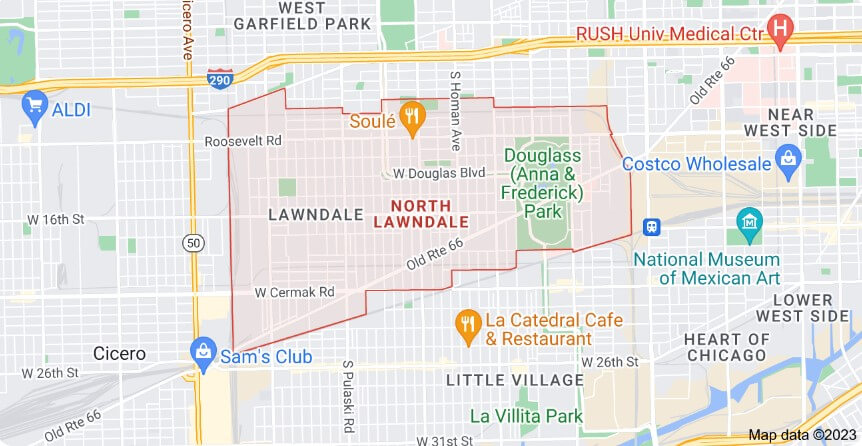 With a population of around 35,417, North Lawndale experiences high crime rates, particularly juvenile crime. It is a Chicago neighborhood with a significant African-American population and law enforcement professionals.
Out of 9,969 total reported crimes between mid-2021 and mid-2022, violent crime was as high as 2,816, and property crime was 7,153 per 100,000 residents, making this neighborhood safer than 0% of the cities in Illinois. Consequently, North Lawndale residents have a 1 in 11 chance of becoming property or violent crime victims.
Crime in North Lawndale is not limited to dark alleys. Many robberies, muggings, and assaults happen in broad daylight and even on sidewalks. Therefore, night movements are highly discouraged for visitors or residents.
Walking and biking are appropriate activities for daytime, but residents recommend against cash handling where possible. Females are encouraged to travel in groups and occupy hotels with detailed security functions.
3. West Garfield Park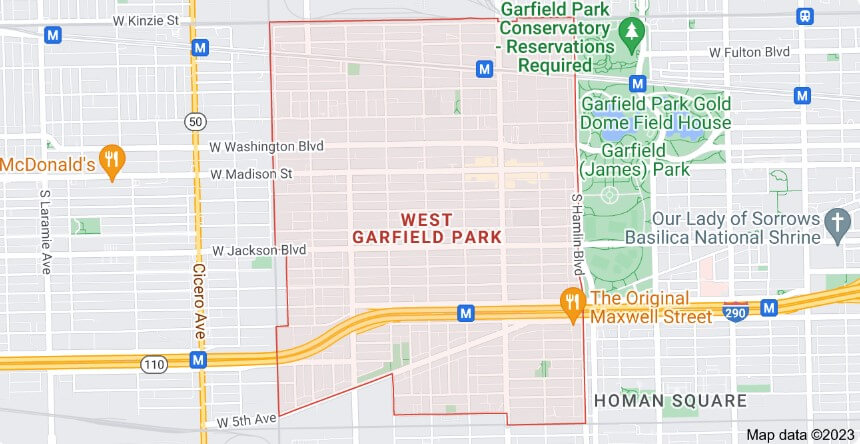 Located on Chicago's South Side, with high violence and rampant gang activity, West Garfield Park is home to 17,277 people. Violent and property crime rates are 3,371 and 8,974 per 100,000 residents, respectively, with 12,345 reported crimes between mid-2021 and mid-2022. West Garfield Park crime rate is 257% higher than the rest of the city, making this one of the most dangerous part of Chicago.
In West Garfield Park, you have a 1-in-20 chance of falling a violent crime victim for each year spent within the neighborhood limits. Tourists who wish to visit Chicago must be extra cautious when passing through this neighborhood especially at night or if you're traveling solo and a woman. A few areas like Arlington Heights and Homestown are some safe areas around West Garfield Park.
Neighborhood walks and bikes are safe in the daytime, but public transportation is almost a tourist's nightmare because of pickpockets. Hotels are hardly safe also.
4. East Garfield Park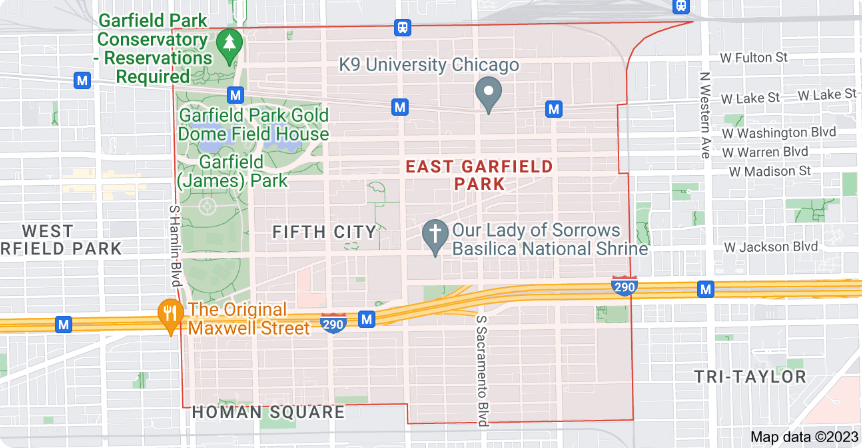 East Garfield Park is a neighborhood in Chicago where violent crimes occur too often. With 20,100 total residents, it is regarded as the third most dangerous in Chicago, with the third-highest crime rate in Illinois. Gang activity and gun violence are the prominent issues, with over 77 shootings registered in 2021, and some involve children. In 2022, there were almost 2,900 instances of violent crime and over 6,500 property crimes.
Efforts are being made by the police department in East Garfield Park, but the plague of drugs, local gangs, and shootings show no signs of stopping. This neighborhood's crime rates are 308% higher than the national average. Hence, tourists visiting should take acute care when traveling and avoid going out at night, specifically single traveling females.
Exploring the area on bikes, foot, or public transport is mostly safer, but it does not prevent you from being mugged or robbed of cash, like in the public transportation system.
5. Englewood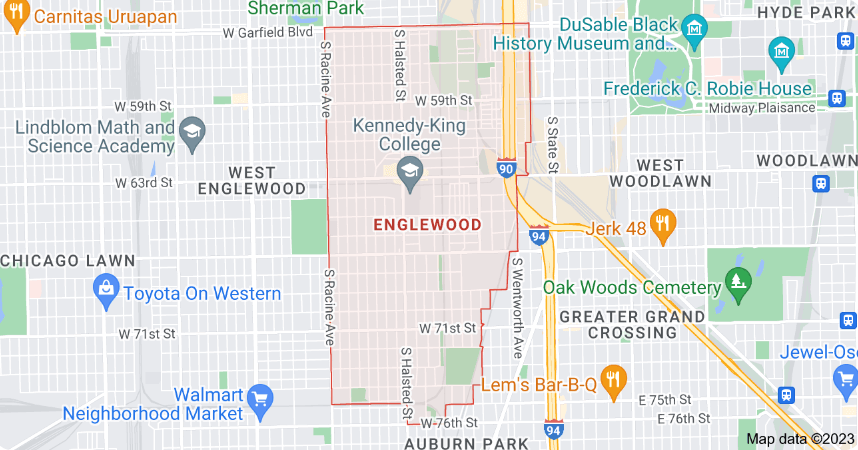 Englewood experiences a high crime rate, including shootings and homicides, in all parts of the neighborhood. Located in Chicago's South Side with a population of 25,858, Englewood's violent crime is about 8 times more than other U.S. cities, and property crime is similarly common.
Just as 2016 alone saw more than 100 homicides (one out of every 300 residents), in 2022, violent crimes like assault and robbery were 201% higher than the Chicago average. This is an estimate of 2,837 per 100,000 people.
Bold, public crime is rampant in Englewood, so it is no surprise at the frequency of muggings, even with the police officers patrolling the area. This is where the recommendations of being aware are put in place when moving by foot, bike, or public transportation system. Day or night, a stroll through this neighborhood should be canceled for female travelers and residents.
6. Chatham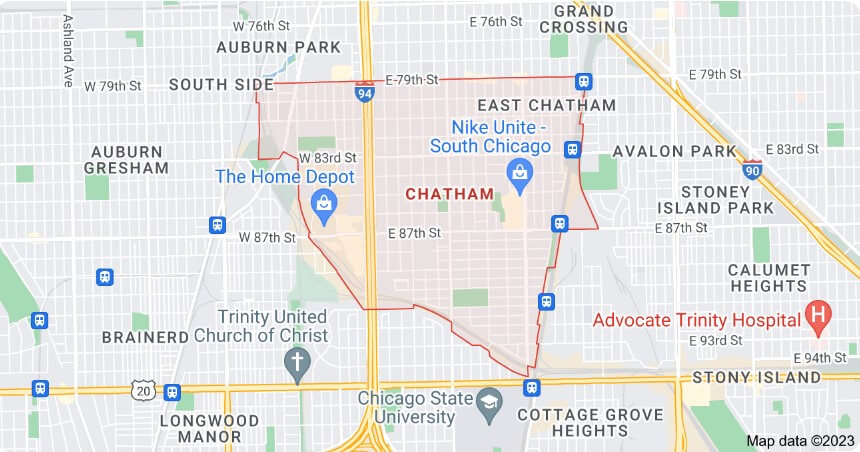 Chatham is notorious and bears the 19th worst crime index of all Chicago neighborhoods. It is one of the largest neighborhoods in Chicago and is home to about 30,760 people. Chatham has high gun violence occurrences and murder rates, making it one of the worst neighborhoods in Chicago where safety is a concern.
Statistics show that the total reported crimes between 2021 and 2022 were 7,183, with violent crime and property crime at 1,965 and 5,218, respectively, regardless of police patrols in the neighborhood. Chatham's crime rates are 206% higher than the national average.
Although over 50 percent of residents believe the crime in the area is lesser during the nighttime, half of the respondents will not go alone at night, and rightfully so for the female gender. However, if you do not appear like a gang banger or drug dealer in the daytime, you will be okay walking or biking down the streets. Take note that public transportation is not entirely free of pickpockets.
7. West Englewood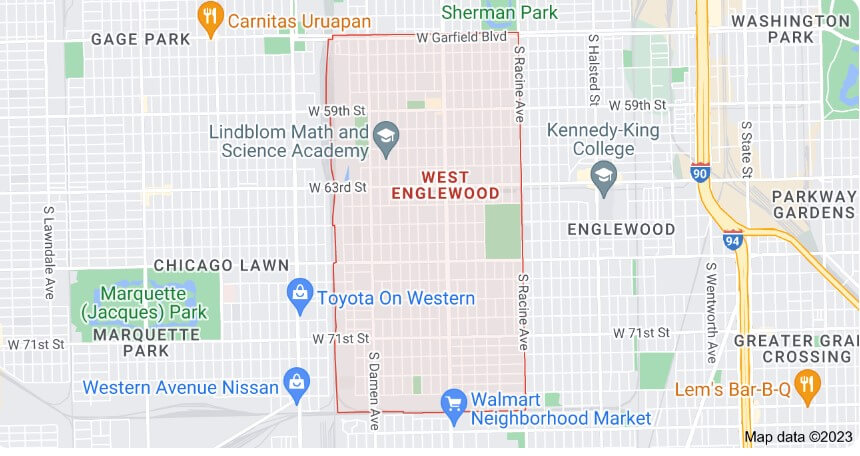 West Englewood has been identified as a violent-ridden neighborhood for years. Home to 30,662 people, this neighborhood witnesses shootings, stabbings, robberies, and other forms of violence. The violence is primarily due to gang-related activities.
If you plan to visit West Englewood or move into this area, you may need to rethink your decision. There is a 1 in 12 chance of being a crime victim in this neighborhood, as the crime rates are 283% higher than the national average. West Englewood is also noted for its many abandoned buildings used as hot spots, especially at night. This makes nights unsafe for walking or biking alone, particularly for solo traveling females.
There are police in the area, but recent surveys have shown that the response is low. It is alright to walk alone during the day, but it is good to be mindful of cash thefts by petty thieves, even when using public transport.
8. Grand Crossing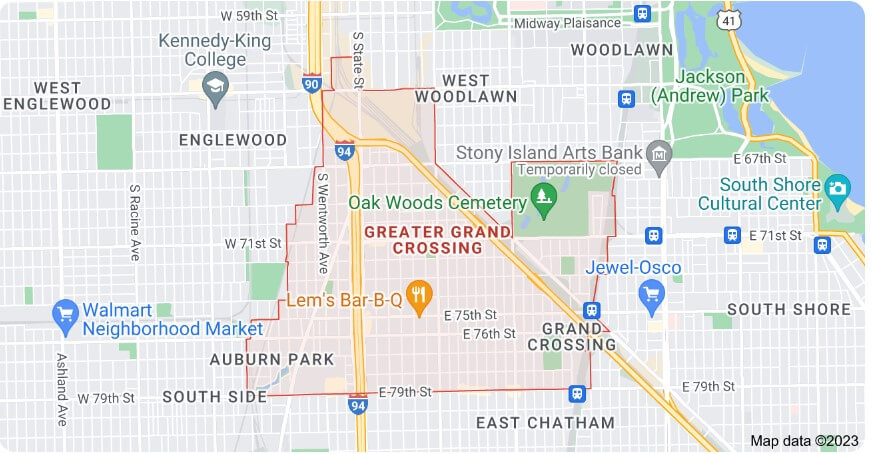 Grand Crossing stands out with a disturbing history of high gun violence, drug activity, and gang-related violence. This neighborhood has a population of 32,217 and is located on Chicago's South Side. It is recorded to have the 8th worst crime rate in Chicago despite the frequent patrol by the police in this neighborhood,
There was a total of 8,198 reported crimes per 100,000 people in 2021, including everything from murder to vehicle theft. The violent crime rate, as stated, is ridiculously high, with each resident having a 1 in 13 chance of becoming a crime victim.
While biking or walking at night, residents and visitors are advised to exercise caution and remain vigilant for their safety. Daytimes are not entirely safe because of petty thefts and robberies. Solo females traveling alone have little to fear for safety, but barely any hotels are recommended in this district.
9. Riverdale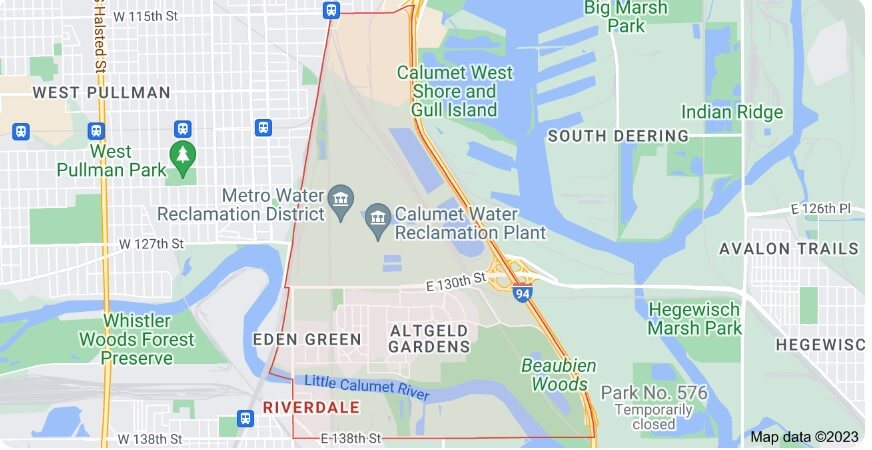 With just over 7,000 people, this south-side neighborhood has seen more than its fair share of violence. The violence and crime rates are high, especially gang activity, and very few resources are available to residents. In Riverdale, 6,912 crimes were reported in 2022, with a violent crime rate of 2,450 crimes per 100,000 people, which makes for the worst street in Chicago.
Walking alone in the daytime is reasonably safe when passing through this neighborhood, but walking alone at night is extremely dangerous, especially for females traveling alone. There have been many shootings and murders in this area in recent times. If you are visiting Chicago, you should simply avoid Riverdale.
10. South Shore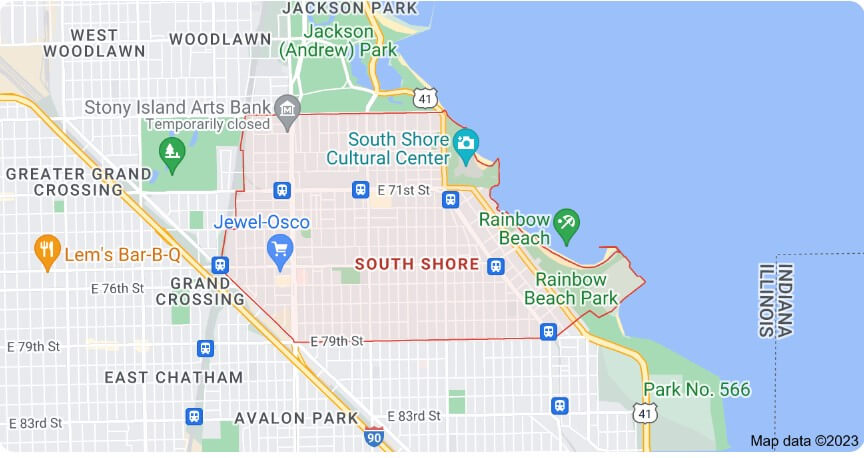 South Shore experiences many crimes, particularly property crimes and assaults. The violent crime rate in South Shore reached a concerning level of 2,301 violent crimes per 100,000 people in 2022, after increasing by 20% in 2021. With a population of over 47,000 people, it is one of the city's most densely populated community areas.
Robbery and assault are common in this neighborhood, with murder and gun violence much higher than the national average. The chances of becoming a victim of any type of crime are 1 in 15, so anyone passing through South Shore, especially for the first time, should be street-wise. Whatever you do, it is best to avoid the streets at night, while women traveling alone should always take safety measures.
The Safest Places in Chicago, Illinois
Living in Chicago has pros and cons, as it is a city of contrasts. Like any major city that faces challenges with crime, Chicago experiences its fair share. But millions reside in this city without encountering Chicago dangerous areas and neighborhoods with such crime levels. Here are some of the safest neighborhoods in Chicago, Illinois:
Not every neighborhood in Chicago is dangerous. Chicago has diverse communities, some considered safe and desirable places to live. Therefore, conducting promising research and staying informed about safety conditions regarding a place is critical before forming conclusions.
Conclusion
Chicago is known for many things, and the city has incredibly diverse neighborhoods to immerse yourself in cultures worldwide. It is considered one of the best places to live in Illinois., but the high crime rate is one of a few things that make people think twice about moving to Chicago. Ultimately, to remain safe in Chicago is to have a keen consciousness about your surroundings and to know the dangerous areas to avoid.