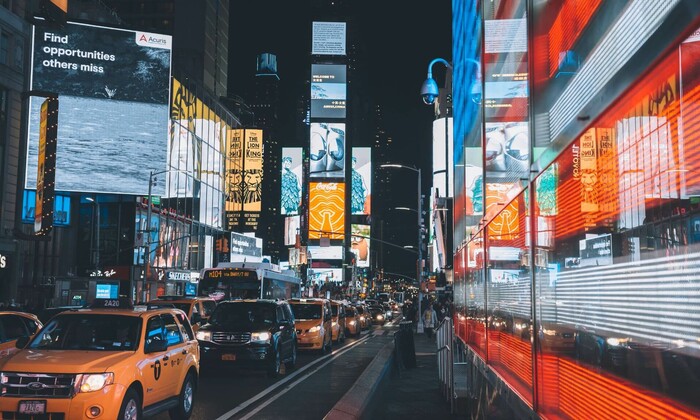 Nothing can prepare you for the charms of New York City. There are plenty of fun activities that suit all kinds of people, and it is a city that is recognized all over the world for its landmarks, shops, and culture.
Also, New York City is one place where crime is up, and it's been up for many years. The crime rates may suggest a city spiraling out of control, but there are many neighborhoods in New York City, and most of them are as safe as ever. Here are the top ten most dangerous areas in New York City to avoid.
Current Crime Situation in New York City
Major crimes are still up citywide. According to NYPD, in March 2023, there was a 26.1% and 11.4% drop in shootings and homicides compared to March 2022. In 2022, there were almost 189,800 arrests citywide, a 22% increase from 2021. 47,572 of the arrests were for the most severe crimes: burglary, rape, grand theft, felony assault, homicide, and robbery.
The total number of arrests connected to shootings and homicides was 1,411, a rise of about 12% from 2021, and there were the most gun arrests in 27 years. There were 4,627 in 2022. However, murder dropped 11%, from 488 in 2021 to 438 in 2022.
Top 10 Worst neighborhoods and districts in New York City
1. East New York
Although East New York is considered dangerous and a notorious example of red-lining, it is believed that many residents are fighting to preserve its identity. With a population of 147,562, East NY has experienced a rise in gang activity, drug use, and violence in recent years and ranks in the top 3 for violence per capita.
The NYPD precinct with the most violent crime is the 75th Precinct, which covers East New York also, where there were 303 auto thefts in April 2023 compared to 296 for all of 2019. According to The Post report, in February 2023, 27% of all shootings occurred in six Brooklyn precincts, of which East New York was among.
Some of the most dangerous housing projects in the country were in East New York, and in 2020, the total reported crime was 3,271, 84% higher than in New York. If you're unfamiliar with the neighborhood, residents recommend visiting during the day with a drop of caution, whether via foot or bike.
Bus transportation and other public rides are free of muggers and pickpockets. So, wads of cash will likely remain untouched in purses and wallets.
2. Hunts Point
As of 2019, Hunts Point was statistically determined to be one of the most dangerous neighborhoods in NYC. This neighborhood of nearly 23,000 people is one of the commercial centers in the southern Bronx and has a long history of violent and street crime, with drug trafficking, thugs, and street gangs still rampant.
Despite increased police presence, violent crime remains a major issue, shot up to 401% greater than the national average and 94% higher. Of 4,557 crimes to 100,000 people, violent crime gathered 1,944, with property crime 2,613.
Hunts Point is one of the neighborhoods to avoid once the sun sets in New York City. So, it is advised not to walk alone at night, especially if you are a woman traveling alone. It would help if you still exercised caution visiting or choosing to live there.
If you happen to be a resident, your chance of being a crime victim is 1 in 22, as tourists and locals alike are vulnerable to pickpocketed or worse.
3. Brownsville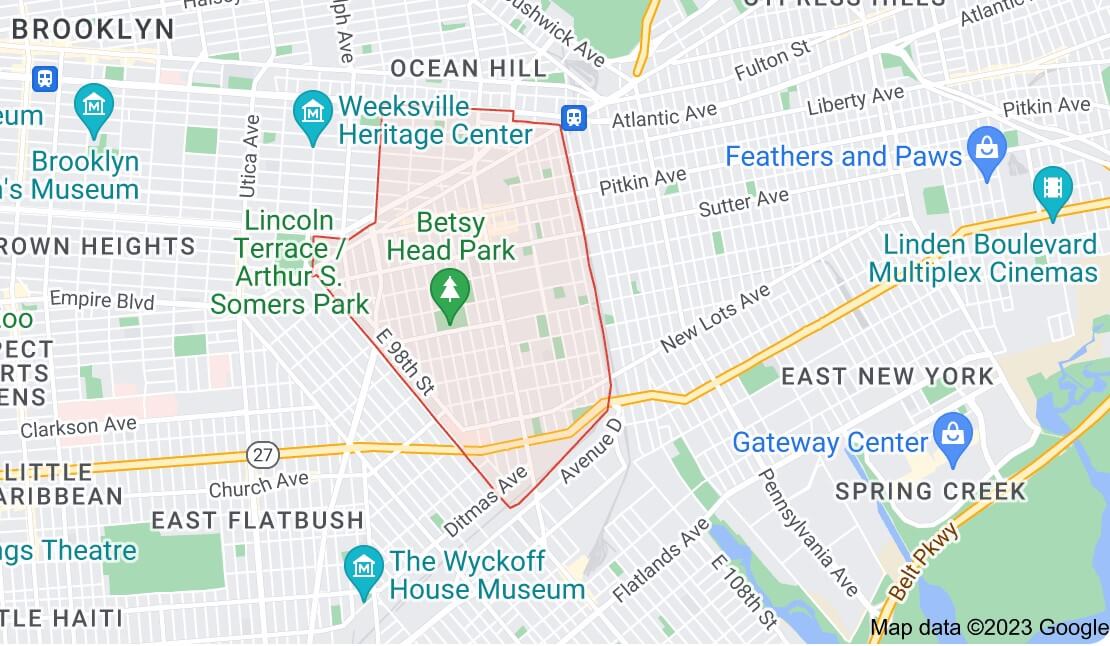 Brownsville has persistently remained one of New York City's highest-crime neighborhoods for decades, especially being notoriously a base for the crime organization Murder, Inc. In 2022, with an estimated 128,369 people, it had a crime of 2,810 per 100,000 residents, with records of 10 shots per 10,000 inhabitants.
Formerly with the highest number of murders in the city, with 31 murders per 10,000 inhabitants, it still champions a murder rate of nearly four times the average in New York. It has violent and property crime rates more than twice the state and national crime averages for these categories. In Brownsville, you have a 1 in 36 chance of becoming a crime victim, higher than the U.S. average.
Sadly, the high crime rate is in conjunction with this neighborhood's poverty rate at an alarming 42%, with young children struggling. Exploring this city, walking or biking around are safe activities only during the daytime and not at night, especially for solo traveling women. Even seasoned New Yorkers understand to be extra cautious when visiting this region of the city!
4. Tremont
In 2022, there were an estimated 106,094 people in Tremont, a West Bronx, New York City neighborhood. Tremont has been hit hard by gang activity over the years, with crime always being apparent. Crime exploded in the 48th Precinct by 89%, with jumps in felony assaults and grand theft.
With insufficient police resources in this neighborhood, the crime rate remained alarmingly high compared to other parts of the city. Hence, residents had to deal with violence almost daily, with violent crimes 218% more than the national average. In Tremont, you have a 1 in 35 chance of becoming a crime victim.
Generally, walking or biking alone in this neighborhood is not a good idea, especially for the females traveling solo. Nighttime is safe, but it is wise to head over to the suggested hotels by early evening. Although you may not find pickpockets around as such, it is preferable to move with debit/ credit cards.
5. Fordham
Located in the Bronx, Fordham is a NYC neighborhood with a long history of violence, gangs, and drug-based crimes like narcotics trafficking and armed robberies. It has a population of 64,594 people and is considered one of the biggest crime-heavy no-go areas in NYC.
The crime rates in this neighborhood are significantly higher than in other parts of The Bronx and even NYC, with a crime rate 52% greater than the national average. The risk of assault in this neighborhood is five times the national average. You have a 1 in 29 chance of becoming a crime victim in Fordham.
Although police presence has increased throughout The Bronx, it remains a no-go zone for tourists or people visiting from outside NYC. If you have to walk around this neighborhood alone at night, it's recommended for solo traveling women to carry some type of self-defense device. But you rarely spot solo female tourists in this community anyway. However, watch your finances and wallet closely for pickpockets.
6. Mott Haven
Mott Haven has 70,301 residents experiencing an alarming crime rate of 121% higher than the national average. There is an increased chance of mugging, robbery, or even assault when visiting this area day or night. It's best to steer clear if you don't want to get into any trouble with the hoods in New York!
The patrol officers in this South Bronx neighborhood are too many trying to keep the crime rate at bay. And the total crime rate was 5,181 crimes to 100,000 people. In this neighborhood, it is advised not to walk alone at night as solo traveling women will have safety issues.
It's critical to check your surroundings thoroughly when traveling through Tremont to avoid becoming a victim in the day or the night. And regarding safety, getting around on public transport is a dangerous medium for commuting if you have lots of cash in hand. In Mott Haven, you have a 1 in 20 chance of becoming a victim of crime.
7. Midtown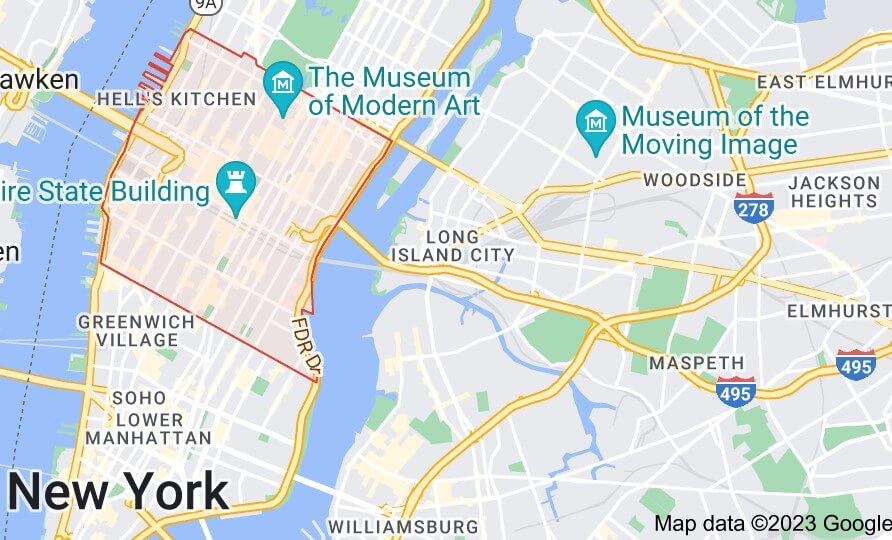 Midtown is one of the most dangerous parts of NYC areas in Brooklyn. It houses 62,515 people, making this center of Manhattan one of the most trafficked areas in the city. Only for a few years has violent crime risen in the New York ghetto areas; otherwise, it is a less problematic area than other cities in NYC.
Out of 9,833 major crimes per 100,000 residents, property crime incidents occurred more than seven times that of violent crimes. The crime rates are 319% higher than the national average. However, Midtown remains the most likely place you'll become a crime victim in New York City.
Biking or strolling around this neighborhood in the dark is a bad idea, not only for women traveling alone. Petty crimes like pickpocketing are not very common, so wads of cash would not suspiciously disappear. The public means of transport are as effective as they are safe. In this neighborhood, your chance of becoming a crime victim is 1 in 11.
8. East Harlem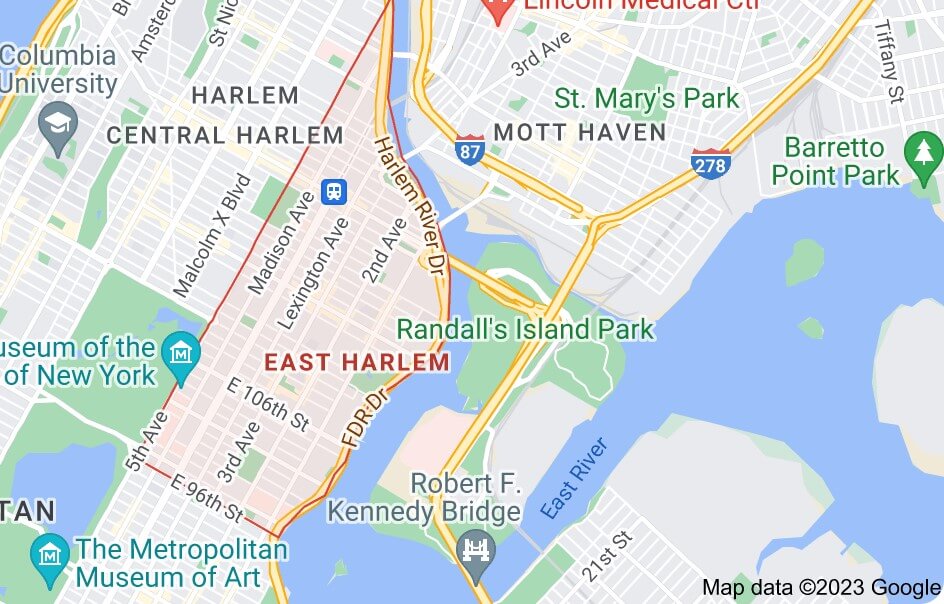 One of the worst neighborhoods in Manhattan, East Harlem is famous for its high levels of violent crime and drug dealing, even on neighborhood corners within East Harlem, and exposed spaces. The neighborhood has a population of 51,347 people. With an average crime rate 94% higher than the national average and 113% higher than the New York average, it has some of the bad neighborhoods in New York, and not a place to take lightly.
Overall East Harlem crime rate dropped by 70 percent after the 2000s, of which the 23rd and 25th Precincts cover. Total crime is estimated at 4,554 in 100,000 people, 157% higher than New York. At the same time, while violent crime is 1,616, the property crime rate is almost twice. The chances of being a victim of a crime in this neighborhood are 1 out of 22.
But is East Harlem safe? It saw an increase in homicides and assaults, making this city a not-so-friendly one for women travelers, especially those traveling solo. At night, getting someone to accompany oneself while going for walks seems to be the practice here. However, strolls during the day are quite safe. If you only have public rides as an option, it is good to secure your valuables and cash for fear of pickpockets.
9. Bushwick
Bushwick, a district in Brooklyn, New York City, of 125,345 people, has been the subject of safety discussions, especially linked with the 'crack wars' of the eighties and Knickerbocker Avenue. Back in the early 2000s, it was one of the worst neighborhoods in New York. Crime rates remain higher than in other regions in Brooklyn, where violent crimes are less prevalent, but property crime increases.
With increased patrol officers, Bushwick's violent crime rate dropped, now 18% greater than the New York average. The average violent crime rate is about 727 per 100,000 people, whereas the average is about 2,511 per 100,000 people. Your chance of being a victim in Bushwick is about 1 in 40 people.
Whether you're visiting New York City or planning a move, it's best to keep away from Bushwick if you can do so during your visit or residency in the city. Biking and moving around the city have no safety risks, including the women traveling alone. Pickpockets and muggers are not shockers in this city, so keeping your purses or wallets ahead of your wares is best, particularly when they are full of cash.
10. Bedford-Stuyvesant
This neighborhood of 157,453, located in Westchester County, is notorious for its high crime rates, although violent and property crimes have declined in the last five years.
In Bedford, the 2020 crime rate fell 8% compared to 2019. It was 18.6 times lower than the U.S. average but higher than 11.1% of U.S. cities, with arson crimes being the lowest and property crimes, including vandalism, ranking moderate. The chances of being a victim of a crime in this neighborhood are 1 out of 402.
When walking about this relatively safe city, it is good advice not to be distracted and leave valuables in plain sight. There are areas in the neighborhood to shy away from at night so you don't get mugged, especially for women traveling solo. Like along Myrtle Avenue, there are still fresh reports of activities at corners.
The Safest Places in New York City
New York City has been notorious for its unsafe neighborhoods, where gangs, drugs, and violent crime are rampant for many years. Over the years, the overall crime rates of New York City have decreased. But now, you still must carefully select the neighborhoods in New York City you wish to walk, whether daytime or night.
Some safe neighborhoods are Carnegie Hill, Sutton Place, Battery Park City, Tudor City, and the Queens. However, the best neighborhoods in Queen are typically the safest - Glendale, Bayside, and Sunnyside.
Conclusion
The city has significantly reduced crime over the past few years, but some neighborhoods remain the worst part of New York, and particularly risky. Putting shooting and homicide crimes into context, New York City is much safer than it was 30 years ago. In 2022, there were 438 murders; however, there were nearly 2,000 three decades ago in 1993.
There is ongoing work, though still a long way to go, to make all of New York truly secure. More than ever, there is a general concern to make the city and the people who live, work, and visit safer.