Latest News
Mid-March introduced a form of relief called "Satisfactory Departure," considered by the U.S. Customs and Border Protection (CBP) for people who get stranded in the U.S. due to the Covid-19 crisis.
The U.S. has more declared cases of coronavirus than any other country in the world. At the beginning of April 2021, the country's total reported cases summed up to 30,459,874. Currently, 552,072 people have thus far died of the virus. The daily infections and mortality (in number) have been steadily declining since the end of January 2021.
Travellers who are fully vaccinated and with an FDA-authorized vaccine are exempted from getting tested before or after travel. This is unless their destination requires it. This also applies to self-quarantine/ isolation, and they can travel safely within the United States.
The coronavirus (Covid-19) pandemic has impacted travel to the USA in many ways. This applies to travellers who enter with visas and travellers who enter through the Visa Waiver Program (ESTA).
Can I Apply for an ESTA to Travel to the U.S. during COVID?
You require either a regular USA Visa or an ESTA USA Visa before you can travel to the U.S. You can only be permitted into the U.S. without obtaining a visa if you are a citizen of a country that is part of the Visa Waiver Program.
With this, you only have to apply for authorization through ESTA to travel to the U.S. Presently; the Covid-19 crisis does not affect the ESTA system as the ESTA is an electronic system that approves or denies ESTA applications. There is no personal follow-up appointment, unlike when applying for a visa.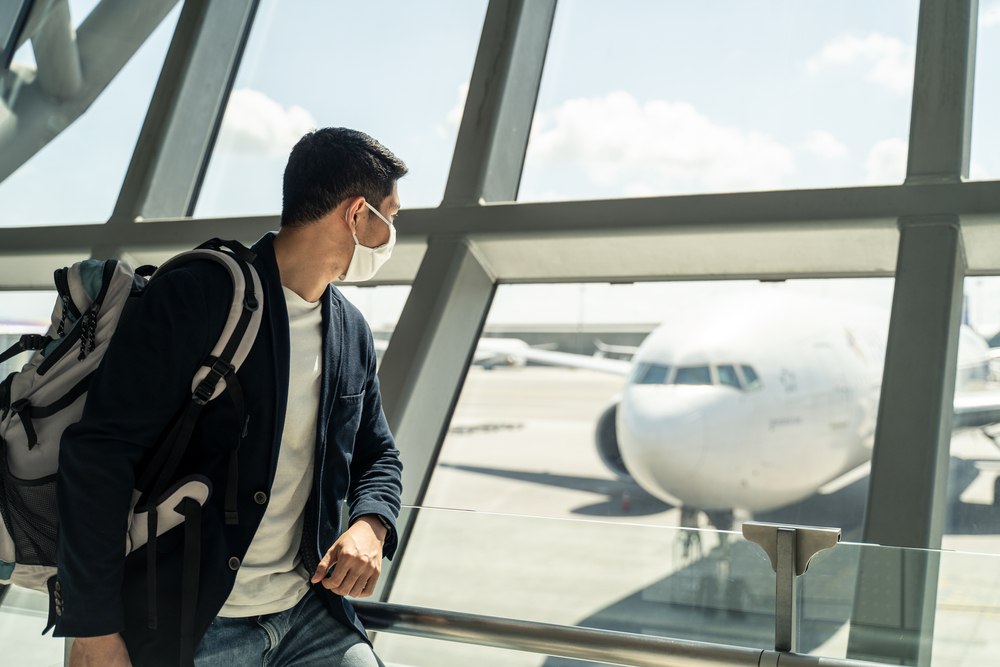 USA Coronavirus Live Map (Updated August 05, 2021)
The following two USA Coronavirus location maps will display the latest statistics for known cases and deaths.
These maps will have live updates and can monitor the situation and make decisions on your travel arrangements. However, despite some states appearing to be less affected, travel to any U.S. state is strongly advised against if you are currently in the country. This is because the actual number of cases is likely to be much higher.
Source: https://www.worldometers.info/coronavirus/country/us/
Are ESTA Applications Currently Being Approved?
Regardless of the outbreak of coronavirus, you can still proceed with submitting your ESTA application. They are generally processed and approved with the same speed as usual by the U.S. authorities.
For people planning to travel to the U.S. in the future, now may be an advantage to applying for approval. Although the permit has a validity of two years, it can be used at a later date. Again, the demand for ESTAs will likely shoot up after the blocking period's expiry, i.e., delays may occur.
Following this, we expect a price hike for ESTAs this year and more stringent requirements.
When travelling on an ESTA, You must:
Hold a return/onward ticket with a significant Airline/Cruise company that is registered for ESTAs.
Only stay a maximum of 90 days, including Mexico, Canada, and the Caribbean Islands.
Have not violated the USA Immigration Law (i.e., overstaying the 90 days) previously.
Additionally,
If you are a U.S. Citizen and hold dual nationality with a Visa Waiver Program country, you are not required to have an ESTA. Your U.S. passport is what you must present for a trip to the USA.
Take heed to the changes done recently under the Terrorist Travel Prevention Act: Citizens that belong to Visa Waiver Program countries but have visited these countries - Sudan, Syria, Somalia, Iran, Yemen, Iraq, North Korea, or Libya, after March 2011 are not eligible applicants for ESTA.
Citizens of Visa Waiver Program countries who also represent and are citizens of Sudan, Iraq, Syria, or North Korea are also not eligible ESTA applicants.
Travel to the USA with an ESTA despite Corona Virus
It is possible that even with a valid ESTA, you can be prohibited entry into the USA. With the challenges in screening travellers into the U.S. to curb the coronavirus's spread, the U.S. government thus restricts travel from certain countries.
For the most part, they are countries with reportedly severe outbreaks. The prohibition primarily affects people who have been in those countries (designated as a risk area by American authorities) within the 14 days before arriving and requesting U.S. entry.
The countries from which travel is barred currently include:
Twenty-six countries of the Schengen Area – Luxembourg, Austria, Poland, Belgium, Portugal, Hungary, Estonia, Liechtenstein, the Czech Republic, Spain, Sweden, Denmark, Norway, Switzerland, Greece, Finland, Slovenia France, Germany, Iceland, Italy, Malta, Latvia, Lithuania, the Netherlands, Slovakia.
United Kingdom of Great Britain (that means Scotland, England, Wales, Northern Ireland; excluding overseas territories outside of Europe)
The Republic of Ireland,
The Federative Republic of Brazil
The Republic of South Africa (with over 1,400,000 confirmed cases of COVID-19)
China (except Hong Kong and Macao)
Iran
The U.S. government does not exclude travellers based on their nationality, but it does so based on their recent stay (or transit) in certain countries. This temporary step is called the travel ban.
Both airlines - Lufthansa and Swiss - have been operating routes from Germany to Boston, San Francisco, Los Angeles, Denver, Chicago, Washington D.C., New York, and Las Vegas. However, all international travellers who are allowed to enter the USA must be prepared for increased controls.
Exceptions to the Travel Ban
Those arriving away from outside the enlisted areas will require a visa or an ESTA visa waiver to enter or transit the USA as a visitor.
However, exceptions to the U.S. travel ban with an ESTA comprise the U.S. citizens, lawful permanent residents, the spouse or child of a U.S. national, notably identified close family, and other specific categories of visas holders (for example, the U.N. staff, U.S. military members and diplomats) are not subject to the COVID-19 entry restrictions. They will be allowed entry into the U.S. and attended to typical entry requirements.
Non-US nationals but with legal permanent residence in the U.S. plus their families, also the U.S. nationals of immediate families, are not impeded from travelling to the U.S. However, travelling from one of the flagged countries, you have to enter the U.S. through any of the other thirteen assigned airports.
USA Coronavirus Travel Ban Map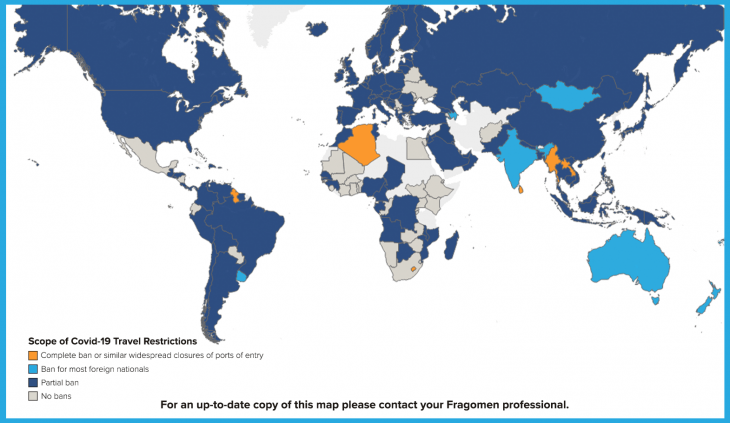 Can my ESTA be cancelled?
If the U.S. immigration suspects a traveller is not adhering to the travel ban, their ESTA could be cancelled. Once the traveller agrees to comply with the rules set in place, they can apply for an ESTA again.
There are cases whereby an ESTA is wrongfully cancelled. Here the airline incorrectly informed the U.S. immigration service that the traveller has been to one of the countries listed above in the past 14 days. This error could be cleared by contacting the airline and explaining that you are not subject to the travel ban.
COVID Health Requirements in the USA
Since January 26, 2021, as advised by the CDC, all travellers to the U.S. (irrespective of place of departure) must present a viral test (a test for current infection). This proof of a negative Covid test must have been conducted three days before flight departure.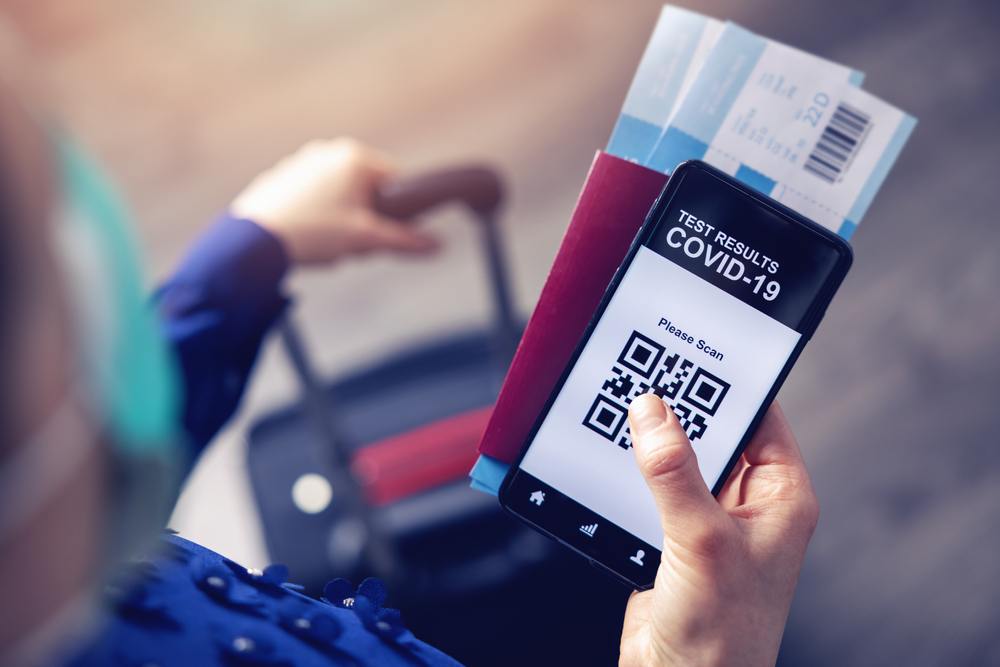 If having been infected with the coronavirus 90 days before the trip to the U.S., you are expected to present a confirmation by a health institution, which states that you can travel again. This is in the form of written documentation of the result (whether electronic or paper copy) to the airline or having recovered from COVID-19.
The airlines can deny boarding to any passenger who does not share a negative test or recovery documentation or chooses to abstain from undergoing a test.