Washington DC is one of the US' signature cities for the steadiest economy, most vibrant cultural hubs, and historical structures. Although ranked in 2017 by USA Today as the 16th most dangerous city in the US, it has jumped a few hurdles and recorded steep drops in crime in the past 2 years.
From other rankings, even though DC is regarded as one of the safest places in the US to live, there are still some least amazing neighborhoods stealing away the joy of the city. Find out the dangerous ones to avoid.
Top 10 Most Dangerous Places in Washington DC
Now what are the bad areas of Washington DC?
1. Brentwood
A total of 28,660 people live here. The reason this neighborhood is said to be one of Washington DC neighborhoods to avoid is because it experiences both violent and property crimes, although, property crimes take the majority of the reported incidents by the resident. In 2018, violent crimes were estimated as 1,715 while burglary, theft, and vehicle theft sum up to 7,556 even with the police officers' patrols around the neighborhood.
In this neighborhood, petty crimes linger longer so you would have to be conscious of your parked vehicle or bike against theft. Shiny and attractive objects should be away from the view of externals. If on public transit, guard your wallets, cash, and items of value should be tucked away from public eyes. You may be safe but these items may not.
Walking or biking during daytime is relatively safe but caution should be exercised at nights when without company. Women travelers should take heed and be on the alert. So far, no hotels have come recommended yet.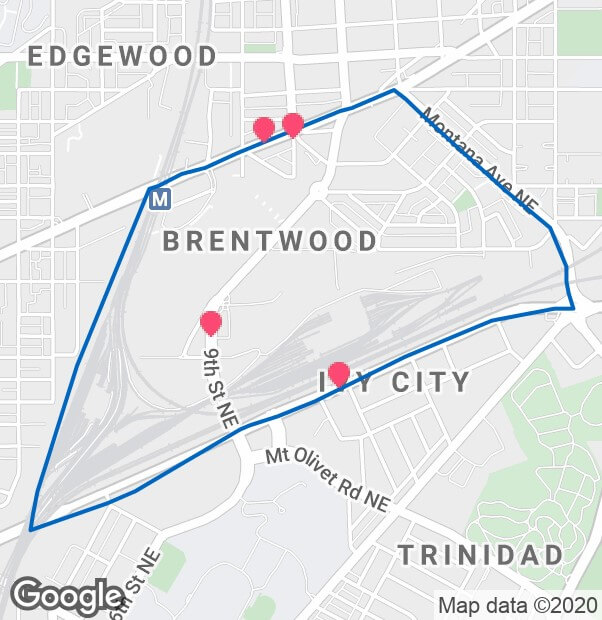 Read: https://www.areavibes.com/washington-dc/brentwood/crime/
2. Stadium Armory
This is generally regarded as the most improved neighborhood. Although it is not uncommon to get robbed at gunpoint, there is a decent police presence (bike cops and patrol cars) especially around East Capitol Street and the metro station that helps to be at ease.
The total population amounts to 21,142 who experience crime rates 24% greater than the Washington average. As with most DC's neighborhoods, property crimes have not inched any less in decades so keeping your valuables intact when walking or biking on the streets will keep you relatively safe. Same as when in public rides, your cash should be out of sight.
Women traveling alone would be as safe in the night as they would by day, only the quietness would spook. The hotels around come with very good recommendation and reviews.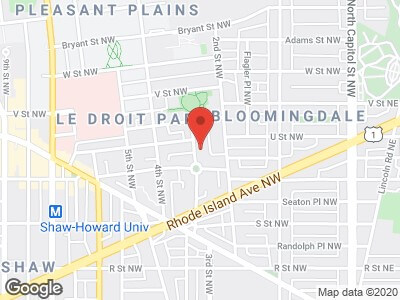 Read: https://www.areavibes.com/washington-dc/stadium-armory/crime/
3. Anacostia
This, especially, is one of the neighborhoods to avoid in Washington DC. It has a population of 117,488 people and one of the largest histories in the city. There used to be a time in the early 2000s when this neighborhood was filled with all manner of crimes. The Southeast area, marked as one of the city's poorest communities, sees drops and rises in violent attacks occasionally. Common crimes are mostly drug dealing especially in Ward 8 and the East parts of the Anacostia River.
An assessment conducted in 2015 revealed only about 44% of residents in this neighborhood feeling safe at daylight hours on the street. Although only a few of the older residents trust the competence of the active police around, the others believe the police concern themselves with issues that are no concern of the neighborhood.
Visitors and female travelers are advised to move with a company in the daytime when walking or biking, and avoid night time strolls. Public transportation may not be safe from crime so cash should be strapped to the wallet and kept by the side always.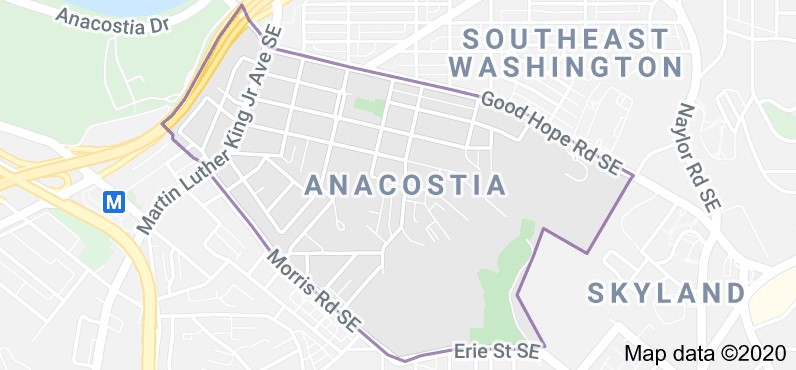 Read: https://www.areavibes.com/washington-dc/anacostia/crime/
4. Deanwood
All of 29,798 people occupy this DC's Northeast community. This is one of the dangerous areas in Washington DC. And just like Anacostia, it is also a black centered neighborhood. Here, the dominant crimes are drug and gang-related. Gangs in Washington State get involved in back to back shootings, although they are mostly targeted. The violent crimes in Deanwood are 600% greater than the national average and till 2018; crime has reportedly increased by 2% yearly. The police seem to have a lot of their plate even with frequent patrols.
A quick review by the D.C. police in the first half of 2016 revealed a total of 30 robberies, 34 assaults, 27 burglaries, and three homicides in the neighborhood. The crime record of 2018 shows a total crime of 8,760 per 100,000 residents. Violent crimes seem to be topping the crime list but residents acknowledge the daily likelihood of break-ins and mugging. That's why there is the warning of keeping wallets and purses filled with cash away from plain sight, even in public transit.
In Deanwood, your chances of being a victim of crime are 1 in 12. Therefore, female travelers, especially solo, are pleaded to walk or bike in groups. Also to avoid night walks. Daytime in busy streets is permissible.
Read: https://www.areavibes.com/washington-dc/deanwood/crime/
5. U street corridor
One of the unsafe areas in Washington DC, this neighborhood used to be notorious for crimes after the 1968 riots. With only about 10,104 diverse populations in this neighborhood, it is expected to report less on incidents. But the early and middle 90s experienced so much crime, especially drugs and prostitution. But around the early 2000s, crime had declined and nightlife options took over. The police interventions succeeded a bit.
However, the U-street corridor is still defined by crimes like burglaries and assaults. A resident of 11th Street south of U Street confirmed being robbed occasionally on the street. Same experience with a dozen other residents. So you always need to keep your purse or wallet out of sight for fear of being mugged of cash. This happens in public transportation also.
For walks and bike activities, daytime would be the safest time. Gang-related activities, like drive-by shootings, still occur; so night movement should be carefully calculated, especially for female solo travelers. In U Street Corridor, your chance of being a victim of crime is 1 in 10.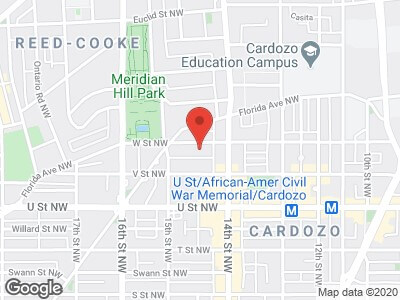 Read: https://www.areavibes.com/washington-dc/u+street+corridor/crime/
6. Columbia Heights
Known for its diverse population especially its huge Black and Latino presence, the 34,875 residents of this neighborhood still experience gang and drug-related crimes. Muggings and shootings occur regularly, and property crime is stamped on this neighborhood already.
2018 FBI crime data report showed a total crime of 5,825 for every 100,000 residents in this neighborhood; of which, while violent crime was estimated at 854, property crime was 4,971. Shootings are not random, so if you have no business or relation with a gang, you will likely be safe in this community. Additionally, the police are available for extra support.
Exploring through Columbia Heights on foot or bikes is relatively safe at daytime and nighttime, even for solo traveling women. As long as you don't forget to put on your street smartness.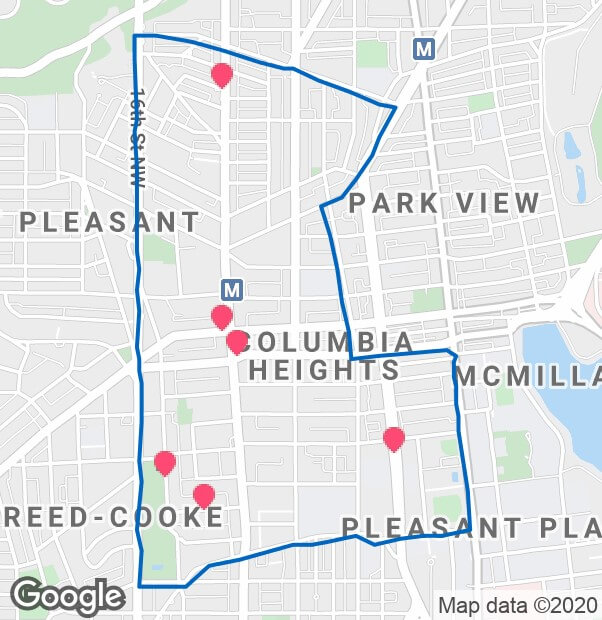 Read: https://www.areavibes.com/washington-dc/columbia+heights/crime/
7. Petworth
This is a Northwest neighborhood in Ward 4 with a population of 11,886. Petworth may not be as scary as Anacostia or Deanwood, but it has a lot of dodgy blocks more than others. There are panhandlers on Georgia Avenue and near the Safeway that make walking or biking through a bit uncomfortable during the day.
Petworth's crime rates are 14% lower than the Washington average with violent crimes 143% greater than the national average. A resident shared on a drug bust on a house on some block and a couple of other illicit activities the police had taken care of during their patrols. In this neighborhood, night times are a lot quieter which causes dark alleys to seem pronounced. Therefore, it is suitable to move about that time in-crowd, especially for women traveling alone. If need be, some hotels come with good reviews so you can spend the night and avoid night walks.
Petty thefts and pickpockets are still on the rise so it's best to keep your cash and valuables while on public transportation means secured to avoid being mugged.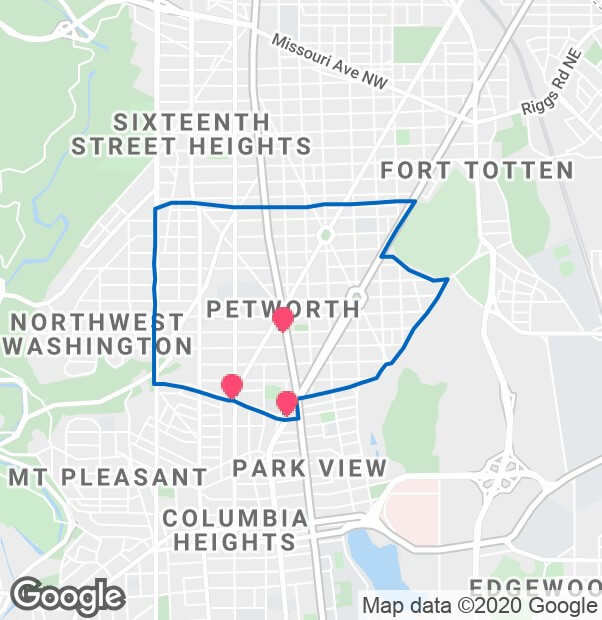 Read: https://www.areavibes.com/washington-dc/petworth/crime/
8. Shaw
This is a northwest central neighborhood of 13,782 residents. In this neighborhood occasionally there are reports of shootings mostly around sixth St. And sometimes south of P St. gets sketchy at sunset, so moving about at this time will need additional caution and alertness, especially for solo female travelers.
Violent crimes in Shaw are 266% greater than the national average, even with the visibility of the police. The total crime in this neighborhood is 8,896 for every 100,000 residents with property crime over seven times greater than violent crime. Safe to say, theft is what it is, and the criminals shouldn't be encouraged by exposing your valuables. Preferable, debit, or credit cards should be employed and not cash.
Biking or walking across the neighborhoods is safe, even in public transportation. In Shaw, you have a 1 in 12 chance of being a crime victim.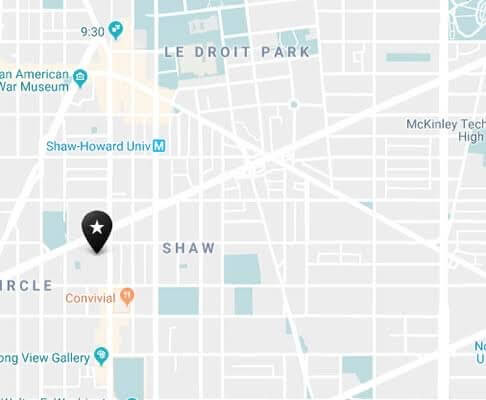 Read: https://www.areavibes.com/washington-dc/shaw/crime/
9. Downtown
Here the population is 8,132 with a total crime of 4,737 for every 100,000 residents. This neighborhood is one of the business hubs of the city located down Northwest. For the crime concern, it is known for daily mugging activities because of the inflow and outflow of people at almost all hours. The crime and police patrols occur simultaneously.
Walking and biking may be tough during the day due to the crowd, but night times are less rowdy. Women traveling solo can move about at any time as there has been no horrendous criminal history on this side of town. While using public means of transportation, keep cash and valuables strapped to self at all times.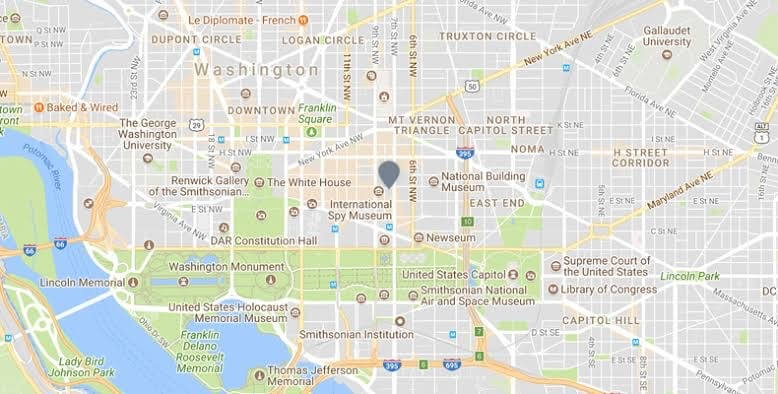 Read: https://www.homesnacks.net/dc/downtown-washington-neighborhood/
10. Ledroit Park
Back in the early 90s, this neighborhood was known to be an open-air drug market. There was also a time in 2016/2017 when robberies and murder incidents rose and dropped significantly. Old-timer residents mention how it used to be a rough neighborhood, now not anymore with the decline in crime.
In 2018, violent crimes were 184% greater than the national average, and the total crime rates 161% greater. But by estimation, property crimes are worth looking out for as they occur every hour of every day. Taxis are advisable against public transportation mean, but in any case, cash and valuables should be kept strapped to self and attention on the high.
But is Washington DC safe for tourists? Walking and biking are relatively safe at any hour of the day in this neighborhood, for older adults or even solo female visitors. The security is promoted also by the frequent police patrols.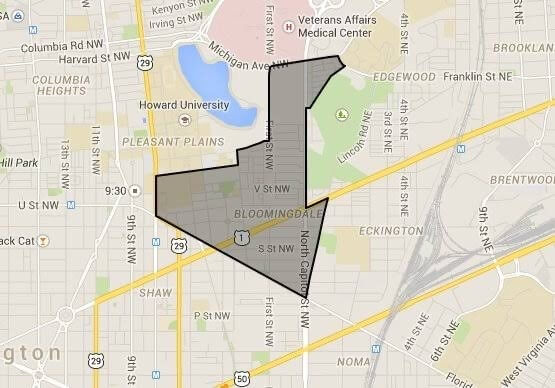 Read: https://www.areavibes.com/washington-dc/ledroit+park/crime/
Crime Situation in Washington DC
How safe is Washington DC?
There was a slight decrease of 3.3% and 6.3% in violent and property crimes respectively from 2017 to 2018. From the FBI data statistics also, the significant decrease in violent crime was marked in Robbery offenses which fell by 12% and manslaughter by 6.2%. For property crimes, it was burglary which dropped 11.9% and theft 5.4%.
Generally, in DC, you are likely to have a 1 in 20 chance of being a victim of crime.
Top 5 Safe Places in Washington DC
Here are Washington DC safest neighborhoods!
1. DuPont Circle
Home to few presidents, and dignitaries like Alexander Graham Bell, this neighborhood has a record of minimal crime incidents especially violent crime. While violent crime is an estimate of 781 in 2018, property crime tallies at 6,838. The 13,633 people in this neighborhood attest to the quietness, and with frequent patrols by the police officers, the safety also. Mostly, tourists and visitors love the evening ambiance in places like Connecticut Ave.
Dupont Circle is safer than 26% of the cities in the District of Columbia.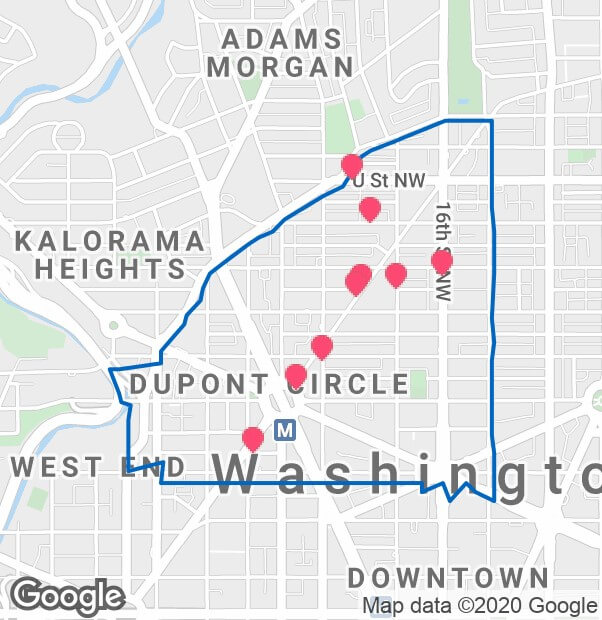 Read: https://www.areavibes.com/washington-dc/dupont+circle/crime/
2. Adam's Morgan
Known more like a drunk bar-hopping area, only people who can tolerate wildlife and partying hard will feel the safest in this neighborhood. Barely any criminal activities happen here, if there are, then 18th St is where the most would occur. This is where most bars are located and people get into several drunk fights, engage in common theft and robberies. This is the wrong neighborhood to measure Washington DC safety at night. It attracts lots of police officers into the neighborhood. Redline is the safer place in Adams Morgan.
In this neighborhood, there are about 17,154 people in the population. Your chance of being a crime victim here is 1 in 28.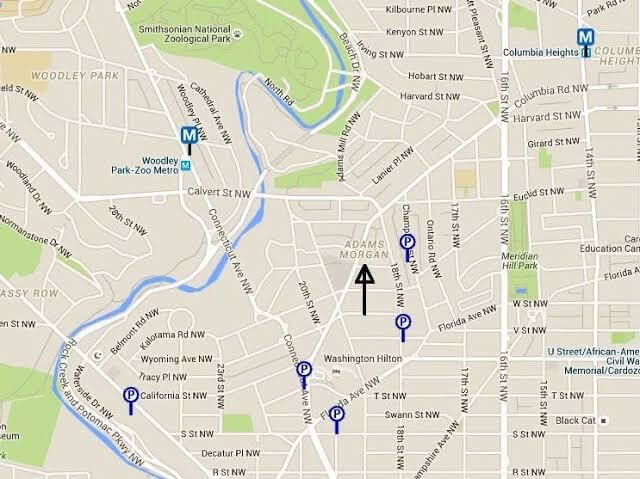 Read: https://www.areavibes.com/washington-dc/adams+morgan/crime/
3. Logan Circle
Located in Ward 2 in the northwest quadrant of DC, Logan circle occupies 13,768 people. Residents of 10-15 years exclaim about never feeling unsafe in this neighborhood. Although crime incidents happen, major events are far spaced and targeted. 14th Street and H Street gather the most attraction and can tend to build up occasional crime like theft.
Violent crimes in Logan Circle comparatively are only 17% greater than the national average, with assault and robbery topping the list. However, 91% of the total crime in this neighborhood is property crime with theft owning 86% of the lot.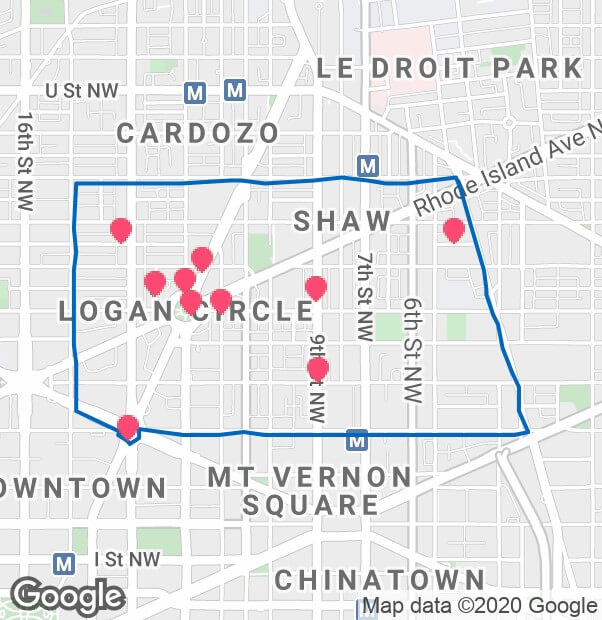 Read: https://www.areavibes.com/washington-dc/logan+circle/crime/
4. Capitol Hill
This is one of the safest neighborhoods in Washington DC. Only 2 miles from the White House, this neighborhood is known for its architectural diversity. There are styles dating back to the 1791-1900s including Queen Anne, Second Empire, Romanesque, and more. This neighborhood is one of the largest in DC with a population of 55,592 people.
There is no safer place like Capitol Hill. Asides the DC police on frequent patrols around the streets, there is the extra guard by the capital police also. Residents believe it is unlikely to walk into a dangerous place in the neighborhood. Walking and biking can occur at all and random times.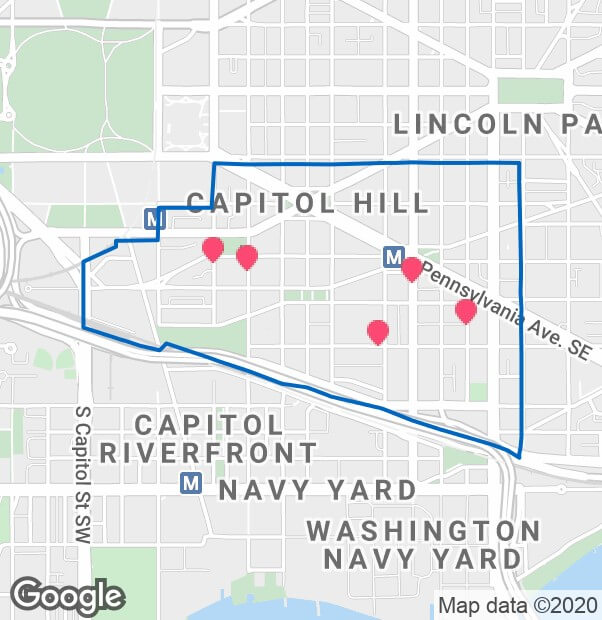 Read: https://www.areavibes.com/washington-dc/capitol+hill/crime/
5. Foggy Bottom
6,297 people comfortably reside in this neighborhood. Even though right now one of the safest areas in Washington DC, back in the 80s and 90s report has it that this neighborhood was once notorious for high crime incidents. The west of the Anacostia River gives the safest feeling. Most residents, however, a common joke is that to get to a bad neighborhood from Foggy Bottom would mean traveling far out of one's way.
The police visibility on this side of the city is quite pronounced. And here, the crime rates are 1% greater than the Washington average.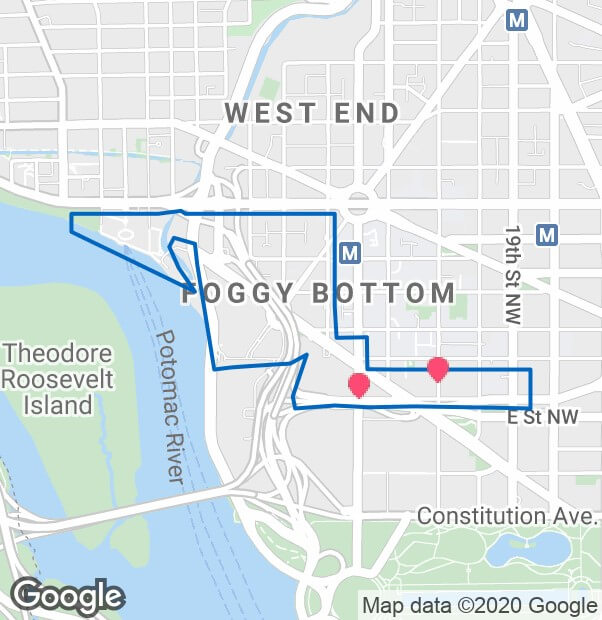 Read: https://www.areavibes.com/washington-dc/foggy+bottom/
Conclusion
Washington DC crime rate is higher than most large cities, particularly property crime rate. However, the rate is not so bad as to go to bed with an armored vest. Even though residents say that most crimes occur away from the most visited areas, it is better to be cautious at every place while in the city. Over the past few years, there has been a decline in crime; sadly the rate it occurs is very slow.
Notwithstanding, this city still ranks as one of the safest to visit!