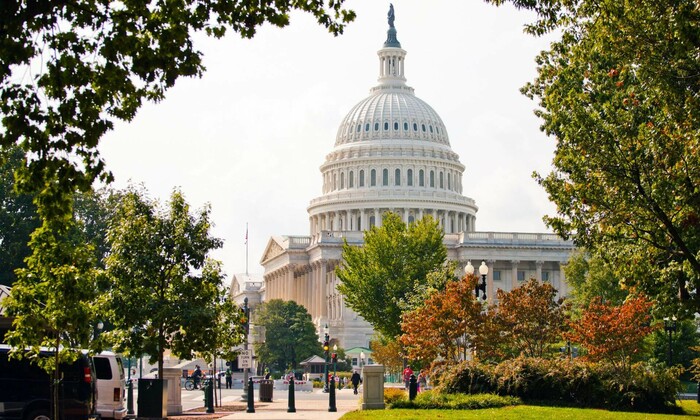 Washington, DC, is one of the iconic places in the U.S. You will easily find an overwhelming number of things to do. There are multicultural areas to soak up, contemporary art galleries, and also not to mention dangerous neighborhoods that make it a surprisingly diverse city.
Is Washington DC dangerous? Certain neighborhoods are more dangerous than others, and it is necessary to be aware of them. This blog post will share insights on the ten most dangerous neighborhoods in Washington, DC.
Current Crime Situation in Washington DC
Crime in Washington is now a national headline issue. According to the latest city statistics, the overall Washington DC crime rate, halfway through 2023, is up 25% compared to that of 2022. Homicides are up 20%, motor vehicle theft is up 106%, and killings in the District are surging toward numbers not seen in two decades.
D.C. has recorded 166 homicides from Jan 2023 to Jun, compared with 131 at this time in 2022 — a roughly 27% increase. Shootings are up 20%, and more juveniles have been killed so far halfway through the year 2023 than in all of 2022.
Top10 Dangerous Neighborhoods and Districts in Washington, DC
1. Anacostia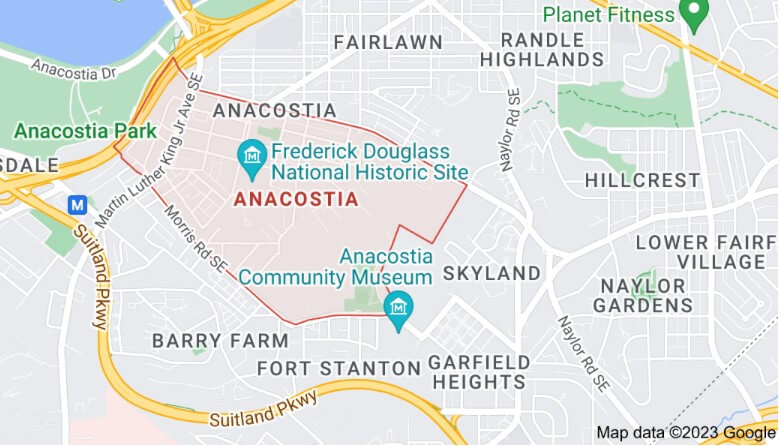 Anacostia is a part of Washington DC's oldest areas with much to offer lovers of the outdoors. Unfortunately, this area is also known for its high crime rate. With a population of 117,488, at one point, in Washington, residents and tourists only viewed this neighborhood as a place filled with crime.
Common crimes are mainly drug dealing in plain sight, especially in Ward 8 and the East parts of the Anacostia River. The crime rates are 9% higher than the Washington average. Reported crime incidents in 2021 were 4,797, whereas violent-to-property crime incidents were almost 2 to 3. Residents believe the police concern themselves with issues, not the neighborhood's concern.
Locals advise visitors and female travelers to walk or bike with a company in the daytime and avoid nighttime strolls. They also recommend not to go out alone after dark and always wear earbud-style headphones without anything playing. People will leave you alone if they believe you cannot hear them. Public transportation may be unsafe from crime, so cash should always be strapped to the wallet and kept by the sides.
2. Shaw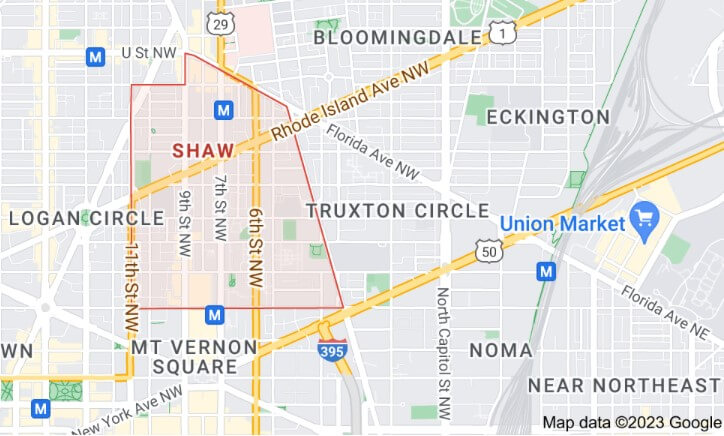 This northwest central neighborhood has a lot of history and culture, but it is not where you want to be as a person new to the city. Since the 1960s, this neighborhood of 13,782 people has been rough. Regular reports reveal shootings mainly around the south of P St. and Sixth St. sometimes get sketchy at sunset.
Violent crimes in Shaw are 274% greater than the national average, even with the visibility of the police. The total crime in this neighborhood in mid 2021 to mid 2022 is 7,611 for every 100,000 residents, with property crime over six times higher than violent crime and the reported theft incidents over 80% of the whole.
Surely, theft is what it is, so it is best not to expose your valuables, whether daytime or nighttime, because of pickpocketing and muggings. Preferably, debit or credit cards should be employed and not cash. Walking or biking across this area is somewhat safe, again at daytime. In Shaw, your chances of being a crime victim are 1 in 14.
3. Columbia Heights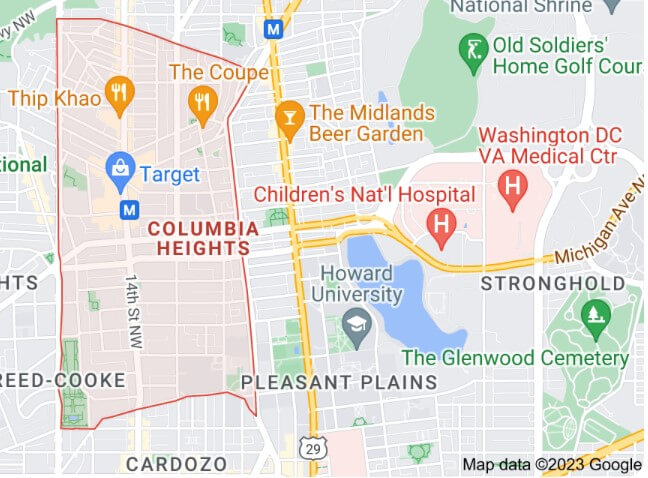 Columbia Heights is considered a historic quarter of D.C. and one of the most densely populated 'hoods, plus a longtime Hispanic population. The problem with these 34,835 resident neighborhoods is a significant division socio-economically. It makes it so crime-ridden it is one of the worst neighborhoods in DC, even with the police presence for safety support.
It experiences gang and drug-related crimes. Shootings and muggings occur regularly, and property crime is stamped on this neighborhood already - watch out for the 11th, 14th, and 16th streets. 2021 to 2022 FBI crime data report disclosed a total crime of 4,971 for every 100,000 people in this area; and while violent crime was estimated at 888, property crime was 4,083.
Shootings are not random, so you will likely be safe in this community if you have no business or relationship with a gang. Exploring this neighborhood on bike or foot is relatively safe at nighttime, just like in the daytime, even for women traveling solo, so long as you remember to wear your street smartness. You have a 1 in 21 chance of being a crime victim in Columbia Heights.
4. Brentwood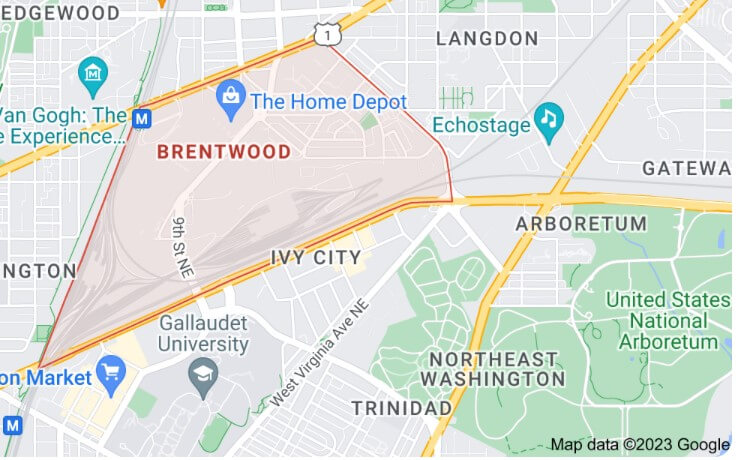 Brentwood is considered one of the worst neighborhoods in D.C. because of its high violent and property crime rates. The crime rate is sporadic and has fluctuated since the early 2000s. Outside of Ward 8, the neighborhood of 28,660 residents has the highest violent crime rate in D.C., with rates that are 360% higher than the national average.
From mid-2021 to mid-2022, violent crimes were estimated at 1,784, with theft, vehicle theft, and burglary the highest in that order. The police officers' patrols around the neighborhood do not have significant control. You have a 1 in 13 chance of being a crime victim in this neighborhood.
In this neighborhood, petty crimes can drag for a long time, so you must be very aware of your parked bike or vehicle against theft. Locals advise taking more care when commuting at night, especially if traveling solo as a woman. If not on private transit, guard your cash, wallets, and value items should be hidden away from the public eyes. You may be safe, but these items may not.
5. Deanwood
Deanwood is a relatively diverse and trendy neighborhood located on the Northeast edge of the city. With its high drug dealings, usage, and gang-related activities, it's not the best part of D.C. It ranks on the list of high crime spots in D.C. and sees much higher than average theft and petty crime levels.
A portion of the 29,798 people occupying this D.C.'s Northeast community experience violent crimes that are 614% greater than the national average. However, crime has decreased by 16% yearly, and the police seem to be doing a lot on their frequent patrols.
The crime record for 2021 shows a total crime of 7,777 per 100,000 residents. Violent crimes seem to be shooting up the crime list, but the locals take note of the daily possibilities of mugging and break-ins.
Generally, the neighborhood can still be a bit gritty, so it's safer during the day to walk alone at night and in certain areas. Hence, female travelers, especially when solo, are forced to walk or bike in groups. Purses and wallets should be held tightly while on public transport. It's best to just keep them away from plain sight, while in public transit.
6. U Street Corridor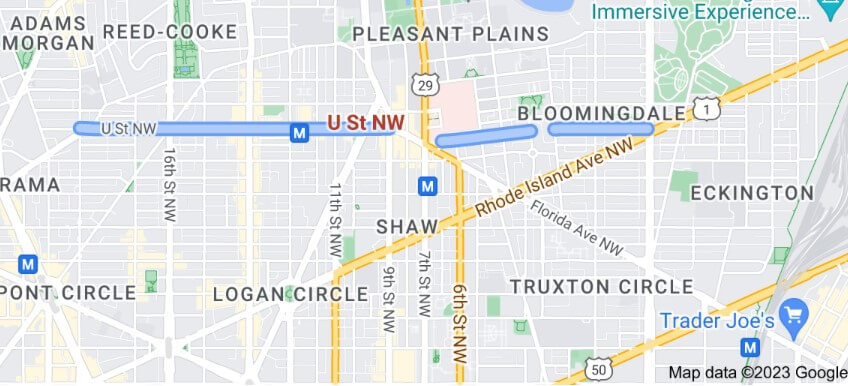 This is a dense, historic neighborhood with a population of 10,104. U Street Corridor is highly visited, with many bars, restaurants, and retail, but plagued by gang-related crimes, including drive-by shootings. This neighborhood used to be notorious for extreme crimes, but the early and middle 90s experienced so much corruption, especially drugs and prostitution.
According to FBI statistics, in 2021, the crime rates were 289% higher than the national average, where the total reported crimes were 9,129, of which violent crime was 1,491, and property crime was 7,638. So, it would help if you continually keep your purse or wallet out of sight for fear of being mugged of cash. This happens in public transportation, too.
Walking or biking during the daytime is relatively safe, as daylight in these busy streets is permissible. But take caution at night when without company. Women travelers should always be on the alert. It was in the early 2000s, during the police interventions, that crime dived and has since shown a decrease yearly by 16%. Now the overall chance of being a crime victim here is approximately 1 in 10.
7. Petworth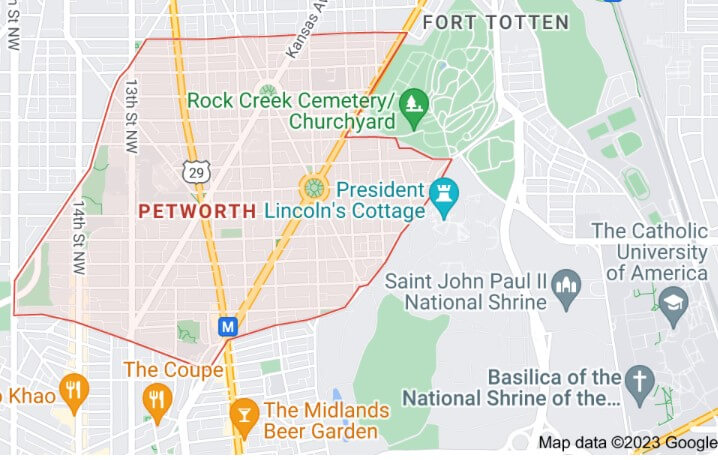 Although the local theft rate in this neighborhood is well below the levels in the early 1990s when crime peaked, it has climbed steadily in recent years. Petworth's population of 11,886 witnesses crime rates of 3,865 per 100,000, 14% lower than the District of Columbia. Property Crime is 2,905 crimes per 100,000, while Violent Crime is 960 crimes per 100,000.
In this neighborhood, night times are a lot quieter, which cause dark alleys to seem pronounced. Therefore, moving about that time in the crowd is suitable, especially for women traveling alone. The chances of being a victim of robbery or theft out on a sidewalk are a little high, so you must take preventive measures.
Locals advise not to leave stuff visible in the car overnight or walk around with earbuds and wholly tuned out of your surroundings. Although there are panhandlers on this neighborhood's stretch, practicing saying no should keep you fine. Its proximity to Metro is an advantage to residents, but Public transit has chances of being filled with pickpockets, too, so you should hold your wallets and cash close.
8. Ledroit Park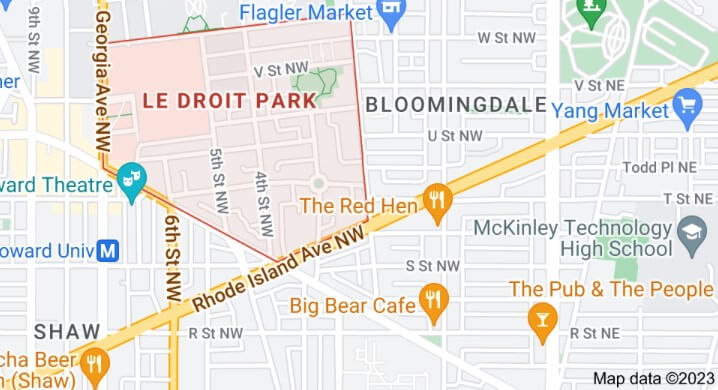 This area of D.C. has an apparent crime problem, with overall crime rates 145% higher than the U.S. national average. With a population of 11,683, it has a lot of dodgy blocks more than others, but an occasional police presence ignites security in this neighborhood.
There were periods in the mid-2000s when robberies and thefts increased and decreased considerably, and this neighborhood was known to be an open-air drug market. In 2021, while the total crime reported was 5,758 per 100,000 people. Property crimes were high during all hours of the day and night, making up 80% of the actual crimes. In Ledroit Park, you have a 1 in 18 chance of becoming a victim of crime.
While safety is not questionable in this neighborhood, visitors are advised to avoid night exploration, especially females who are alone. Walking and biking are relatively safe at any hour of the day for older adults or even solo female visitors. Taxis do better than public transit in terms of safety, but in any event, cash and valuables should not be far from your body.
9. Stadium-Armory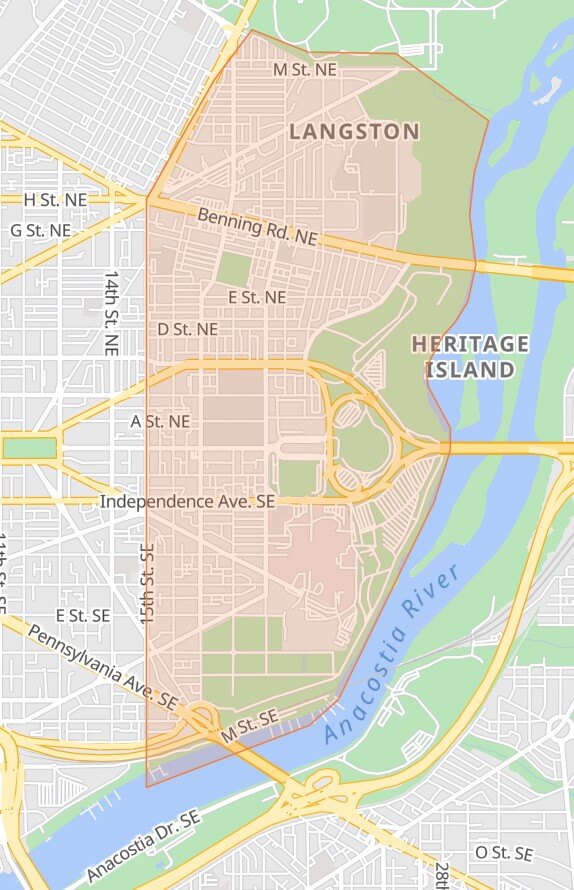 Stadium Armory is a victim of extreme theft. This is a neighborhood in D.C. that anyone should steer clear of. The total population 29,798 experiences crime rates 28% greater than the Washington average. Although it is not strange to get robbed at gunpoint, there is a stable police presence that helps to be at ease.
As with most D.C. neighborhoods, property crimes have not risen an inch in decades, so maintaining your valuables when on the streets will keep you relatively safe. It's the same as in public rides; your cash should be out of sight.
Walking or biking are better undertaken during the day, as night hours get unpredictable for safety. Women traveling alone would be as safe in the night as they would by day; only the quietness would spook them. In Stadium Armory, you have a 1 in 18 chance of being a crime victim.
10. South West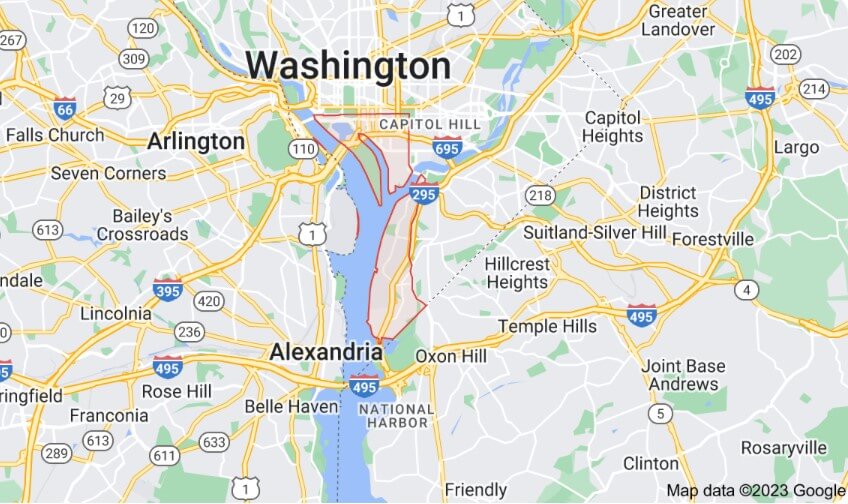 South West is somewhat on the fence between unsafe and very dangerous. It has a population of 11,100 people and is home to areas that struggle with crime and social issues, so understanding its complexities is part of appreciating its unique community.
The total crime rate in this neighborhood is 5,743 per 100,000 people, with property crime being four times higher than violent crime. Reports of gang activities are normal; no surprise violent crimes are 194% higher than the national average, even with the visibility of the police.
Pickpocketing and muggings are common, and keeping personal items secured is always advised. Biking or walking across the neighborhoods is safe, even in public transportation. Overall, residents have a 1 in 18 chance of becoming the victim of a crime, so women who travel alone should be accompanied once past sunrise.
The Safest Places in Washington DC
Is Washington DC safe? Crime rates vary across different communities, and it is necessary to be aware of the most dangerous ones to prioritize personal safety. Like the dangerous areas in D.C., many lovely communities and towns exist. The safest neighborhoods in Washington DC are Cleveland Park, Georgetown, Glover Park, Dupont Circle, Foxhall Village, Chevy Chase, Foggy Bottom, and Woodley Park.
Conclusion
In the early 90s, Washington, DC was perceived as the "murder capital" due to a tremendously high number of homicides per annum. Fortunately, over the past few years crime has been declining, but sadly, the rate at which it occurs is prolonged. How safe is Washington DC? While many neighborhoods on this list may be considered unsafe, this city still ranks one of the safest to visit! You must only be aware of your surroundings, especially crowded areas.