If there's nothing to love about Phoenix, being a sunny city for at least 300 days in a year could be all the reason you may need. And this may or may not be the inspiration behind Realtordotcom bestowing it the 6th rank in "Most Popular City to Live" in 2014.
While Phoenix may not be entirely crime-free, it's one you could say is far enough away from large crime proportions. Just as with other cities, you only need to be familiar with the good and the worst neighborhoods in Phoenix to have a better awareness of where to avoid.


Top 10 Dangerous Places in Phoenix?
What areas of Phoenix are dangerous?


1. Central City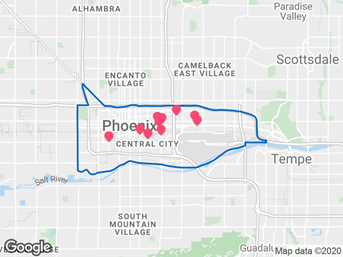 Located at the historic center of the city, it is characterized as the urban village of Phoenix. It also includes the downtown neighborhood with a population of approximately 56,000. But is downtown Phoenix safe? This neighborhood used to be crime-ridden, but that was dated decades ago. The current frequent crimes are those typical to large, urban neighborhoods. Open shootings, panhandlers, car break-ins and muggings, amongst a few. Total crime amounts to 9,988 per 100,000 residents, having violent crime as 508% greater than the national average.
This neighborhood has distinct levels of safety. You will feel safer when you go farther East from Central Ave., or farther North from Van Buren. Likewise, you will tend to feel unsafe farther West or South from Central Ave.
Because it is the core of Phoenix, it has the most police presence in the entire city.


2. Alahambra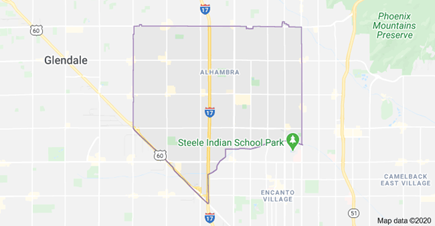 Predominantly a working-class neighborhood with extreme boundaries, 134,116 people lives here. Most residents complain of drug trafficking, and lots of shooting. It resembles a GTA scene where there are constant cop shakedowns, racing loud cars, and grand theft auto. The total crime is 6,825 per 100,000 residents, and this constitutes 5,489 of property crime. This crime rate makes Alahambra 165% greater than the national average. Here is tagged one of the worst neighborhoods in Phoenix.
The area in this neighborhood you would feel safe is the east of 17. There's the Grand Canyon university hotel that has nothing but good reviews on safety.
Importantly, police presence is visibly felt in this area.


3. Encanto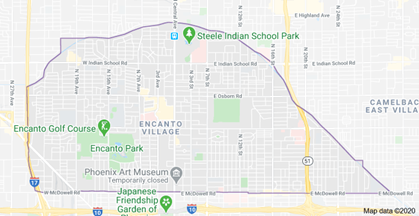 The population in this quiet neighborhood is approximately 54,600. The types of crimes akin to this area are home invasion attempts and petty property crimes. This manifests in the crime report as 5,205 against total crime data being 6,328 per 100,000 residents. Theft takes a greater part of the property crimes as 2,384. The crime rate, however, is 145% greater than the national average.
Most of the residents in this neighborhood power walk everywhere except the west. West across 15th seems sketchy. It's recommended to avoid it past 9 pm, or move in groups, especially for women.


4. South Mountain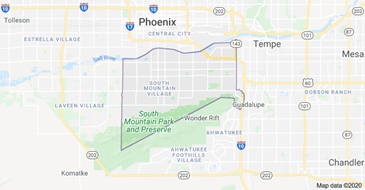 This rough neighborhood has a population of 123,300. It used to be known to host the largest ghetto in Phoenix. Perhaps because, for most of some decades, it has been the poorest, most diverse, and socio-economically challenged area of Phoenix. This is important to note because, you will definitely hear gunshots, and drive-bys happen ever so often. Then there are gang dealings, occasional robberies, assault, and car theft. A resident's chance of being a crime victim in this neighborhood is 1 in 22.
The nicest part of this neighborhood is South from Baseline to South Mountain. You're safe if you stay along Baseline, and not North of Baseline. 7th Street and baseline is also one area that should be avoided like wildfire.
Travelling foot-bound in the busier areas is tricky. Caution should be taken since Phoenix is vehicle heavy, and there is an uncontrolled number of pedestrian fatalities in the South Phoenix area. But hiking is a sport to enjoy around the South Mountain.


5. Laveen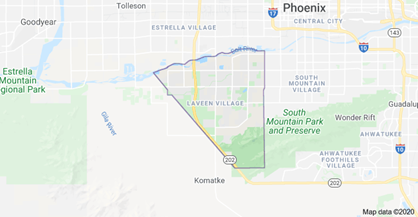 This may be one of the most diverse areas of the valley, and it has got only 55,112 people. It is rumored that there are more people involved in criminal dealings in Laveen than in other parts of town. Certainly, crime, in general, is quite high in many areas here making Laveen one of the areas to avoid in Phoenix. Residents mention incidences of assault, robberies, burglaries, vandalism, and frequent gunshots.
Police officers in this neighborhood are understaffed, so unable to respond to calls as feasibly.
Violent crimes are only 64% greater than the national average and one's chance of being a crime victim is 1 in 27.
Safety-wise, 59th & baseline area is not the best, and north of Southern to the Salt River bottom from 7th Ave. to 48th street should be stayed away from.


6. North Mountain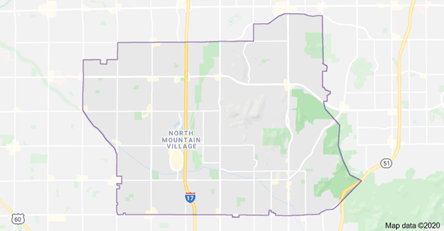 This neighborhood has an estimated population of 169,100, and appreciated for its great hiking zones. Generally, crimes witnessed in this side of town are more around theft/ vehicle theft and burglaries. Violent crimes are 116% greater than the national average, but the combined crime rates in this neighborhood are 92% greater.
Hiking is one of the activities undertaken with ease, with no worries about safety.


7. Maryvale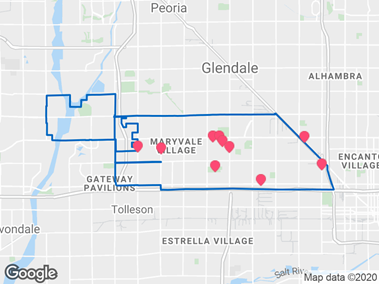 Possibly the largest neighborhood in Phoenix with a population of 224,370. In the 20th century, this neighborhood on the west side of the city was known to be the most crime-ridden in Phoenix. It had all kinds of criminal activities that made the neighborhood popularly dangerous. Definitely, where not to live in Phoenix. There were homicide reports and drive-by shootings. Domestic violence, drug dealings, theft, and car accidents also.
A lot of the crime reputation has been lost as better neighborhoods have started to outnumber the dangerous ones. Maryvale is not the safest, yet not the most dangerous as before. Property crimes rule than violent crimes, being 3,553 versus 784 against the total crime of 4,336 per 100,000 residents. In Maryvale, residents have a 1 in 24 chance of being a victim of crime.
For the sake of additional safety, best to stay clear of Maryvale to the west, to avoid the other loads of crime.


8. Estrella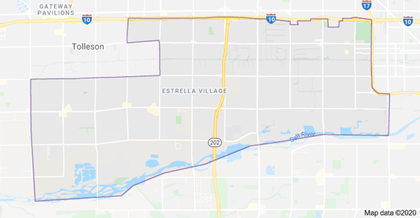 The population here is 90,255 and the livability is poorly 55. The crimes in the neighborhood are majorly thefts and vandalism. Total crime settles at 4,199 per 100,000 residents. The violent crimes make up 97% greater than the national average but the general crime rate as 62% greater.
Residents vouch for the safety of this neighborhood and recommend power walking or bike riding, even at odd times at night. Car thefts are what you hear about now and again, but not muggings or robbing of cash off one.
Police activities are mostly non-existent.


9. Camelback East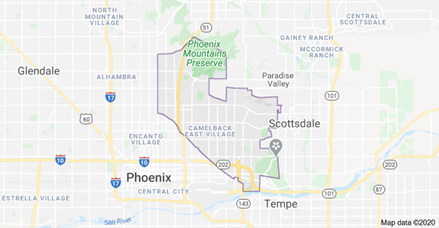 Known for attractions as the Arizona Biltmore Resort, and Desert Botanical Garden, Camelback East strifes for safety records. A population of 144,021, the areas around 24th Street/Camelback intersection are upscale and generally pleasant to live in. Crimes are mostly soft crimes and you would have to go to the west or south to find a higher crime area. Of 4,801 total crime per 100,000 residents, 4,094 belong to property crime stats. However, violent crimes in Camelback East are 86% greater than the national average.
The hunt for safety causes the Ritz Carlton Hotel to be announced by residents and preferred for the security measures.


10. New village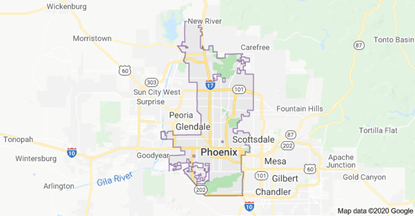 One of the smaller neighborhoods with a population of 5,653 people. A breakdown of the crime report would show violent crime as 156, and property crime as 1,992. They both make up the total crime per 100,000 residents as 2,148. This result has rare crime viewings unlike the majority of the dangerous neighborhoods in Phoenix. This is mostly credited to the neighborhood safety measures in place to decrease crime by 3% yearly.
In New Village, one's chance of being a crime victim is 1 in 47.


Crime Situation in Phoenix
Hardly would a 6th most populated city in the US appear with barely any criminal history. The 2016 crime statistics for Arizona released by the FBI revealed Phoenix as the most dangerous city with the highest violent crime rate in the Valley.
In the 69,842 reported crimes in 2019, violent crimes contributed only 17%. A huge chunk of the result was being brought about by property crimes, with results 57,732. These numbers, when compared to similarly-sized cities, are very high. Rationalizing the property crimes confirmed that the city has an issue with theft. It owned almost 40,000 of the pulled data.
With the few high crime areas in Phoenix, the average Phoenix citizen has about a 1 in 24 chance of being a crime victim.


Top 5 Bad Neighborhoods in Phoenix?
So, what are the bad areas in Phoenix? The other Phoenix neighborhoods to avoid are:


1. Deer Valley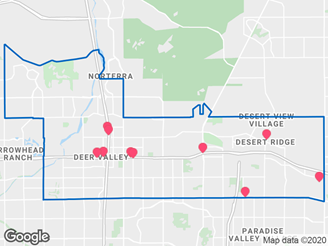 An estimated 170,000 people live in this neighborhood. The crime that transpires here is what is registered as petty crime. Still, crime is crime. Few break-ins, burglaries, very minimal car theft, typically minor property crimes, usually mostly instigated by drug heads. The 27th area and Lone Cactus Road are the main targets for run-down activities.
The total crime per 100,000 residents is 3,490, property crime owing up to 3,044. Violent crimes are only 17% greater than the national average. In Deer Valley, your chance of becoming a victim of crime is 1 in 29.


2. Paradise Valley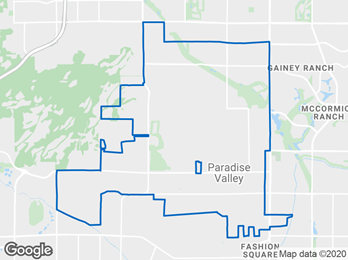 A home to 178,412 people, this neighborhood fares better in terms of safety. Crime history and perpetrators have more or less melted away, leaving the affluent as the major occupants. But being a part of a big city, crime is never 100% cleared. Property crime is still a force to reckon with. With a total crime of 2,491 per 100,000 residents, theft/ vehicle theft, and burglary that makeup property crime amount to 2,142.
In Paradise Valley, you have a 1 in 41 chance of being a crime victim. What's particularly kinky about this neighborhood is how walking, hiking, biking, and all methods of exploration can be performed with no care. Even little or no incidences exist on mugging and pickpocketing. Though carrying wads of cash may not be immediately thumbed up, it won't be the worst thing to do in this neighborhood.


3. North Gateway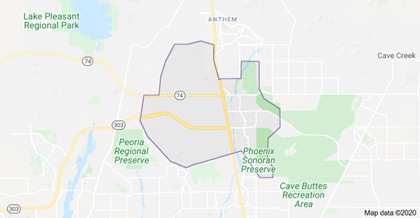 Chosen by only a handful of people to reside in, 17,226, this neighborhood sees better crime reports (abstinence) than others. From FBI data records of 2018, the annual report for total crime showed 1,499 per 100,000 residents. The astounding figure of 164 is allotted to violent crime, while property crimes hold up like the rest of the neighborhoods as almost ten times greater. However, North Gateway is safer than 92% of Arizona's cities and it is the best neighborhood in Phoenix.
Women exclaim on walks and stroll taken without being catcalled in the evenings. And it's safe to note that mugging is not a thing in this neighborhood.


4. Desert View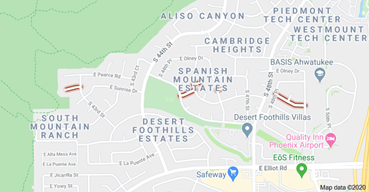 50,657 inhabitants in this neighborhood commend on the improved crime rate. Assault, murder, or homicide are hardly crimes that have been registered before in reports regarding Desert view. Even, total crime shows 1,303 per 100,000 residents which could fall for a record-breaking figure in a big city neighborhood. Although property crimes still seem like they cannot be dodged now and again.
What is worth noting is a violent crime are 68% lower than the national average and the chance of falling victim to crime in Desert View is 1 in 77.


5. Ahwatukee Foothills
Nicknamed the world's largest cul de sac, this neighborhood is located in the lower part of Phoenix below South Mountain. And there are a total of approximately 80,000 people living here. Tukee, as fondly dubbed by the locals, is only known for light crimes, never violent. Considering the population and the total crime per resident being 1,796, this neighborhood is foreign to an actual crime.
Over the years, whatever is known as a crime in Tukee decreased by 3%, leaving a once again safe neighborhood? Safer than 84% of Arizona's cities. This neighborhood perhaps can be referred to as one of the safest neighborhoods in Phoenix.
Walking and biking are safe activities to go by.


Conclusion
What was formally known as one of the dangerous cities in the US, Phoenix is now known to have one of the few crime reports among the big cities. Crime is unarguably going to occur in certain areas, and it's possible anytime and anywhere. But, is Phoenix a safe city to live in? Relatively, it is one of the safest cities to live and visit.