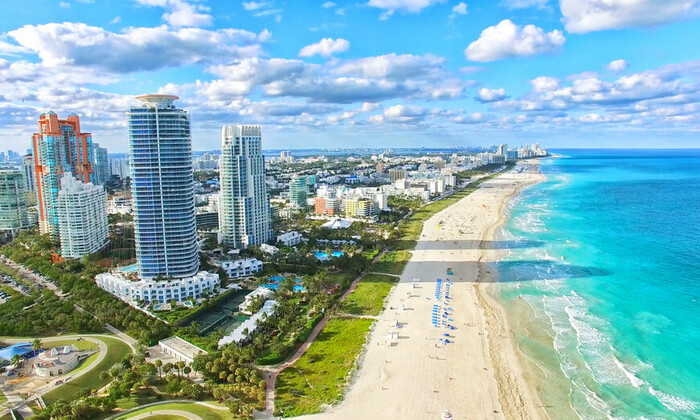 Miami, Florida, one of the top travel destinations in the US, is home to several hotels and resorts with the most accolades. With so many hotels to make a pick from, whether urban chic, luxury, proximity to nightlife, and lots more, Miami's accommodations are built to suit any discerning traveler's budget and taste. Find here, a selection of the top 10 best hotels in Miami, Florida.
1. The Setai, Miami Beach
Situated right in Miami Beach, The Setai is one of Miami's luxury hotels and best hotels in Miami beach. It was founded in the 1930s with two independent buildings. One building is an Art Deco gem (AKA the circa 1937 Dempsey Vanderbilt Hotel), the other adjacent building being one of the few tallest buildings in South Beach. Calm and zen-like, The Setai is for lovers of relaxation.
All 136 rooms in this hotel (both independent buildings) are similarly majestic, most of which are held down in a blue-glass tower. Some suites in one tower have jacuzzi tubs, the other tower comprises suites with Duxiana beds, granite baths, and Acqua di Parma facilities.
The in-house restaurant, Jaya, cued from Asian cuisine, hosts flashy dinner shows and is a celebrity hot spot. It serves all kinds of meals with a harmonized, yet refined mixology menu, like pork bao buns and an Indian thali platter. There is the beachfront Ocean Grill which offers a one-of-a-kind Maine-lobster spaghetti. And for fun, the hotel entertains food and music events, such as New World Symphony.
On-site is an Asian-inspired spa with practices from Paris-based Thémaé and three back-to-back infinity pools preserved at temperatures 75, 80, and 90 degrees, respectively. This hotel is a 5-star Miami Beach hotel that is priced between $1150 and $1250.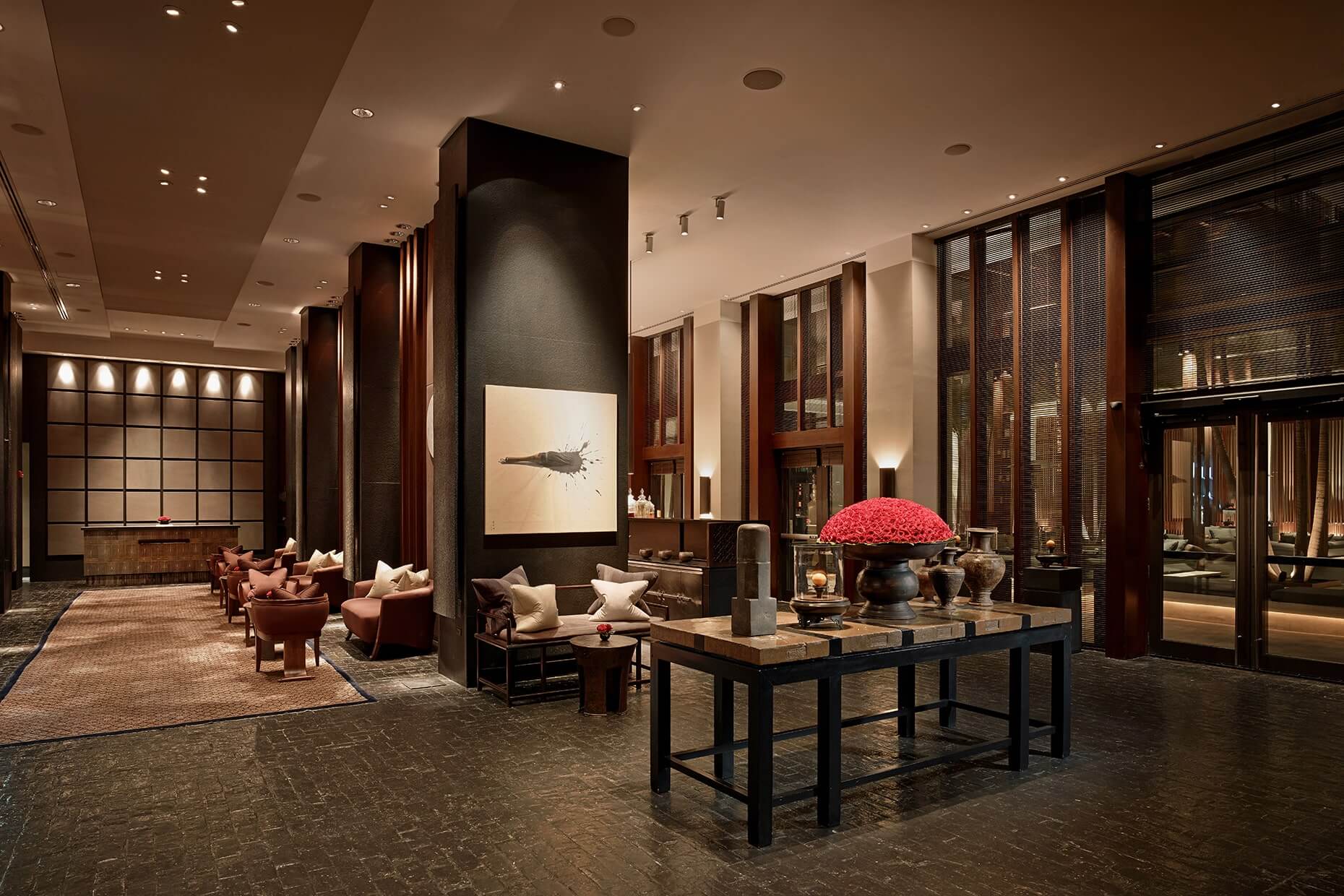 Pros
Close to central Miami Beach.
A grand haven of calmness with delightful attendance.
Cons
Amenities are non-kid-friendly.
2. The Ritz-Carlton Key Biscayne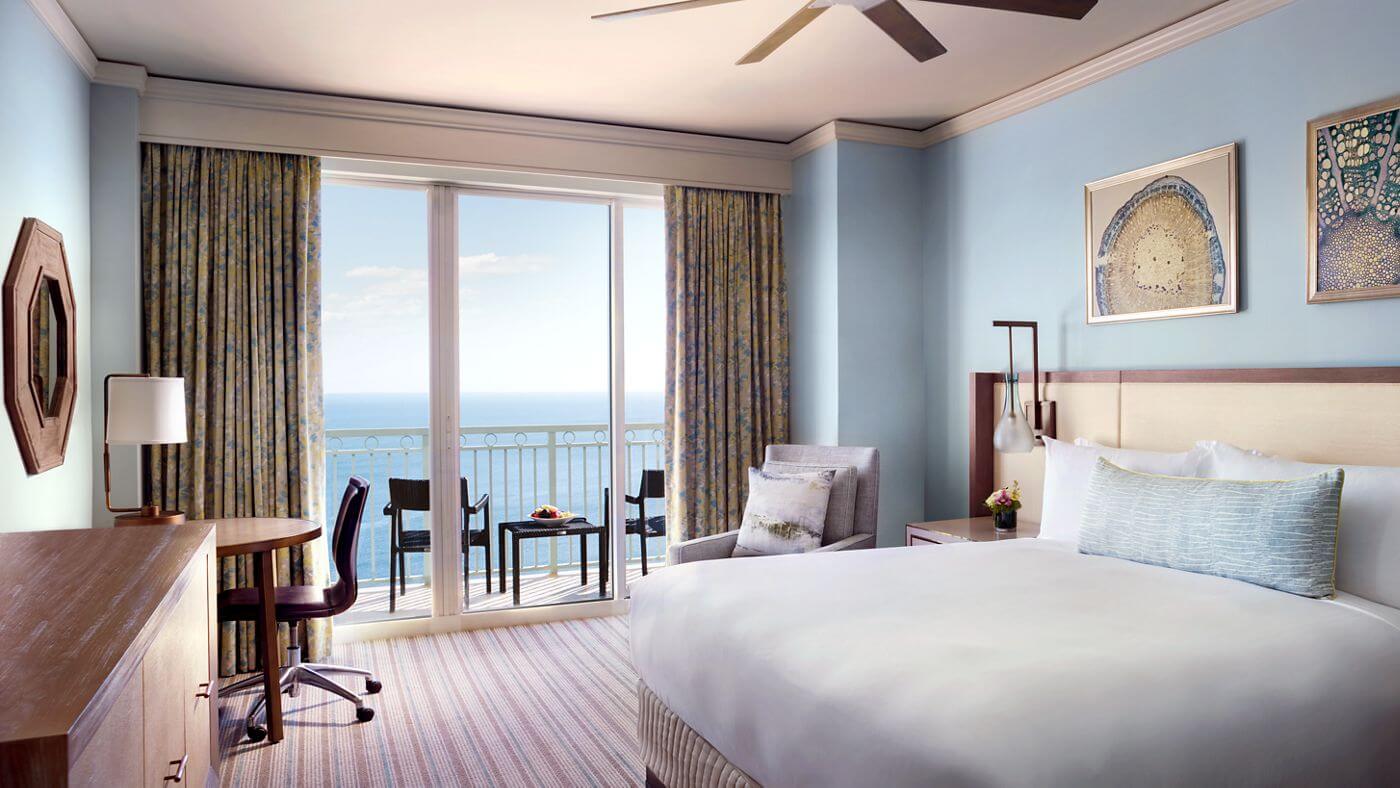 The Ritz-Carlton Key Biscayne is one of the classic, oceanfront Miami luxury hotels in the heart of the Art Deco District. It offers a resort experience on an island destination just south of downtown Miami, near Miami and Miami Beach. It is a few meters away from the Miami mainland, although distant from the city noise to feel more intimate to the island getaway.
The accommodations are outfitted in calming, modern hues of soft blue, cream, and sand with lined carpeting in identical colors. They have balconies, with some having ocean views, and others not. Their sceneries cover Crandon Park and Biscayne Bay. Bathrooms have marble sink counters and subway tiles, and hardwood ground entryways.
The on-site diner of Ritz-Carlton is Lightkeepers which covers the pool and an engaging alfresco bar spurred by Biscayne's famous lighthouse. The menu centers on local seafood and mostly contemporary American menus for breakfast, lunch, and dinner. For added casual dining, Cantina Beach serves Mexican favorites with over 100 varieties of tequila; and Dune Burgers on the Beach offers tapas and burgers.
There is a 20,000 sq. ft spa, a huge tennis center, and two heated oceanfront pools. This 5-star hotel with a charming beach has prices between $599 and $899.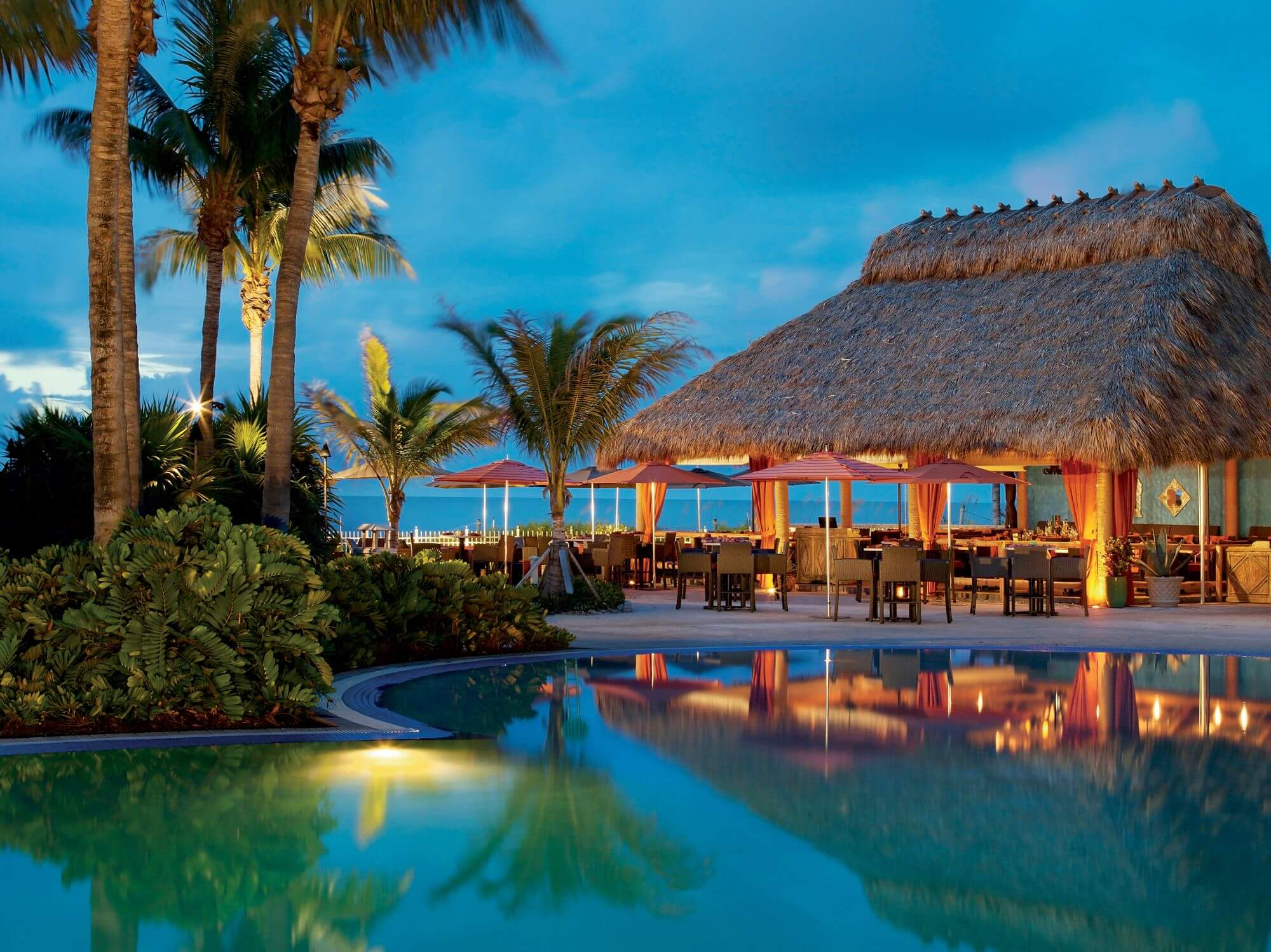 Pros
Guests compliment the hotel's courteous staff.
There are water sports games, golf, and biking activities.
Cons
The hotel is a bit disconnected from Miami and Miami Beach.
3. 1 Hotel South Beach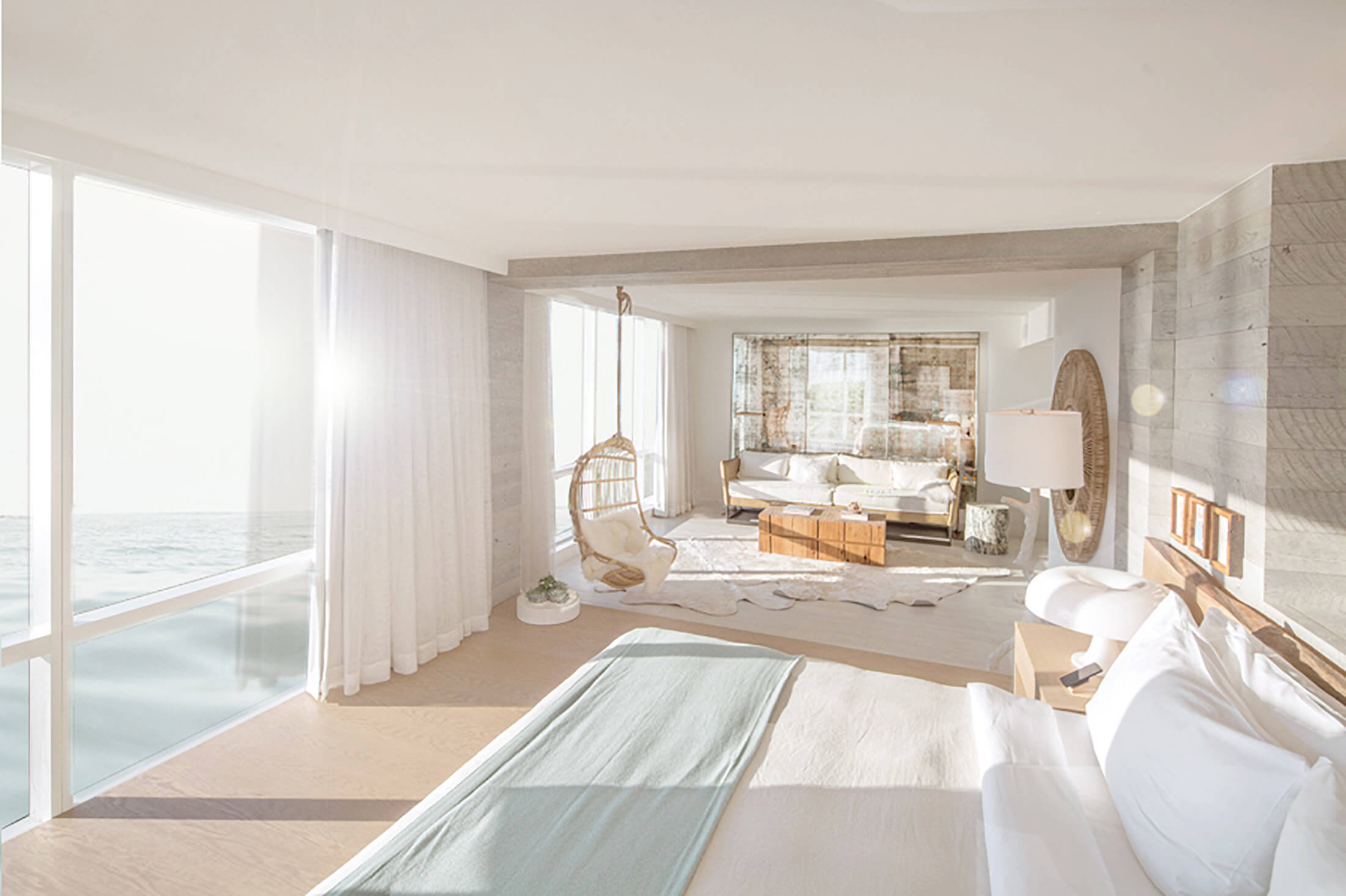 Formerly known as The Perry, South Beach, 1 Hotel South Beach is set on 600 feet of beautiful sandy shoreline. This chic resort is almost two meters north of the Art Deco District, the shops, and nightlife spots found in the core of South Beach.
This hotel has a combination of roomy accommodations. Couples have the option of conventional rooms, while the bigger-sized condo suites fit the bigger group sizes well. The king rooms have original wood accents, screened balconies, and glass terrariums. It has 425 breezy rooms and suites of 700-sq-ft each (average), which is among the biggest in all South Beach, and guests sleep on grey-toned oak beds topped with cotton beddings.
There is the on-site diner, Habitat, which offers traditional seafood and meats with organic ingredients in an open kitchen diner. Plnthouse is the diner with the healthiest meals, and The Sandbox indulges quick bites beside the pool.
Amazing views burst through the pool above the 17th-floor, adjacent to the rooftop bar. All around the U-shaped hotel, four pools exist. There is a spa, and fitness and wellness spot offering a variety of classes. This is a brilliant 5-star hotel that has a price range between $1456 and $2200.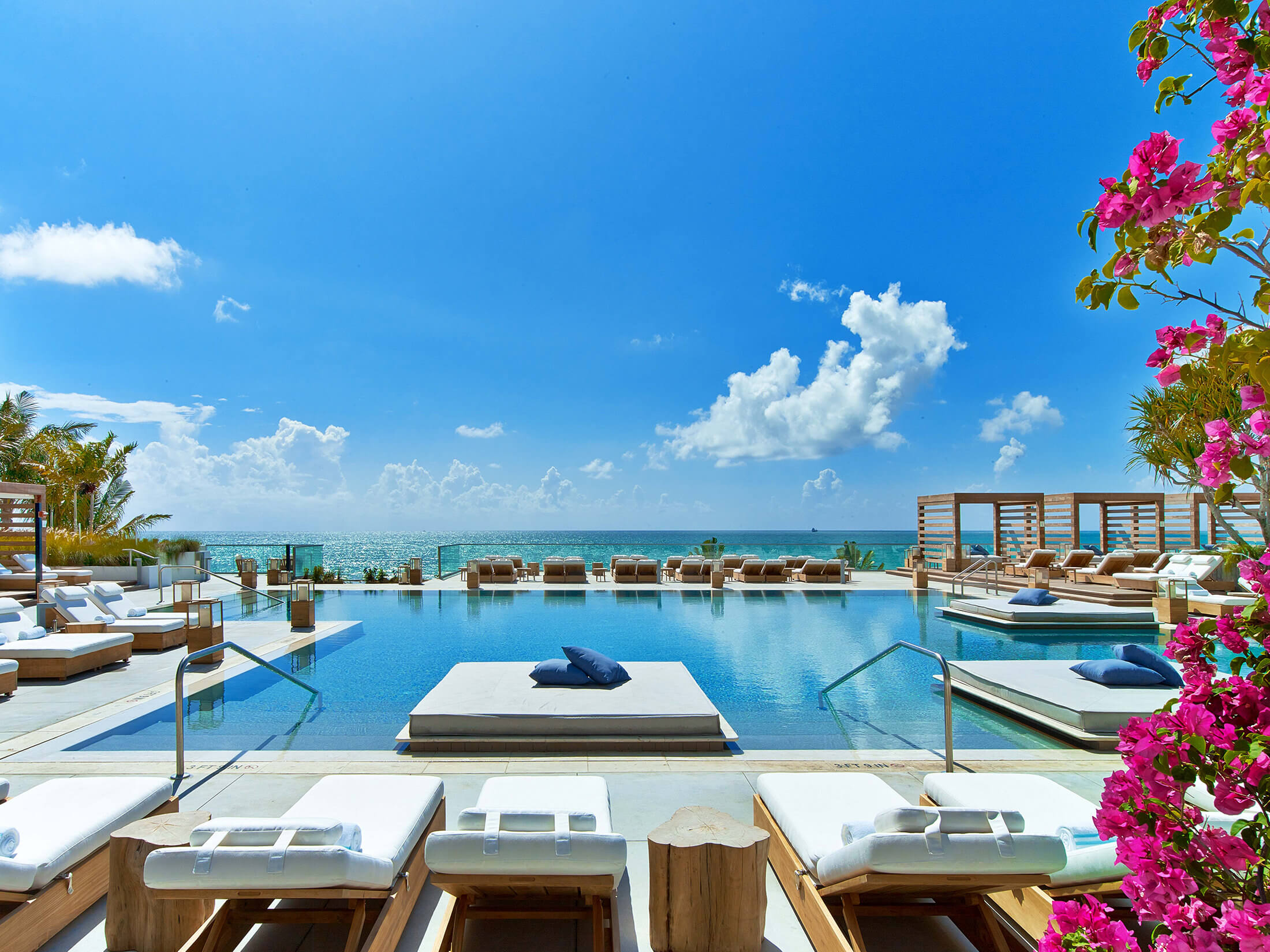 Pros
The hotel's eco-friendly design is admirable.
Tesla car service prepares complimentary service within 3 miles.
Cons
A daily resort fee of $43 applies
4. Faena Hotel Miami Beach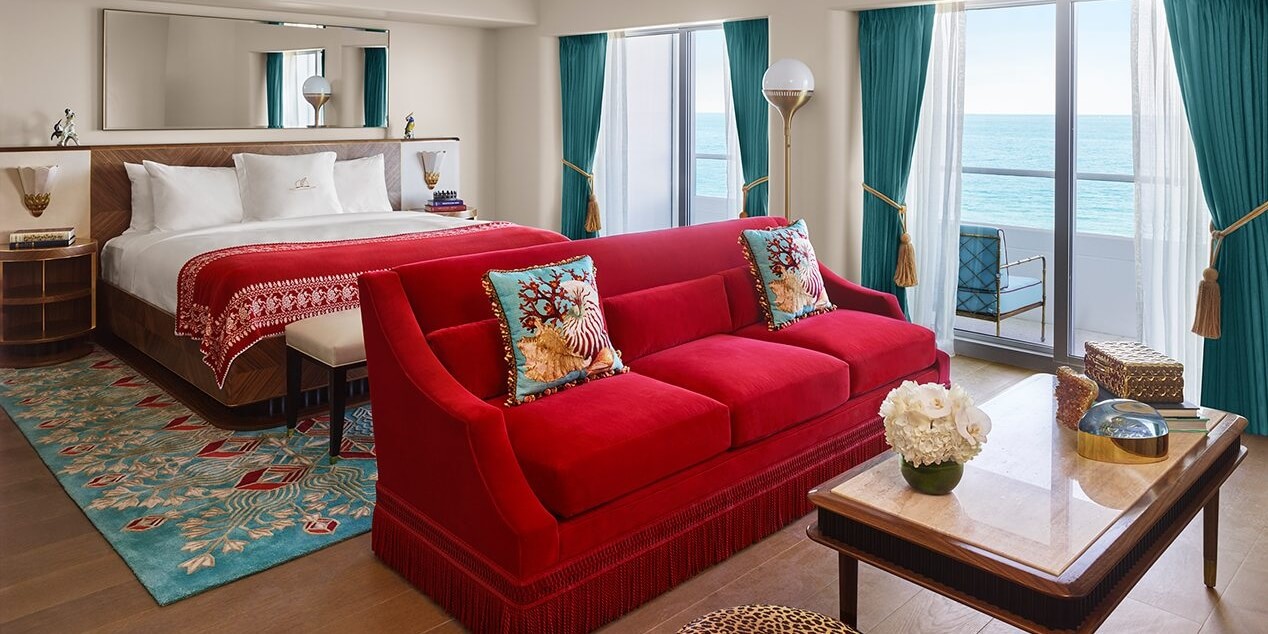 This beautiful, ultra-modern Faena Miami Beach hotel has grown to become an integral part of the city's hot Faena District. Alan Faena got together with the Oscar-winning couple behind films like The Great Gatsby (costumer Catherine and filmmaker Baz Luhrmann) to build this resort overlooking the Atlantic. The result is a retro-glam masterpiece with theatrical accents, dusted with mind-bending contemporary art.
The 169 eye-catching accommodations are equipped with sea-green velvet hangings and charming red velvet furniture of animal prints and brushed-gold accents. The rooms, which are large (the smallest rooms measure 463 sq. ft.) have walk-in closets, marble showers with paired sinks and individual showers, and balconies with stunning views of Biscayne Bay or the city's downtown center.
Faena Hotel is also a major dining destination with two of the buzziest restaurants in Miami: Los Fuegos, where Francis Mallmann specializes in South American grilling. Pao, with chef Paul Qui, offers pan-Asian cuisine. There is Veranda, which serves breakfast by the pool, and Gitano Miami at Casa Faena, a posh Mexican eatery with inventive cocktails.
Guests enjoy access to Tierra Santa Healing House, a 22,000-sq-ft huge full-service spa, and a serene beachfront pool. The Faena Hotel also features an old Hollywood-style theater that entertains cabaret and music shows frequently, spurred by Europe's foremost opera houses. This remarkable 5-star hotel comes with a price range between $1140 and $1200.

Pros
Access to luxury Alfa Romeo cars during the stay.
Complimentary butler service for select suites
Cons
5. Four Seasons Hotel Miami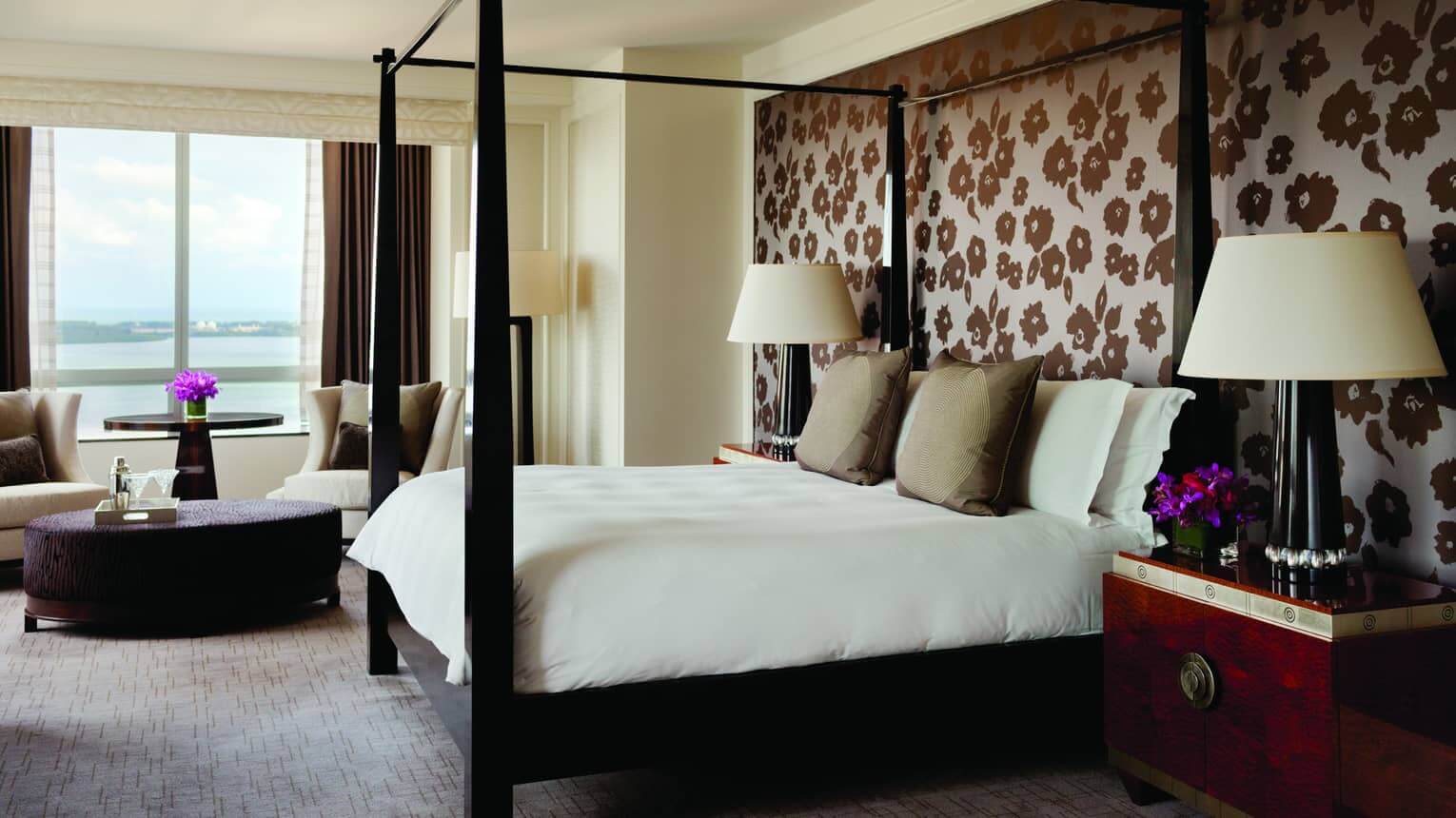 Set at the northern end of Miami Beach, the Four Seasons Hotel gives an equivalent luxurious standard as central Miami but in the serene residential surfside. It measures a few distances outside the main city, about a 30-minutes ride, and extends relief from the city's buzz. The opening hotel had few big star guests like Frank Sinatra back then.
Rooms come with delicate cushioning and marble polishes, floor-to-ceiling windowpanes and terraces as a gateway to privacy. The spacious rooms have understated beauty with wooden chattels, and neutral tans and whites. All Bay-View rooms are conveniently localized above the 20th floor.
For fine dining, there is the grand La Sirenuse - the Italian diner with dishes extracted directly from Positano. Bahía, the hotel's poolside diner, offers a casual menu with Caribbean, Mexican, and Latin attractions. EDGE Steak & Bar's menu consists of meals with local ingredients, like herbs, that are grown on the hotel's pool floor.
There are modern amenities like a vast spa and wellness center and two swimming pools - the heated main pool on the seventh-floor terrace. This hotel is a 5-star hotel with a price range between $785 and $900.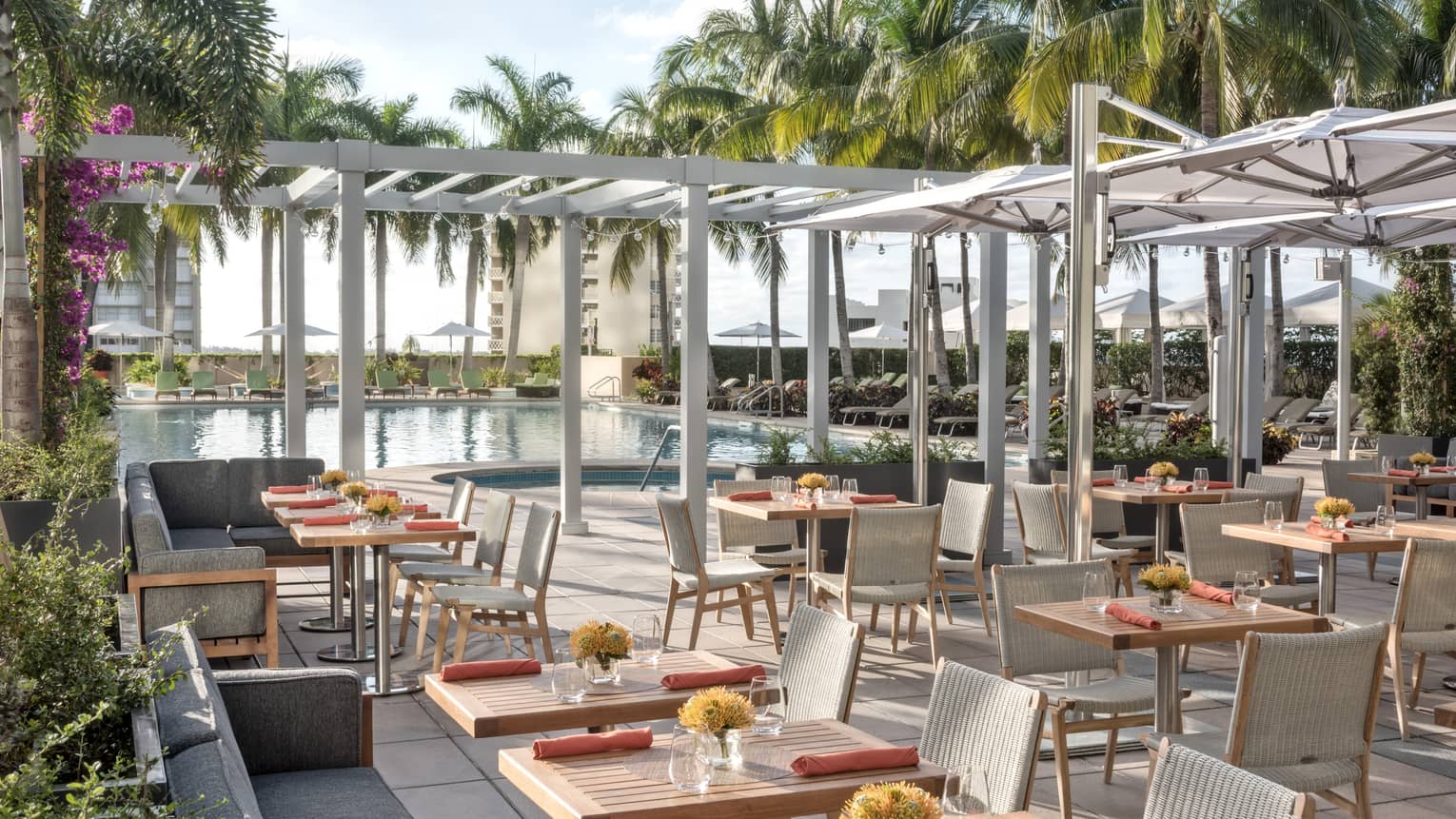 Pros
Fitness buffs will enjoy the property's expansive fitness center
Cons
There are high valet and self-parking rates
6. The St. Regis Bal Harbor Resort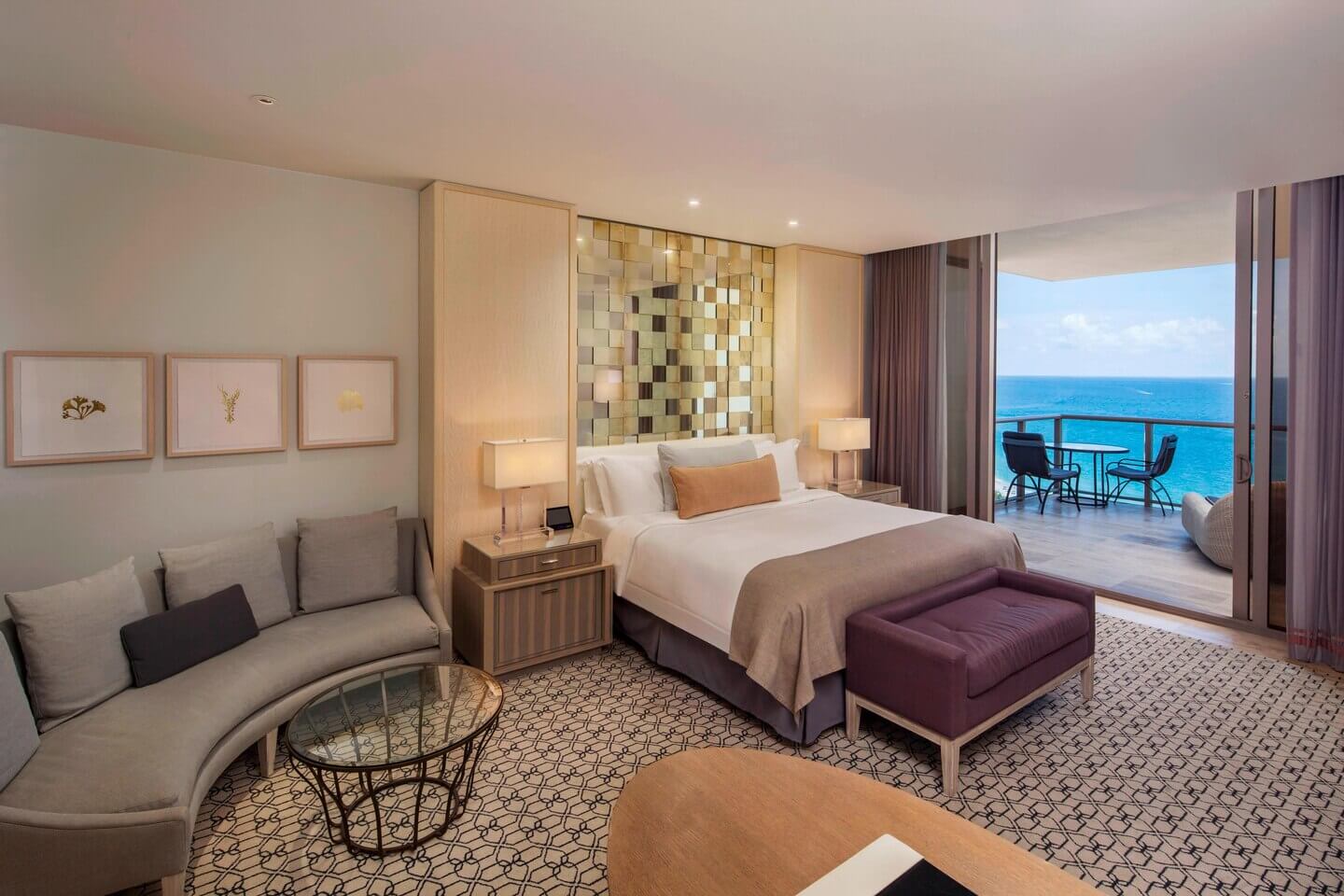 Settled not far from Bal Harbor Shops in Miami's South Beach district, The St. Regis Resort offers an exaggerated measure of luxury. Not far from the Atlantic Ocean and Miami's showiest retail mecca across the street, this 27-story resort may have the best location of all hotels for the nearness of Gucci, Louis Vuitton, Chanel, and other flagship boutiques.
The 243 accommodations each have 210-sq.-foot with ocean view balconies (and spacious rooms, even the smallest rooms which measure 650 sq. ft.). The beds feature 400-thread-count Pratesi sheetings, with stand-alone marble bathtubs and showers.
For dining come multiple options for in-house restaurants. There is Atlantikós, the main diner which is a Mediterranean eatery serving mainly Greek-inspired food in indoor and outdoor areas adorned with blues and whites. La Gourmandise casually offers a French menu.
There are two outdoor infinity pools - one for grown-ups and one for families. There is the Remède Spa also. In this resort, it is possible to rent beach villas, with an overall package of butler, wet bar, and an indoor lounge. The 5-star hotel comes with a price range between $1029 and $1200.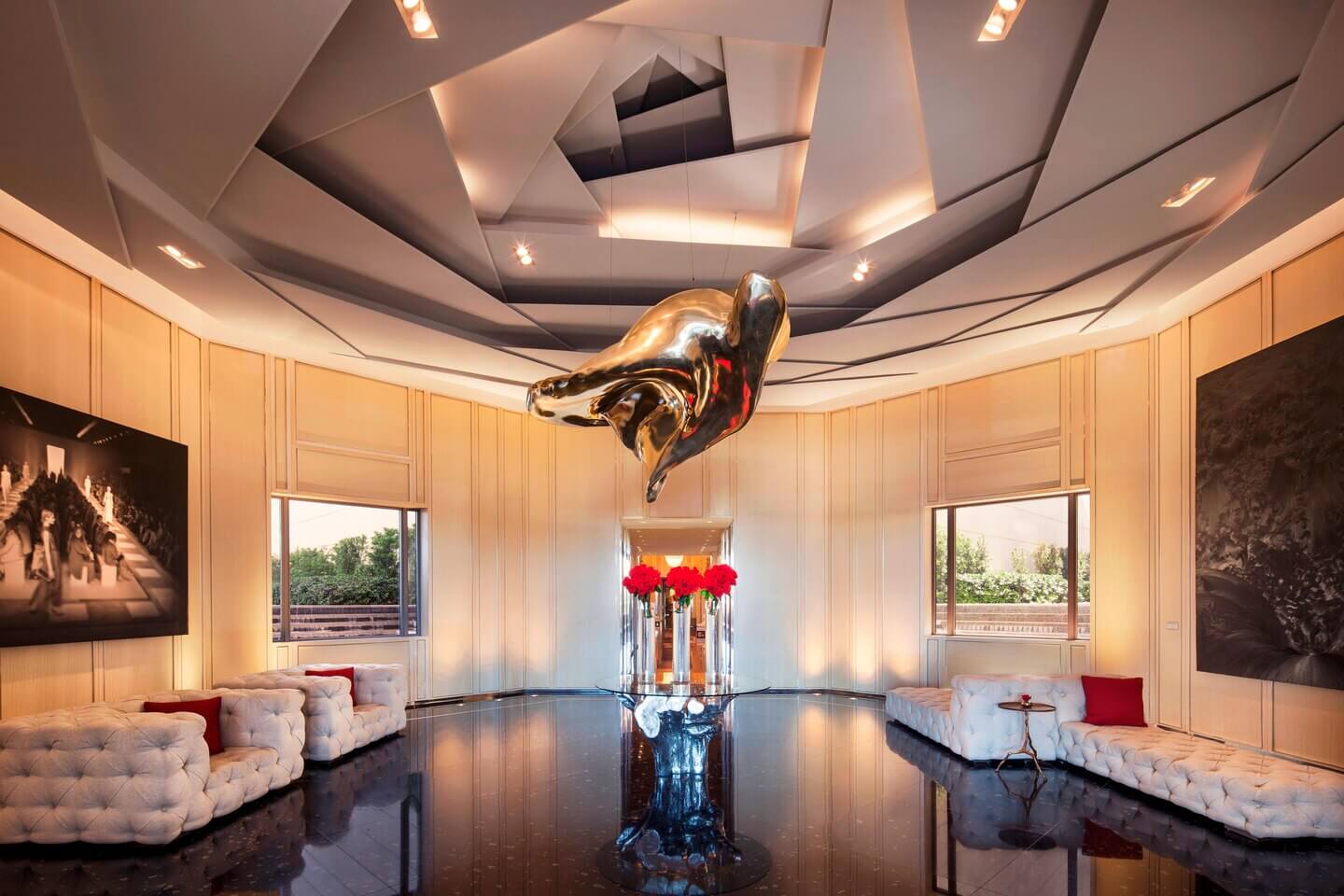 Pros
In-house attractions are the spa, two outdoor pools, and three diners.
Cons
Key Miami Beach attractions are far from the resort.
7. Acqualina Resort & Residences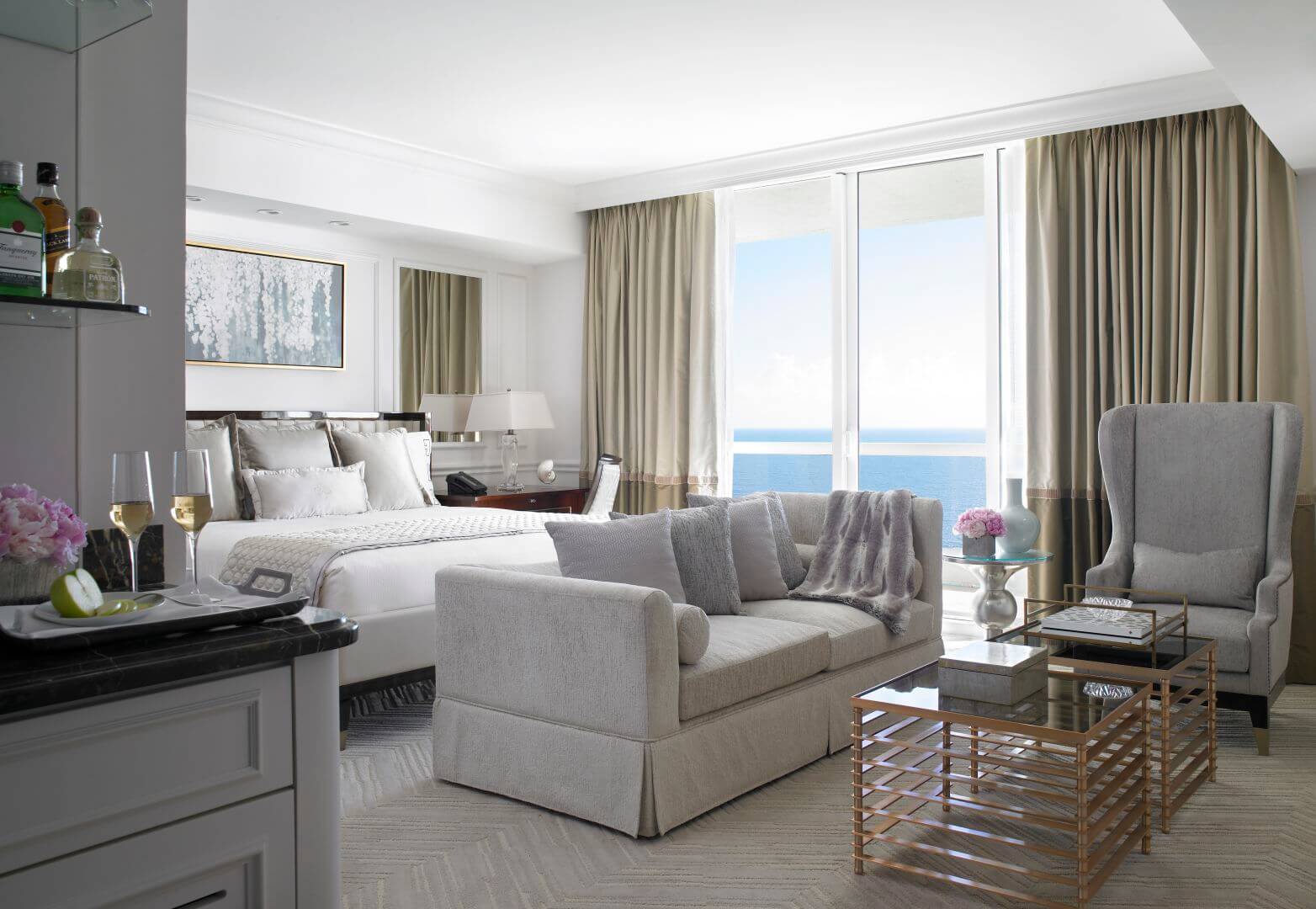 Acqualina lies on almost five beachfront acres with 400 ft of striking Florida coastline, dwelling in the northern borders of Miami. With that refinement, Acqualina is the ideal destination to take a break from the city's hustle and bustle. The unlimited marble columns, ornate fountains, Spanish tile and limestone, and abundance of golden chandeliers leave guests in perpetual luxury.
The resort contains 188 residences and 98 smooth roomy accommodations (most floors contain only five rooms max), finished in calming gray and cream hues. The rooms also have terraces with the Atlantic Ocean views or that of Intracoastal waters.
Acqaulina flaunts two exceptional restaurants - Il Mulino NY offers Mediterranean-inspired dishes for breakfast, lunch, and dinner in a special ambiance, while AQ Chop House is a contemporary steakhouse where views of the ocean will not be lost. Then for more casual meals, there's Costa Grill, which offers sandwiches, salads, and other American-influenced bites, plus a grab-and-go market with coffee, gelato, and pastries.
There is a world-class 20,000-sq ft spa by ESPA with phenomenal practices and an extraordinary fitness center. There are five pools and landscaped grounds that stretch to the sand. This hotel can be no other than a 5-star, with a price range of $1150 and $1200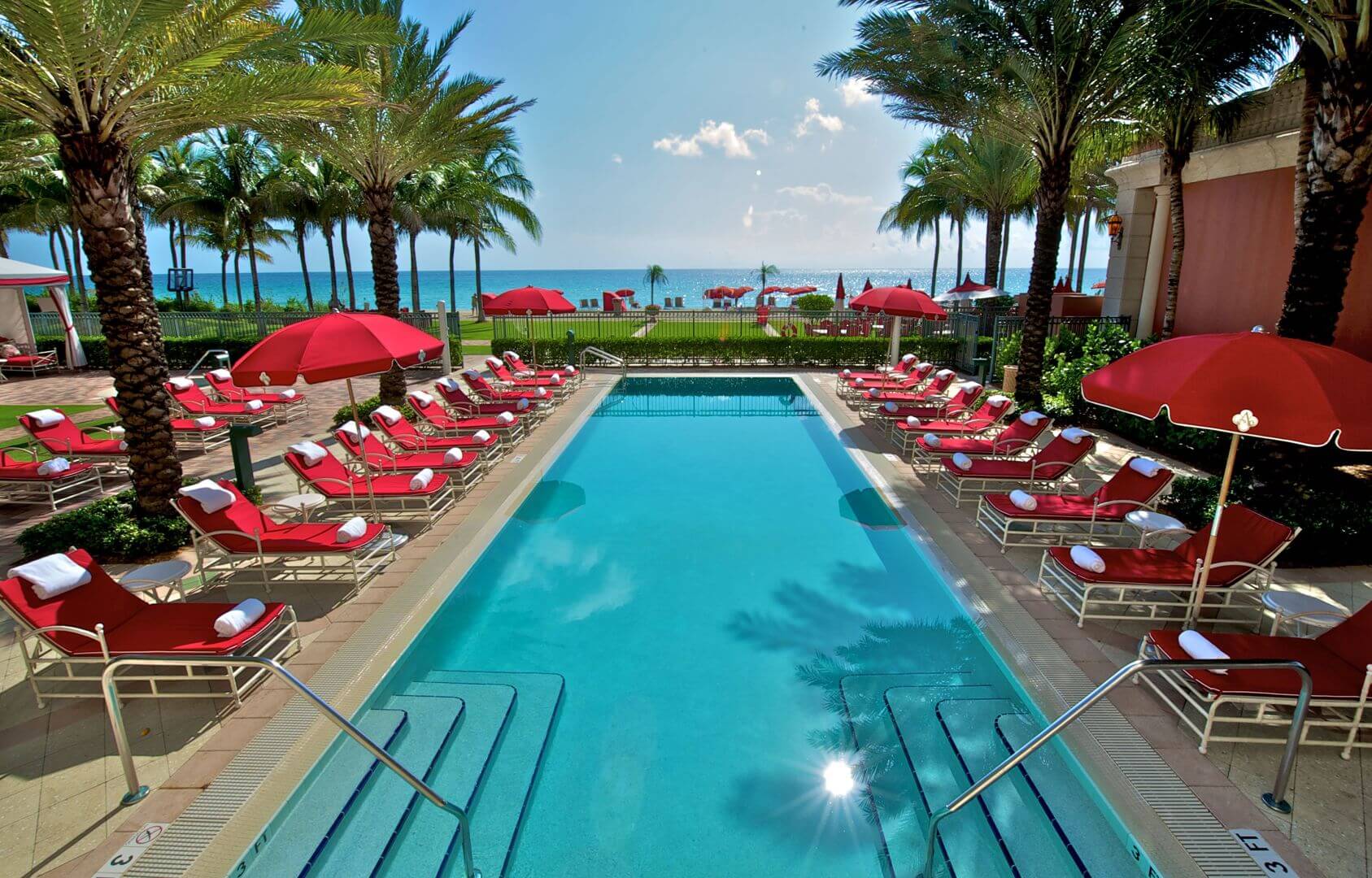 Pros
Family-friendly Beach Club Pool, the sandcastle zone, and life-sized chessboard for kids.
Cons
Half-hour car ride from the energy of Miami Beach.
A limited number of rooms and suites, meaning limited space, especially in winter.
8. Nobu Hotel Miami Beach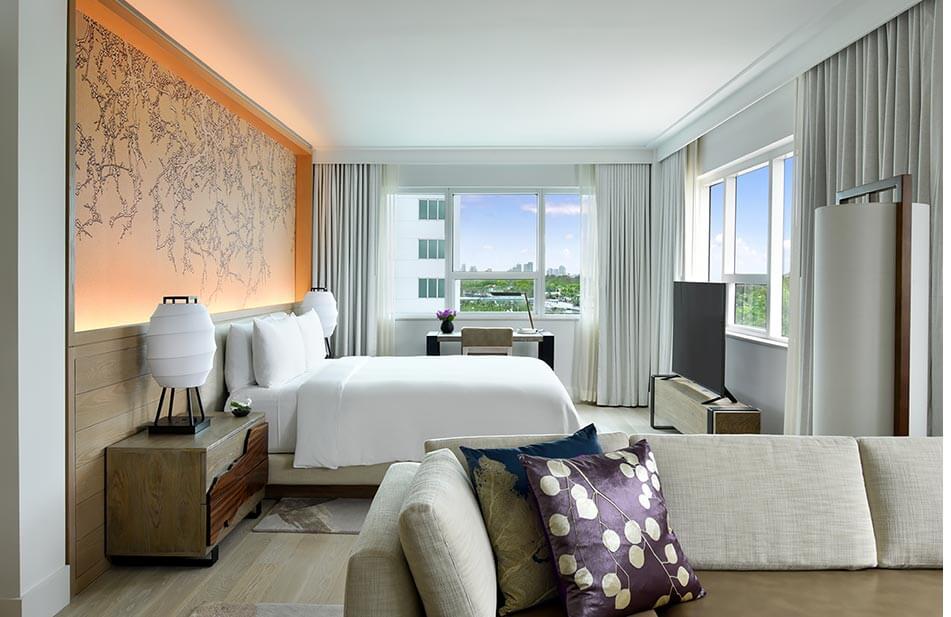 Elegant, sophisticated, and extremely luxurious, this striking new oceanfront hotel shares a Japanese-inspired experience with guests. The Nobu property, which was started by Japanese chef Nobu Matsuhisa and actor Robert De Niro, is a hotel inside the historic Eden Roc Hotel on Miami Beach. Nobu Hotel Miami Beach, one of the best hotels in Miami Beach, is only a short distance from the Convention Center and the Botanical Garden.
This hotel's 206 accommodation with elegant decor comprises genuine wood finishes, superb artwork with cozy bedding. The accommodations feature silver, blue, lilac, and white hues.
Other luxuries are - access to a private pool, in-house diner, and coffee shop. Esencia Wellness, the hotel's spa, is well known for its luxurious treatments. Guests also enjoy saunas, whirlpools, plunge pools, plush relaxation lounge with magnificent Atlantic views. This charming 5-star hotel has a price range between $1005 and $1200.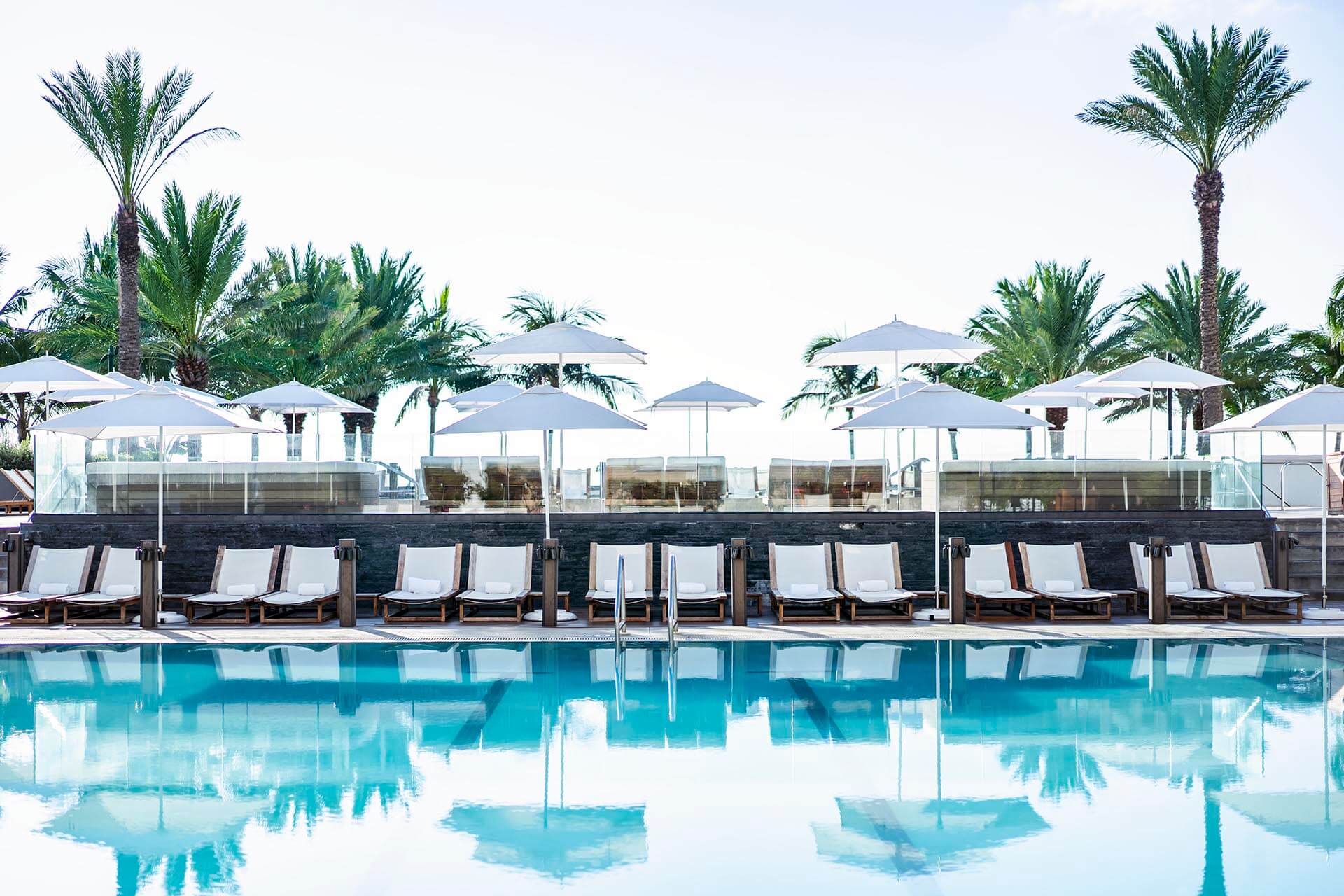 Pros
Chic beachfront hotel in Miami Beach with ample wellness amenities.
Cons
Pricey room rates and on-site dining.
9. The Miami Beach EDITION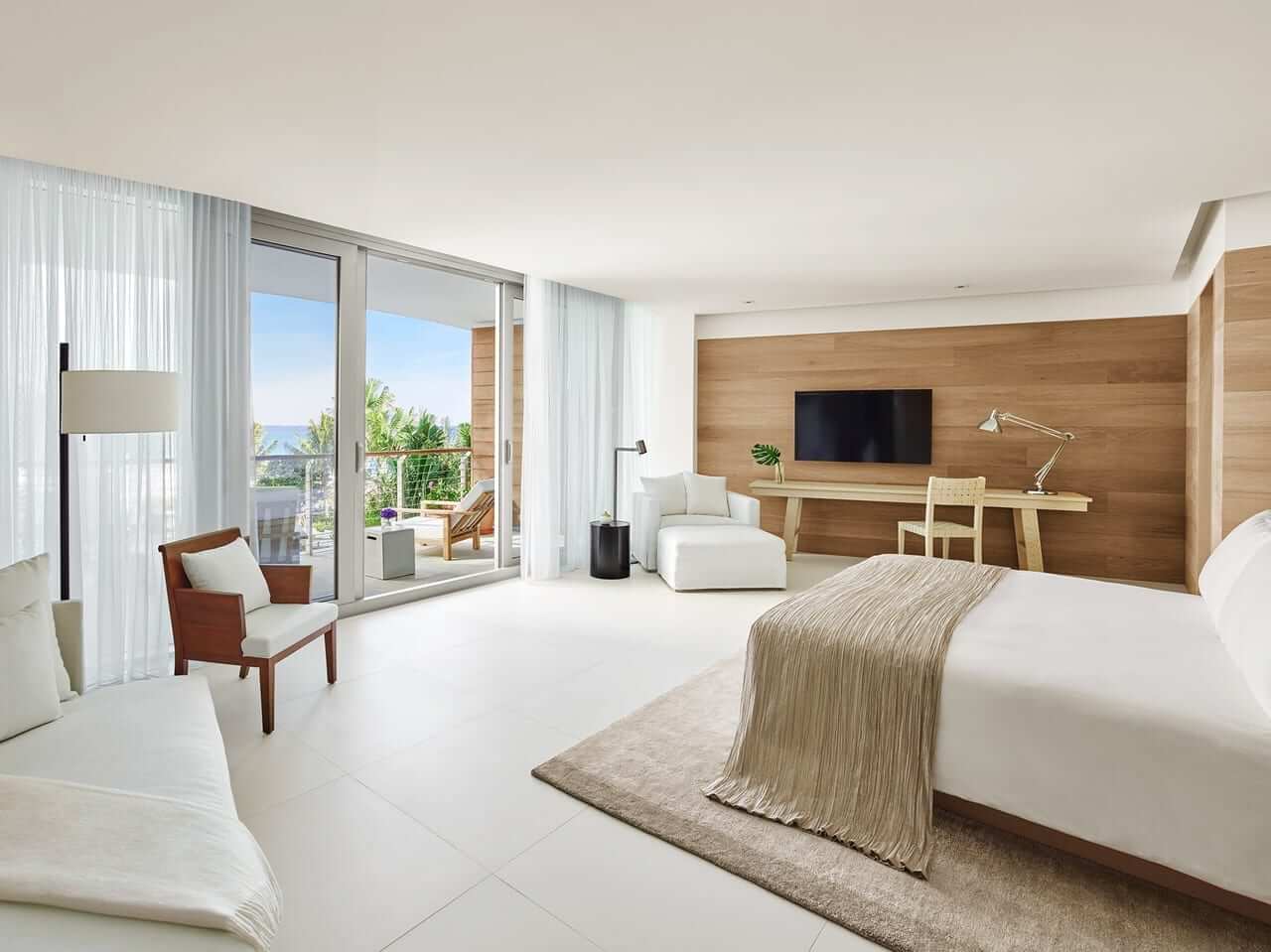 The EDITION is located in Mid-Beach on a swiftly developing section of Miami Beach, slightly removed from the noise of South Beach and the Art Deco District. The hotel's structure hovers between mid-century charm and understated modernity with its all-white marble lobby. It is also a short distance through South Beach's core to Lincoln Road.
Guest rooms, with their custom imported clean lines, natural oak wood furnishing and gold accents, white porcelain floors, and soothing neutral color schemes, feel modern and sophisticated. Bathrooms preserve the bright white lines and render sufficient storage and counter space. There are a few rooms that benefit from individual oceanfront terraces.
Matador Room, led by chef Vongerichten, is the marquee fine dining restaurant, serves traditional Spanish, Caribbean, and South American menus. Additional on-site eateries include Market at EDITION, a more subdued, casual option inspired by Italian markets with a raw bar, pizza, and salads; and Tropicale, an alfresco spot serving cocktails, casual beach bites, and lobster grilled cheese.
In this hotel, you will find the novel pool with a period diving board and an extra pool beside it. There is a spa and a fitness center that extend beach boot camp and yoga lessons. EDITION, one of the best hotels in Miami Beach, has a price range of $759 and $849.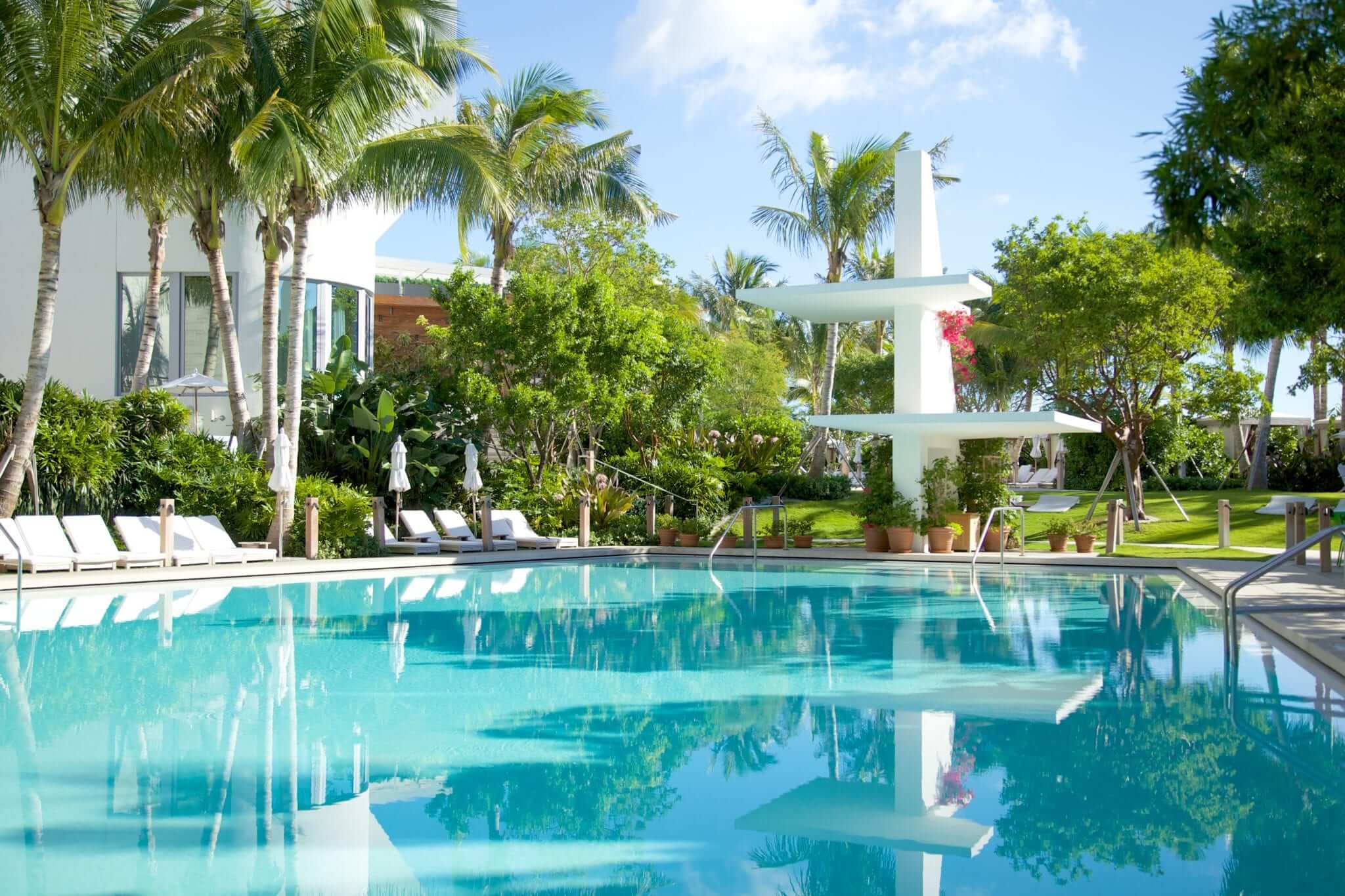 Pros
In-house unique comforts - ice skating rink, a bowling alley, and a nightclub.
Cons
Room rates are accompanied by a daily resort fee.
10. JW Marriott Miami Turnberry Resort & Spa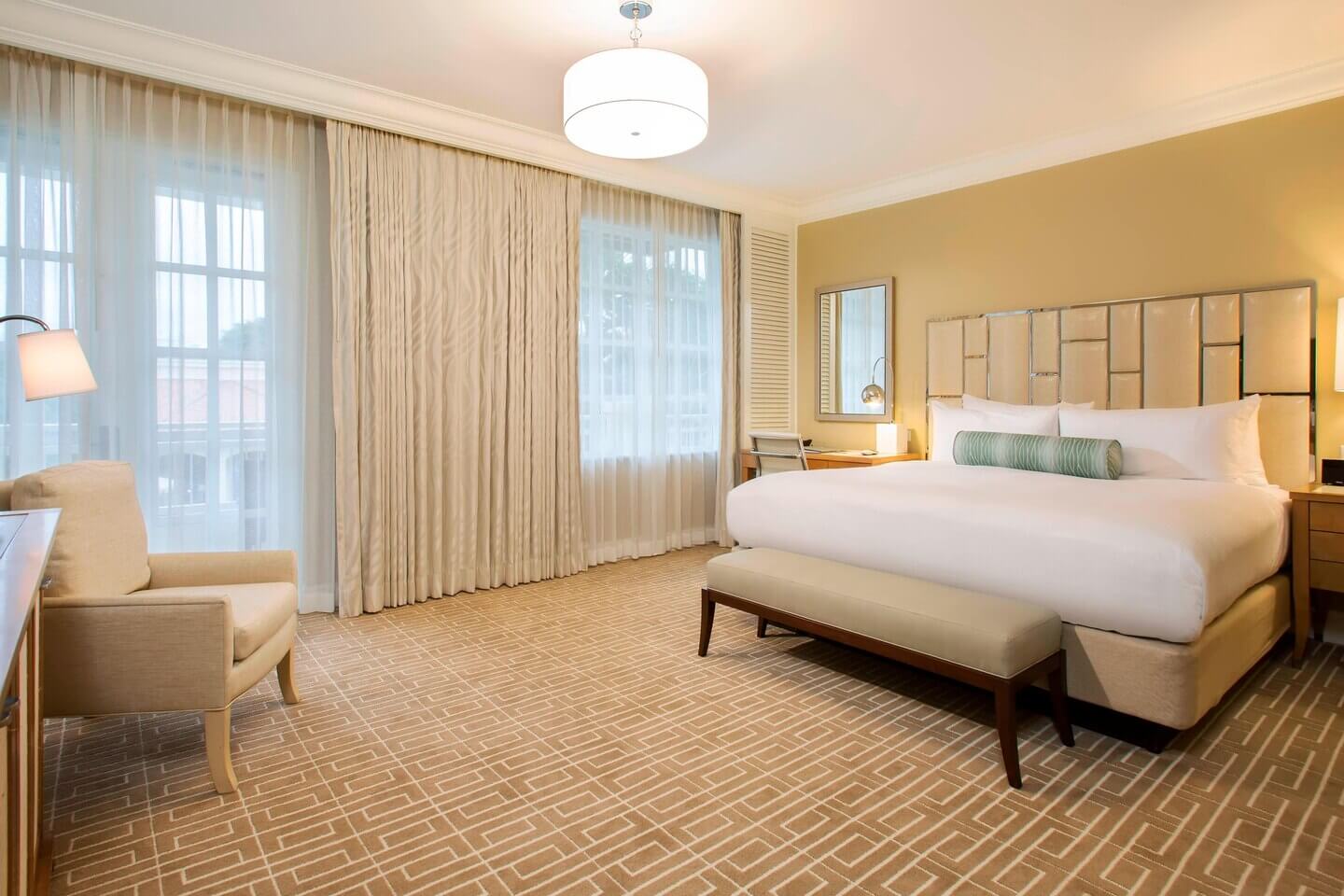 Located midway through Miami and Fort Lauderdale, the JW Marriott Miami Turnberry is the perfect spot for people who wish to leave the city buzz without being so far from the city's conveniences. The hotel sits around Aventura Mall, which is a good location for shops, diners, restaurants, and a movie theater.
The large accommodations (with the smallest rooms at 500 sq. ft.) are outfitted with old-school decor, that comprises beige hues and shots of soft blue accent. All rooms are presented with terraces and amenities like stocked minibars and independent marble bathtubs and showers.
There are a couple of in-house restaurant options as Bourbon Steak by chef Michael Mina's. For a less showy American menu, there is the Corsair kitchen & bar. Surf House Bar & Grill or Freestyle offers casual bites and cocktails by the pool (at the water park).
Multiple pools exist at this resort, a lazy river, a lagoon-style pool with over five waterslides, and Âme Spa. This is a 4.5-star boutique hotel that has a price range of around $287 and $399.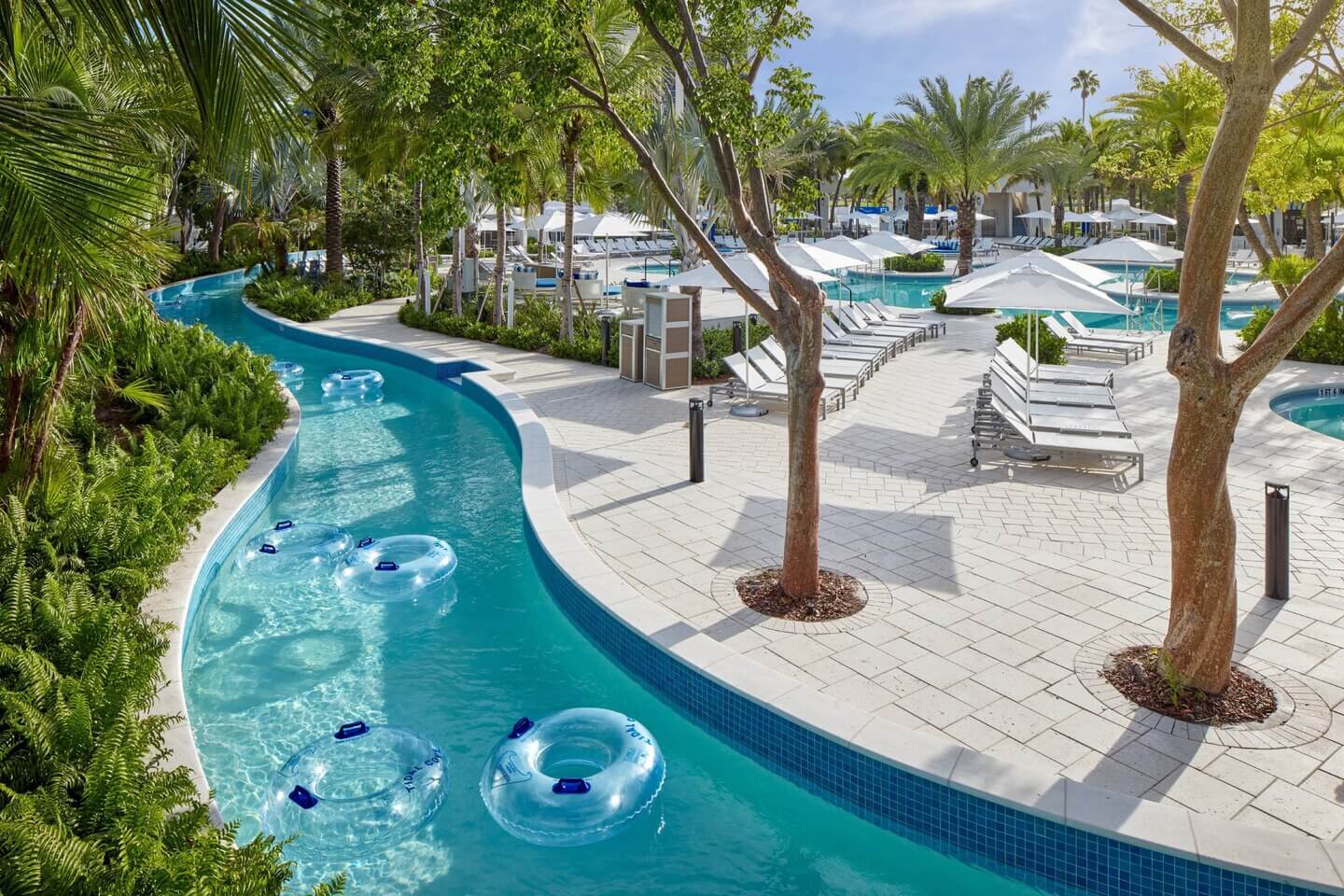 Pros
On-site water park with a pool with seven waterslides, a lazy river, and a Flowrider.
Cons
Extra fees apply for kids' club programs.
FAQ About Miami Hotels
1. What are the best pool hotels?
JW Marriott Miami Turnberry Resort & Spa is among the best hotels with pools in Miami.
2. What are the best boutique hotels?
One of the best boutique hotels in Miami is The Miami Beach EDITION.
3. What are the best beach hotels?
The best hotels near the beach in Miami include The Ritz-Carlton Key Biscayne and The St. Regis Bal Harbour Resort.
4. What are the best spa hotels?
The best hotels for spa treatments in Miami are JW Marriott Miami Turnberry Resort & Spa, Four Seasons Hotel Miami, and The St. Regis Bal Harbour Resort.
5. What are the best hotels with airport shuttle service?
The best hotels offering airport shuttle service include Acqualina Resort & Residences, Four Seasons Hotel Miami, and The Setai, Miami Beach.
Conclusion
With tons of beachfront resorts, finding where to stay in Miami will be a breeze. If you are a local in search of a high-class staycation or a tourist with a taste for world-class spas and soft cotton sheets, Miami has an extensive range of hotels that cater to everyone.