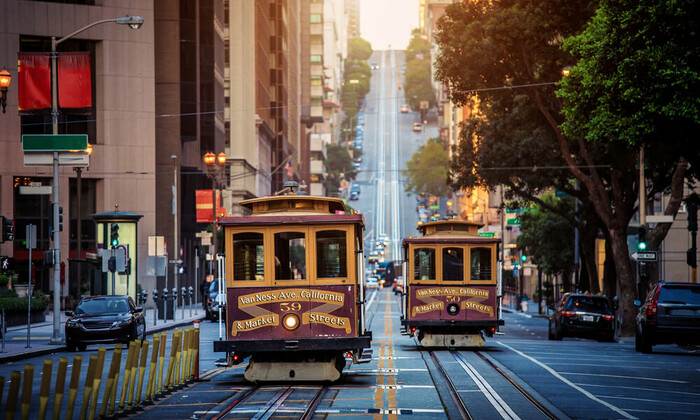 San Francisco, the Bay City, is rated amongst the world's most beautiful cities. With bountiful attractive sites in this city, the hotel you select to stay while you're visiting will have a reasonably huge influence on your travel experience. Here is a selection of the 10 best hotels in San Francisco!
1. Palace Hotel, A Luxury Collection Hotel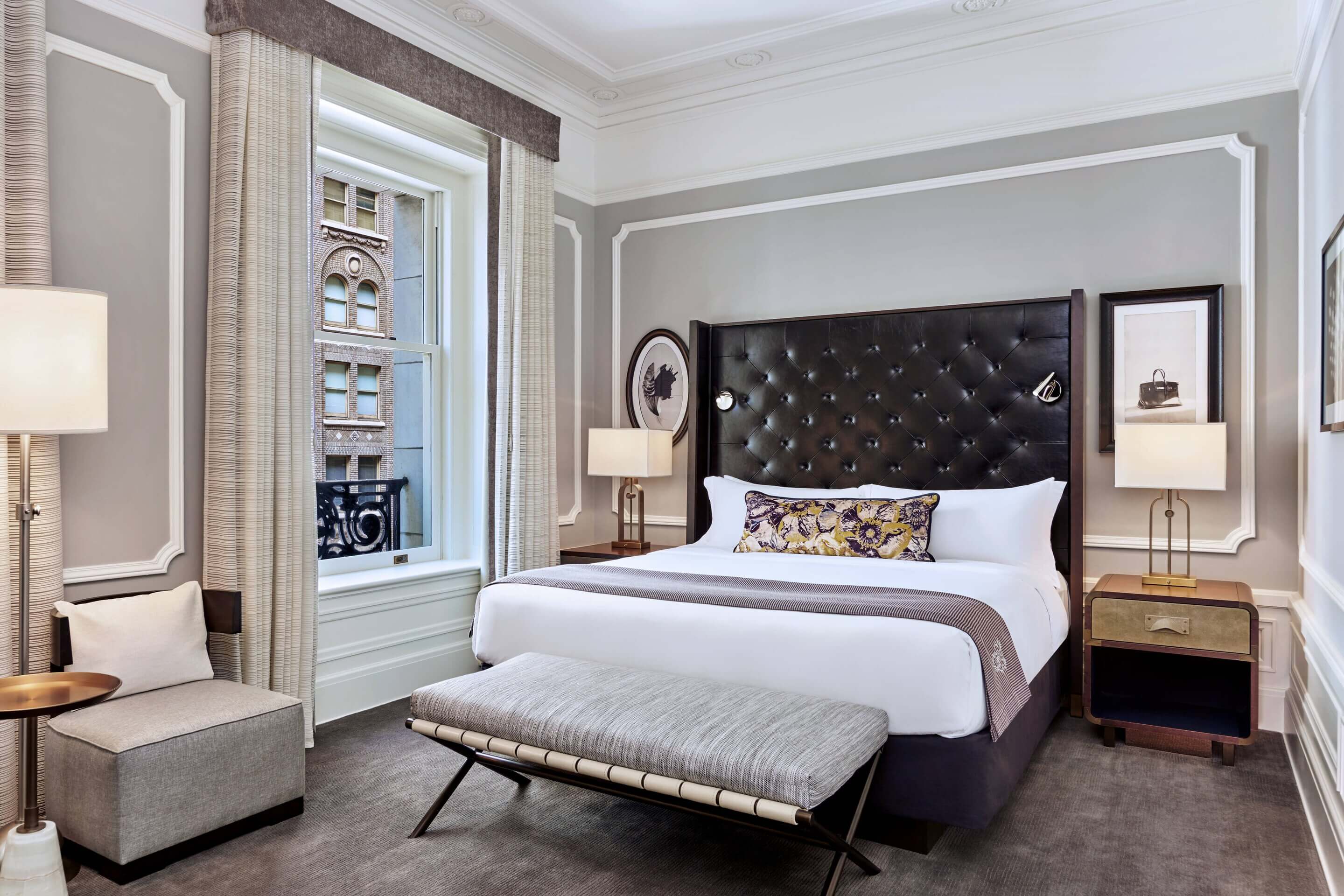 This hotel has a history that dates to the earthquake of 1906. The bottom lobby retained some of the surviving residues of that quake, hence guests can pay a museum visit without departing their hotel. This belle of a hotel is situated in downtown San Francisco –blocks from Chinatown, enabling smooth accessibility to Union Square and other choice attractions.
Palace hotel features classically inspired, and high-ceilinged rooms which are exquisitely devised for comfort. The property flaunts 600-plus tastefully decorated rooms with each beautifully smart interior that retains the original 1909 details without losing modern indulgences - dark woods, layered textiles, and bulky, tufted leather headboards.
The hotel's centerpiece is the glistening Garden Court where eaters and cocktail-ers linger. There is the breakfast buffet alternative or the signature weekend noon tea. Not forgetting the Pied Piper, a lobster mac 'n' cheese spot paired with dark truffles. For record's sake, this is a brilliant 4.5-star hotel that has a price range between $332 and $400.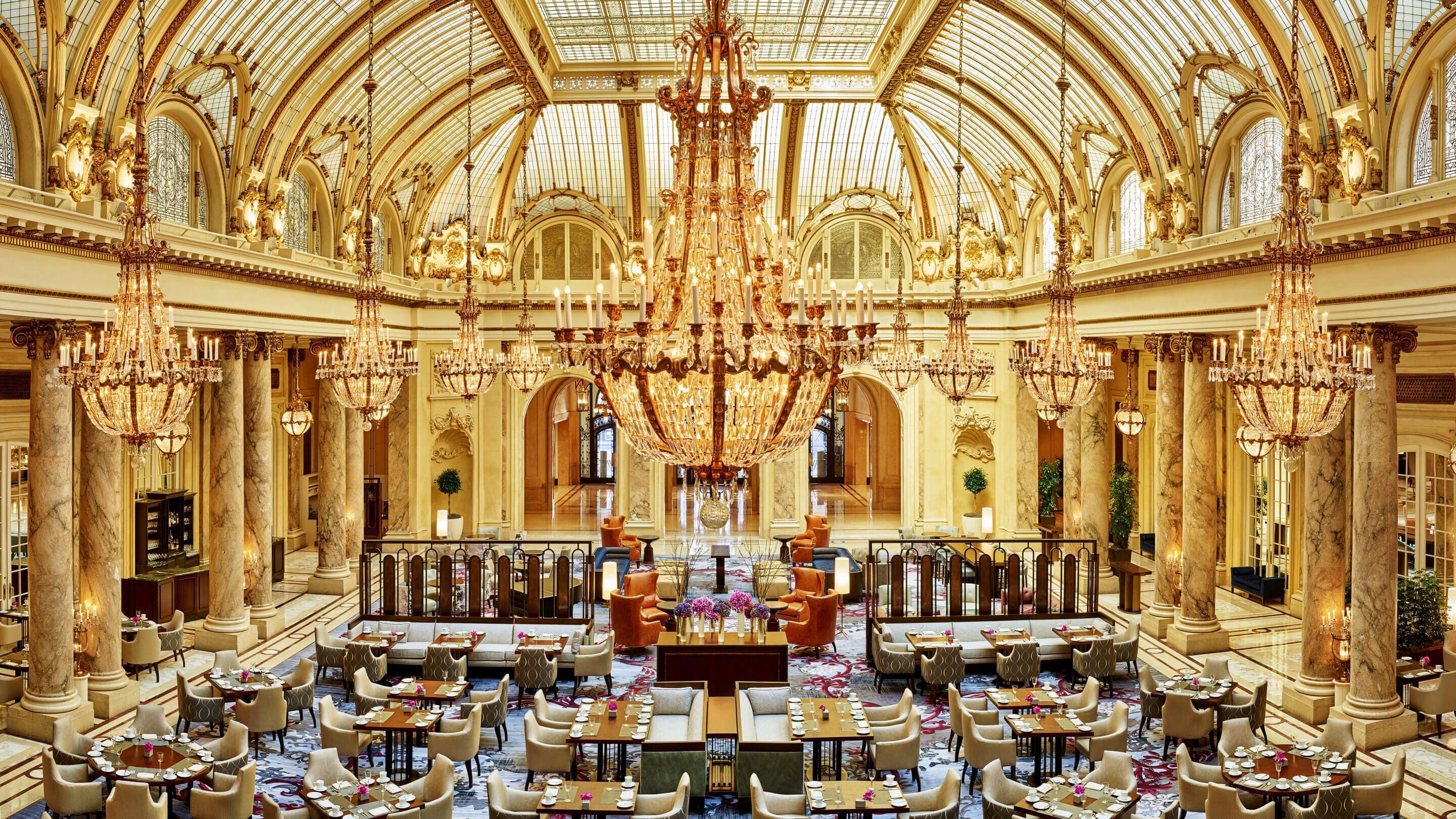 Pro
The numerous amenities are the concierge service, business center, a heated indoor pool with a sky-lit ceiling
Guests are mesmerized by the vintage insides of the hotel, particularly in the Garden Court
Con
A stay here is of high expense
2. Four Seasons Hotel San Francisco
One of the top Hotels in San Francisco, Four Seasons Hotel San Francisco is located on Market Street, close to Yerba Buena Center for the Arts, and the Contemporary Jewish Museum. It is also two blocks away from SFMoMA. This luxury hotel spreads through floors 5 to 17 of the 42-story skyscraper, delivering that sophistication that comes with above street level. The communal-style lobby is encircled by contemporary sculptures, and all over the property, blue and grey décor with gold accents abound.
Guests experience the height of modern luxury in either of 155 guest rooms, featuring cushioned window seats for soaking up city views, and a wingback chair in cloud-patterned fabric. White marble bathrooms offer walk-in showers and a separate tub.
The diner, MKT Restaurant, on the fifth floor, serves a sustainably sourced steak and seafood menu. Equinox Sports Club (a health club, a private one, that offers a fitness center and an indoor 25-yard pool) is one place where guests can go back and forth with unrestricted admittance. There's also a full-size basketball court, and a spa offering facials, massages, and body treatments.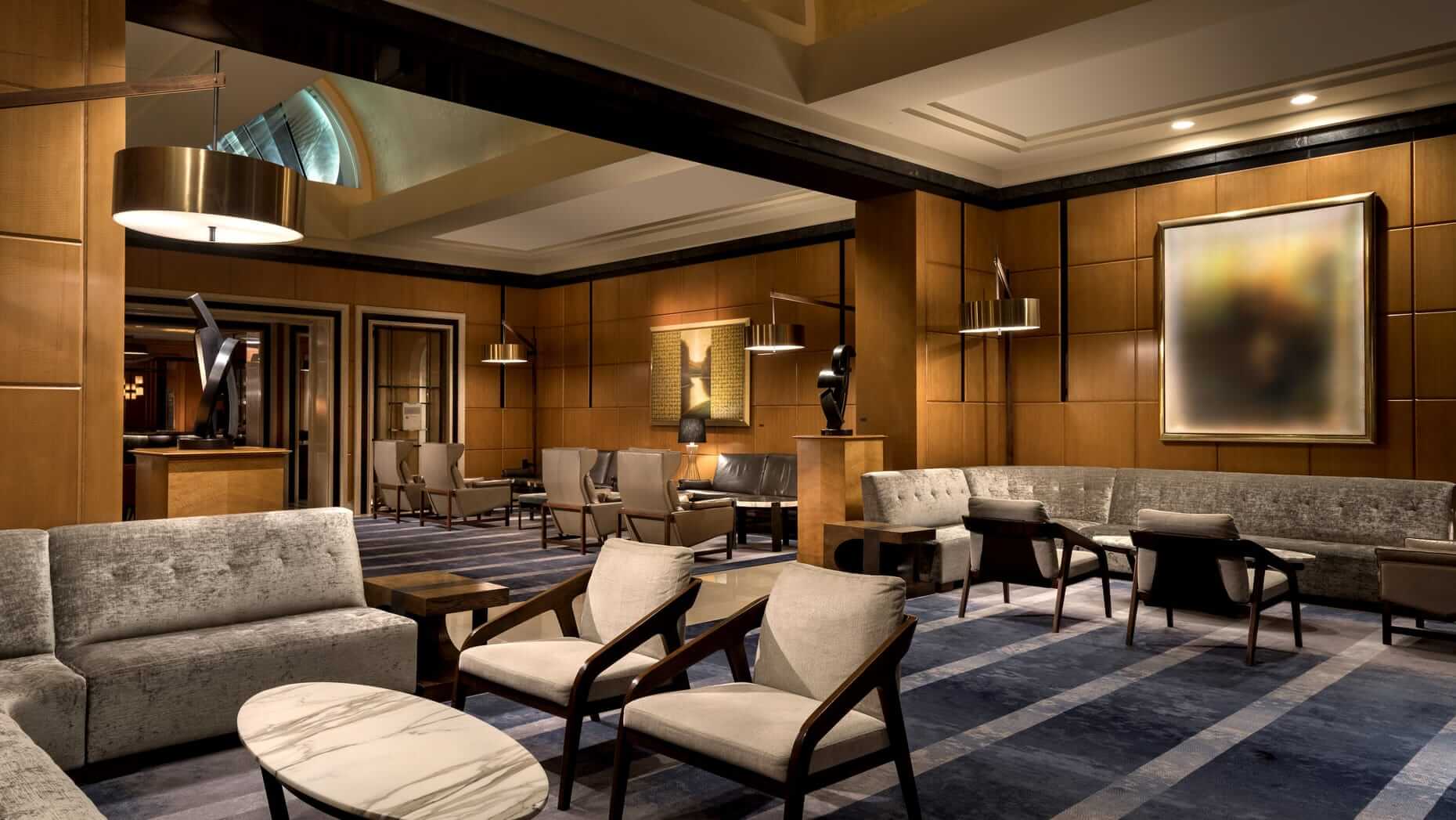 Pro
Large rooms with floor-to-ceiling windows
Service is smart and professional
Con
Some guests balked at the bill at the end of their stay and bemoaned the high parking rates
3. Taj Campton Place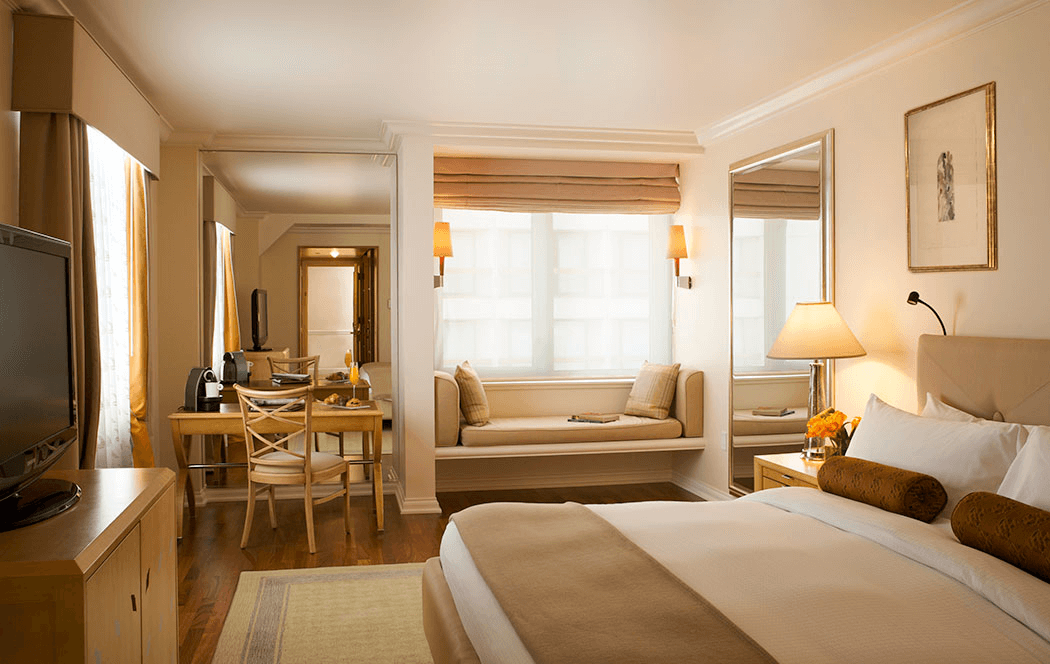 Taj Campton Place, one of the best San Francisco Hotels on vibrant Union Square, is only a block from the Apple Store, two blocks from the Chinatown Gate, and adjacent to the art studios, museums, and San Francisco's lavish stores. With its classic European-style décor, it aims for an elegant and comfortable stay whether for both business or leisure travelers.
On 17 floors, with 110 guest rooms, the hotel appears pretty close and the bulk of the clientele happens to be independent travelers. Compared to the sizes of hotel rooms in the district, Taj rooms are undoubtedly small. They make up for it with furnished with conveniences like Nespresso coffee machines and, pillow menu.
The Campton Place Restaurant, The Taj's in-house diner, covers Cali-Indian menu - local Californian cookery with soft spicey overtones. This diner has earned the sought-after Two Michelin Stars award for 2019. An added easygoing bar and bistro remain next door.
Another feature of Taj's is its 24-hour fitness center which is positioned past the roof of the 9th-floor. This is a remarkable less pricey 5-star hotel with a price range between $285 and $300.
Pro
Property has a Michelin-starred restaurant
Complimentary house-car service, in-house laundry, and in-room espresso makers
Con
Some say rooms here look a bit dated
4. Fairmont San Francisco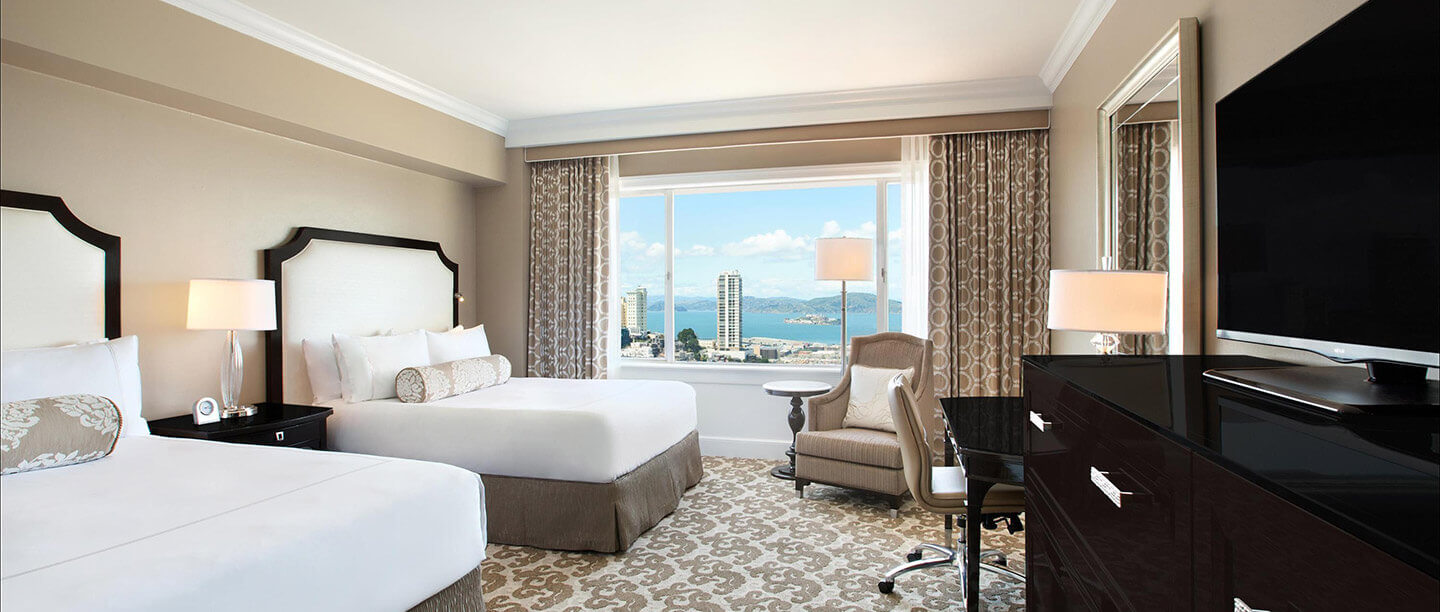 This world-class San Francisco historic hotel secured a spot in Nob Hill, stirring noble views of city and bay. Fairmont San Francisco is situated midway, where only a brief cable car trip and you arrive the bustling Downtown. It remains as stately as it was when commissioned back in 1906.
This hotel has rich interiors that embody a grand lobby and fanciful ceilings. It also presents 606 large guest rooms and 55,000 square feet of striking capacity. Its suites are with stylish furnishings, classic yet contemporary. Here, there are high-end facilities like Frette bed linens and extended mattresses.
The hotel's amazing diners feature exciting menus: While Tonga Room & Hurricane Bar emphasizes family-style meals, while Laurel Court Restaurant & Bar spotlights seasonable coastal cuisine. There is a private garden patio, state-of-the-art wellness spa, and a tiki bar famous for its floating band.
This makes a ravishing 4.5-star hotel with a price range between $341 and $390.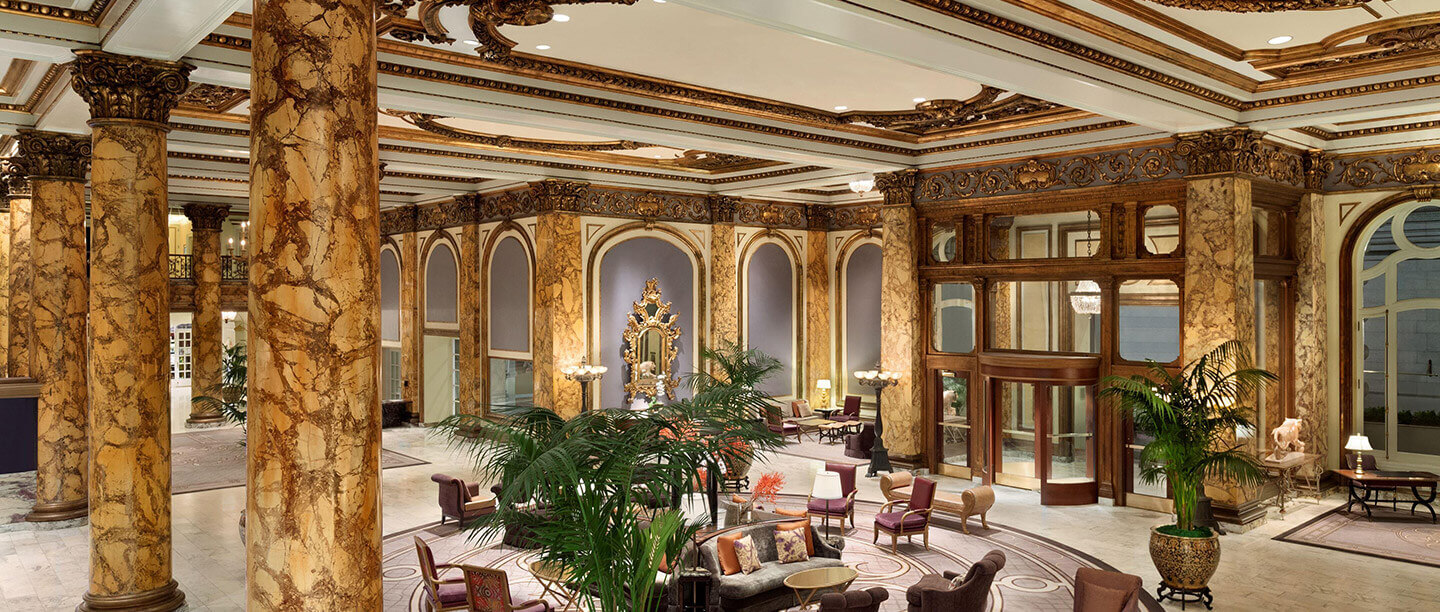 Pro
There is a sunny rooftop garden and an enjoyably tacky tiki bar
Cable car takes a halt at the entrance of the hotel
Con
This hotel charges an expensive daily destination fee
5. The St Regis San Francisco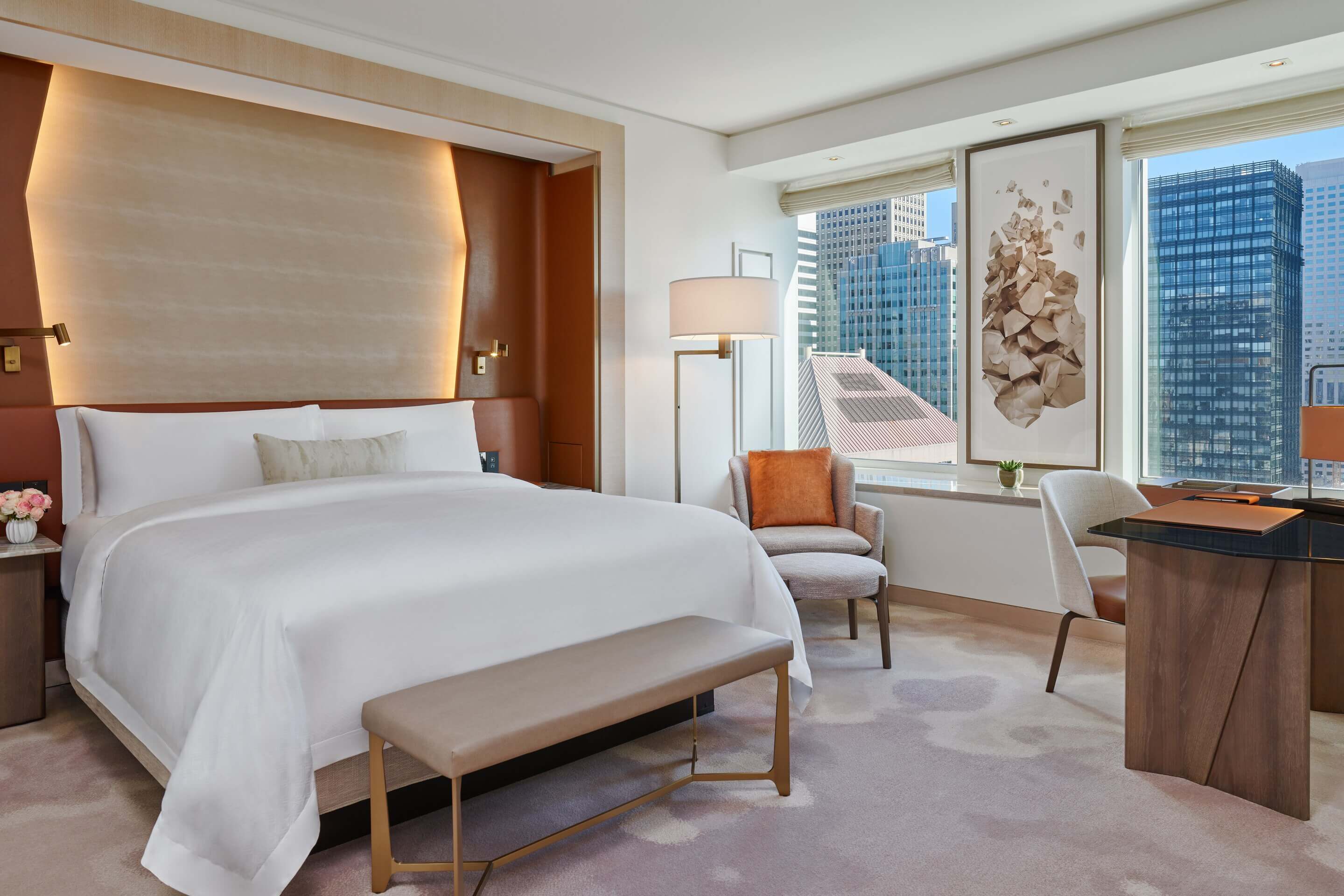 For urban luxury, get acquainted with this Forbes hotel, one of the top Hotels in San Francisco - St. Regis San Francisco - which occupies a 40-story South of Market tower near the Museum of Modern Art near the financial district keeping hotel guests close to attractions like Oracle Park, and Yerba Buena Center for the Arts.
Revealing views of downtown San Francisco, each of the 260 large, light-filled, minimal but sumptuous rooms feature pleasing amenities like cashmere quilts, beds with rich leather headboards designed to evoke a sports car interior, ample bathrooms with leather walls, deep soaking tubs, and rainforest showers.
There's just one restaurant simply called Grill which serves contemporary California cuisine. There is the lobby bar, where San Francisco's mind blowers come to chill with drinks and live jazz before setting towards Grill for dinner.
There's a sizable luxury spa (the two-level Remède Spa) which has its own 50-foot saltwater lap pool. The hotel gym, at 5,700 square feet, is tremendously huge and has sensational city views. Enterprising business travelers and NBA players never miss a chance to visit St. Regis when in San Francisco. Another 5-star hotel but with a price range between $475 and $800.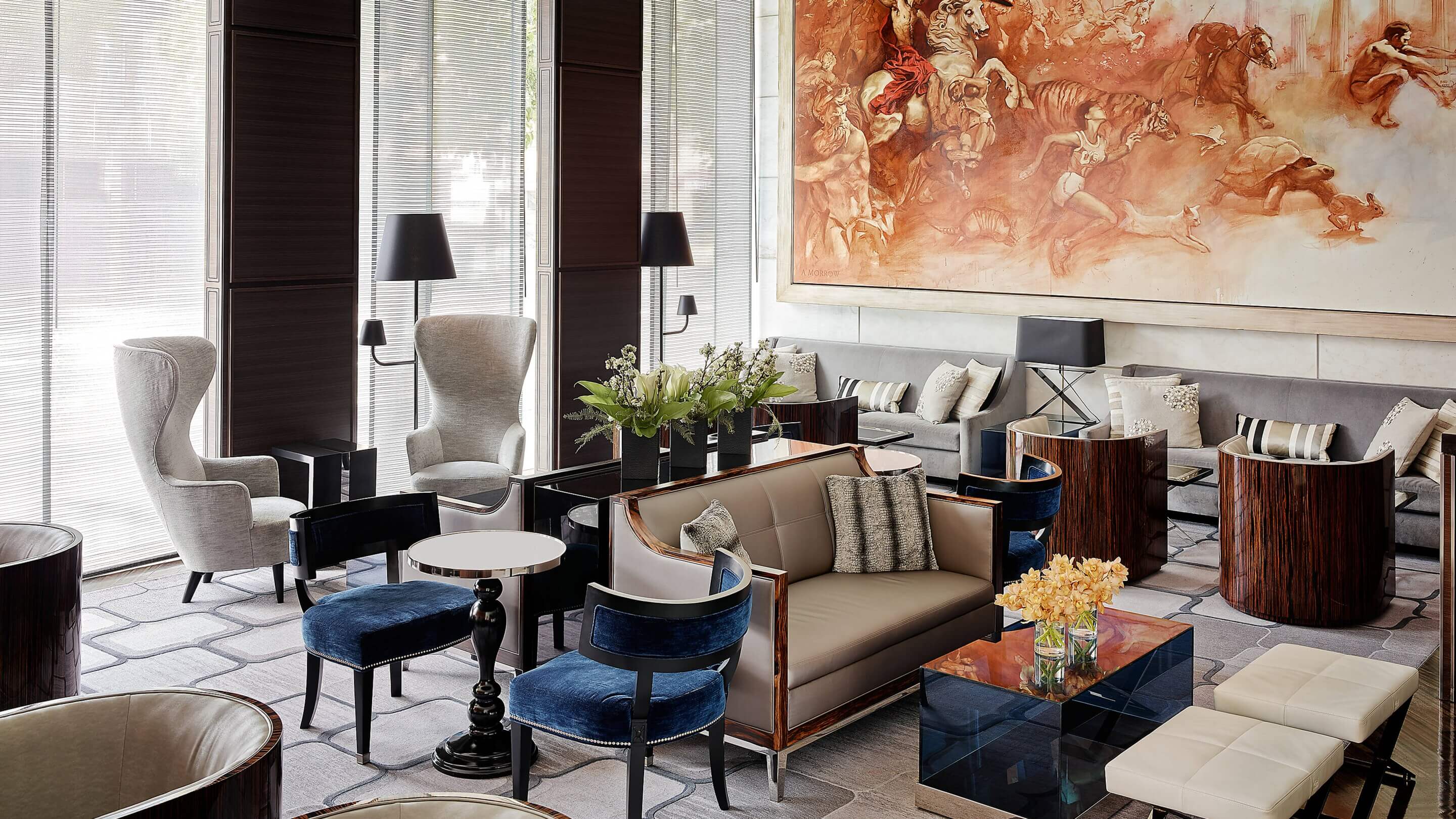 Pro
Offers personalized service, extravagant amenities, and classy lodgings
Guests report remarkable customer service
Con
Room rates here are superb
6. Hotel Kabuki, a Joie de Vivre Hotel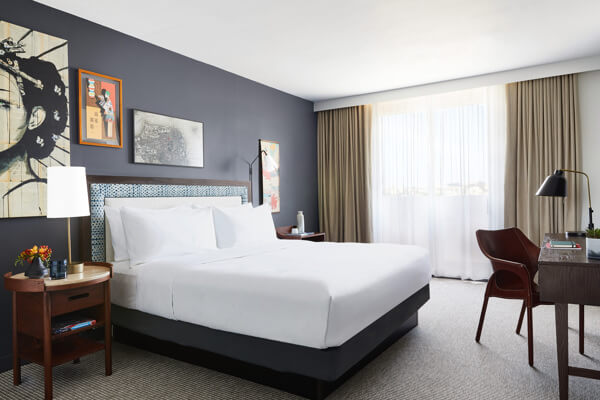 This snug hotel in Japantown is located beside the Japan Center Malls, your one quick stop for ramen or to explore boutiques, and one of the nicest hotels in San Francisco. Its trendy 225-rooms have classical and modern Japanese art - adorned with orchids, keen pop art, and cloth-crafted headboards. In the entryway, potted plants blend with geometric cane-back chairs and vividly patterned throw pillows.
The restaurant, Nari, serves rich and risqué Thai meals. There's also a trendy lobby bar around. The hotel redid the gym to 4,000-square-foot plus huge windows, and it can accommodate multiple for a yoga sessions. The community nonetheless has a wealth of ramen restaurants, sushi spots, and karaoke bars for even more cultural diffusion. This is a decent 3.5-star hotel with a price range between $290 and $350.

Pro
Links closely to the east and west mall and is conveniently located amongst multiple fantastic restaurants
Con
7. Hotel Drisco Pacific Heights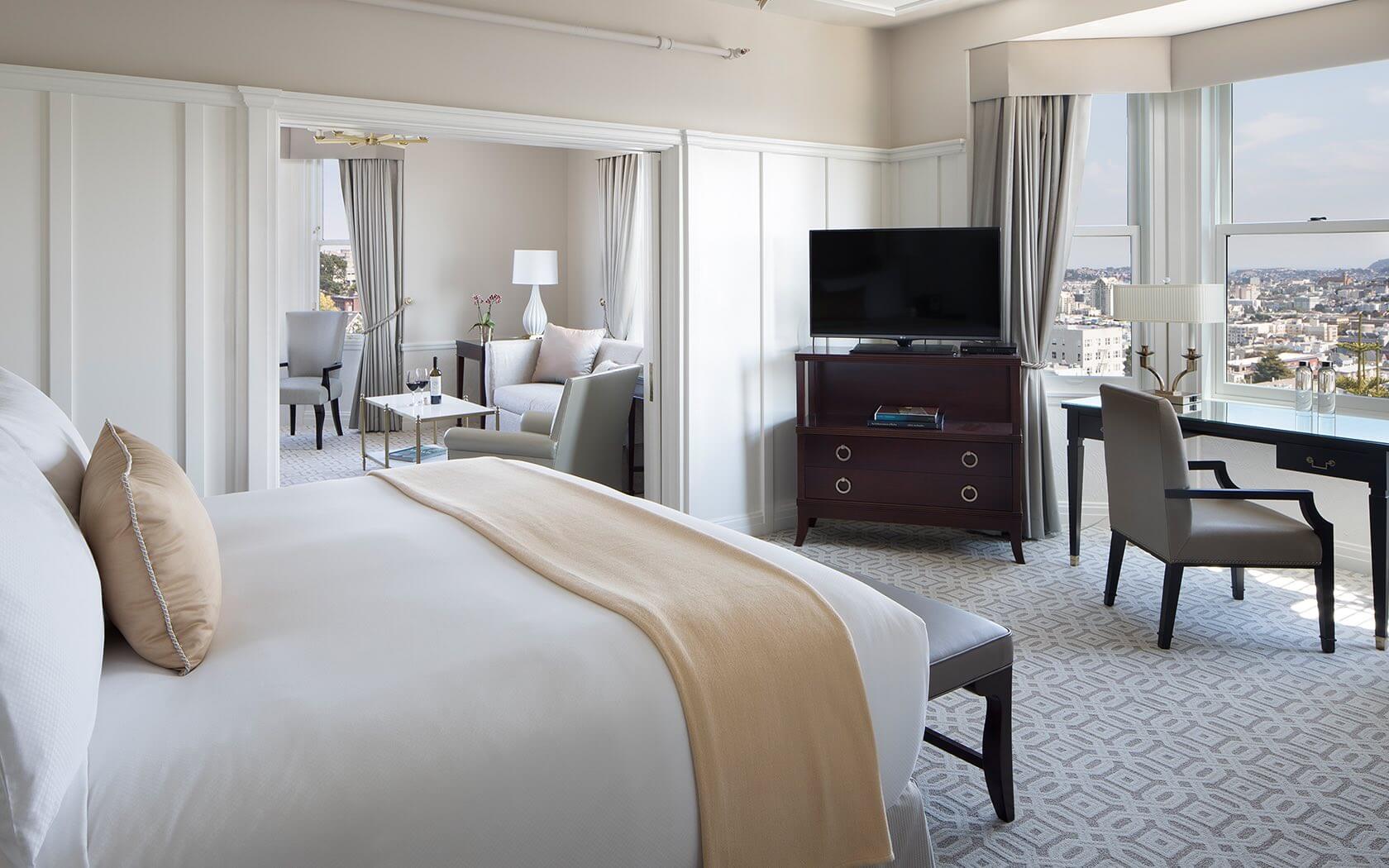 Great for special occasions and staycations, this Edwardian hilltop hideaway, only two blocks east of the Presidio and circled by the majestic villas of Pacific Heights, beckons guests into the San Francisco high life.
This hotel is tediously influenced by its affluent environment as seen by the luxurious lobby woods to the staff's gold waistcoats. The interior is kissed with impressive furnishings (wood quality), plush/gold textiles/ fittings with large guest with nice city views making the rooms so chic and modern.
There is an in-house diner for breakfast and afternoon wine receptions, also a fitness center at the basement level kitted with cardio machines, body fit balls, free weights, and yoga mats. This hotel is richly in the 4.5-star category with a price range between $700 and $900.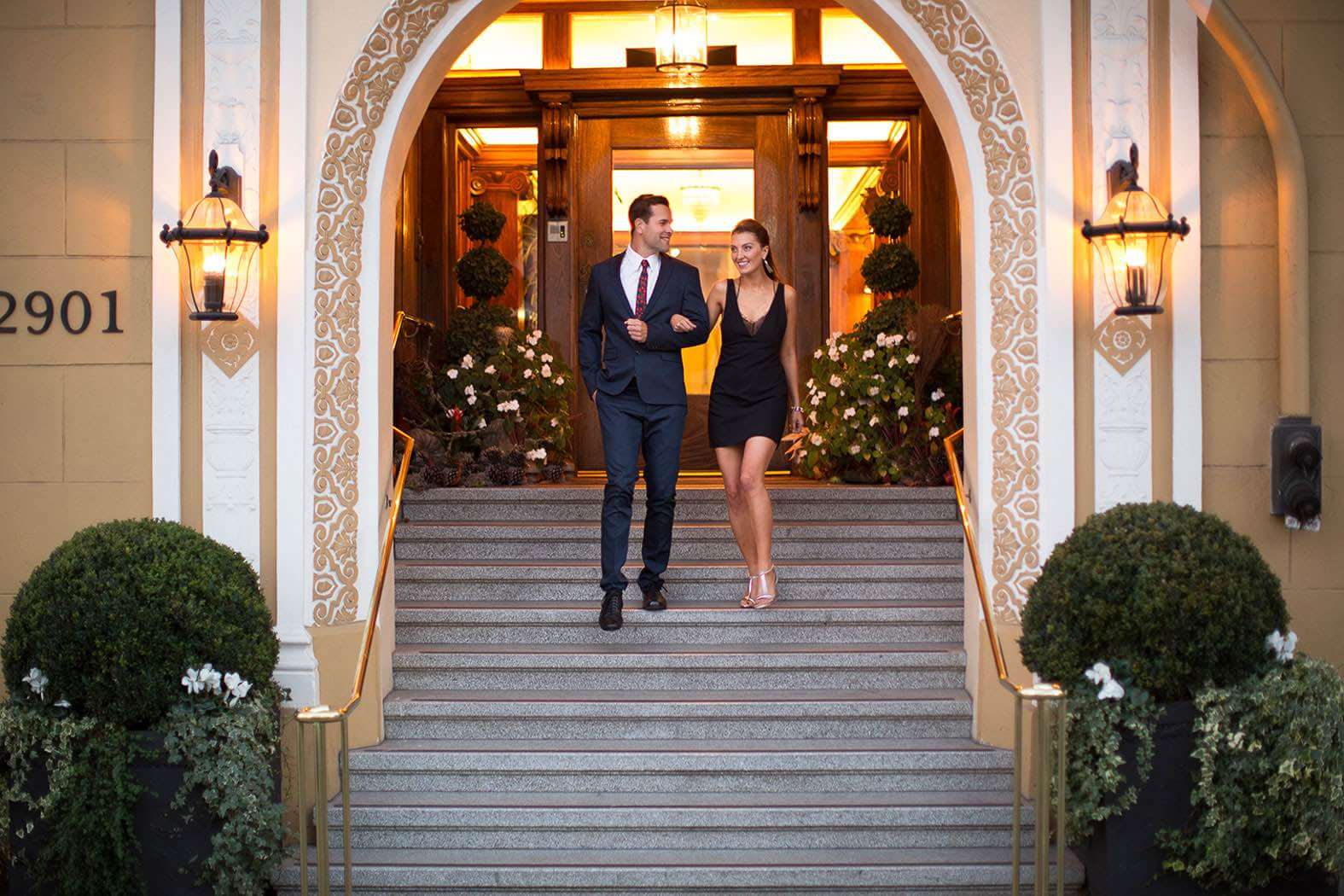 Pro
Available Drisco's complimentary town-car service
Con
There is no restaurant on-site - the dining room does not serve lunch or dinner
8. San Francisco Proper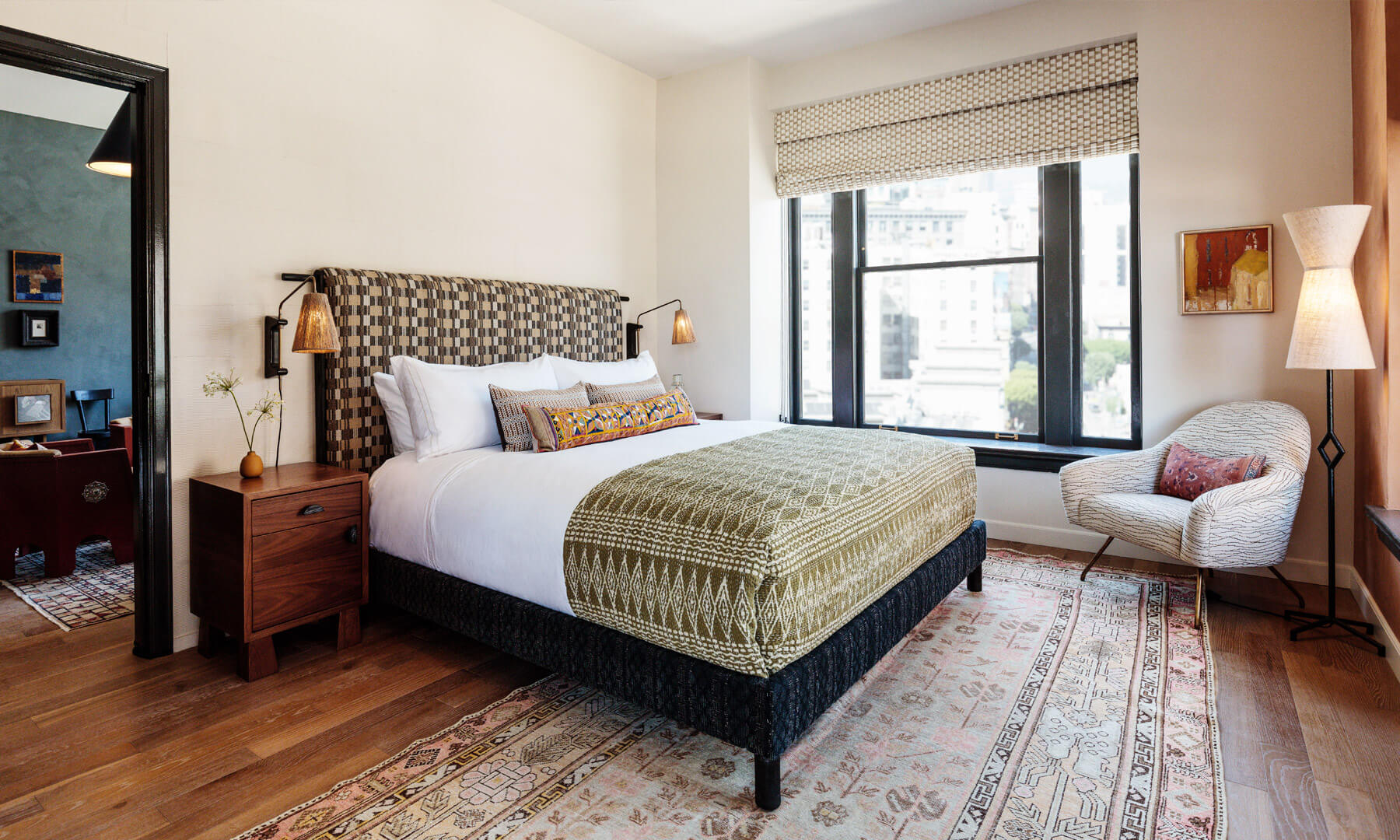 One of the luxurious, nicest hotels in San Francisco, the Proper is also one of its most current. It has a historic, square-ish-shaped building with striking interiors deserving of a fashion shoot. The hotel is quite flamboyant, suitable for business travelers who require to dash for meetings in the mid-market section. Located two miles from the hotel are the places to discover Alcatraz cruises and the Ferry Building farmer's market.
The Proper is bohemian and eclectic, and a mash-up of classic and modern styles, with clashing patterns, bold textiles, and wacky wallpaper dominating every corner. The hotel's 131 outfitted rooms have each possessing large windows and sleek bathrooms with walk-in showers.
The Proper's sole buzzy, salon-style lobby restaurant, Villon, offers breakfast, lunch, and dinner, with seasonal American cuisine, where the hot rooftop bar – one of only a few in SF – lures the modern and active bunch. Not only that, a modest-sized basement gymnasium manages well enough the available space. A well-deserved 4-star hotel this is, with a price range between $340 and $400.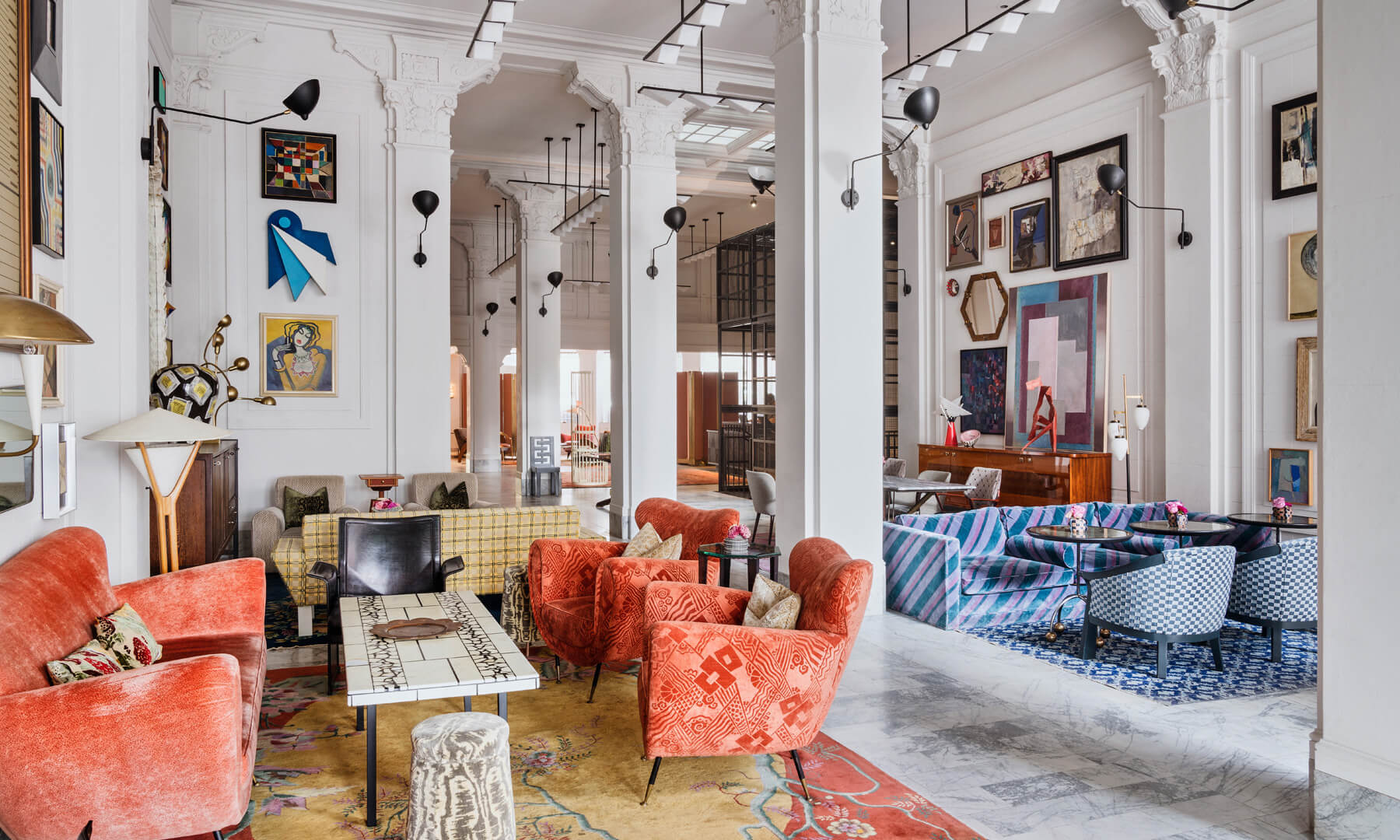 Pro
Wonderful little hotel with nice amenities
Con
It's on the edge of the tenderloin and the homeless are on every street and corner
9. The Ritz-Carlton San Francisco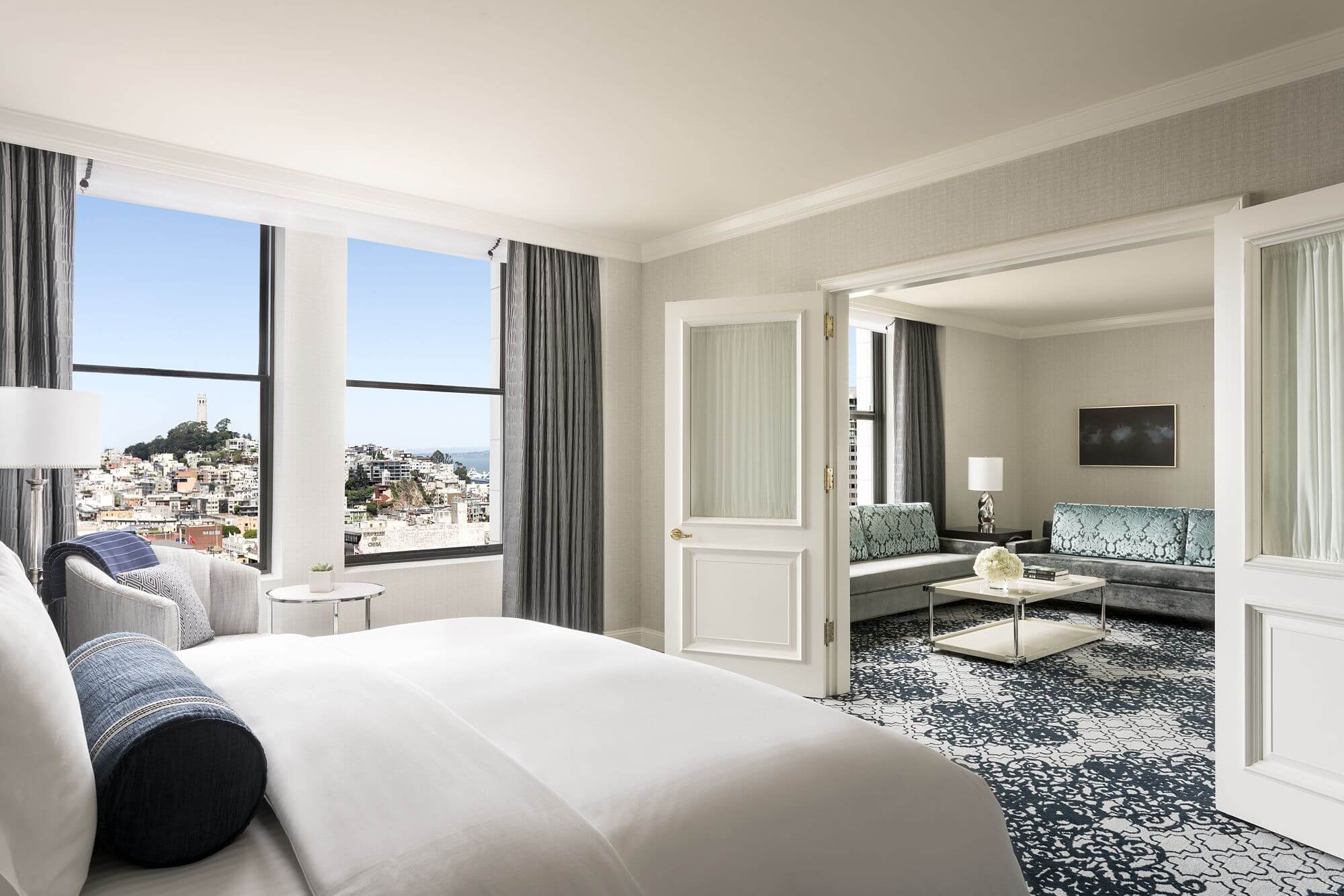 This grand landmark hotel, known for being one of the best in the world, is surrounded by wealthy Nob Hill with rooms that overlook neighboring Chinatown pagodas and Financial District skyscrapers. The 17-column, nine-story neoclassical building and its large, landscaped red-brick courtyard, where ornamental fountains and sculpted fences extend calmness from the busy city outside.
Each of its large 336 rooms which are dressed in blue and white and couture Frette linens & sheets feature luxurious feather beds and down comforters. Parallel 37, the hotels' signature restaurant, fuses California produce with Asian flourishes.
Guests enjoy an indoor swimming pool, a sauna, and a fitness club. This 5-star hotel has a price range between $530 and $600.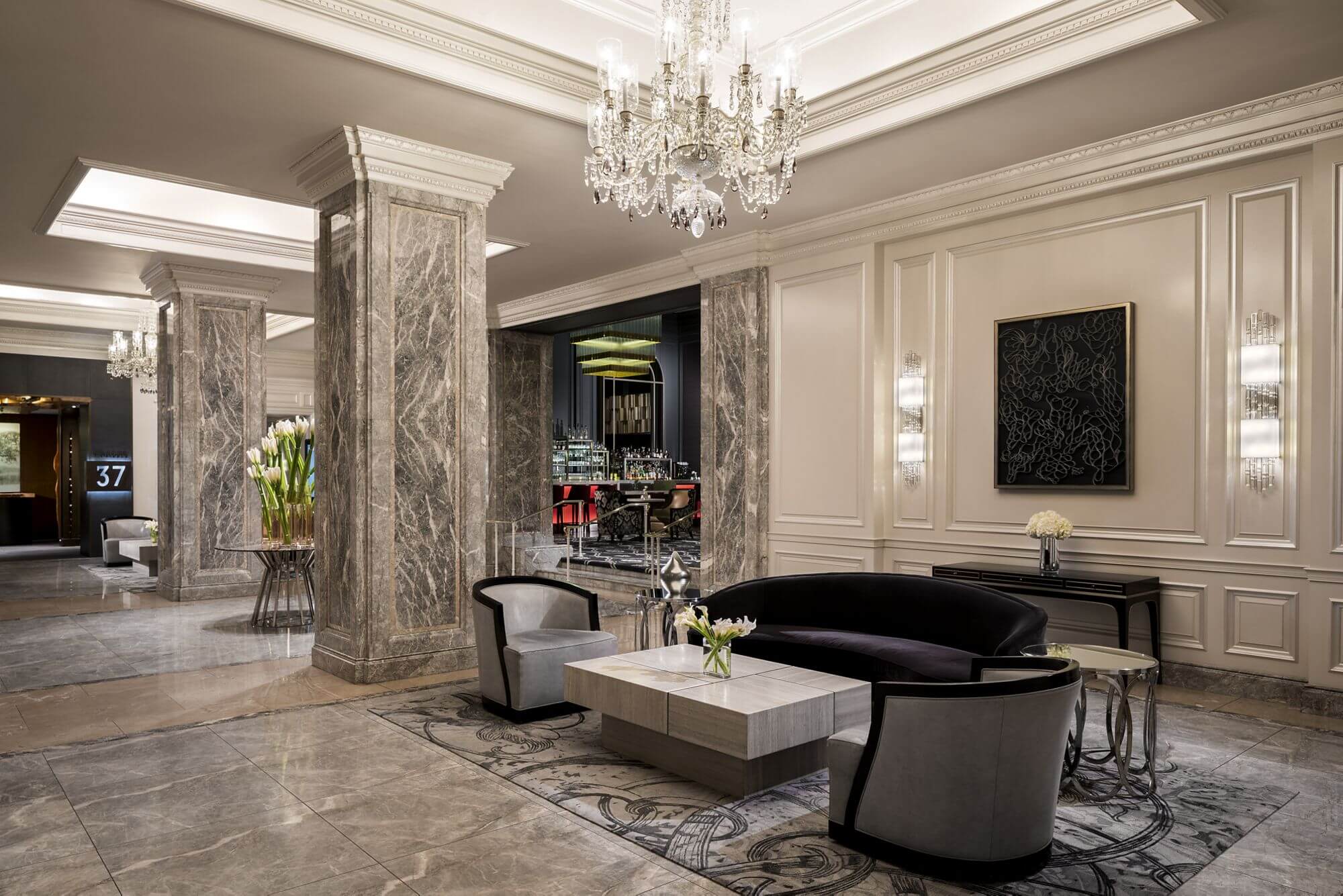 Pro
Recent guests reported remarkable customer service
Con
10. Hotel Emblem San Francisco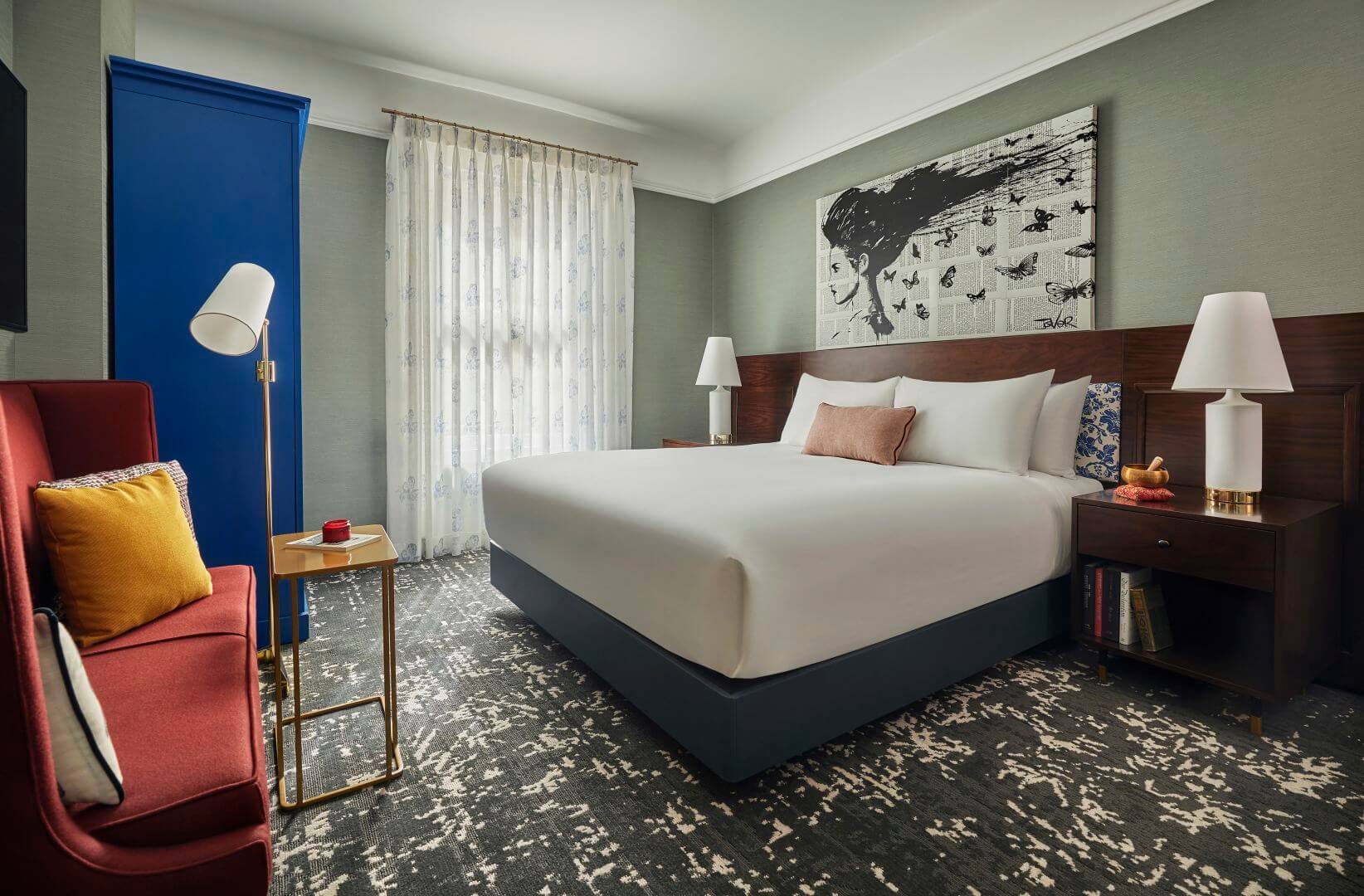 Hotel Emblem is an intimate hipster-style, 96-room boutique hotel situated in downtown San Francisco, where Nob Hill reaches Union Square and the Theater District. Here, guests will enjoy good theater experience, while locating good avenues to eat, drink, and shop.
The diverse and modern guest rooms propel colors and patterns that blend to produce a mood that hits a balance between calming and intriguing. Each accommodation is outfitted with floral-fabric headboards and an "inspiration board" with photo strips and scribbled notes. The soft sage green walls placed over luxe velvet furniture bits are chic associates to European-inspired wood accents.
For good jazz (live) and slam poetry, the hotel reserves accommodation for it at Obscenity Bar & Lounge. This hotel falls at 4-star with a price range between $530 and $600.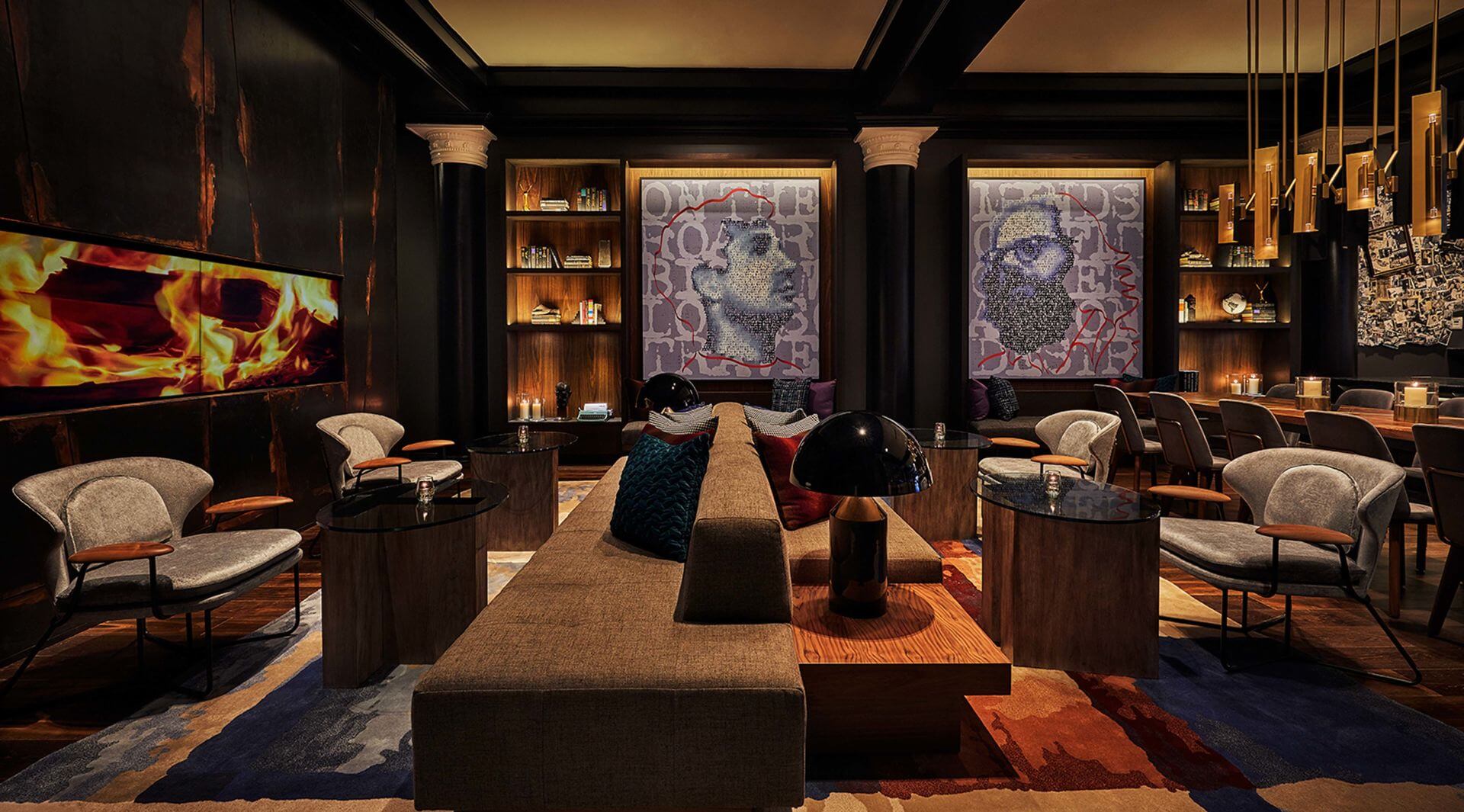 Pro
Central location beside Union Square and Chinatown
Con
Some guest believeth the rooms are smaller than expected
FAQ About San Francisco Hotels
1. What are the best pool hotels?
These are The St. Regis San Francisco and Four Seasons Hotel San Francisco
2. Which hotels are the best family hotels?
For the high-ranked in San Francisco, it is Palace Hotel, A Luxury Collection Hotel, San Francisco
3. Which hotels are the best for fitness?
The hotels that are perfect for the ideal fitness facilities in San Francisco are The Ritz-Carlton, San Francisco, and The St. Regis San Francisco
4. Which hotels are the best spa hotels?
The remarkable hotel extending spa treatments in San Francisco is The St. Regis San Francisco
5. Which are the hotel known with airport shuttle service?
The best hotel offering airport shuttle service in San Francisco is Hotel Drisco Pacific Heights
Conclusion
Of all the critical choices to make when preparing for a vacation, the question of the place to stay happens to be the most common one. This artsy, bohemian and stunningly beautiful city in California will claim to have every hotel with comfortable beds, quality sheets & linens, and all the basics. You can get little bit of information about the top hotels so you can make the best of decisions.