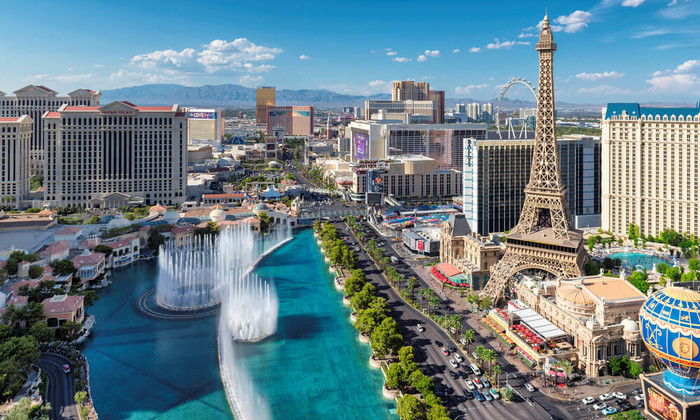 If a trip to Las Vegas is not listed in your bucket list, then you may want to miss out on one of the best experiences of an urban lifestyle. This city is undeniably one of the most sought after cities in the US for its entertaining and fun packages. But for this also, it makes this city a prime target for crime and gang violence.
While Las Vegas is relatively safe, some neighborhoods have higher crime rates than others. These are the places you want to avoid. Some of them are listed below.
Top 5 Most Dangerous Places in Las Vegas
Here are the top Las Vegas neighborhoods to avoid:
1. Downtown
As far as high crime goes in Las Vegas, downtown Las Vegas used to be the hub for illicit activities. For a neighborhood of 10,896 people, a crime rank of F grade is not a good one. Back in the late 1990s and early 2000s, there were more shootings and robberies than in any other neighborhood in Vegas. Fremont Street was the busiest. It was reported that most of the crimes existed around dark alley type places.
Downtown buses and bus rides were very unsafe and seemed seedy. Assaults, pickpocketing, and muggings were the regular which caused the police presence to be tripled across the neighborhood. Interventions happened and violent crimes began to slowly dip. By 2013, robbery incidents dropped from 35 in 2012 to 32. Batteries also dropped from 29 to 25, but assaults involving gun usage skyrocketed from 7 to 14.
Around 2018, property crime became the highlight of the neighborhood with an estimate of 4,151 per 100,000 residents and violent crime at 885. Although downtown, especially Fremont Street, is safer than it used to be, it is not advised to stray too late in the night around the neighborhood. Women travelers are advised to move in a company as opposed to solo movements. Day time walks and bike rides are completely safe though.
Bus stations and bus rides, however, are still raided by pickpockets. During the 'light show' is the peak period of their handiwork so be sure to keep cash away from sight. And the surrounding residential areas have dipped slightly, by just over 1 percent.
Now, is Fremont Street dangerous? Presently, Fremont Street (East Fremont Street) and the environs may be relatively safe, but it becomes too quiet at night. The area between Main Street Station and Plaza mostly. So Tropicana Hotel comes recommended by residents to retire when feeling unsafe.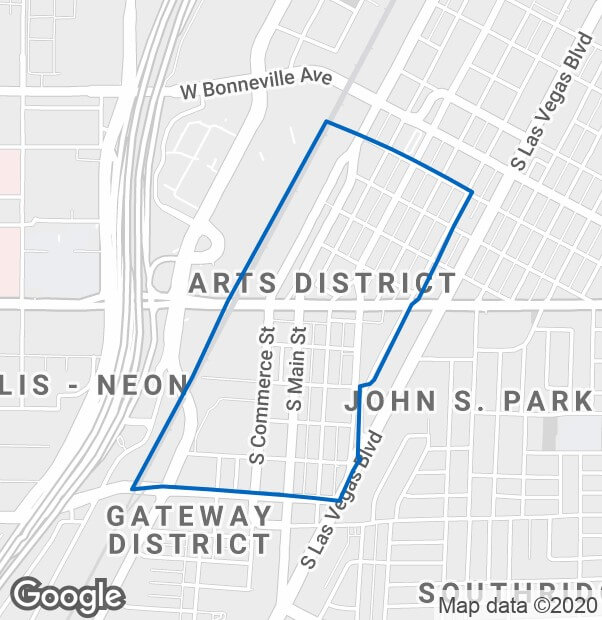 Read: https://www.areavibes.com/las+vegas-nv/downtown/crime/
2. North Las Vegas
This neighborhood is statistically the fourth largest in all of Nevada. Invariably, this makes the population of 230,436 experience a lot of ethnic diversity and, of course, crime. And being a large neighborhood, there are more incidents of Las Vegas gangs & networks, drug dealings and, well, crime in general. An analysis examined by 24/7 Wall St. in 2018 left North Las Vegas with the rank of the most dangerous city in Nevada. Which is not as extreme as one may think.
But is North Las Vegas safe? Between 2014 and 2017, the crime rate only increased. From 908.76 crime per 100,000 in 2015, a 17% from 2014, to 1014.69 per 100,000 in 2017. It only declined by 4.7% in 2018 to 966.18. And the decline was more around property crime while the number of homicides increased by 11 from 2017 to 33. Public transportation may come with a flood of pickpockets and panhandlers, so you may want to have your cash and valuables and secured during the commute.
If you want to walk or bike across the neighborhood, it is best to be done in the early hours of the day. There is indeed major police presence in this neighborhood but there is no guarantee of safety at nighttime. This is especially for the southern part of North Las Vegas which is reportedly dangerous. Women should not walk past sunset, for both the sensitive ones and those traveling alone. Your chance of being a crime victim in North Las Vegas in 1 in 33.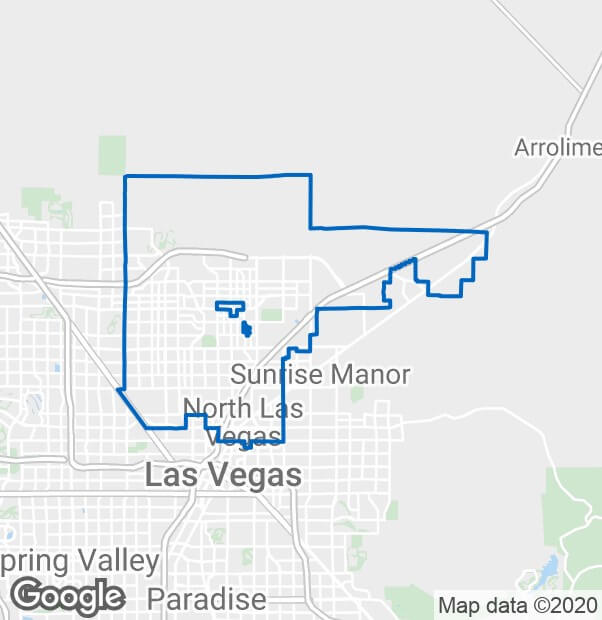 Read: https://www.areavibes.com/north+las+vegas-nv/crime/
3. Meadows Village
This is a very small neighborhood but with an urban-suburban mix. The population is about 3,097. There were reports on a lot of gun usage in this neighborhood, but this was around a decade ago and usually worn by meth users. At a time in the late 90s, drug dealing was the major criminal element and meth labs were existing everywhere. They were mostly masterminded by biker gangs in drug pockets across the neighborhood. The neighborhood and city police were able to discover over 120 labs and eventually wane the operations.
From FBI records, the crime in Meadows Village has dropped by 3% over the past 5 years. In 2018, the total crime was 4,548 per 100,000 residents with a huge chunk of the total being property crime. For violent crime, most incidents are in the order of assault, robbery, rate, and murder having 282.7, 135.5, 40.7, and 6.1 per 100,000 residents. Property crime is really about theft and burglary at 2,042.8 and 500.1 per 100,000 residents. Recently there have barely been reports on pickpockets or cash mugging during bus rides but it is good to be on the alert.
The majority of people have common sense enough to understand the risk involved in straying past daytime in run-down and unruly places like this neighborhood tend to appear. Female solo travelers are advised to restrict their walking and biking to day time only. Hardly any hotel comes with reviews here.
Read: https://www.areavibes.com/las+vegas-nv/meadows+village/crime/
4. Huntridge
This neighborhood has a population of 16,115 and the cost of living of 10%, which is lower than the average 'Nevadans'. The majority of the crime that occurs in the neighborhood is blamed on the Huntridge Park where it is believed to be a popular hotspot for the drug users, petty thieves, and homeless. When reports of assault, shooting, or stabbing occur, there will be a resident who would liken the suspect to be a regular in the park. The police patrols are helping keep the residents at bay.
The 2018 crime data for this neighborhood revealed 3,823 total property crime and 815 for violent crime per 100,000 residents. In Huntridge, these violent crime numbers are 114% greater than the national average. This should not steer you away from being conscious of theft and petty crimes that still exist in this neighborhood. Cash, wallets, and purses should always be guarded. Public transportation is still not guaranteed of measurable safety.
Any manner of recreational activities is acceptable at any hour, be it walking or biking. Females who wish to walk alone at night should be vigilant as the park and the environs tend to be too quiet at night.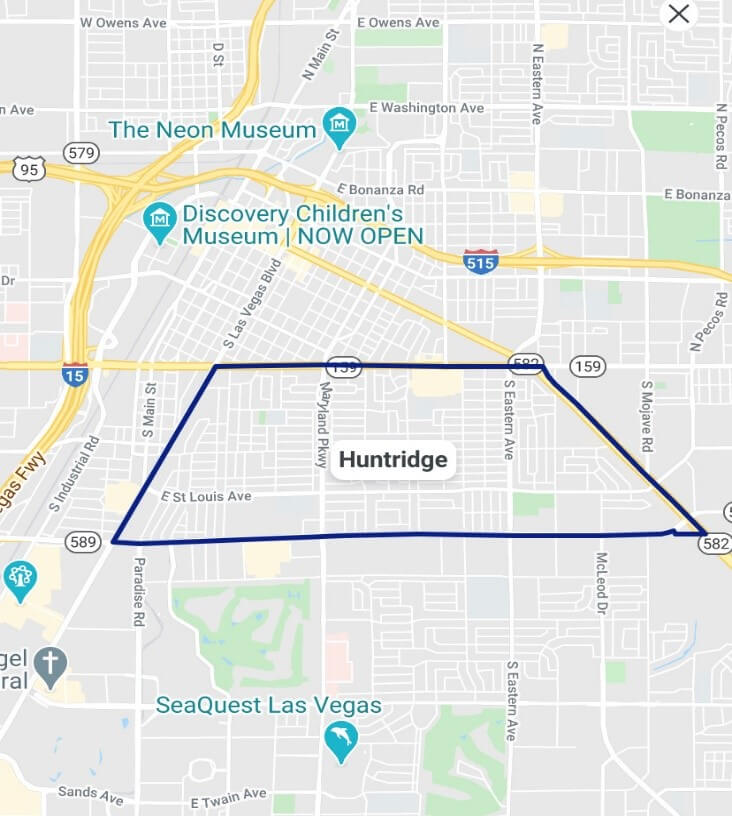 Read: https://www.areavibes.com/las+vegas-nv/huntridge/crime/
5. West Las Vegas
Commonly known as the Westside, this neighborhood is located at the northwest of the famous Las Vegas Strip and one of Las Vegas dangerous areas. The population of 20,217 has 47.6% and 38.4% black and Hispanic crowd respectively. This neighborhood is raided with crimes, so much so the crime rates are 103% greater than the national average. Violent crime alone is 141% greater despite the police presence in the neighborhood.
Because of the proximity to the Strip, there are a couple of hotels in this neighborhood that come recommended with safety considerations. Using this option is great because it gets pretty seedy by night around dark alleyways. If the desire to walk or bike around stings, only do so during the daytime. Especially if female and traveling alone.
From FBI data statistics, in 2018, property crime per 100,000 residents was estimated at 4,309 while violent crime was 918. Bus transportation is also ridden with petty crimes and theft, keeping one overly alert on cash handling.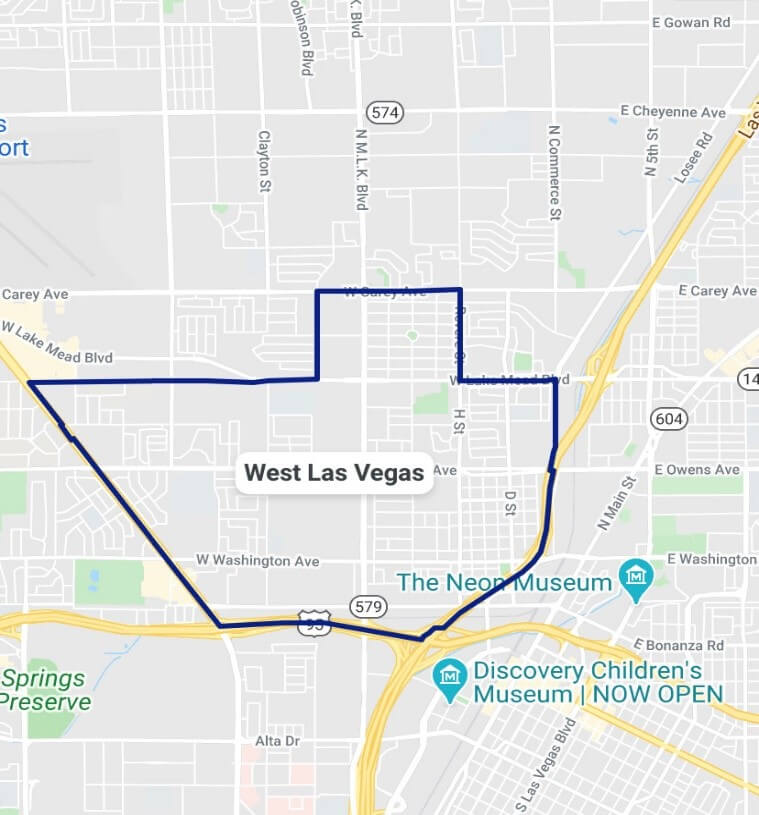 Read: https://www.areavibes.com/las+vegas-nv/west+las+vegas/crime/
Crime Situation in Las Vegas
Is Las Vegas dangerous? In recent times, violent and property crimes have been observed to have declined. Las Vegas crime rate dipped by 4% from 2017 to 2018. Even homicides fell from 205 incidents in 2017 to 120 in 2018. The total crime reported in 2018 from FBI statistics was 56,622 where violent crime only made up to 17.5% of the figure.
Top 5 Safe Places in Las Vegas
Some of the safest neighborhoods in Las Vegas are listed below:
1. Spring Valley
his is a very large neighborhood with a population of 190,661 people. It has livability of 71% which is considered excellent and the cost of living is lower than the Nevadan average. Although in the past decade crime has drastically decreased by an average of 6% yearly, there are still few incidents of property crimes. This neighborhood is relatively safe and can be explored at any hour of the day.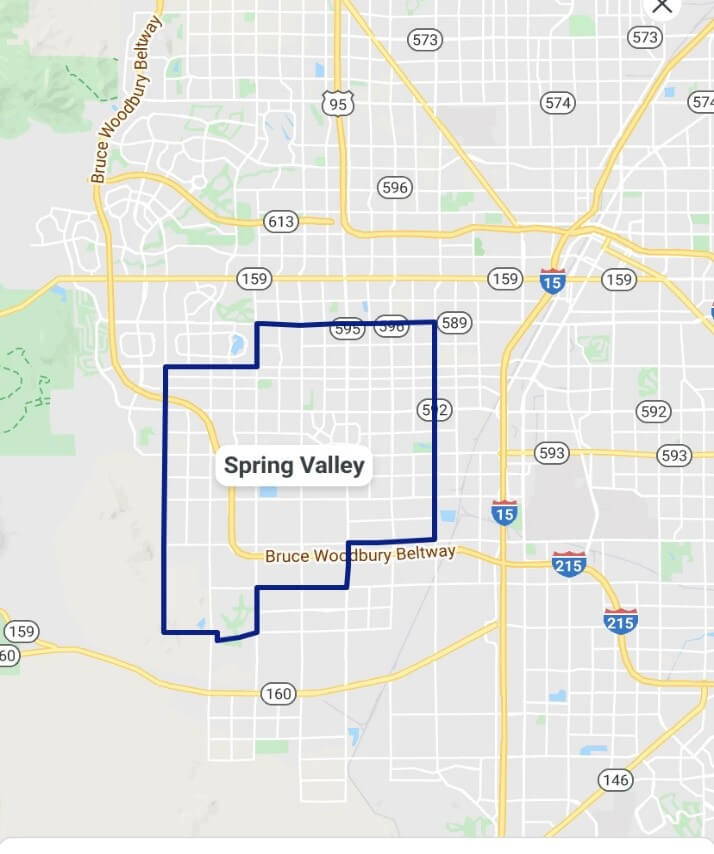 Read: https://www.areavibes.com/spring+valley-nv/crime/
2. Tule Springs
Also a large urban retreat in the Vegas valley, it has a population of 19,044 that enjoy minimal crime incidents. Crime rates in this neighborhood are 33% lower than the national average where violent crimes are statistically 49% lower than the national average also. It is extremely safe walking around at day time and night time. The crime persistent in this neighborhood is property crime, especially petty theft.
In all, Tule Springs is safer than 77% of Nevada's cities and you have a 1 in 59 chance of being a crime victim.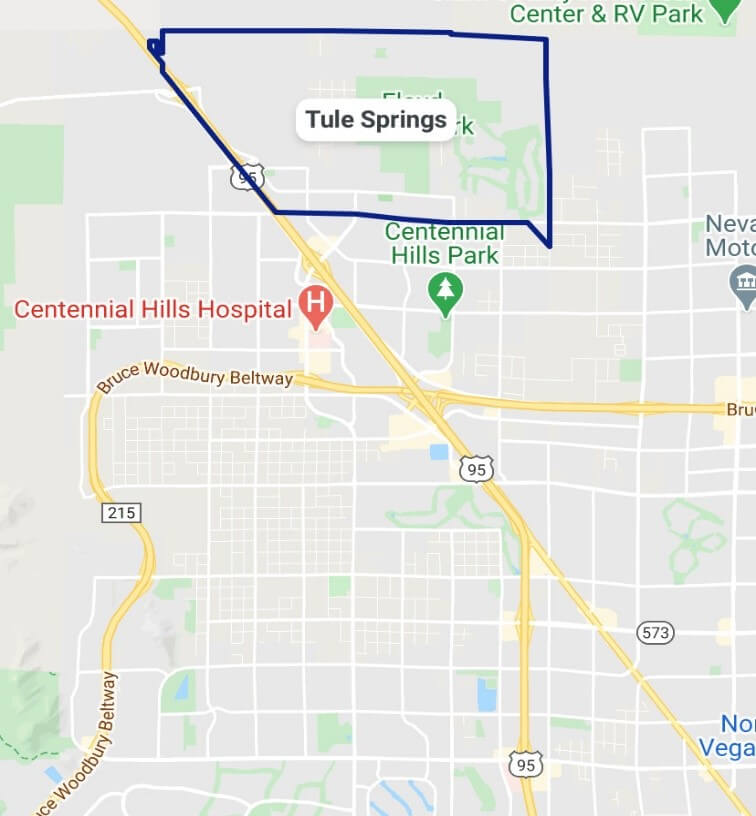 Read: https://www.areavibes.com/las+vegas-nv/tule+springs/crime/
3. Summerlin South
This is definitely one of the safe neighborhoods in Las Vegas. A nice, peaceful neighborhood that consists of 48,606 people in the population. The livability is 72% which is considered excellent. Here, this neighborhood is split into two different regions- Summerlin north and Summerlin South. The north and south, however, are both inclined in safety and security measures. There are barely stiff incidents of crime reported. This neighborhood enjoys recreational facilities and 24/7 private security patrol.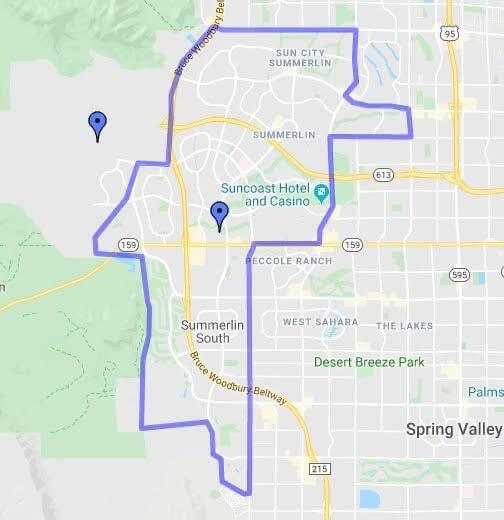 Read: https://www.areavibes.com/las+vegas-nv/summerlin+north/crime/
4. Buffalo
15,013 people make this neighborhood their home where the cost of living is 12% greater than the Las Vegas average. Even the crime rate is said to be 254% greater than the Nevadan average which is tough because residents believe the neighborhood to be peaceful and secured. There was a year where crime activities spiked and gang violence shot up. The police fixed up the situation but since then, the neighborhood had been looked at indecisively. The Eastside is still known for its criminal pursuits.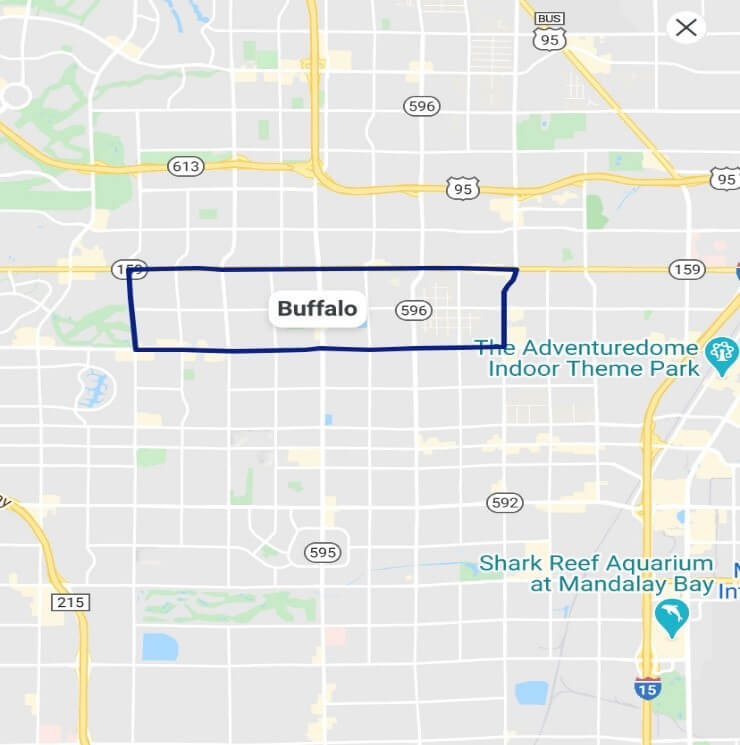 Read: https://www.areavibes.com/las+vegas-nv/buffalo/
5. Rancho Charleston
This neighborhood has a population of 26,767 that enjoy real estate prices that are 13% lower than the Nevadan average. By standards, Rancho Charleston is believed to be one of the most affordable neighborhoods. Crime here is majorly property crime which has a figure of 84% of the total crime estimate per 100,000 residents. There's the occasional theft where the suspect never goes too far before being caught. In Rancho Charleston, you have a 1 in 7 chance of being a crime victim.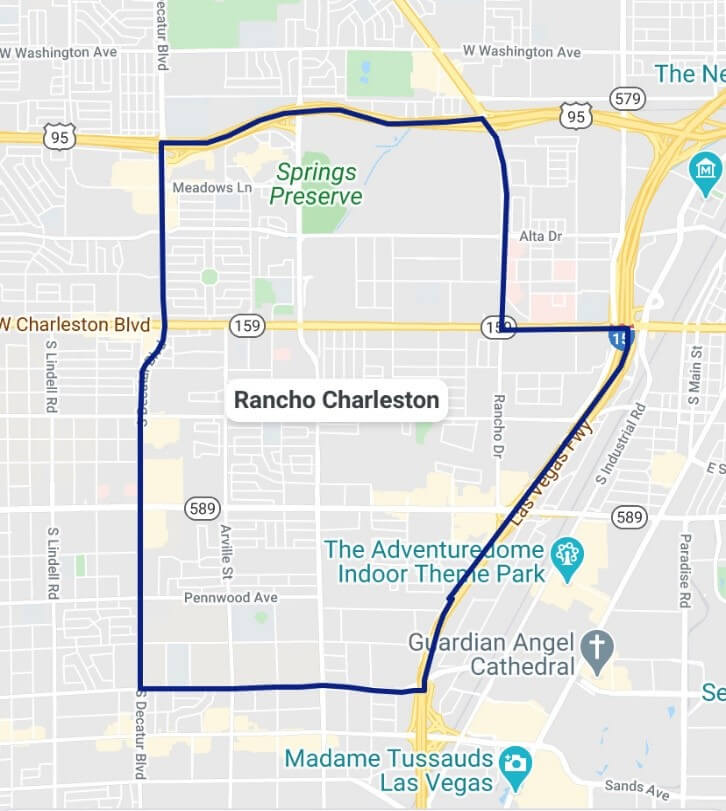 Read: https://www.areavibes.com/las+vegas-nv/rancho+charleston/crime/
Conclusion
There are bad neighborhoods in every city, but the concern is the level of violence and the rate. Overall, Las Vegas is a city where you should feel safe. As of 2008, law enforcement employed around 2,530 officers and 1,520 civilians. More and more are still being employed as the city is very concerned about safety precautions. And as proven by records, the crime level has dropped significantly over the years.