Your Guide to Getting A VISA For Las Vegas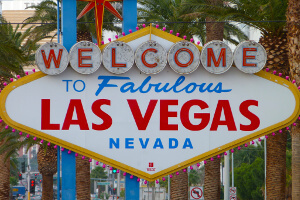 Las Vegas is a hub of tourists worldwide due to its plethora of attractions. The city, known as the "ultimate playground," is bright and energetic, making it an excellent destination for the multitude of tourists interested in exploring its entertainment, food, and nightlife scene.
From the famed Las Vegas Strip to the crazy pool parties, you must visit Sin City at least once in your lifetime.
However, if you're not a citizen of the United States and are planning a trip to this magnificent city, you will need to apply for ESTA or Visa for Las Vegas.
But the entire process of applying for an ESTA or Visa for Nevada is quite extensive, and a single mistake can cost you a lot. To help you better this process, we have compiled most of the relevant information you primarily need while applying for an ESTA or Visa for Las Vegas, Nevada.
We have tried to answer all the popular questions regarding this topic and have thoroughly explained the requirements under both the ESTA and Visa.
After reading this article, you are bound to have a fair idea about whether you need to apply for an ESTA or Visa for Las Vegas and how to go about the process.
1.

What is ESTA?

ESTA is short for Electronic System for Travel Authorization.

Now, whether you need a VISA for the U.S. will depend on the country you're from. For instance, if you are a citizen of a country belonging to the Visa Waiver Program (VWP), you will not need one. Instead, you will need an ESTA authorization to enter the States.

The ESTA system is primarily used to prohibit unwelcome persons from boarding planes and ships bound for the United States. To enforce this, individuals traveling to the US are only considered for an ESTA after declaring that they do not represent a threat to the nation's public safety, law enforcement, and tranquillity.

Now, you may wonder who needs ESTA?

Before traveling, all the citizens of the participating VWP countries traveling without a visa must obtain valid ESTA permission and fulfil all of the requirements mentioned below.
2.

What are the criteria to apply under the Visa Waiver Program (VWP)?

If you are a passenger looking to travel under the VWP, you need to meet the below listed requirements:
You must belong to a country that is a signatory to the VWP. There are currently 39 countries participating in the VWP.
You must either be traveling for business or for tourism.
Your travel must not be extended for more than 90 days.
The following are some examples of activities that are authorized while on the VWP in the United States.
Permitted Business Purposes:
to negotiate a contract.
to participate in a brief training program or a professional or business meeting or conference, provided that you are not paid for this purpose by any entity belonging to the United States. However, expenses arising out of your stay for this time period may not be included in this.
consult with associates.
Permitted Tourism Purposes:
visit with friends or relatives on a tourist vacation (holiday).
amateur involvement in musical, sporting, or similar events or competitions, if not paid.
medical assistance.
enrolment in a casual course of study that is not meant for academic credit, such as a Spanish class or a yoga class.
involvement in fraternal, social, or service groups' social events.
Examples of travel NOT permitted by the VWP:
working in the international press, radio, film, journalism, or other forms of information.
residency in the United States permanently.
study for a grade or credit.
employment.
3.

Some additional provisions to be met for travel under the VWP:

The Visa Waiver Program only allows passengers with passports that have certain specified security measures to travel.

The following are some further prerequisites for the Visa Waiver Program:
Your passport needs to be an e-Passport, that is, one with an electronic chip. This chip must be carrying the traveller's relevant information in the biometric form.
On the biographic page of the passport, there must be a machine-readable zone.
You can fill your ESTA form online by providing the following information:
Your contact details
Information about your journey to the United States
Information about the travellers
Questions regarding background safety check
Once you enter the information, check whether everything is okay. This is especially important since you don't want anything wrong mentioned in it, leading to suspicion later on. Once you've done that, look for the 'Apply for ESTA' button.
Once you click on it, you can make the payment, following which your application will be processed.
You need to know how to check my ESTA status. Here is how you can go about it.
5.

To check your ESTA status:

For Individual ESTA
Go to the ESTA webpage, click "Check ESTA Status," and then "Check Individual Status." Here you will be asked to provide either the Country of Citizenship, Passport Issuance Date, and Passport Expiration Date OR your Passport Number, Date of Birth, and Application Number.
For Group ESTA
Go to the ESTA webpage, click "Check ESTA Status," and then "Check Group Status." Here you will need to provide all the relevant details relating to the person selected as your Group Point of Contact. Such information will include the Group ID, Family Name, Date of Birth, First (Given) Name, and Email Address of that person.
An ESTA application that is granted is usually valid for two years. However, if your passport expires before the expiration of your ESTA, the law says that your ESTA shall expire simultaneously.
If your passport expires during the two-year authorization term, your travel permission will be withdrawn on the same day as your passport.
If you file a new ESTA application within that two-year timeframe, your ESTA may be overwritten or cancelled.
7.

Does the ESTA authorization guarantee my entry to the US?

The ESTA authorization is not the end-all in deciding whether a passenger is allowed to the US. Even with an ESTA authorization, you might be denied entry to the U.S. This is when border officials in the U.S. evaluate your admissibility – a reason you want every detail mentioned in your ESTA application to be correct.

Now, if you are not eligible to apply for an ESTA, you will require a visa. This includes the people belonging to countries that aren't enlisted under the VWP.

An ESTA can be used by British and Irish nationals, as well as most Europeans. When opposed to a visa application for the United States, applying for an ESTA saves a lot of money, effort, and time.
9.

Do I need a visa for Las Vegas?

Even if you're an individual belonging to one of the 39 VWP countries, you might still need a VISA if you visit the US for purposes other than tourism or business or for a period exceeding 90 days.

Which kind of VISA will I need?

If you are not a US citizen or lawful permanent resident, you can apply for various non-immigrant visas to travel to the United States.

The type of visa required by US immigration rules will be determined by the purpose of your proposed visit and some other factors.

Below are the various categories of visas that you may find suitable for your travel:
Business/Tourist visa.
Journalist and media visa.
Domestic employee visa.
Work visa.
Religious worker visa.
Student visa.
Exchange visitor visa.
Transit/ship crew visas.
10.

Frequently Asked Questions

If you're still confused about the provisions available under ESTA and Visa for Las Vegas, here are some popular questions answered below for your convenience.
Do nationals or citizens of VWP-affiliated nations need an ESTA if they are merely passing through the US?
Yes. When travellers are only passing by the United States of America to get to another country, they will still need to apply for an ESTA.
How long does it take to get a Visa for Las Vegas from UK?
A US visa application might take anywhere from 3 to 5 weeks to be processed. After it is processed, the visa might take another two working days to arrive.
How much do I need to wait to get my ESTA authorized?
If there are no issues with your ESTA application, you may obtain an "Authorization Approved" status within 72 hours after submitting it.
If my record shows criminal charges, will it affect my Visa for Las Vegas?
If you have been arrested at any point in the past, you must report it when applying for a visa. You may be permanently unable to get a visa if you were arrested and convicted, and you will need waiver ineligibility to go to the United States.
DO YOU NEED SOME HELP?
Frequently asked questions: