ESTA for Las Vegas - Visa Requirements for Visitors to Las Vegas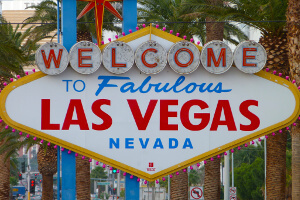 Las Vegas is probably most known for the casinos and the Elvis Presley impersonator weddings.
Although Las Vegas is the biggest and most known city of Nevada, it is a magnificent State also worth visiting for its landscapes and grandness.
Nevertheless, all people that do not have citizenship from the USA need to get a travel permit to enter the U.S. territory – for some, it is visa, for others it can be ESTA.
Therefore, if you see a potential trip to the States, read on to find out how an ESTA for your Las Vegas adventure applies to you and what criteria you need to meet.
1.

DO I NEED A VISA OR AN ESTA FOR MY VISIT TO THE USA?

Well, considering that you are reading this article, we can assume that you are looking for information on ESTA – what it is, who can apply for it, when someone can apply for it, etc.

Only people from a country that is a participant in the Visa Waiver Program (VWP) can consider applying for an ESTA, to all other country citizens it is not even a possibility.

Currently, there are 39 countries that are a participant in the VWP. To find out if your country is a part of VWP, read here.

Even if you find your country in the list, always double-check before the actually planned trip to America, as with the new administration changes can be expected.

If you have citizenship from a VWP country, you may still need to apply for a visa and ESTA may be impossible for you. Make sure that the below criteria are met in order to apply and receive an approval for ESTA:

Your purpose for travel is business, leisure or transit.

The stay on U.S. territory will be 90 days or less.

Note: business purpose does not involve employment, rather a conference or a meeting.
2.

DO I NEED TO KNOW MY TRAVEL DETAILS IN ADVANCE, BEFORE I APPLY FOR ESTA?

No, this information is not essential for the ESTA application process. It is, however, essential that you apply for an ESTA as soon as you start planning your trip to Las Vegas. Purchasing airfare or booking a hotel is not advised upon receiving approval for your ESTA.

Remember: ESTA needs to be filled out for all people traveling to the USA, including children and infants.

It is not advised to leave the application until the last moment. If, however, you have a spontaneous idea to go to Las Vegas, please reserve at least 72 hours prior to departure.
3.

WHAT IS ESTA GROUP APPLICATION?

No matter, if you are a tour guide filling out the application for your travelers or you, are an individual who wants to help the whole family fill out their ESTA applications, you may fill out a group application for up to 50 people and only make a single ESTA payment.

What is more, the individuals in the group are not obligated to travel on the same day. A unique ID number will, however, be made to identify all the group applicants.
Planning a trip to Las Vegas?
---
If so, you need to apply for an ESTA before your departure!
Apply for ESTA Online
4.

DO I NEED TO BRING A COPY OF MY ESTA WITH ME WHEN I TRAVEL?

Technically, no. However, why steer away from the safe side? It may be a good idea to carry a copy of your approved ESTA just to avoid any unexpected situations where an official wants to re-check the ESTA.

Furthermore, there are some airlines that can ask for the ESTA approval to be shown upon boarding the airplane.

Also, at some point in your travel, you may be asked to present your ESTA approval ID number, which is on the printout.

If you have forgotten your ESTA application number or do not have the printout with you, simply return to this website and enter your name, birth date, passport number and issuing country into the system to retrieve the number.
5.

DOES AN ESTA GUARANTEE ENTRANCE IN THE USA?

No, unfortunately. A custom's official may ask you further questions at customs or may deem you unfit to enter the USA for varying reasons, which are not limited to but include medical reasons.
6.

DOES IT AFFECT MY DEPARTURE IF MY ESTA EXPIRES AFTER ARRIVING INTO LAS VEGAS?

If your ESTA is still valid upon arriving on U.S. territory, you will be allowed to depart back home with an already expired ESTA, provided that you haven't overstayed your visit, which is 90 days.

Note: Even though, your ESTA can be expired upon departing the USA, please double check your passport will not be expired upon the day of departure. If you plan to re-visit Las Vegas or any other State of America, simply re-apply for a new ESTA.
DO YOU NEED SOME HELP?
Frequently asked questions: