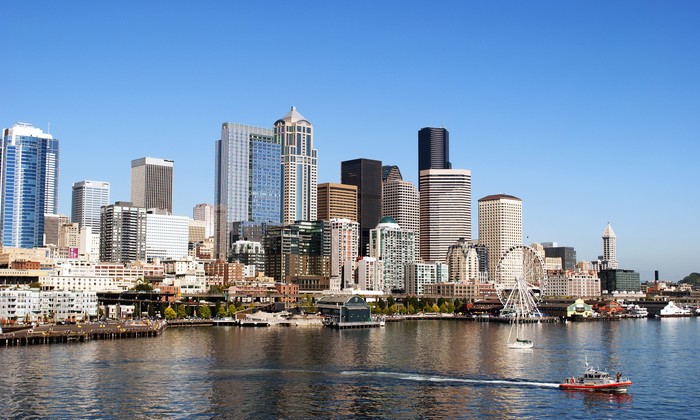 Seattle popularly has a rainy reputation as well as a crime reputation. Yet in both cases, they are disregarded as fairly average. Hence the crime in Seattle is not enough to tag the city unsafe. Known to many as the haven for several nature lovers, this "Emerald" city is famous for a lot including the diverse culinary scene.
Although the crime situation is a source of concern, Seattle still consistently ranks as one of the ten best places to live in the US.
Top 10 Dangerous Places in Seattle
Listed below are the dangerous parts of Seattle:
1. South Park

With a population of 3,549, this neighborhood in West Seattle is one that is appraised as one of the city's most diverse neighborhoods. However, the burdens are the nonstop crimes. There are reports of rape, thefts, vandalism, and gang violence. In 2017, shootings rose beyond 300% of that recorded in 2016. By 2018, crimes increased further by 21%. The police in this neighborhood seem overwhelmed and understaffed as reports go.
Only two bus services go through this area, Downtown to Burien TC - the 132, and Westwood Village to Broadway - the 60. Though not the best of commutes, muggings, and pickpocketing are seldomly confirmed. This makes moving with cash a no-risk.
The total crime in this neighborhood per 100,000 residents is found as 9,198 estimate, which includes property crime report of 8,520. Violent crimes are 78% greater than the national average in South Park. This induces the advice to explore on foot or bikes at daylight only. And the females to only travel in groups, and never at nights alone.
2. Belltown

In this neighborhood of 10,468 residents, you will find cool features like the waterfront and Sculpture Park. Currently one of the most densely populated areas of Seattle, it used to be one of the worst neighborhoods in Seattle. Known for obnoxious crimes as stabbings, shootings, post-clubbing violence, and drug activities. This drug activities are very evident around 2nd/Bell at night near the dog park.
The crime rate in Belltown is 138% greater than the Seattle average. For this reason, residents often air displeasure at the lack of support to the police from the city. Commuting is made easy with the list of options such as the bus, Zipcar, taxi, and light rail to the airport. But 3rd Ave where the buses run is notorious for unsavory characters supporting petty crimes. So cash handling is cautioned against. Walking or biking at night around 2nd Ave, between Lenora and Bell, should be avoided, especially by ladies traveling to Seattle alone.
The area between Blanchard and Bell in Belltown is noted to be a scene for drugs, robbery, or assault late at night. The increase in the number of foot patrols in this area has not resulted in reformations yet but there are few hotels with upscale security in the area.
Belltown is statistically is safer than 0% of the cities in Washington.
3. High Point

This neighborhood is located on the southeast edge of West Seattle with a total of 7,820 people. A decade ago it had a rough reputation but over the years, crime rate statistics have dropped. Residents tie the growth to the development of the many low-income 'projects' areas.
This neighborhood spots a lot of security and patrolling police that keep the area safe, making it walkable. Although, this is not the case walking around late at night. High Point has a crime rate that is 72% greater than the national average, with violent crimes 120% greater. Tourists and females are therefore implored to travel in groups when at night. Public transportation also has few reported cases of muggings, so it will be safe to put away cash while in transit.
4. South Delridge

A total of 6,231 people occupy this neighborhood which has a livability score of below average. Most of the crimes reported in South Delridge is either assault or theft. According to Spotcrime, the past few months from May 2020 have recorded 137 thefts and 53 assaults. Police presence in this neighborhood is only evident in fewer reports on crimes like burglary and vandalism, with 14 and 12 incidences respectively.
For the 19.3% of the neighborhood's population taking public transit, they report on buses and taxis relatively free of crimes. Cash, purses, and credit cards do not go missing during (eye) blinks. If desired, exploring by foot is just as safe, even at midnights. Generally, female tourists can even travel solo.
5. White Center

The neighborhood between West Seattle and Burien, it has a population of 15,306. This neighborhood is less crime-ridden when compared to other areas in Seattle. Every year seems to have crime decreased by 14%. Violent crimes, only 378 of the total crime estimated as 3,948, are 1% lower than the national average but the overall crime rate is 53% greater.
The violent incidents, though occurring infrequently, are concerns. Stabbings at the bus stop, firearms homicides outside the Taradise Cafe on 16th, but the police presence seem to be decent. The neighborhood has good walkability, allowing for exploration to take place at day time or night time safely by even females.
Residents operating by public transit report no crime experienced during the commute or afterward. Going to hotels is safe enough, even moving about with large sums of cash.
6. Northgate

Only 4,283 people occupy this neighborhood. In 2013, a three-year review of violent crimes by Seattle police with a focus on robberies, drive-by shootings, and homicides, Northgate revealed 67 violet crimes. Mainly robberies, along Northgate way between Third and 5th right. This neighborhood, although known for its lesser crime rate, is notorious for car break-ins. For a total crime report of 12,280 in 2018, 10,714 accounts for property crime alone. Consequently, when exploring through the neighborhood at day time or nighttime which is safe for tourists and solo females traveling, it may not be safe for your vehicle. Police patrol is on a regular daily in this neighborhood.
The Northgate Transit Center that serves buses to commute to many places in the city, has had little or no crime report in years. Pickpockets and panhandlers are scarce so cash handling is safe. For tourists choosing to stay back, hotels close to this neighborhood come with great security.
7. North Delridge

This not-so-vibrant neighborhood with a population of 4,280 has a not-so-good reputation. Although the crime rate is 10% lower than the Seattle average, it is 104% greater than the national average. The largest contributors to these are theft, burglary, and vandalism, making this neighborhood one of the high crime areas in Seattle. Good enough, police patrol in this neighborhood is steady.
Meanwhile, some corners are reported to be sketchy during nighttime reducing the security of walkability. Females are therefore advised to seek group movements, never alone, when opting for walks. The bus transit happens to record zero incidences and high-movement areas displayed little awareness of petty crimes. Coins, cash, keys will all stay put while you jaywalk. Even hotels are recommended to be safe.
8. First Hill

A neighborhood with a population of 12,112 predominately has been blinded by property crimes. A total crime estimate of 12,286 has 10,420 associated with property crime. Ironically, this neighborhood is dubbed "Pill Hill" due to the abundance of clinics and hospitals.
Statistically, mugging and assaulting are on the low. So during a commute, wads of cash can be transported. It's also quite safe walking around at night, especially for females. Daytime has First hill so crowded that safety is guaranteed. In this case, the police presence which is barely visible, is passable. Residents in First Hill have a 1 in 9 chance of becoming a crime victim.
9. Georgetown

This neighborhood has a population of 2,000 and a total crime for every 100,000 residents as 6,486. This makes 151% greater than the national average. In the first six months of 2018, this neighborhood recorded 148 incidences of thefts, 50 burglaries, and 37 stolen cars. Residents believe that the volume of crime in the neighborhood keeps the police focus haphazardly, resulting in poor response time. However, with good walkability, this neighborhood is safe for exploring on foot or bike at any time of the day, whether for a single female or first-time visitor.
You have a 1 in 15 chance of falling victim to a crime in Georgetown. And this includes high human traffic areas. Safe to say, petty crime incidences are becoming scarcer hence cash and wallet can be moved about.
The Edgewater and Inn at the market are two hotels close to the neighborhood with safety recommendations.
10. International District

A neighborhood dominated primarily by the Asian population, followed by African Americans, is known for a lot of cultural landmarks which also portrays the rich diversity. It has 6,222 people and a crime problem. The majority of crime incidences are centered close to public transit, where you find a fair population of the homeless. The reports of prostitution, drug trafficking, and panhandling are alarming. Barely any report on police patrol. Priceless items, cash, wallets would be safer secured in homes than carried about.
Wandering at day time is safe, but not so much around late at night in this neighborhood. Women and tourists are cautioned on their movements. The crime rate is 170% greater than the national average, with violent crimes 113% greater.
City Hostel is one hotel close to the neighborhood with good safety recommendations, just as few nearby hostels are.
Crime Situation in Seattle
From the 2019 FBI crime report, Seattle has an almost negligible violent crime rate when compared to the data for property crime rate. The property crime per 1,000 residents is 53.5, which already is 88.6% of the total crime registered. But is Seattle a dangerous city? Theft clinches as the chronic crime incidence that needs to be checked over.
Top 10 Bad Neighborhoods in Seattle
What are the bad areas of Seattle?
1. Rainier Beach

This neighborhood has a population of 15,358. It is a well-known zone for gangsters and thug activities, so witnessing a shooting is a real possibility. Alleys are sketchy at nights, and especially dangerous between 11 pm-2 am. Exploring on foot at daytime is fair enough but not at nights, especially for females. There are pretty crimes in this neighborhood causing one to get mugged of cash in public transports. The police presence in this neighborhood is slight. One's chance of becoming a crime victim is 1 in 18.
2. Riverview

A total of 3,508 people live in this neighborhood. While the crime rate is 37% lower than the Seattle average, this neighborhood suffers greatly from property crimes. A total crime of 3,690 reveals property crime to be 93%. Hardly do you find patrolling officers available. When exploring the bad neighborhoods in Seattle, it is safer during the day than at night time. Ladies that enjoy walks are encouraged to do so before sunset, but beyond that, should walk only in groups. It's best to avoid handling bulky cash, especially while in transit.
Grand Hyatt, Embassy Suites, Hyatt house, and few other hotels close to this neighborhood attest to the safety of hotels. This is not one of the areas to avoid in Seattle.
3. University District

With one of the largest populations in Seattle, this neighborhood of approximately 27,000 is hardly the safest neighborhoods around. It is plagued with gangbangers and a high number of drug dealers. The least safe area of this neighborhood is the north, towards 47th to 50th where occasional stabbings and mugging occur. It is also possible to get mugged while through any of the bus routes.
However, the University district has police patrolling on bikes daily or providing walking escort within a specific area. If you are a female and do not intend walking around late at night, or moving around with bulky sum, you should be fine. Crowne Plaza Seattle and Hyatt Regency Lake are a few of the safest hotels around. Any resident has a 1 in 15 chance of becoming a crime victim.
4. Lake City

This neighborhood has few incidences of crimes with drug dealing and gang activities on the low key. It has an overall crime rate of 83% greater than the national average, but with a daily crime average of 14.84 per resident. This makes night travels risky, especially for solo lady travelers. Bus transits and taxis are relatively safe, and moving with cash is also.
The safest areas in this neighborhood are 3-4 blocks off of Lake City Way. The hotels here come with a good recommendation. Here, there is a 1 in 19 chance of being a crime victim.
Read: https://housely.com/dangerous-neighborhoods-seattle/
5. Capitol Hill

In the past, this neighborhood of 37,489 people used to have a lot of open drug dealing and prostitution. In 2018, the criminal activities became violent crimes like rape, homicides, robbery, and assault. These violent crimes are 143% higher than the national average. In this neighborhood, the police presence is not as fierce. Walking home alone at night through a park, or Cal Anderson, or near the bar row areas, and lower hill is a bad idea. This is unless you're in a larger group of people, as a female. Even public transports are not as safe as it should be. The uncertainty of getting mugged of cash exist. Hotels, however, are sighted with good security.
6. Ballard

This neighborhood has a population of 16,713. The most prominent issue here is a lack of police capacity. The crime rate is reported as 26% higher than the Seattle average. This makes late-night exploration a sketchy adventure especially for the females. Daytime is fair enough. The use of public transport, while safe, may require precautionary measures for cash and other items. Also, hotels close to this neighborhood are generally perceived as safe. This answers, "Is Seattle safe?"
7. Burien

With livability of 65 which is considered below average, this neighborhood still houses 50,187 people. Out of a total crime of 3,991 per 100,000 people, property crime alone makes up 3,641. Places along Ambaum Blvd, up near 128th and through north are not the nicest areas. The police presence in this neighborhood is hardly spotted. Visitors and females are cautioned against walking through the neighborhood, except accompanied, peculiarly night times.
Bus commutes and holding wads of cash have lesser safety risk than expected.
8. Beacon Hill

With a crime rate of 148% greater than the national average, you have a 1 in 14 chance of being the crime victim in this neighborhood. Beacon Hill is historically known as the former headquarters site of Amazon.com. The north, south, and central regions of this neighborhood have witnessed drops in crime over the years. Public transport has become safer and petty crimes like pickpocketing have dropped certifying the usage of cash. Exploring on foot during day times and nights is secured, even for females traveling alone. Safe to say the hotels close by come with great safety recommendations.
9. South Lake Union

This neighborhood has 6,331 people. Of all crimes to take the lead, there is the property crime. Total crime per 100,000 people reads as 10,760, with property crime 9,140. For this area, the different bus stations have reported little or no incidences threatening safety, particularly for the use of cash and commute to any of the hotels deemed safe. Neighborhood exploration can be done on foot, and movements are permissible all day for solo female travelers also. This goes to prove the answers right to, "Is Seattle safe for tourists?" and "Is Seattle safe at night?"
10. Brighton

Having a total of 8,225, this incredibly diverse neighborhood has lesser reported cases of crimes. Property crimes still the pioneer of the crimes, with a figure of 3,216 from a total crime of 3,969. This does not prompt police patrol in the neighborhood. Asides sketchy corners at nighttime being example of the types of the places to avoid in Seattle, it is very safe to take walks as a female along with the neighborhood. Public transport and nearby hotels come safely recommended also, and taking cash about is hardly risky.
Conclusion
Generally, Seattle has a low crime rate, notwithstanding the significantly high rate of property crimes. Just like the other big cities, it is a safe city, which still has a few dangerous areas. And still ongoing is the massive redevelopment which would fully transform the neighborhood to a greater one. However, visiting the city means being aware of your surroundings.