ESTA for California - Apply for USA ESTA Online Today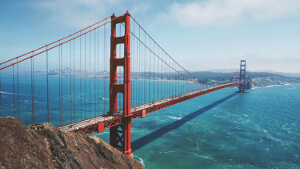 California – Home of the Hollywood sign. Well, that's just one thing among many others that one should see while visiting the State of California.
However, before you start planning the best sights to enjoy on your vacation, read this article on why you should get to know what is and how to apply for ESTA for California visiting.
What is ESTA?
ESTA is an Electronic System for Travel Authorization made by the U.S. government for the countries of the Visa Waiver Program (VWP), which is a different kind of travel permit that lets its approved applicants visit the United States of America without a Visa.
1.

What Is a Visa Waiver Program and What Countries Are Participants Of It?

The Visa Waiver program is a United States government created a program that lets citizens of specific countries travel to the States without obtaining a Visa on the conditions that:
Purpose of travel is none other than tourism, business or in transit.
The period of staying in the USA cannot exceed more than 90 days.
You already possess a visitor's visa (in this case, ESTA is not needed).
As of 2019, there are 39 countries that are a participant of the Visa Waiver Program (VWP, for short). However, each traveler should take it upon themselves to check for any changes in the program, such as, whether a country has been added or removed from the program.
2.

How Do I Apply for an ESTA?

IIt's simple. You can apply for your ESTA for your California vacation here.

However, please note that you should have all mandatory and necessary information by hand while filling out the application to make the process go smoother.

Things to keep nearby when applying for ESTA:
A valid passport that is issued from a Visa Waiver Program country.
Your contact information – phone and full address.
Information on your most recent employment (if you or the person you are filing the ESTA out for is employed).
Valid credit card to pay the fee for the ESTA application.
3.

Does an Approved ESTA Guarantee Entrance in The USA?

Unfortunately, no. Even though the ESTA gives way to an easier application process, as well as quicker one, it does not guarantee entrance in the U.S. if the Custom's Official sees you as a risk to the citizens of The States. Reasons can vary from health risks to odd behavior. But most times, there should be no problems.
PLANNING ON VISITING CALIFORNIA SOON?
---
It is in your best interest to fill out the ESTA application sooner rather than later!
Apply for USA ESTA Today
4.

When Do I Need to Apply for a Visa (instead of ESTA)?

Firstly, ESTA is not an option if you do not have citizenship from a VWP country.

Secondly, as cases vary from person to person, even if you are from a VWP country, some of your traveling criteria might not meet the criteria of the Visa Waiver Program. Therefore, you need to apply for a Visa, if:
Reason for travel is not tourism, business or transit.
Your period of stay is planned to be longer than the permitted 90 days of ESTA.
Upon reading the rules of Immigration and Nationality, you believe any of them apply to you.
The air carrier in which you are arriving in from abroad is a non-signatory air carrier with the VWP.
5.

What Sites to See While in the State of California?

Now you know all the basics for an ESTA, but how about the basics regarding what to see on your visit in California?

Well, one thing is for certain, the West Coastline offers a site to see on its own. Therefore, a good plan can be to rent a car in San Francisco and drive North along the coastline, visiting Los Angeles and San Diego on the way.

Some crowd favorites are:
The Hollywood Sign and the Griffith Park (one of the things California is known for all over the world)
Universal Studios Hollywood
The Hollywood Walk of Fame (while on the topic of Hollywood)
Disneyland Park
Golden Gate Bridge and Golden Gate Park
Balboa Park
Fisherman's Wharf
Santa Monica Pier
San Diego Zoo (if you want to see some animals)
Chinatown
Alcatraz Island
Yosemite National Park
AND SO MUCH MORE
DO YOU NEED SOME HELP?
Frequently asked questions: