A Guide to Get the Hawaii Visa for Your Trip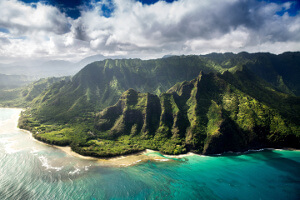 Hawaii is the land of majestic mountains and stunning beaches. If you love a good adventure, then Hawaii should be your holiday destination. In order to visit Hawaii as a tourist, you have to acquire a travel permit. If you happen to enjoy the benefits of the Visa Waiver Program, you can travel without a Hawaii visa, but you will still have to submit an ESTA application.
1.

What is ESTA?

ESTA stands for the Electronic System for Travel Authorization. It is a simple and hassle-free way of getting a work permit for people living in Visa Waiver Program (VWP) countries. One does not have to undergo the complicated process of obtaining a visa if one qualifies for a permit via ESTA.

It is important to know the difference between ESTA and VISA to know which process will be ideal for you.
2.

Validity for ESTA

Many travellers question, "How long is ESTA valid?" before submitting their application. You will be happy to know that your ESTA permit will be valid for two years after you receive it. The only condition is that your passport should not expire before the ESTA expiry date. If your passport expires, you have to apply for a new ESTA as there would be inconsistency in information otherwise.
3.

Is a visa needed to travel to Hawaii?

You do not require a visa necessarily if you want to travel to Hawaii for short-term reasons, but you cannot do without an ESTA application. The Visa Waiver Program (VWP), introduced by the US government, allows candidates who have received approval via ESTA for Travel Authorization to visit Hawaii even without a visa. You can apply for the ESTA while planning your trip. You have to meet all the eligibility requirements of traveling by ESTA in order to get approval.
4.

Required items when entering Hawaii

Once you have planned your trip and are ready to kickstart your adventure, remember to carry everything you need to enter Hawaii.
You will require a valid passport that meets the requirements set by the US government. Travelers should have an e-passport with a logo on the cover indicating that it has an IC chip.
The Safe Travels Program (Travel & Health form) has been a requirement for Hawaii visitors since late 2020 because of the pandemic. Qualifying candidates will get a QR code from the State Department of Health in Hawaii, which they will have to produce at the airport at the time of entry.
You should have a round-trip ticket via air or sea. Alternatively, you could have a ticket to another country from Hawaii.
You should have your ESTA authorization information ready.
5.

Filling up your ESTA application

As you prepare to fill your ESTA application, have the following information handy:
Passport details
Recent employment information
Contact information
Take your time when filling your application because it can be tricky to make changes once you submit ESTA application.
Once you finish filling the application, do not forget to read through it again and eliminate any mistake you made. You are allowed to update your information regarding travel dates, your email address, and your contact address once you apply. However, most of the information you have entered in your ESTA application cannot be modified. The following details cannot be changed:
Gender
Country
Passport data
Nationality
Employment information
If you notice mistakes in your application after submission, your best option is to re-apply for the ESTA. Remember that the re-application process for ESTA can prove to be difficult sometimes, and it can even be denied. Hence, it is crucial that you double-check all the information you input in your application. There is a chance that your ESTA application might receive approval even if it has a mistake, but you will be in trouble if the customs officer notices it during entry.
6.

How soon can you get your ESTA?

If you do not have a lot of time in hand, ESTA might be the way to go because it is usually approved much sooner than a visa. Lucky travellers might even receive their approval or rejection within 20 minutes. Most candidates hear back within a day. You have the option to check ESTA status if you are worried.

However, you should not wait to apply for ESTA till the last minute. You cannot know for sure how long the application processing might take and whether there will be any complications. Ideally, you should submit your ESTA application as soon as you plan your Hawaii trip. At the very latest, you can send in your application with three days to spare.
7.

Flow from arrival to immigration

Once you land in the paradisiacal land of Hawaii, you will have to follow these steps:
1. Go to the immigration area
The staff will guide you once you arrive at the airport. You have to go to the immigration area to get started.
2. At the immigration area
You have to stand in the line for immigration screening as a non-resident. The immigration officer will call your name, and you have to come forward with your passport and customs declaration if you are an ESTA holder. You will be asked questions regarding the purpose of your visit and how long you plan to stay. Be confident and answer succinctly. You will have to submit your fingerprints, and they will take a picture of your face.
The Hawaii government made it mandatory for travellers to complete their registration for the Safe Travels Program as part of their pre-travel testing requirements. You have to make the account under the program before boarding the flight to Hawaii. Once you complete the registration successfully, you will be provided with a QR code displaying your health status. The immigration inspector will scan the code and decide if you are eligible for entry. Remember that you cannot use your phone camera at the airport for security reasons. If there are any documents you would like to save your phone for later reference at the airport, you should photograph them beforehand.
It is advisable always to have access to the inbox of the email address you used when filling your ESTA application.
3. Baggage Collection
You have to visit the Baggage Claim in order to pick up your luggage. You can wait in front of the luggage carrousel marked with your boarding flight number and collect the luggage. Make sure that you have collected your baggage and nobody else's by checking the claim tag.
4. Customs Declaration
You have to complete a customs declaration to finish the process. Your ESTA permit will be useful for this step. Once you are done, you can head out.
If you have to follow any additional steps, the immigration inspector will inform you on the spot.
8.

Automated Passport Control (APC) kiosks

Automated Passport Control (APC) "kiosk" was established to convenience travellers who want to re-enter the US with their ESTA permit. The kiosk acts as a passport control terminal system and can be used by only those who have travel history to the US using ESTA dating back to 2009. You will be able to scan your passport, take a headshot of yourself and record fingerprints at the kiosk. There is no need for an immigration officer to be present, and you can complete the process must faster.

You will find APC kiosks at over 40 airports across the United States. The Daniel K. Inoue airport or the Honolulu International Airport in Hawaii has APC kiosks. However, you should remember that the kiosk will not work for you if the passport associated with your ESTA has expired.
Who can use the Automated Passport Control (APC) "kiosk"?
International travellers from VWP countries and holders of US and Canadian passports can use the APC kiosks. If you plan to land at Daniel K. Inoue international airport at Oahu to use the APC kiosk, you should first check whether you satisfy the following conditions.
You must have an ESTA authorization permit. None of the visas render their holders eligible for using the kiosk.
You should have travelled to the US under ESTA before. If your ESTA has expired since then, you can re-apply if you want to use the kiosk once you land.
Your passport must not have undergone any changes from the time that you originally applied for your ESTA. If you have renewed your passport or made any other modifications to it, you will not be allowed to use the kiosk.
How to use the Automated Passport Control (APC) "kiosk"?
Do not be nervous about using the APC kiosk for the first time. Even though you will have no immigration officers to guide you, the instructions are easy to follow.
To begin with, you have to select the preferred language for the rest of the interaction.
Instructions will appear on the screen to help you scan your passport.
Look straight at the kiosk for an official identification photograph.
Questions will appear on the screen about your personal information, travel details, and customs declaration. Answer them as accurately as possible.
The last step is to record your fingerprints.
After successful completion, you will get an APC receipt that you can submit to the immigration officer.
9.

Why should you visit Hawaii?

If you are visiting Hawaii, you should do your research beforehand because there is so much to do! Lush greenery, sandy beaches, crystal-clear waters, and amazing local food will welcome you to Hawaii.

Some of the top tourist destinations are:
Waikiki Beach: You can sunbathe or participate in water sports activities here. Walk the Waikiki Historic Trail to look around the scenery.
Volcanoes National Park: Interested in seeing an active volcano? Hawaii has got you covered.
US Arizona Memorial: If you are interested in American war history, you will love the artifacts and records stored here.
Waimea Canyon State Park: Breath taking sceneries will reward you at every step as you go hiking.
Maui: The picturesque waterfalls and beautiful national parks of Maui will enchant you like nothing else.
10.

FAQs
1. How to apply for ESTA for Hawaii?
If you are planning to visit Hawaii, there is no special process you have to follow when applying for ESTA. You can visit the ESTA website and get started.
2. How long can I visit Hawaii for?
The ESTA imposes a limit of 90 days for a single trip. This means that your Hawaii trip cannot last longer than three months at a time. You will have to utilize your round trip ticket or fly to another country after that.
3. How many times can I submit my ESTA application?
You can re-apply for an ESTA after ten days if you feel that you need to update key information because of changes in your circumstances. If your ESTA application is being repeatedly rejected, there is a chance that you are making careless mistakes. Remember that you cannot input any false information in the ESTA application, or else you might be banned for applying ever again.
4. Can I apply for a Hawaii visa if my ESTA application is denied?
You do not have to postpone your trip to Hawaii if your ESTA application is not approved. You can still apply for a non-immigrant Hawaii visa. If you have any questions regarding the process, you can contact the US embassy or consulate.
5. Is the ESTA application for free?
No, there is a free for ESTA application.
6. Can I use ESTA for working in Hawaii?
If you have secured a chance to work in Hawaii and you want to test the waters, you can apply for an ESTA. Once your job situation is more secure, you can consider applying for a visa.
7. What are the main conditions for entering Hawaii as a VWP citizen with an ESTA?
Your trip cannot exceed 90 days if you want to qualify for an ESTA. You have to enter the country by air or sea. ESTA permits are usually granted for travel, business, and transit purposes.
8. Do I have to carry a copy of my ESTA application?
If you are traveling under the Visa Waiver Program, you do not have to carry a copy of the ESTA authorization compulsorily. However, you will be on the safe side if you carry a copy for your records. If you cannot remember your ESTA application number, you can obtain it from the ESTA website by entering your details.
9. How can I go to Hawaii as a British citizen?
You can get a Hawaii visa UK by applying for ESTA permit since the UK is one of the VWP-s.
11.

Summary

Hawaii is one of the most popular holiday destinations in the world, and your effort to secure the ESTA will pay off as soon you step onto the warm sands and cool waters.

An ESTA is a convenient visa-free way of traveling to your favourite places in the United States. If you qualify for the Visa Waiver Program, you can apply for an ESTA for your next vacation to Hawaii. The application process is fairly simple, and you will hear back within a day in most cases. In case your application is denied, you can apply again or apply for a Hawaii visa instead. You can learn more about ESTA here.
DO YOU NEED SOME HELP?
Frequently asked questions: