ESTA Online Application for Citizens of Chile for Visiting the USA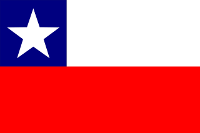 ESTA for Citizens of Chile
Country: Chile
ESTA Required: Yes
As for a citizen of Chile traveling to the USA, the information below is of high importance.
The Visa Waiver Program has been introduced in order to provide more travel freedom by implementing ESTA as a form of travel authorisation for citizens of specific countries included in the VWP.
1.

Can citizens of Chile travel to the USA with ESTA?

Citizens of Chile are eligible for ESTA application when traveling to the USA and do not need to obtain a Visa.

However, an ESTA can only be used as travel authorisation if the traveller does not plan to stay in the USA for no longer than 90 days. And if the purpose of visit it travel, business or transit.
2.

Is Chile one of the VWP countries?

ESTA can only be used by citizens of the Visa Waiver Program countries, which was designed to improve travel freedom for US visitors.

Chile is included in the VWP therefore all citizens of Chile have to obtain an ESTA instead of a Visa, then visiting the USA.

Since the 12th January 2009, it is a requirement for all citizens of VWP countries to obtain an ESTA when traveling to the USA.
3.

When do I need a Visa?

The traveler needs to meet certain requirements when visiting the USA under the VWP. If you plan on staying in the USA for more than 90 days or your travel purposes is not transit, business or travel, you have to obtain a Visa.

In all other cases, all citizens of the Visa Waiver Program countries have to apply for an ESTA instead of a Visa.
4.

How long is an ESTA valid?

From the moment of ESTA approval it will be valid for 2 years. You can always check the validity of your ESTA using a simple online form which requires to provide basic information about your ESTA approval.

The validity of your ESTA is also influenced by your passport validity. If your passport expires within the two year ESTA validly period, it too will expire.

At this moment you will have to obtain a new passport and then apply for a new ESTA using the original ESTA application form online.
TRAVELING TO THE USA FROM CHILE?
---
When traveling to the USA as a citizen of Chile, you need to obtain an ESTA!
Apply for USA ESTA Today
5.

When should I apply for my ESTA?

ESTA application takes no longer than 30 minutes is all of your documentation is provided and you can answer all of the necessary questions in the application form.

After that your application will be approved or rejected. The time of approval is usually no longer than 72 hours, however this might change due to a number of reasons.

It is best to apply for an ESTA as soon as you plan out your travel to the USA to avoid any problems with having your ESTA approved on time.

A regular Visa application takes for up to two months, therefore you should plan your trip to the USA according to all ESTA requirements in order to be eligible for ESTA.
6.

How do I renew my ESTA?

There is no renewal process available for an ESTA. After your ESTA expires you will have to apply for a new authorisation using the ESTA online form.
7.

Is VWP a guarantee to entry into the USA?

All citizens of the VWP countries have to apply for an ESTA and provide information about their work, travel plans, criminal background etc., which means that your application can also be rejected.

Being a citizen of one of the VWP countries is therefore not a guarantee for entry into the USA.
DO YOU NEED SOME HELP?
Frequently asked questions: