ESTA VISA for Florida - Get Your ESTA for Travel to the USA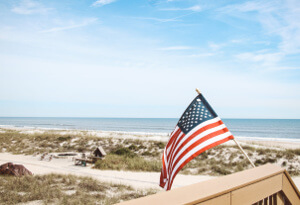 The first thing that comes to mind when thinking about Florida is Miami and Disney World in Orlando. Perhaps you are also thinking of these two places, even better, you are planning on visiting them both among many other places on your vacation in Florida.
That is a good idea, but...
Have you got acquainted with the rules of travel permits that non-US citizens need to meet in order to enter the country?
If you are a citizen of a country that is included in the Visa Waiver Program made by the U.S. government, then this article is specifically for you.
1.

HOW DO I KNOW IF I AM FROM A VWP COUNTRY?

Simple. If you find your country in the below list, you are eligible to apply for an ESTA.

Currently, the VWP countries are:

Andorra; Australia; Austria; Belgium; Brunei; Chile; Czech Republic; Denmark; Estonia; Finland; France; Germany; Greece; Hungary; Iceland; Ireland; Italy; Japan; Republic of Korea; Latvia; Liechtenstein; Lithuania; Luxembourg; Malta; Monaco; Netherlands; New Zealand; Norway; Portugal; San Marino; Singapore; Slovakia; Slovenia; Spain; Sweden; Switzerland; Taiwan; United Kingdom.

If you do not find your country in this list, you may not apply for ESTA, you will automatically be denied.

However, there are still some rules even for citizens of a VWP country, such as:
You are planning your trip for leisure, business (not employment) or transit.
Your stay in the USA will not exceed 90 days.
If your purpose of travel is any other reason than the above mentioned then you need to obtain a visa. Same applies even if you are traveling simply for tourism but you plan to stay longer than 90 days, then an ESTA will not work for you.
2.

WHEN SHOULD A CITIZEN OF A VWP COUNTRY APPLY FOR A VISA INSTEAD OF AN ESTA?

Above mentioned examples show when an ESTA is applicable to a citizen of a VWP country, however, there may be exceptions when even a VWP country citizen will need to apply for a visa at the nearest U.S. embassy or consulate.

If any of the following apply to your case, you may need a Visa (instead of an ESTA):
Your stay in the USA will be longer than 90 days.
You applied for ESTA but were denied ESTA as a form of a travel permit.
You have dual citizenship – one from a VWP country, the other from Iran, Iraq, Sudan, or Syria.
You do not possess a valid e-passport.
Your purpose of stay in the USA includes studying or gaining employment.
As from March 1, 2001, you have traveled at least once to Iran, Iraq, Libya, Somalia, Sudan, Syria, or Yemen.
You have committed a crime classified as Moral Turpitude.
You have contracted any of the listed contagious diseases.
You have once traveled to the USA using an ESTA, however, you overstayed the time limit or misused the ESTA conditions. In this case, you will no longer be eligible for ESTA.
You are planning to enter the USA by land. Land border crossings require an I-94w form and Visa instead of ESTA.
3.

HOW LONG DOES IT TAKE TO GET THE ESTA AND WHEN SHOULD I APPLY?

It is strongly recommended that you leave a time frame no shorter than 72 hours prior to the planned departure to Florida (or any other U.S. territory).

Even though the process of checking and approving a submitted ESTA does not take too much time (anywhere between 20 minutes to 24 hours), to avoid unnecessary problems don't leave it until the last moment.

You may receive a denied ESTA for a reason that can be changeable, if this will happen to be your case, you will need to wait 10 days to change the information. An example may be that a past medical record of a contagious disease which denies entrance in the USA is no longer true, the individual has been treated and now can enter the USA).
4.

WHAT MORE SHOULD I NEED TO KNOW ABOUT ESTA AND PASSPORTS?

Citizens of a VWP country should be aware of the following details regarding their passports to apply for an ESTA:

An approved ESTA is valid for two years, however, if your passport expires prior to the ESTA expiry date, your approved ESTA will expire alongside your old passport, which means you will need to apply for a new ESTA, and wait for the approval of the new one in order to travel to the USA once again.

An electronic passport is mandatory to apply for ESTA (this includes an electronic chip with biometric data of the holder of the passport). This also applies to emergency and temporary passports.
DO YOU NEED SOME HELP?
Frequently asked questions: