ESTA Visa for Hawaii - Entry Requirements for Visitors to Hawaii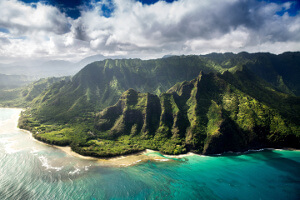 Hawaii – the volcanic State famous for one of the best choices for vacation destinations.
Although an island in the middle of the Pacific Ocean, it is still a part of the United States of America, which means that visiting this part of the USA also requires some sort of travel permit for its tourists. If you are a citizen of one of the Visa Waiver Program, this article directly affects you, as you have the option to travel visa-free.
So, keep reading to find out how an ESTA for a Hawaii vacation could be your choice of travel authorization in the U.S.
1.

WHAT DO THE ACRONYMS ESTA AND VWP MEAN?

First things first, ESTA is short for Electronic System for Travel Authorization. It is a type of travel authorization, which is a lot simpler and a bit more hassle-free than obtaining a visa. However, this is a type of a travel permit that is exclusive only to citizens of the VWP countries.

Which leads us to – what is VWP? It is the Visa Waiver program set up by the U.S. government, under which ESTA is made possible.

However, please note that even though you have citizenship from a VWP country, there are still a couple of things that need to be met in order to travel to the USA without a visa, they include:
Your stay on U.S. territory must not exceed 90 days.
Your purpose of travel cannot be any other than leisure, business or transit.
Also, please note that business purpose means a business meeting or conference, not the aim to gain employment. If you wish to work in Hawaii, which is a State of the USA, you will need to obtain a working visa.
2.

WHAT INFORMATION IS NEEDED IN ORDER TO FILL OUT AN ESTA APPLICATION?

If the above criteria are met by your travel plans and you are a citizen of a VWP country, then go ahead and fill out your ESTA application here.

However, before you do so, make sure that you have the following information by hand:
Your passport (also, it needs to be an electronic passport with a biometric chip in it).
Your most recent employment information (if you are currently employed or have been employed in the recent past).
Your full contact information (phone, address, e-mail).
It is important that all information is filled out correctly the first time without grammatical or typographical errors.
3.

CAN CHANGES BE MADE TO MY ESTA APPLICATION ONCE I SUBMIT IT?

No, in general, but also yes (on some occasions).

While filling out your application or upon finishing it, please re-read it at least two times to avoid unnecessary mistakes, as it is more difficult to re-apply for an ESTA if it has been denied previously. It may even be approved with a typographical error, however, if the custom's officer in the U.S. notices it, you may be denied entrance.

The majority of information, unfortunately, cannot be changed once you have submitted your ESTA application, this includes:
Name.
Gender.
Nationality.
Country.
Employment information.
Passport data.
Mistakes are possible, if that is your case, simply re-apply for a new ESTA to make the necessary changes for the above-mentioned points.
That being said, it is possible to update some information on your ESTA applications, such as:
Email address.
The US contact address you entered.
Travel dates.
MAKING A TRIP TO HAWAII AND NEED MORE INFORMATION ON ESTA?
---
Prepare yourself for your trip by learning more about ESTA.
Read Our FAQs About ESTA
4.

AFTER HOW LONG CAN A REPLY BE EXPECTED FROM THE ESTA SYSTEM?

The process of approving an ESTA does not take as much time as obtaining a visa, as a matter of fact, you may expect to receive an answer (approved or rejected) within the next 24 hours, sometimes as quick as 20 minutes.

Even though an answer may be very rapid, US officials highly recommend to not leave the application process until the last day, rather a time window of 72 hours before departure is the minimum time reserve.

Once you are certain of your travel plans to Hawaii (or anywhere to the USA, for that matter), go ahead and apply for an ESTA right away, as an approved ESTA is valid for 2 years (or until the time your passport expires, if it expires prior to the 2-year expiry date of your ESTA.
5.

IS AN ESTA REALLY VALID FOR TWO YEARS?

Yes!

However, on one condition. The condition that the passport you used to fill out your ESTA application does not expire before the date of your ESTA expiry date. If the holder's passport expires prior to the ESTA, he or she needs to apply for a new ESTA as the old one expires alongside the old passport.
6.

MUST I APPLY FOR AN ESTA IF I ALREADY HAVE A VISA?

No!

Since you have already obtained a still valid visitor's visa, it means you already have a travel authorization that serves its purpose – for example, you are going to Hawaii to seek employment. Therefore, applying for an ESTA is not necessary as it couldn't be approved for the purpose of employment in the USA, only a visa can.
---
Now that you are aware of what is an ESTA, who can apply for it and what criteria need to be met, you should start thinking about what you would like to see in Hawaii.
We give you a couple of our recommendations:
Hawaii Volcanoes National Park (with the active lava flows).
Diamond Head (a dormant volcano).
Nā Pali Coast State Wilderness Park.
Honolulu, Maui.
Snorkeling with sharks in Oahu without a cage around you.
See Kauai by helicopter.
Visit a Kona coffee plantation.
Watch the sunset at Ho'okipa Beach Park (turtles come ashore every sunset).
See the 9-foot bronze statue of Duke Kahanamoku (father of modern surfing).
Try local food such as poke and shave ice.
The list could go on for some time more, however, it is up to you what you wish to enjoy on your trip to Hawaii - more of landscapes, more of beaches, more of culture, or perhaps just relax near the ocean in a sunbed – it's all up to you!
DO YOU NEED SOME HELP?
Frequently asked questions: