How to Get a New York Holiday Visa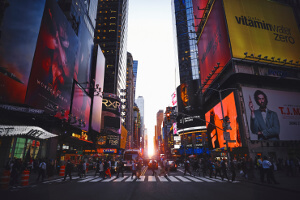 Everyone has their reasons to travel. Whether you're traveling for work, to meet family, or simply to explore the world, this is just one activity in your life that you can't help but enjoy. And if you love traveling, you need to find some excuse to visit New York City at least once in your entire lifetime.
New York City introduces you to an entirely different way of living your life. It's like walking into another universe when you visit New York City. This is a city where the morning subway you take has the power to decide how the rest of your day goes. It's full of spontaneity and life. It's a place where everything is within reach, but you must work hard to have it!
Trust me; once you visit this place, you will know what we are talking about.
For any travel to New York City, you will need a New York holiday visa. But getting a New York holiday visa can be an extensive process. As an alternative to a New York holiday visa, you can also apply for a New York ESTA, which is a much easier and shorter process.
This article will help you navigate through the entire New York ESTA process, and in case that doesn't work out, it will also help you understand the Visa application procedure if you're planning to travel to New York City.
1.

What is an ESTA, and when do I need it?

Suppose you are a citizen of a country belonging to any of the 39 countries participating in the Visa Waiver Program (VWP). In that case, an ETA authorization can allow you to travel to the US without having to undergo the gruelling process of acquiring a Visa.

Even if you're only passing through the US for a few hours, you'll need an ESTA. A transit is classified as an entrance into the United States by the US Department of Customs and Border Protection, and you will need an ESTA to do so. (How to get US transit Visa?)
2.

Who can apply under the Visa Waiver Program?

To apply for a New York ESTA under the Visa Waiver Program (VWP), you must meet the following conditions:
You must be a citizen of a nation that has signed the VWP.
Are you traveling for business, or are you on holiday? You need to mention your travel purpose clearly.
Your trip should not last more than 90 days.
Here are some examples of permitted business and tourism purposes that allow you to travel to the United States under the VWP.
Permitted Business Purposes:
to work out a contract
to attend a brief training session, a professional or business meeting, or a conference, provided that you are not compensated for your participation by any US company. Expenses incurred during your stay within this time period, however, may be covered.
consult with other business associates in the US.
Permitted Tourism Purposes:
amateur participation in musical, athletic, or similar events or contests, provided you are not reimbursed for the same.
help with medical issues.
enrolment in a non-academic course of studies, such as a French class or a baking class that is not intended for academic credit.
if you've to participate in social events, games, or service organizations.
Some examples of activities that are not permitted under the VWP are:
a permanent residency in the United States
a job in the foreign press, radio, cinema, journalism, or other kinds of information
an academic course for a grade or credit
employment
3.

Additional requirements for the Visa Waiver Program are as follows:
Your passport must be an e-Passport. This chip must be biometrically encoded with the traveller's pertinent information.
Your passport needs to be machine readable.
4.

The ESTA Application Procedure

You can start your ESTA Application Online. The ESTA form will require you to fill in the following information:
Your contact information
Details of your and your family's trip to the United States
Questions about the background check. (Click here to know how to answer ESTA social media questions.)
After you've entered all of the information, double-check that everything is correct. This is particularly essential since you don't want anything incorrect to be mentioned in it, as this might lead to trouble at the Embassy later on.
If you are eligible for an ESTA, you should get an "Authorization Approved" status within 72 hours of submitting it.
To check your ESTA status online, visit the ESTA homepage.
If your ESTA not approved immediately, you will see an "Authorization Pending" notification. This could mean that your selection process is requiring more scrutiny than usual.
If you are ineligible for an ESTA, you will see a notification called "Travel Not Authorized." Do not panic, as you can still travel to the US by applying for a non-immigrant B-Visa.
5.

What kind of Visa should I apply for?

You can apply for a number of non-immigrant visas to go to the United States if you are not a US citizen or lawful permanent resident.

The purpose of your intended travel and a few other variables will determine the kind of Visa required under US immigration laws.

You may apply for a Tourist Visa, Business Visa, or Visitor Visa.
6.

How to get a tourist visa for New York?

If you're traveling to New York as a tourist, you will need to apply for a B2-Visa. However, you will need to apply for a B1-Visa at the US Embassy if you are traveling for business purposes.
7.

How to apply for Visa if ESTA is rejected?

Here is what you need to do:
Complete the DS-160 online application on the US embassy's website with care.
Pay the application fee. Make a copy of the receipt for yourself to keep for future reference during the application process.
Attend the interview on the appointed date and time and bring all of the relevant papers requested in your application to bring to the interview.
It takes around one week after the interview for you to receive your passport.
8.

Top Things to Note if You Decide to Reapply

How do you ensure that your application gets approved? For one, you can take the help of experts. However, don't panic if your B-visa is also refused. You have the option to reapply.

It's important to keep it simple. There are a few points you need to know should you decide to reapply:
There is no limit to how many times you can apply for a Visa in a given period.
Reapplication can seem a lengthy process, and you need to be careful you fill out all details correctly.
If you have been denied a US visa, you can get legal help and fight the decision, unlike the ESTA procedure.
DO YOU NEED SOME HELP?
Frequently asked questions: