ESTA VISA for New York - Apply for USA ESTA Today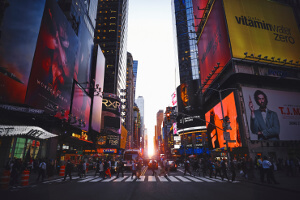 New York. The City that never sleeps!
With such a diverse city culturally and architecturally who wouldn't want to visit it?
However, if you're not a U.S. citizen, visiting this popular tourist attraction may not be as easy as 1,2,3, therefore, the below-provided information will help you understand if you need an ESTA for New York sightseeing.
1.

HOW LONG IS AN ESTA VALID FOR?

Whether you just got your approved ESTA today or a few months ago, it is important that you know how long your ESTA is valid for to avoid problems at the U.S. customs.

Once approved, ESTA is valid for two years.

However, there is an exception to this rule, which is if the mentioned passport on your ESTA application expires before the two-year period, your ESTA will expire alongside the ESTA.

In simpler words, if your ESTA was approved in 2021, it will be valid until 2023 OR until your passport expires (if it expires sooner than 2023).

What is more, during the 2-year validity period you may re-enter the USA multiple times. However, be careful not to overuse it as this will be considered as misuse of it.

For example, you cannot stay 90 days in the USA with an ESTA, depart for a few days out of the country's territory and re-enter after a week to stay the 90-day allowed period. This will be considered as misuse; you need a visa for the purpose of staying more than 90 days in the USA.
2.

ARE THERE PASSPORT REQUIREMENTS FOR ESTA?

It may seem that any passport issued by a country included in the Visa Waiver Program can be used to travel to The States, however, there are a couple of points you should either make sure are included in your passport, such as:
The passport will be valid until the date of your departure
The passport must be an electronic passport (a digital chip must be present, which has biometric information about the passport's holder).
The biographic page of the passport must have a machine-readable zone.
As of July 1, 2009, all VWP countries' temporary and emergency passports must also be electronic passports.
One point, which does not apply to all VWP country citizens: Taiwan passport holders must not only provide the Passport Number but also their Personal Identification Number (PIN).
If you checked all above-mentioned points, then your passport is good for filling out the ESTA application. Just remember to fill out the information slowly and correctly, as major changes are not possible once an ESTA has been submitted for approval.
Amendments of name, surname, gender, nationality, country, employment information or any other passport data are not possible.
3.

WHAT TO DO IF MY ESTA IS REJECTED?

As previously mentioned, it is of utmost importance that the ESTA application is done correctly the first time it is being filled out. Grammatical errors should be avoided at all costs.

This is due to the fact that once an individual has been rejected for an ESTA approval it is much harder to apply for an ESTA and not have it checked even more vigorously, or it may be rejected for life. However, if it rejected but the reason is fixable, you may apply for a new ESTA in 10 days.
4.

WHAT IS THE DIFFERENCE BETWEEN ESTA AND A VISA?

An ESTA can only be used as a travel authorization into the USA for people that are citizens of countries included in the Visa Waiver program (currently, 39 countries). Also, citizens of VWP countries must meet 2 more criteria to get approval for ESTA, which are:
The visit to America is no longer than 90 days.
Purpose of travel is only for tourism, business (but not employment) or transit.
All other cases (employment, studying, etc.) and other citizens of countries that are not participants in the VWP must apply for a Visa in the nearest U.S. embassy or consulate.
5.

DO I NEED AN ESTA IF I HAVE A VISA?

If you have already obtained a visitor's visa there is no need to apply for an ESTA, as your visa already fulfills the reason for your travel, e.g., studying in NYU.
6.

HOW DO I RENEW AN ESTA?

If you have already used up your two-year validity of ESTA, simply re-apply by filling out and submitting a new application. You can do that here.

If you wish to extend your existing application for a longer period, please note that this is not permitted.

You may also apply for a new ESTA even if your existing ESTA hasn't expired, for example, if you're planning a trip to the USA but by then your existing ESTA will have expired.

It is most likely that if your existing ESTA is still valid for more than 1 month, you will receive a message "A valid, approved application with more than 30 days remaining has been found for this passport.". In this case, simply pay the new fee of ESTA, which will cancel the existing application and you will be able to start your new application.
DO YOU NEED SOME HELP?
Frequently asked questions: